Developing strong writing skills is not only important for research papers and essay questions. Writing is an essential skill that you will use far after you graduate from primary school, high school, and even college. From writing professional emails to drafting reports and business statements, writing is a skill that you will need to utilize in almost every industry and business profession. Thankfully, every student can overcome their writing struggles — all it takes is finding the right tutor.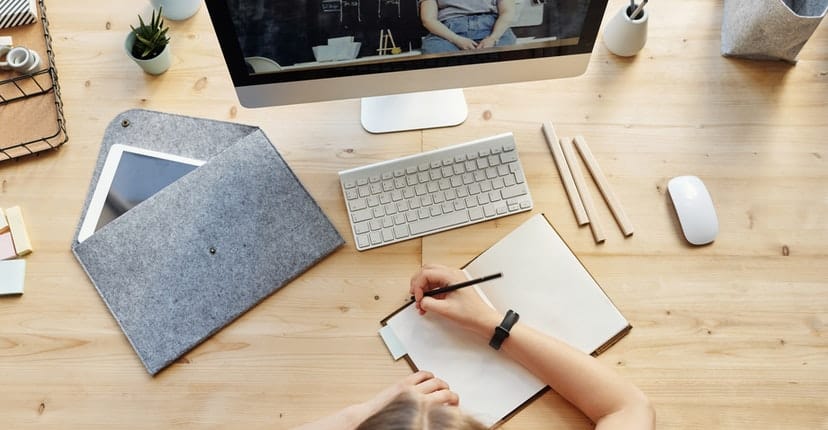 Whether students need help with creative writing or technical writing or simply learning how to write a thesis statement, online tutors can lend a helping hand. Aside from helping students with their coursework and writing assignments, online writing tutors can also assist with things such as explaining key grammar concepts, outlining proper sentence structure, and teaching students how to write an annotated bibliography. Online writing tutors can also teach non-native speakers who are learning English as a second language. To help kick start your search for the perfect online writing tutor, we've reviewed ten of the best online writing tutoring services on the market. 
Experienced writing tutors? Budget-friendly? Excellent private writing tutor matching process? Check, check, and check. Learner easily meets all of the criteria and then some for an excellent online writing tutoring service. Students or parents will begin the process of finding a certified writing tutor through Learner by filling out a basic questionnaire. The answers from this questionnaire help the Learner team understand your timeline, priorities, and interests, which allows them to match you with the best tutor for you. Only 5% of the tutors who apply for this platform pass the rigorous vetting process, and each tutor in Learner's network is highly qualified. 
Learner caters to students, young learners, foreign-language speakers, and adults with various learning styles by offering private writing tutoring and group sessions. If you choose to opt for private online tutoring, then your writing instructor will develop a tail-made lesson curriculum just for you. Not only is every session recorded for later viewing, but each session also includes a valuable feedback session with the tutor and parents. This allows parents to constantly be in the know about their child's writing process.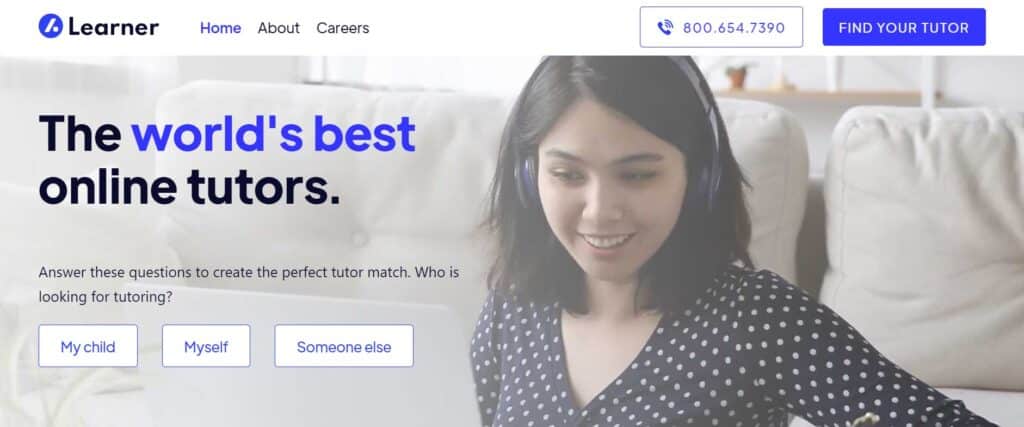 With a 9.9/10 average customer satisfaction rating, customer satisfaction is of the utmost priority for Learner. Customers get a full satisfaction guarantee — if they aren't satisfied after their first session, Learner will help them find a better tutor match. The next session will then be free of charge. Pricing at Learner starts at an affordable $40 per hour. 
Pros:
Highly qualified and vetted tutors
Affordable 
Excellent matching process
Feedback sessions
Each session is recorded
Full satisfaction guarantee 
Cons:
Tutors aren't available 24/7
Bottom Line: With high-quality tutors, a budget-friendly hourly rate, an excellent tutoring matching process, and a full satisfaction guarantee, Learner easily meet all of the criteria for an excellent online writing tutoring service. 
Wyzant is particularly well suited for those interested in improving their creative writing skills. Wyzant has various professional writing tutors that can help you with a creative writing assignment for school, or with creative writing that you are doing on your own time.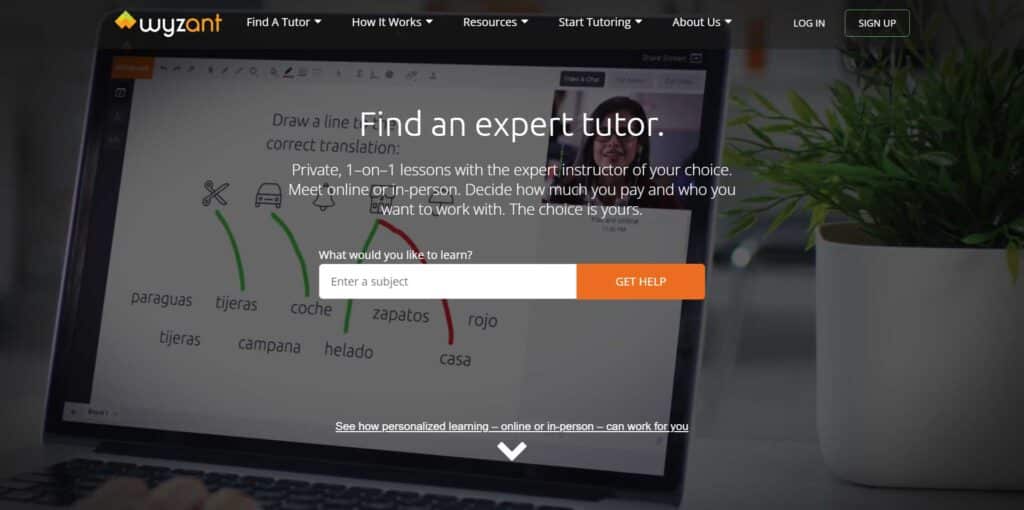 Customers have 24/7 access to tutors. While Wyzant will not match you with the ideal tutor for you, interested parties can use the Wyzant database to search for a tutor based on the subject area, grade level, and hourly rate. While most tutors have advanced degrees and/or previous professional experience, Wyzant has no cohesive curriculum or methodology that tutors must abide by, which makes each tutoring experience vastly different across the board. It's important to keep in mind that previous customers have stated that their experience with Wyzant is very dependent upon which tutor you choose to work with. That said, if you are not satisfied with your writing instruction, then you won't be charged for the first hour of your lesson. Tutors also get to pick their own hourly rates, which typically range from around $35 to $70 per hour. This platform is best suited for those who need help with a one-off academic writing assignment or who require occasional assistance with essay writing. Do not sign up for this tutoring service if your goal is to develop a strong working relationship with one particular tutor. 
Pros:
An abundance of creative writing tutors
Relatively affordable
24/7 access to tutors
Cons:
Experience with tutors vastly differs
Not suited for long-term instruction
Bottom Line: While this online tutoring company has a wealth of creative writing in its network, it is not a beneficial service for those who want to improve and build on their writing skills long-term. 
Varsity Tutors is an extensive and popular tutoring platform with over 3,000 subjects and 40,000 tutors in its network. This tutoring service originally started out as an in-person tutoring company in 2007 but has been mostly online for the last five years. Whether you want to hone basic skills or work on writing essays for your Language Arts course, Varsity Tutors has a variety of writing classes available to take your wordsmith abilities to the next level.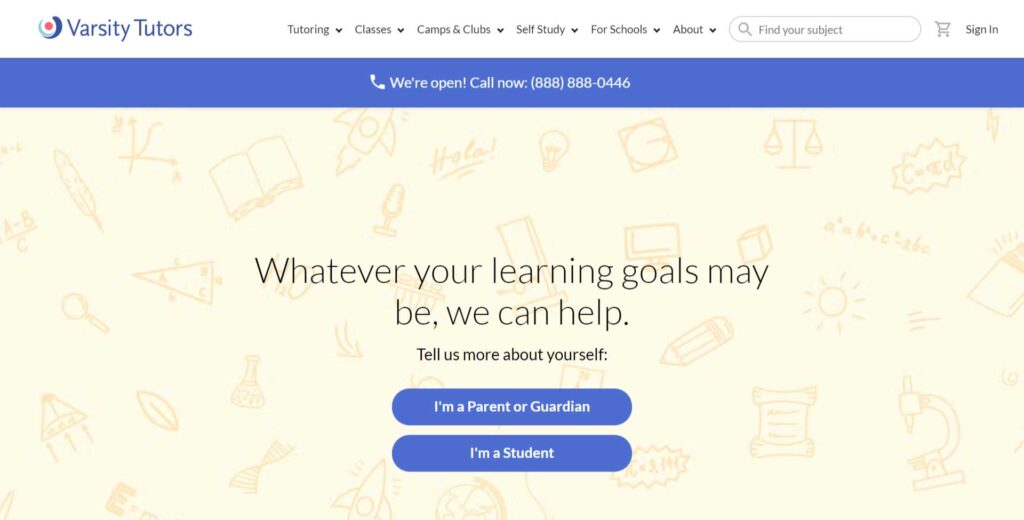 While Varsity Tutors may have a large network, they assure their customers that they have a thorough vetting process that includes background checks and interviews. While a tutor's previous experience, college degrees, and certifications are certainly important to Varsity Tutors, their number one priority is finding tutors who can explain information in a clear and understandable way. This company also wants to hire writing tutors who can connect with their students and form strong working relationships with them. Varsity Tutors uses a placement algorithm to match students with tutors based on a student's schedule, learning style, learning interests, and academic goals. 
Pros:
Thorough vetting process for tutors
Utilizes tutor matching algorithm 
Cons:
Exact pricing is only available upon request 
Bottom Line: Whether you want to hone basic skills or work on creative writing techniques, Varsity Tutors has a variety of writing classes available to take your wordsmith abilities to the next level. Through their placement algorithm, Varsity Tutors is able to match students with a highly qualified, expert writing tutor. 
Chegg
Chegg has thousands of writing experts in its network, each with their own specialty and area of expertise. From lab reports to literary analysis to history research papers, there's guaranteed to be a tutor that can help assist with your particular writing needs. To top that off, users can also take advantage of Chegg's services by submitting a paper for review. Whether you have a specific question or you just want a second pair of eyes on your work, a tutor in Chegg's network will be able to provide you with feedback within 24 hours.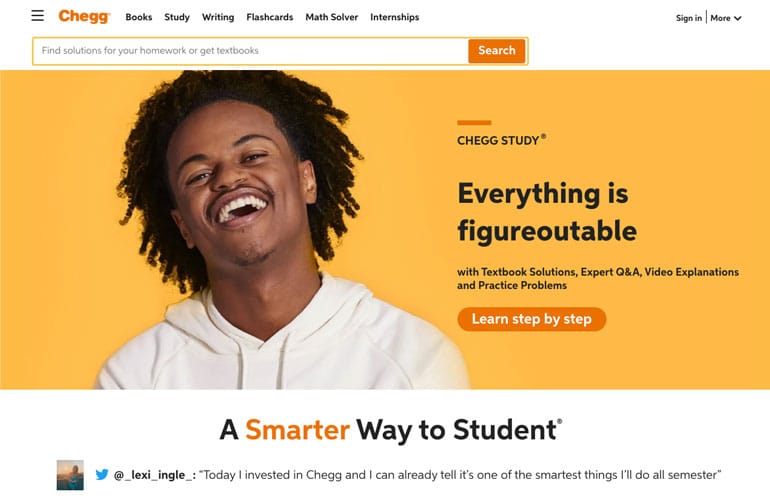 For an extra $9.95 a month, students also have the option to sign up for Chegg Writing. This learning tool includes a plagiarism detector, a free citation creation, and proofreading and grammar scans for as many writing samples as you wish to submit. Unlike many other online tutoring services, Chegg operates on a membership basis. Students will pay $14.95 a month for unlimited live lessons. That said, if you choose to sign up for this platform, you will most likely not receive instruction from the same tutor more than once, and you will not receive personalized lesson plans. Chegg should be used by independent students who require occasional assistance on homework or assignments. 
Pros:
Affordable
A wealth of writing experts in its network
Lots of writing specific learning tools
Cons:
Not geared towards developing student/tutor relationships
No customized lesson plans
Bottom Line: With thousands of writing experts in its network, and several writing-specific learning tools, Chegg is an excellent budget-friendly tutoring service. That said, this service is best used for submitting essays for review or occasional homework assistance — students will not receive tailored lesson plans or develop a working relationship with a single tutor. 
Kaplan
As anyone who has taken the SAT or ACT knows already, writing is a significant portion of college admissions tests. While a few general courses are offered here and there, Kaplan mainly specializes in preparation for standardized tests. This premier test prep tutoring company offers both small, remote group sessions as well as private, one-on-one tutoring. 
Kaplan follows a strict curriculum, which includes full-length tests and broken down, analyzed scores. While a lot of the tutoring will focus on multiple-choice preparation, Kaplan tutors will also guide tutees through the writing sections of each test. Tutors will help build upon students' pre-existing writing skills and help them understand what review boards are looking for in essay sections.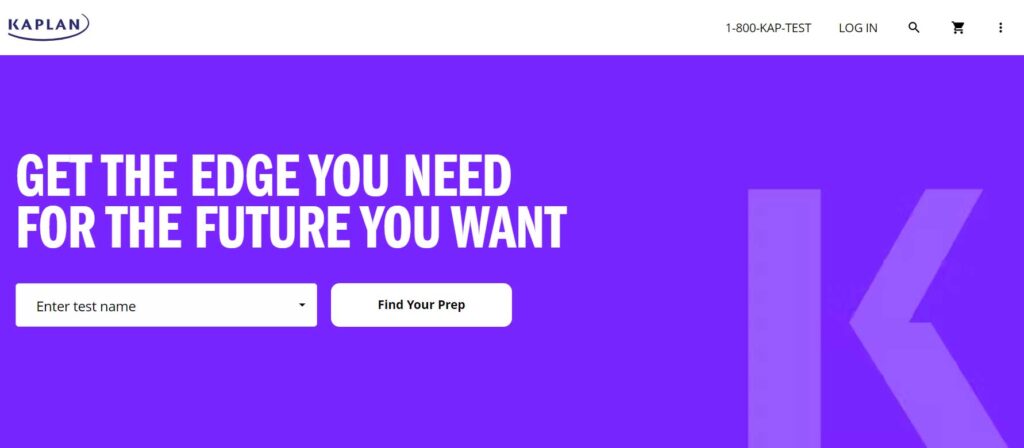 This platform is only for rigorous, long-term tutoring. Tutors are only of the highest quality and students will get access to extremely exclusive materials. That said, Kaplan pricing packages are very expensive. To give you an idea, a 10-hour package for the SAT costs $2,000, and a 40-hour package for the SAT costs around $4,400. A 10-hour package for the LSAT costs around $2,300, while a 40-hour package costs $4,900. 
Pros:
Very catered curriculum
Provides students with exclusive materials
Highly qualified tutors
Cons:
Very expensive
Catered towards standardized test prep only
Bottom Line: If you are looking to boost your writing skills in preparation for a standardized test, it's hard to top Kaplan's premier services. That said, this top-notch service does come with an expensive price tag. 
Funneled with the same resources as the established and well-known Princeton Review, Tutor.com is particularly geared towards high school students who need a little helping hand with writing. Tutor.com hires a wide variety of experts, some with master's degrees and others with Ph.Ds, who can help with anything from a book report to an admissions essay. Tutors are available 24/7, which is beneficial if you are pulling an all-nighter to meet a next-day deadline.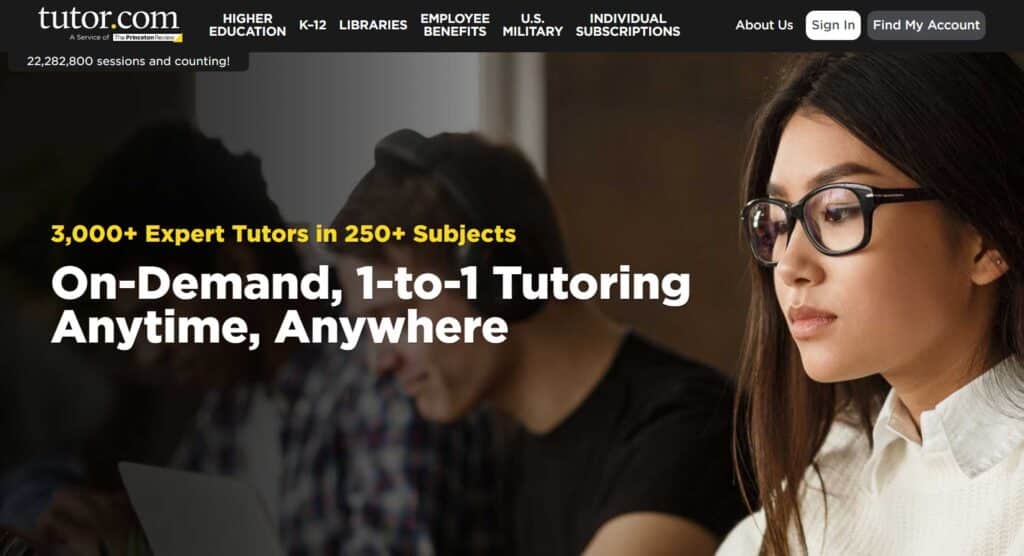 This service does not do the work of matching a student with a tutor. However, on the tutor.com website, tutors are organized by category, making it easy and convenient for students to find a tutor that specializes in their niche area of interest. 
Students can opt for several different pricing plans with this platform. Tutor.com offers several monthly subscription options, each with a different specified number of hours per month, as well as a monthly plan that allows for unlimited homework help. If you plan on receiving long-term instruction from this platform, you can also sign up for a six-month plan for a slightly better deal. That said, students will most likely not be able to receive instruction from the same tutor with every lesson. Students will also not receive personalized lesson plans. 
Pros:
24/7 access to tutors
Offers several different packages and pricing plans
A wide range of tutors with various specialties
Cons:
Not ideal for long-term instruction
Does not do the work of matching students with tutors
Students do not receive personalized lesson plans
Bottom Line: Funneled with the same resources as the established and well-known Princeton Review, Tutor.com is a great go-to for high school students who need a little extra guidance with writing.
Business Writing Center
Who said online tutoring was just for students? Whether you are cranking out lengthy lab reports or drafting book proposals, writing skills are required in most business professions. 
If you are looking to hone your business writing skills, Business Writing Center (BWC) is a great go-to online service for you.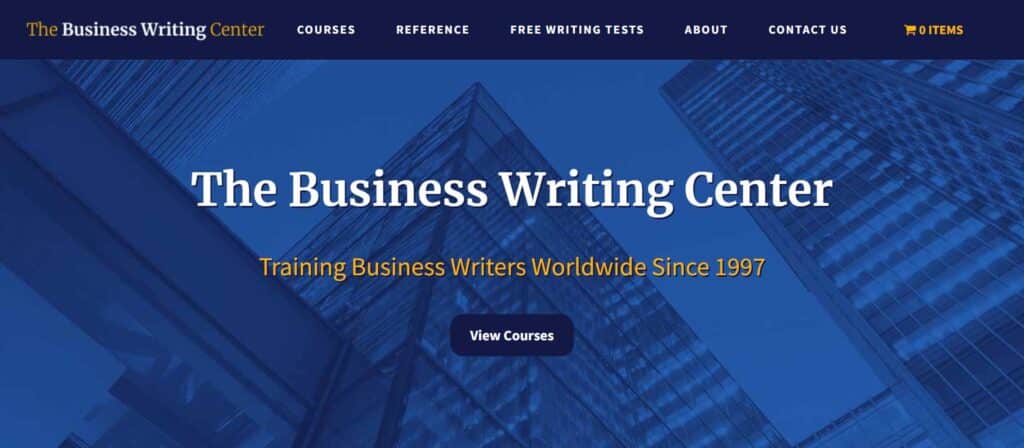 Referring to its tutoring services as "coaching" rather than traditional tutoring, this specialized tutoring company has several different packages available, depending on what type of instruction you are seeking. Individuals can sign up for one-on-one tutoring sessions with instructors that will also provide feedback on reports, proposals, and any real-life work documents they are working on. BWC also offers classes that are specially geared towards non-native English speakers. Each course costs around $395, and can last for as long as four months. 
Pros:
A niche online tutoring company for business professionals
Offers several different courses, including one for non-native English speakers
Cons:
Courses are self-paced, which may not suit everyone
Relatively expensive 
Bottom Line: If you are looking to hone your business writing skills, Business Writing Center (BWC) is a great go-to online service for you. With $395 self-paced courses, BWC can help bolster your writing skills with lab reports, business proposals, and more. 
Skooli 
Skooli offers tutoring in a wide range of subjects, therefore, you shouldn't have any issues finding online writing tutors with various specialties. Unlike some of the online services that do the heavy lifting of matching you with a tutor, it is up to you to find your ideal tutor. Closely examine each tutoring profile and select a tutor that will be able to help you with your particular needs. For example, if you need help with a lab report, you may want to select a tutor with a science background. For the most part, Skooli tutors are well-vetted experts. 
While you can use Skooli as a long-term tutoring platform, it's far more cost-effective for short-term homework help and essay questions. Customers are charged by the minute at Skooli, with rates being approximately $1 per minute. This means, that if you plan on having hour-long sessions with each tutor, lessons begin to get expensive, fast. Additionally, lessons must be a minimum of 15 minutes each. 
Pros:
Cost-effective for quick homework help
24/7 access to tutors
Cons:
The payment plan is not sustainable for longer lessons
Sessions must be a minimum of 15 mins
The quality of tutors widely varies
Bottom Line: With its pay-as-you-go payment plan and 24/7 access for tutors, Skooli is an ideal tutoring service for quick homework help. However, this platform is not a cost-effective option for those who want to have longer sessions with tutors. 
Pearson's Smarthinking 
Pearson's Smarthinking tutors specialize in numerous areas, but helping students improve their writing skills is one of their specialties. Along with regular homework help and writing assistance, Pearson's Smarthinking also offers some additional writing-based services. If you want to receive feedback on either a school essay or an SAT sample essay, you have the option to submit the paper to Smarthinking for review. For an SAT essay, this will only set you back $13, while a standard essay costs around $32. Long-form essays (10 pages or longer) will cost around $42. Additionally, if you are currently applying for jobs and looking for feedback on your cover letters or resume, Pearson's Smarthinking has also got you covered.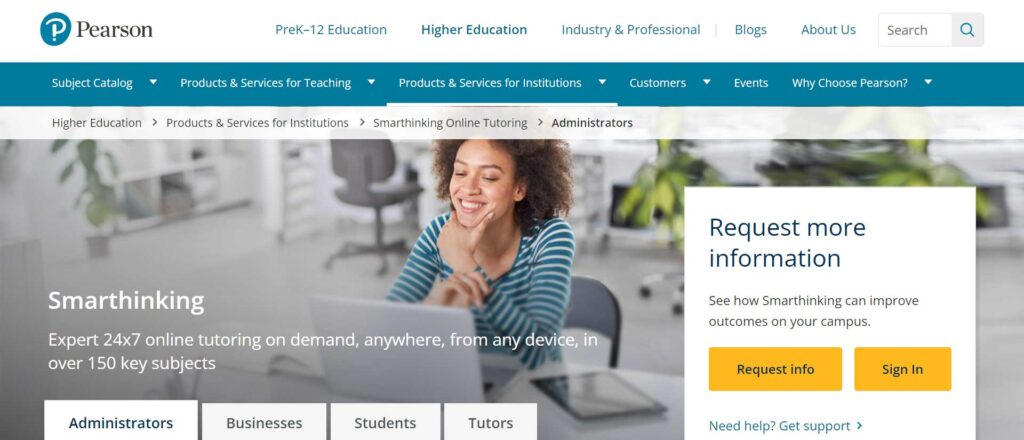 As for the writing teachers, tutors have an average of nine years of experience in their subjects, Not only have tutors received training and certification from Smarthinking, but about 90% have earned master's degrees or Ph.D.s in their area of expertise.
Pros:
Offers writing help for various formats
High-quality tutors
Cons:
Bottom Line: Pearson's Smarthinking offers online tutoring in various subjects, but its writing services are what help this platform stand out from the crowd. This tutoring company can help students improve their writing skills, but also offers additional writing-based services including reviewing cover letters, personal essays, and SAT sample essays. 
TutaPoint 
TutaPoint is particularly geared toward helping students prepare for standardized tests including the SAT and ACT. Tutoring packages do rear on the more expensive side, starting at around $425. Each package includes three hours of online tutoring, a practice test, and a tailor-made study plan. If you want to add more hours to your plan, then package prices gradually climb in price. For example, a 10-hour package costs around $1,895. Aside from learning basic test-taking strategies and getting special help in weaker testing areas, students also have access to various study tools including quizzes and practice drills. 
TutaPoint's tutoring network is mainly composed of retired teachers, college professors, and teaching assistants. If your child has special needs, then TutaPoint also has tutors who have been trained to help students with any learning disabilities. 
Pros:
Includes a lot of learning tools in each package
For the most part, tutors have years and years of previous teaching experience
Caters toward students with special needs
Cons:
Packages are expensive
Writing assistance is very focused on test prep
Bottom Line: If you need help preparing for SAT or ACT-specific writing, then TutaPoint is another great go-to service. Aside from tailor-made lesson plans and customized writing guidance, this pricier service also offers a handful of other helpful learning tools. 
How to find the right online writing tutor for your needs
There are many factors to take into account when searching for the best writing tutor for you. First and foremost, consider what type of writing you need help with. Do you need help writing lab reports or research essays, or are you simply trying to improve your understanding of grammar and proper sentence structure? By figuring out what your overall writing goals are, you can then compare how closely they align with the focus of different online tutoring platforms. This will help you narrow in on the best online tutoring platform for you. 
Similarly, you will want to consider your learning style and what type of teaching style you are looking for. Do you envision yourself partaking in long-term private tutoring, or are you looking to attend occasional small group courses? Alternatively, is your goal to just receive occasional homework help? One of the biggest factors that sets many online tutoring services apart is whether they cater to one-off or long-term tutoring. Deciding which type of teaching method you are looking for will help you eliminate several tutoring platforms that don't cater to your interests and goals. 
Deciding on your tutoring budget will also help you find the right writing tutor for your needs. Tutoring packages and hourly rates drastically vary from service to service. While some tutoring services are very budget-friendly, others are a bigger financial investment. By figuring out how much you can afford to spend on tutoring every month, and how frequently you plan on needing tutoring lessons, you can begin to limit tutoring services that are outside of your price range. 
How we chose the best online writing tutoring services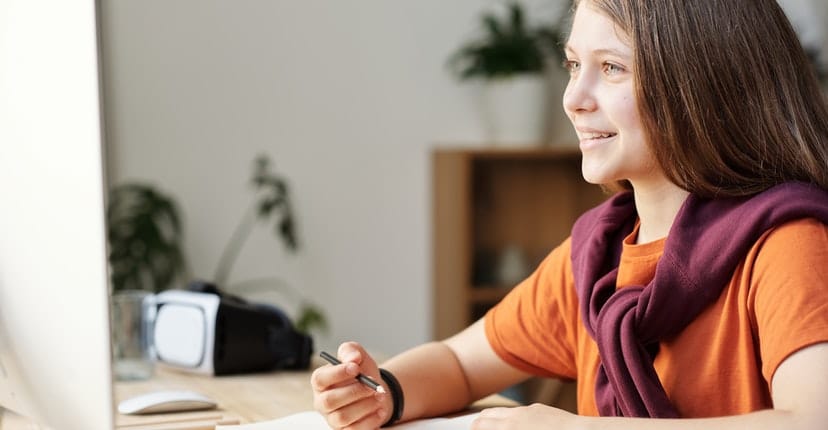 With so many online tutoring services available, we wanted to make the selection process as easy as possible for you. That said, while we did select ten of the best online writing tutoring services available, we also wanted to provide a diverse array of options. 
Writing is a skill that is used by many. Whether you are a young student learning to write for the first time, or a business professional drafting proposals and day-to-day emails, not everyone needs help with the same type of writing. The platforms in this round-up range from services that assist with general writing skills to those that focus on a particular niche, such as test prep or business writing. These tutoring services in this round-up also range in price point and tutoring style (long-term tutoring and one-off essay help). 
Benefits of online writing tutoring
Writing is a hard skill to perfect. It takes a lot of writing and rewriting, and then writing some more to become a great writer. To top that off, with so many types of writing, it's that much harder to master them all. From SAT essays to lab reports, literary analyses to research papers, even after you've mastered one style of writing, there's always another one to take its place. 
That's where online writing tutors come in. Like every other skill, writing challenges can be overcome with the right tools and practice. Online writing tutors can provide feedback, teach students about grammar and sentence structure, and guide them through new techniques to help them improve. Most importantly, writing tutors can also help students gain confidence in their writing abilities. Writing can be especially challenging for students who are non-native English speakers and for students with special needs. Luckily, there are tutors out there who specialize in teaching for both of these communities. 
FAQs
What are online writing tutoring services?
Online writing tutoring services are virtual companies that can connect students with tutors. These companies may be tailored towards a particular demographic or style of writing, or they may be a more general tutoring platform that covers a wide range of subjects. 
Who should use online writing tutoring services?
Anyone and everyone can take advantage of online writing tutoring services. More than most other skills, writing is something that students begin learning at a young age and continue to utilize throughout the rest of their lives. Whether you are struggling with a particular style of writing, or are seeking feedback on an essay or cover letter, there are online writing tutoring services catered to your particular needs. 
How much do online writing tutoring services cost?
The cost of online writing tutoring services varies from service to service, as do the pricing plans. While some tutoring services will charge by the minute or hour, others will charge a monthly membership fee or include several packages to choose between. 
What should you look for in online writing tutoring services?
There are many factors to consider before selecting an online tutoring service. You should look for the style of tutoring, the virtual learning tools that the service utilizes, the added benefits included in a package or membership, and the quality of the tutors in each network. 
What are the pros of using online writing tutoring services?
Online tutoring is more convenient, accessible, and affordable than in-person tutoring. Not only does online tutoring provide most of the same benefits as in-person tutoring, but it's also much easier to find a tutor that specializes in your area of interest and can cater to your learning style. Without a commute to worry about, it's far easier to squeeze online tutoring into your busy schedule.
What are the cons of using online writing tutoring services?
Some individuals, particularly younger children or students with learning disabilities and special needs may struggle with learning online. Consider your child's learning style before you opt for an online tutoring service. If they struggle to remain engaged or sit still for long periods of time, in-person hands-on learning may be better suited to their needs.