The Best Geometry Tutors: Our Top 5 Online Services of 2023
ScholarshipInstitute.org is reader-supported. When you buy through links on our site, we may earn a commission. Learn more.
Geometry is an important math subject that translates to our everyday life, from design and construction to astronomy. Even still, geometry is one of the most difficult subsets of mathematics for students to learn because of its abstract and spatial nature. If your student is struggling, connecting them with the right private geometry tutor can help.
However, that search process can be a challenge. While you want to find a math tutor to help your child solve problems and gain a deep understanding, you also want to find someone to help them enjoy the learning process. In this comprehensive round-up, we have done the research for you by reviewing the best online geometry tutors to help you find one that aligns with your interests and goals.
And although Learner has earned our top pick, we've outlined the pros and cons of each as well as our research methodology, because the final decision should always be your choice. Let's get started!
A Quick Look
Learner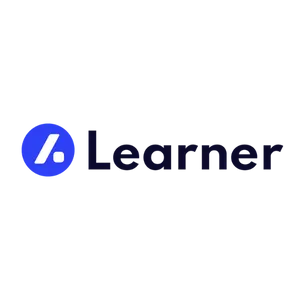 Ranks #1
Score: 93/100
Bottom Line: With an innovative matching algorithm, high-quality tutors, affordable prices, and state-of-the-art technology, this math-focused platform is great for geometry students of all ages and skill levels in need.
Wyzant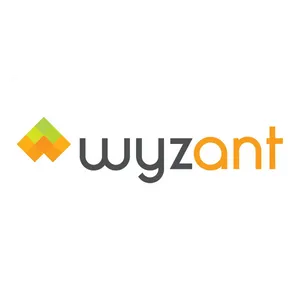 Ranks #2
Score: 86/100
Bottom Line: Wyzant's platform is designed as a tutoring marketplace where students and parents can select their own tutor from over 80,000 options. This service best caters to those who want complete control over the tutor selection process.
Varsity Tutors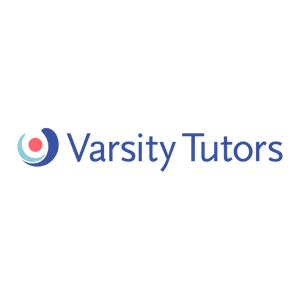 Ranks #3
Score: 80/100
Bottom Line: Varsity Tutors is an online tutoring platform with over 40,000 tutors that offers instruction in more than 2,500 subjects. One of the downsides of this extensive tutoring network is that the quality of the service and prices differ from tutor to tutor.
We reviewed each platform independently and scored it using the criteria students care about.
Also reviewed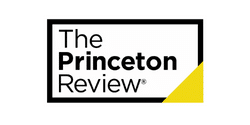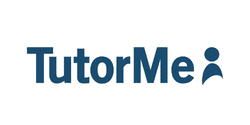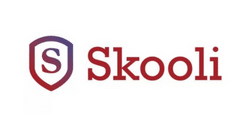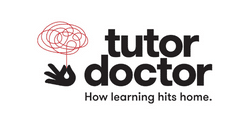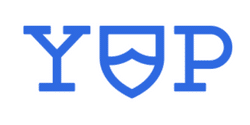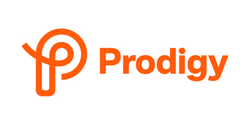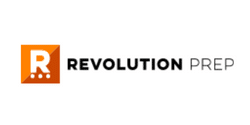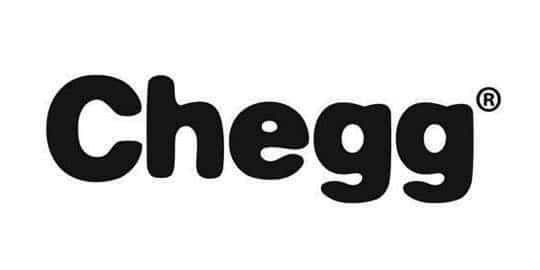 Top 5 Online Geometry Tutoring Services
With dozens of online private tutoring services available, it can be a challenge to narrow down the ideal tutor for your child's specific needs. In this review, we've sought to break down how the best options cater to different types of students so that you can choose what's right for your child.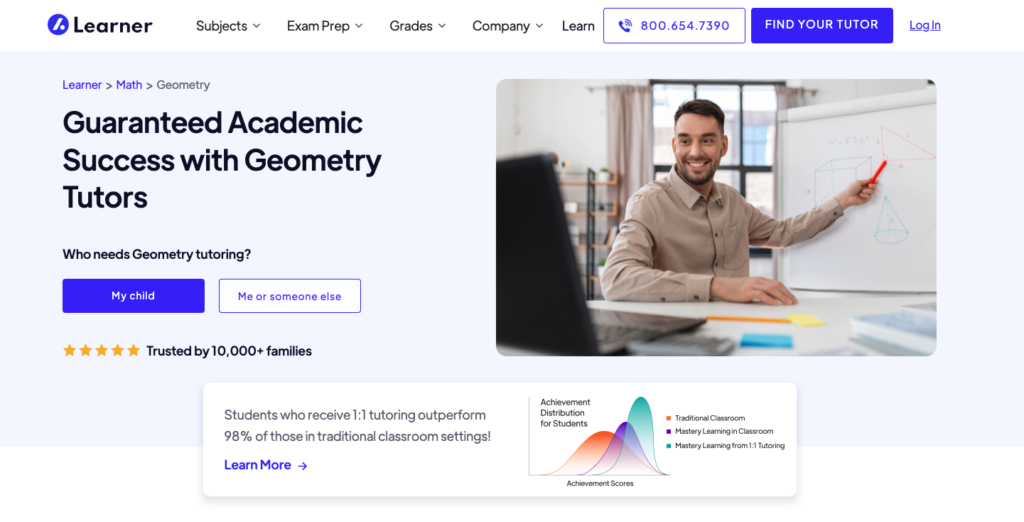 Founded by educators, Learner is an innovative online tutoring service. It is primarily math-focused, making it great for geometry students of all ages to strengthen various geometry skills. Learner has strict criteria online geometry tutors must meet if they want to be accepted into the Learner network. Every candidate must have attended an accredited four-year college and already have several years of teaching experience.
After taking a short online quiz, each student is matched with a private geometry tutor in the Learner network who is a good fit. The algorithm accounts for goals, grade level, learning style, proficiency, personality, and schedule.
Every Learner math tutor lesson takes place in a high-tech virtual classroom with video, audio, chat, and an interactive whiteboard that lets students and tutors work on geometry problems together. Each lesson is recorded for safety reasons, so students can use their tutoring lessons as study tools when preparing for an exam. Pricing starts at $60 per hour, and every student receives a complimentary first session.
Pros
High-quality tutors
Innovative technology
Comprehensive matching algorithm
Complimentary first session
Easy application process
Recording feature
Affordable price for one-on-one value
Cons
Not designed for on-demand homework help
Tutors aren't available 24/7
Bottom Line: With an innovative matching algorithm, expert tutors, overall value, and state-of-the-art technology, this math-focused platform is great for geometry students of all ages and skill levels in need.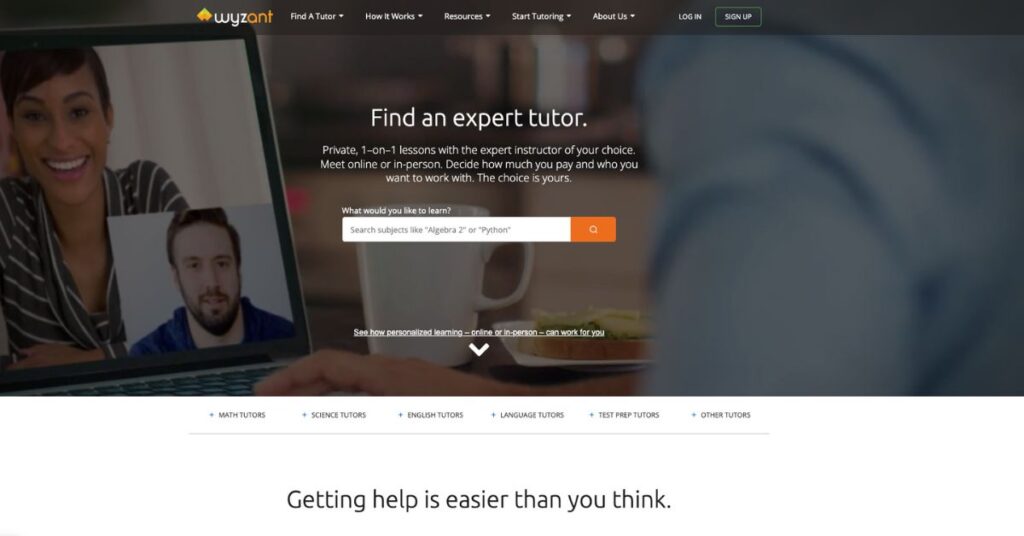 Unlike many of the geometry tutoring services included in this list, Wyzant allows students and families to research and select their own tutors. No matching expert or algorithm does the hard work of putting you in touch with a good tutor.
While this won't be a desirable feature for everyone, it does make Wyzant a good option for anyone who wants complete control over the tutor selection process. And with more than 80,000 instructors in its network, you are highly likely to find a tutor who meets your needs—even if it takes some time to sift through your options.
The quality of this tutoring service depends a lot on the tutor you choose. Still, each tutor must pass a test of their skills given by Wyzant before they can join this network.
Wyzant offers both online and in-person tutoring options. There are also a lot of lessons that have been saved on the site that Wyzant members can look at when they are not in the middle of a tutoring session. Pricing varies from tutor to tutor, and clients must pay a Wyzant service fee on top of a tutor's hourly rate.
Pros
Offers online and in-person tutoring
Includes archived lessons on the site
Cons
Pricing and quality vary across tutors
No matching service
Bottom Line: Wyzant's platform is designed as a tutoring marketplace where students and parents can select their own tutor from over 80,000 options. This service best caters to those who want complete control over the tutor selection process and are willing to commit to some trial-and-error to find the right instructor.
Varsity Tutors is a website where you can get help with more than 2,500 different subjects, from Chinese to computer science to geometry. This platform uses a placement algorithm that takes into account a student's schedule, educational needs, skill level, learning style, interests, and goals to match them with a tutor. It has a network of more than 40,000 tutors, and each one has been through a strict screening process that includes interviews and background checks.
One of the downsides to this extensive network is that the service lacks uniformity. According to Varsity Tutors' previous students, the quality of the service highly depends on the individual tutor you are working with. Varsity Tutors also pay their tutors much less than the average rate, which affects the quality of their services.
One unique element of Varsity Tutors is its Instant Tutoring feature. This tool allows students to connect with an online tutor in as little as 15 seconds for quick homework questions and exam preparation. Rates depend on the tutor you are matched with, but each session costs about $50 per hour on average.
Pros
Instant Tutoring feature
2,500 subjects offered
Tutoring packages can be shared within a family
Tutors are available 24/7
Cons
Pricing information is not provided upfront
Time-consuming application process
Quality of service can be low for various reasons
Bottom Line: Varsity Tutors is an online tutoring platform with over 40,000 tutors that offers instruction in more than 2,500 subjects. One of the downsides of this extensive tutoring network is that the quality of the service and prices differ from tutor to tutor.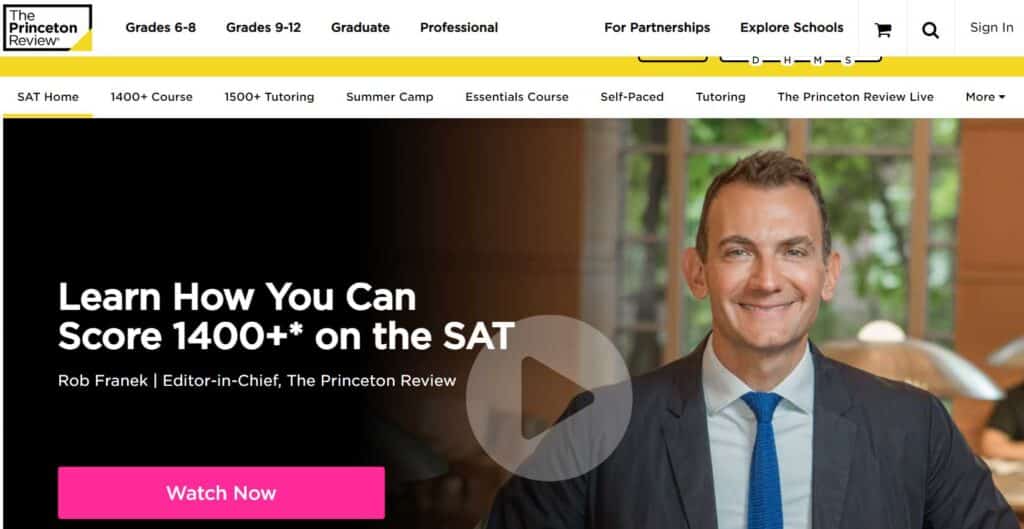 One of the most comprehensive services in the field is The Princeton Review. Before it bought tutor.com, this well-known tutoring service was best known for helping people prepare for the ACT and SAT. Now, kindergarteners and adults can get help with geometry homework and prepare for math-specific standardized tests.
Tutoring support is available 24/7 for anyone who needs it on a variety of study topics, including geometry. This New Jersey-based company claims that more than 5,000 students use this service on a daily basis.
The pricing at Princeton Review starts at $40 an hour, but clients also have the option to select between various packages. For example, individuals could also purchase a one-time package for $350 for 10 hours of tutoring across six months or a $1,450 package for 50 hours of tutoring across six months. The Princeton Review also offers free tutoring for students from US military families.
Pros
Tutors available 24/7
Free tutoring is offered to military families
Established and comprehensive service
Cons
Relatively costly
Website can be difficult to navigate
Bottom Line: The Princeton Review is one of the oldest and most well-known services. It offers everything from help with homework to practice for standardized tests. That said, purchasing a package through this service can be relatively expensive.
Skooli is catered toward students who occasionally need help when they are stuck on tricky geometry formulas or need some last-minute study help before a big geometry test. The pricing is set up as a convenient pay-as-you-go plan of $0.82 per minute, with a minimum of 15 minutes per session.
Students are not locked into regular tutoring sessions and can connect with a tutor 24/7. The way this platform works is that students can ask a specific tutoring question or start chatting with a tutor to see if they can offer assistance. Then, students can immediately hop on a live video call with the tutor for as long as needed.
Each Skooli classroom has a virtual whiteboard, allowing students to collaborate on geometry problems alongside their tutor. Skooli also uses a recording feature, allowing students to rewatch their tutoring sessions at their leisure if they need to recap a concept.
Pros
Virtual whiteboard
Recording feature
Instant tutor connection
24/7 access to tutors
Cons
Not for students looking to build a long-term tutoring relationship
The pay-as-you-go model may be stressful for some students and families on a budget
Bottom Line: Skooli is great for geometry students who need quick homework help or assistance preparing for a big test. The pay-as-you-go model means you are never locked into unnecessary tutoring sessions. That said, this platform does not cater to students looking for long-term help or those looking to build a long-term relationship with a tutor.
Why Try Online Geometry Tutoring?
Middle school, high school, and college students struggle with their geometry lessons for many reasons. An online math tutor can offer helpful tips, look closely at individual problems, and expand a student's understanding beyond geometry concepts.
Access to a broader education
Geometry involves a significant amount of visual and spatial reasoning, which can be challenging for some students. A private tutor can hone in on those skills, which will not only improve geometry test scores, but also boost understanding in various math subjects.
To improve your geometry skills, you need to gain knowledge about other math topics like algebra and trigonometry, which some students may not have mastered yet. If you need help building a strong foundation in other math subjects, like test prep, sat math, college math courses, etc., an online service has the resources to set you up with an experienced math tutor for various subjects.
A tailored experience
The best geometry tutors can teach students in a way that fits their needs and helps them develop the critical thinking skills they need to solve difficult problems. In an online setting, students are set up with an experienced teacher and math tutor who can help them study geometry in a way that is geared toward their learning style.
The right geometry tutor is an important tool for students who want to do well in this difficult subject. It is also a good investment that can have a big impact on your child's academic success.
How to Find the Right Online Tutor for Your Needs
When selecting your geometry instructor, it comes down to finding the best math tutor who is aligned with your interests, needs, and goals. Here are some factors you should consider before hiring the best online geometry tutor for you:
Use a reputable platform
Some geometry tutor platforms are more reliable and trustworthy than others. For instance, The Princeton Review has been around for over 40 years and has established itself as a reliable tutoring service.
Check out how each tutoring platform vets its tutors to make sure that everyone in its network can be trusted. Some platforms will be more transparent than others about their tutoring criteria. For instance, Learner mandates that every private tutor have at least a bachelor's degree from a four-year college and several years of tutoring experience.
Check tutor credentials
Some platforms have tens of thousands of tutors in their networks, so education and experience will likely vary from tutor to tutor.
Before you hire a candidate to teach geometry, make sure you do your own background check on them. Comb through each candidate's education, teaching experience, and subject-matter expertise. The right tutor has taught geometry to students with the same level of skill as your child.
Read reviews and ratings
A tutor's profile reveals lots of important information about them, but it's not the be-all and end-all. What is the tutor's personality like? What is their tutoring philosophy? Reviewing previous reviews is one of the best ways to determine an instructor's value. Look for geometry tutors with positive ratings and reviews from their previous students. Reviews often reveal details about tutors you cannot glean by looking at a resume.
Ask for recommendations
If you want to work outside of an online service, ask for personal recommendations within your various communities. Check with co-workers, neighbors, and fellow parents to see if they've worked with stellar online geometry tutors in the past.
Getting a direct recommendation from someone is not only convenient, but it's also a surefire strategy to ensure that you are working with someone who is qualified, personable, and trustworthy. Checking in with your child's math or geometry teacher may also be worthwhile, as they will know more about your child's current geometry proficiency, learning style, and areas of weakness.
Conduct an interview
Once you've honed in on a few final candidates, ask if they would be willing to hop on the phone for a quick, informal interview. This is your chance to ask your potential geometry tutor questions and get a feel for who they are and how they act.
Ask about their teaching style and philosophy, as well as their schedule, availability, and rate. If you have the time, you could even ask them to walk you through a typical tutoring session. This phone call will allow you to deduce whether this geometry tutor is the right fit for your child.
How We Chose the Best Online Geometry Tutoring Services
There are dozens of online geometry services. So, how did we narrow down that list? We've included our meticulous methodology below:
Quality of tutors
Every online geometry tutoring service comprises a network of tutors. Some services, like Wyzant, have nearly 80,000 tutors, while others have a much smaller network. Learner's stricter pool shows their overall focus on value.
That said, every tutoring service will also have a hiring process where they vet the tutors that are accepted into their network. This process is important to ensure that a tutor is qualified to teach your child, but it's also important to ensure that a child will be safe in a one-on-one environment with their tutor.
Customized learning plans
The best tutoring services will offer customized lesson plans for each student. One of the ways that one-on-one tutoring is more beneficial than classroom learning is that tutors can tailor every lesson plan toward the students' strengths and weaknesses, learning styles, and interests. Search for companies that offer complimentary first sessions or consultation calls. Tutors often use these sessions to evaluate a student's proficiency and preferred learning style and build a curriculum around these factors.
Availability and flexibility
One of the biggest benefits of online vs. in-person tutoring is that online tutors are often more available for their students. Ideally, you want a tutoring company that will bend to your schedule and not vice versa.
Look for tutoring companies that offer flexible scheduling options, including weekend, evening, and even 24-hour tutoring options. Also, keep an eye out for tutoring services that offer different packages, such as short-term and long-term tutoring. Some services, like Skooli, will also offer a pay-as-you-go option.
Communication and feedback
As a parent, you must be in the loop about your child's geometry progress, as this will impact the course of action you take with tutoring. For instance, if your child shows rapid improvement within the first month of tutoring, you may no longer require a tutoring service. On the other hand, if your child's grades haven't improved after some time, you may want to increase the frequency of their sessions or switch instructors. Look for tutoring services that schedule regular feedback sessions after geometry lessons so that you are constantly updated.
Technology and resources
In this day and age, many companies in the field have found ways to make their services just as, if not more, valuable than in-person tutoring. But the main thing that determines the quality of a tutoring service is what kind of technology they use.
Look for platforms that use tools such as interactive whiteboards, recording functions, and video, audio, and chat features. Interactive whiteboards, in particular, are very valuable for subjects like geometry, as they allow students and tutors to collaborate on practice questions simultaneously.
Benefits of an Online Geometry Tutor
There are many advantages that online has over in-person tutoring and classroom learning. Here are some of the ways you can benefit from virtual tutoring:
Convenience
Getting to and from an in-person tutoring session is a major hassle. Even if it only takes you twenty minutes to get to a session, the commute almost doubles the time commitment of tutoring on a weekly basis. This can make in-person tutoring difficult to squeeze into a busy high school geometry student's schedule.
With an online geometry tutor, students never need to leave the comfort of their own homes. It's easy to schedule a quick tutoring session early in the morning before school or late at night after classes and extracurriculars.
Personalization
The primary benefit of online over classroom learning is personalization. In a classroom full of students, geometry teachers must devise a lesson plan that will best suit most students. Only one student needs to be catered to in a one-on-one session. This lets private tutors make lesson plans that focus on the areas where the student needs the most help and use strategies and methods that play to the student's strengths so that they can gain a deep understanding of various complex concepts and geometry questions.
Access to a wider range of tutors
Whether you live in a small town or a big metropolis, finding an in-person geometry tutor who checks all your boxes can be difficult. Online, your pool of geometry tutors increases a hundredfold, so you can make sure you are finding a certified math teacher or an experienced math tutor.
When location isn't a factor, you can work with experts from all over the country (or world) without ever needing to leave your own home. When you find geometry tutors online, you never need to settle for the next best thing.
More affordable
Geometry tutor cost is a big part of choosing the right online geometry tutor for many parents. Online tutors are often lower than prices for tutoring in person for a number of reasons. Person-to-person tutoring has extra costs like rent for the tutoring space, travel costs, and the cost of materials and supplies. In-person tutoring also sometimes requires the tutor to travel to the student's location, which takes time and effort. Lastly, the online market is more competitive, which drives down prices and often makes online tutoring more affordable for students.
Technology integration
Many online tutoring services use new technology to make it feel like the tutoring is happening in person. For instance, interactive whiteboards allow tutors and students to collaborate on geometry problems simultaneously, while video and audio features make it feel like tutors and students are in the same room.
Some tutoring services also record all of their tutoring sessions, which gives online tutoring an advantage over in-person tutoring. Students can use recorded lessons as study tools when they are preparing for tests or working on a big homework assignment.
Final Thoughts
Based on our diverse research and thorough review of the top online geometry tutors, Learner earned our top pick for its math-focused specialization and commitment to individual students' needs. The high quality of tutors guarantees that every student will be matched with the right tutor to help them improve. This is backed up by their complimentary first lesson service that demonstrates confidence in their process without putting pressure on the parent or student to commit.
That same flexibility is present in their teaching process. They take into account students' personalities, schedules, and goals and work one-on-one to create a custom-built curriculum that can adjust to the student's process at the moment, whether memorizing formulas or understanding complex geometry topics.
Through individualized support and access to advanced tools, Learner students can gain not only a deeper understanding of geometry, but also confidence in their learning process and their ability to excel with the right resources. These are skills and tools that they can carry with them into the future.
Frequently Asked Questions
If you're still unsure on how to choose the perfect geometry tutor for you, here are some answers to our most common queries.
What are online geometry tutoring services?
Online geometry tutoring services are platforms that provide geometry tutoring sessions to students online. These services connect students with professional experts who specialize in teaching geometry. Students can opt for one-on-one tutoring sessions, small group sessions, or pre-recorded video lessons that they can watch at their own pace.
Who should use online geometry tutoring services?
Any student can benefit from online geometry tutoring services, whether they are falling behind with their coursework, need to brush up on the basics, or are looking to get ahead in the curriculum. Private tutoring is a great way to supplement what you learn in geometry class because tutors can make their lessons fit the needs and goals of their students.
How much do online geometry tutoring services cost?
Online geometry tutoring services range in price, especially because many tutors will set their own rates based on their experience, education, and certifications. That said, online tutoring services typically range between $40 and $80 per hour.
What should you look for in online geometry tutoring services?
When choosing an online tutoring service, you should think about the quality of the tutors, the tutoring method, the cost, the availability of the tutors, and any extra features they offer. It's worthwhile to read through reviews and testimonials from other students to get a sense of their experiences and satisfaction level.
What are the pros of using online geometry tutoring services?
There are many advantages of using an online geometry service. Online tutoring is more convenient, more affordable, and offers better access to tutors from all over the country. With the innovative technology used in these sessions, an online tutoring environment is very similar to an in-person classroom with additional advantages.
What are the cons of using online geometry tutoring services?
There are some students who may function better in an in-person tutoring environment compared to an online classroom. For instance, younger students may struggle to stay engaged in an online classroom, while students who struggle with technology may also benefit more from an in-person tutoring experience.