Wyzant vs. Varsity Tutors Comparison – Which Is Best?
ScholarshipInstitute.org is reader-supported. When you buy through links on our site, we may earn a commission. Learn more.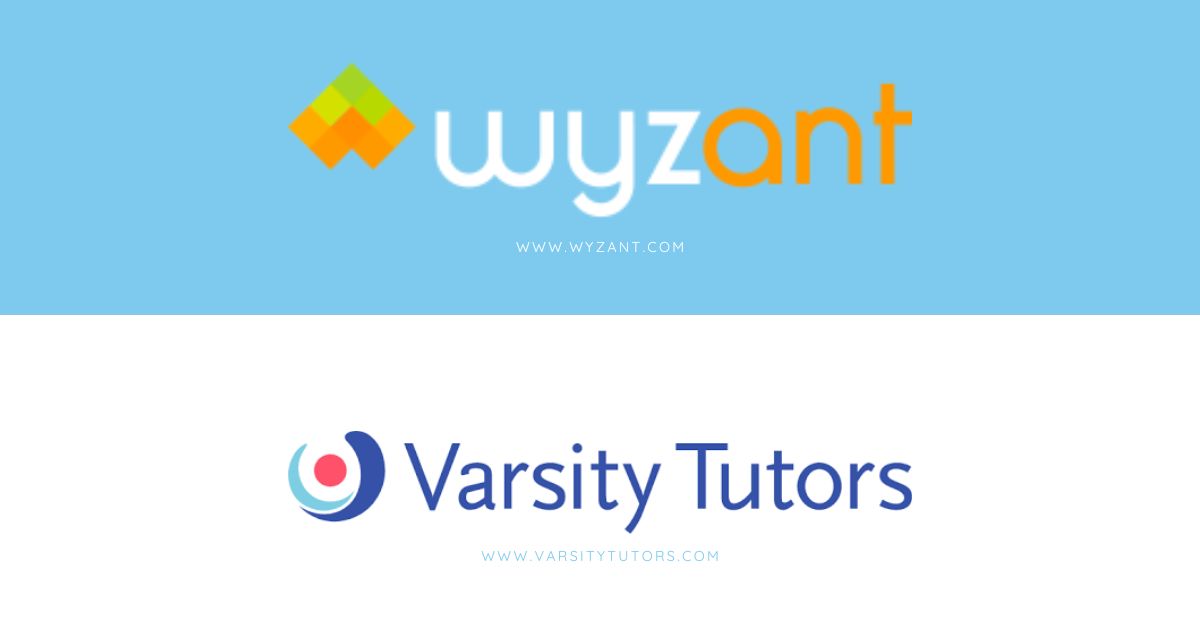 Wyzant and Varsity Tutors are well-known tutoring companies offering a wide range of education services for learners of all ages. These tutoring platforms help students with their learning process and test prep by giving them access to tutors who fulfill their academic needs. Wyzant and Varsity Tutors are just two of the many programs available to families searching for reliable private tutors.
This article will discuss the key features and services offered by Wyzant and Varsity Tutors and compare the pros and cons of each company. To help you decide which tutoring service to choose, we'll also consider whether any other tutoring platforms have more to offer.
Quick Facts
| | | |
| --- | --- | --- |
| | Wyzant | Varsity Tutors |
| Product Quality | 5.0 rating from EduReviewer | 4.7 rating from EduReviewer |
| Academic Results | Students who use Wyzant generally have positive feedback about the experience. They praise the quality of the tutors and their guidance in helping students master the subject matter. | Many students praise Varsity Tutors because the tutors are well prepared and meet the individual needs of the students. They usually appreciate their tutoring styles. |
| Delivery | In-person and online tutoring services are available. | Online tutoring services are available but in-person tutoring options are limited. |
| Pricing | Approximately $35 per hour. | Approximately $45 per hour. Some customers found the pricing structure of Varsity Tutors to be complicated. |
| Support | A wide selection of tutors are available for various subjects. Students can connect with some of the nation's top tutors. | Students can receive video lectures and record sessions to be viewed later. Tutors cover a very wide range of academic subjects. |
Why You Should Consider Online Tutoring
Online tutoring services offer a wide range of benefits beyond traditional tutoring setups. Online tutoring gives students immediate access to some of the top educators in the country without any of the complicated logistics of traveling to learning centers or fitting sessions around busy schedules. Online tutoring offers results comparable to or even better than traditional in-person tutoring, with the added perks of flexibility, useful e-learning tools, and recorded sessions. Unlike many in-person tutoring services, online tutoring is usually one-to-one, allowing students to form a closer connection with their tutor.
Innovative tutoring platforms like Learner are raising the bar for online tutoring by matching students with some of the top tutors and educators in their fields. Learner's secure online learning platform lets students and tutors interact in real-time. Students can complete assignments, develop a solid grasp of the material, and raise their test scores, all from the comfort of home.
Wyzant Overview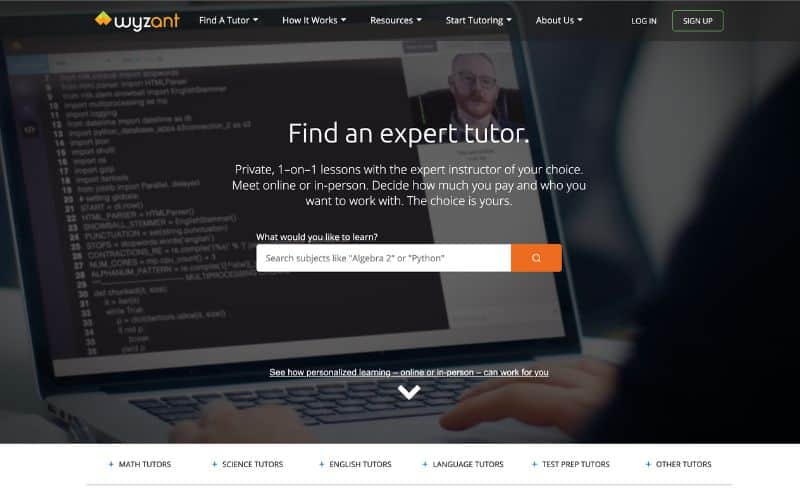 What Is Wyzant?
Founded in 2015, Wyzant is an online community intended to help students and parents find a tutor online. On the Wyzant website, prospective customers can browse tutor profiles. Covering over 300 subjects with more than 65,000 instructors, Wyzant tutors conduct over a million lessons every year.
Wyzant strives to create an efficient and satisfactory experience for students and parents. Customers unhappy with their instructor's qualifications or delivery can opt for a refund. Wyzant has a good reputation among its customers, who feel that they usually get a high-quality service.
Pros
Tutors are qualified and held to high standards.
In-person and online tutoring services are available.
A wide selection of tutors is available for various subjects.
Wyzant's online tutoring tools are simple but effective.
In many locations, excellent tutors are available in the student's immediate geographic area.
Creating a Wyzant account is free. Wyzant has a "pay-as-you-go" structure and a pre-purchase package option.
Cons
The hourly payment method can be costly.
Tutoring is only accessible to students based in the United States and fluent in English.
Lesson scheduling depends on the tutor's availability, leading to potential scheduling conflicts.
The Bottom Line: Wyzant connects students to tutors for either in-person or online tutoring in various subjects. Students can browse profiles and choose a tutor who is paid by the hour.
How Does Wyzant Work?
Wyzant follows a pay-as-you-go structure that allows the tutors to set session prices. Wyzant is easy to navigate – prospective customers simply provide information about the subject and level of their tutoring needs. The client also lists their time zone and availability. The student will receive a list of professional tutors that match the criteria. If the client determines that a tutor seems experienced and is worth messaging, they can book a lesson.
How Much Does Wyzant Tutoring Cost?
The average cost of a Wyzant tutor is $35 an hour, but tutors can set their rates. They typically charge between $25 – $60 an hour. On top of the hourly rate, students have to pay a 9% service fee. Wyzant offers a "good-fit guarantee" that states that if students aren't satisfied with the tutor they've chosen after the first few hours, they can discontinue their studies and get a full refund for those hours and the service fee. This means there's no risk for the initial session with a Wyzant tutor.
Is Wyzant Legit?
Wyzant is a legitimate online tutoring marketplace that has connected thousands of students with quality tutors, both online and in their local area. The website also offers free tips and resources, allowing customers to ask questions about the site or education strategies in general.
What Are Customers Saying About Wyzant?
Although some consumer review websites have noted that the constant vetting of Wyzant's tutors can leave them feeling "disillusioned," most students who use Wyzant have primarily positive feedback. Customer reviews tend to praise the quality of Wyzant's tutors and the reliability of their results. Overall, parents and students feel that Wyzant tutors provide students with an excellent opportunity to master even the most challenging subjects, including complex math topics.
Varsity Tutors Overview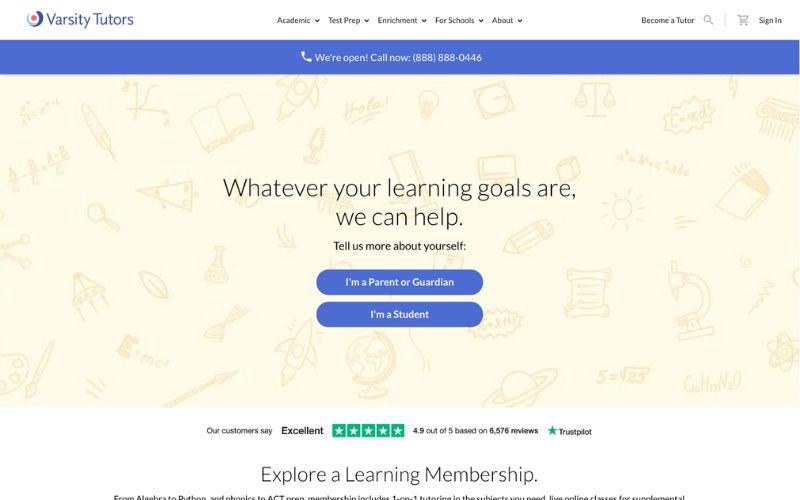 What Is Varsity Tutors?
Varsity Tutors is a tutoring service built off the experiences of founder and CEO Chuck Cohn. Recalling how he significantly boosted his grades with tutoring help, Cohn created Varsity Tutors to introduce highly educated experts to students who could benefit from a more personalized learning experience.
Varsity Tutors hires North American graduates and teachers to tutor learners of all ages, from middle school and high school students to college students and mid-career professionals. The Varsity Tutors network includes over 40,000 trusted experts whose expertise covers around 3,000 academic and professional subjects.
The company operates via the live online learning platform Nerdy. Nerdy uses technology, artificial intelligence, and online social media networks to provide high-quality learning to students. Varsity Tutors delivers a personalized experience designed to suit the unique needs of each student, regardless of their level or the subject matter. This tutoring company has a good reputation in the industry and is known for being thoughtful towards its user base.
Pros
With Varsity Tutors' "Better Score Guarantee" policy, students can claim a full refund if their test scores don't improve.
Students can receive and share video lectures and collaborate online.
Varsity Tutors covers an extensive range of academic and professional subjects.
Students can record lectures and have 24/7 access to past lessons.
Flexible scheduling promotes independent learning.
Cons
Higher prices than many of their competitors.
Students receive a tutor based on their learning profile without additional input.
Finding accurate prices for tutors is not always easy, and published rates are sometimes outdated.
Students do not have the option of choosing their tutor.
In-person tutoring is very limited.
The Bottom Line: Varsity Tutors offers tutoring services in various subjects, with flexible online lesson scheduling. Although the prices are higher than some of their competitors and there is no option to choose your tutor, Varsity Tutors can usually meet the needs of learners of all ages and backgrounds.
How Does Varsity Tutors Work?
Since Varsity Tutors doesn't allow students to pick their own tutor, the site operates on a call system. A prospective student calls Varsity Tutors through their company phone number and explains their tutoring needs. Whether it's homework for a specific subject, revision for an upcoming exam, or standardized test preparation, Varsity Tutors will select a tutor that meets the student's needs.
The tutor will be notified of their new pupil and will contact them to set up a time to meet virtually through Varsity Tutors' Live Learning Program.
How Much Does Varsity Tutors Tutoring Cost?
Frustratingly, it is difficult to determine how much an academic tutoring session with Varsity Tutors will cost. Some customers have reported that sessions range from $70-$95 per hour, while others note that sessions start at $45 an hour, depending on the tutor's experience and reputation. Rates can also vary based on location and session timings. Small group tutoring sessions appear less expensive, as the participants can share the lesson cost.
Is Varsity Tutors Legit?
Varsity Tutors is a well-established company licensed and registered in the United States. It has earned an A+ rating from the Better Business Bureau (BBB), which states that these accreditations mean that the company is "committed to (making) a good faith effort to resolve any consumer complaints."
What Are Customers Saying About Varsity Tutors?
Based on reviews from sites like Trustpilot, Varsity Tutors is popular with many families who have used the service. Customers say Varsity Tutors employs well-prepared tutors who meet students' individual needs with a comprehensive academic and professional knowledge base and flexible tutoring styles. However, some customers have expressed frustration with the unclear pricing structure, which tends to be higher than the average price of comparable online tutoring services.
Wyzant vs. Varsity Tutors Similarities
Wyzant and Varsity Tutors offer online and in-person tutoring options that generally provide students with excellent tutors.
Both platforms offer experienced tutors who can provide tutoring services for various subjects and grade levels.
Wyzant and Varsity Tutors offer tutoring services aimed at English speakers located in the United States.
Both platforms thoroughly vet their tutors and offer a satisfaction guarantee to ensure that customers are happy with their tutoring experience.
Wyzant vs. Varsity Tutors Differences
Wyzant charges a 9% service fee, while Varsity Tutors has no additional costs beyond the hourly rates for their tutoring sessions.
Wyzant allows students to choose their tutor based on their personal preferences, while Varsity Tutors asks the client questions before assigning them an appropriate tutor.
Wyzant is more explicit about the cost of tutoring sessions, whereas Varsity Tutors is less clear about payment policies.
The most significant difference is that Wyzant is a tutoring marketplace that provides a platform for students to access an independent tutor, either online or in person. Varsity Tutors is an online tutoring service that employs tutors and assigns them to students who can benefit from their expertise.
Wyzant vs. Varsity Tutors: Which Is Better?
Wyzant and Varsity Tutors are highly-regarded tutoring programs that will supply your child with a qualified and experienced tutor. However, they both have strengths and weaknesses worth considering when deciding which program is best for your child.
While Varsity Tutors covers a broader range of academic subjects, it doesn't have the number of tutors that Wyzant does. Varsity Tutors doesn't give customers the same level of choice that Wyzant supplies. Some families may prefer Wyzant because it offers customers access to thousands of tutoring profiles, thus allowing them to choose a tutor themselves. However, this can be time-consuming and doesn't necessarily ensure that the tutor will be a good fit for the student.
Varsity Tutors assigns a tutor to the student based on a short telephone consultation. This company also offers flexible hours and tutoring programs.
For families concerned about having a broad range of academic subjects and more control over their choice of tutor, Wyzant is a better choice. In contrast, Varsity Tutors is preferable for families who want to be assigned a tutor and have access to additional e-learning features.
Why We Recommend Learner Instead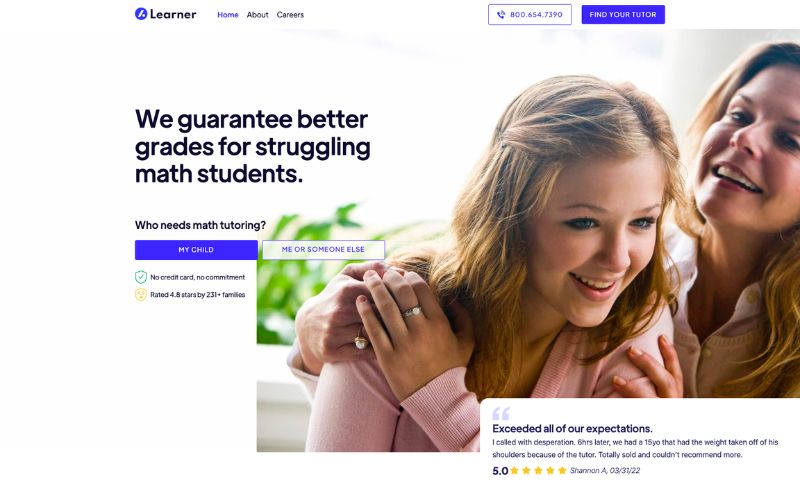 Although you will likely have a positive tutoring experience with either Wyzant or Varsity Tutors, our top choice for an online tutoring platform is Learner.
Learner is a virtual tutoring platform that custom matches students with some of the nation's most experienced math tutors and subject specialists. In addition to expecting impeccable professional qualifications, Learner uses a proprietary screening process to ensure its tutors are skilled educators who can adapt their lessons to the student's unique educational profile.
Learner employs experienced education specialists to match students with the ideal tutor for their academic needs and learning style. Rather than reading through hundreds of profiles, customers discuss their learning objectives with the matching specialist. The matching specialist will determine which expert tutor has the most relevant background and expertise to help the student achieve the best possible outcome. Unlike tutoring marketplaces like Wyzant, which don't employ tutors directly, Learner is a tutoring service that only accepts the best educators and holds them to a rigorous vetting process.
Learner is a fully online service with a cutting-edge virtual learning platform. All lessons take place online, so students only need an internet connection to access high-quality tutoring that fits their schedule, wherever they happen to live. Learner's platform provides collaborative tools, recorded sessions, and the ability to work together on schoolwork and other assignments.
One of the main reasons we recommend Learner is that students will receive a fully customized learning plan from the very outset of their tutoring journey. In addition to a free initial session, Learner offers a satisfaction guarantee, which allows students to switch tutors if they aren't thrilled with their learning experience. Students typically see improved grades by the second week of tutoring, which indicates how valuable each session with a Learner tutor is.
A common theme in Learner's reviews is that tutors help their students learn by adjusting their teaching methods, whether that means taking a more positive approach, allowing the student to solve the problem on their own, or breaking down the learning process into manageable steps.
Although many students come to Learner hoping to earn better grades and improve their test scores, Learner tutors can provide long-term support so that students continue to succeed academically in future classes. Learner tutors help build students' confidence and equip them to tackle new and challenging topics in high school, college, and their professional lives.
Frequently Asked Questions
How much does tutoring cost?
The cost of tutoring depends on the tutoring service and the individual tutor. Some tutors set their own rates, while others have their rates set by the tutoring company. A tutoring session typically costs between $35-$80 an hour, but some of the best tutors charge more due to their extensive expertise.
How much should I pay my tutor?
Many companies offer a complimentary first tutoring session and policies stating that if subsequent sessions aren't beneficial, you should be able to get a refund. As mentioned above, hourly costs typically range from $35-$80 per hour, but this can vary significantly based on experience, location, subject matter, and academic level.
Is a tutor worth it for your child?
If your child needs help improving their grades or understanding complex concepts, a tutor can significantly impact their academic success. Using an online tutoring platform like Learner means that your child will work with a kind, patient, and knowledgeable tutor who is an expert in
the subject matter your child needs help with.
How can I find a tutor online?
There are many ways to find private tutors online. Tutoring marketplaces like Wyzant allow you to browse tutor profiles and get in touch with one with relevant experience. On the other hand, tutoring services like Learner will get to know your child's needs and learning style to match them with one of the best online math tutors.
Is online tutoring better?
Online tutoring is an excellent alternative to traditional in-person tutoring. Many families prefer online tutoring because it tends to be more flexible and cost-effective. It also provides tools such as interactive whiteboards, recorded lectures, and collaborative feedback. Tutoring websites give students access to the best tutors in the country rather than restricting them to those in their geographic area.