If you struggle with calculus in school, you aren't alone. For many students and their parents, calculus is a source of frustration and stress. Even if you are being taught by a great teacher, it can easy to fall behind in a large classroom environment without one-on-one assistance. That's where online calculus tutoring comes in.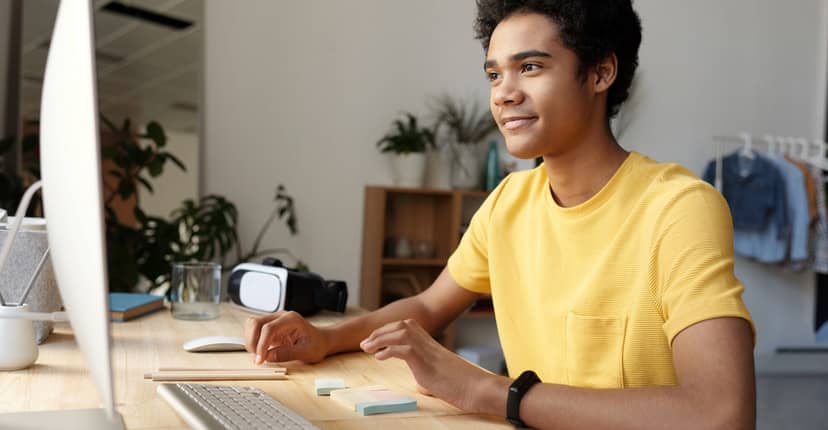 While meeting face-to-face used to be the norm, in this day and age, it's hard to beat online tutoring. The best online tutoring websites have thousands of calculus tutors that are available 24/7. This allows students to receive help if they're awake at midnight cramming for a calculus quiz or have a short window before heading to after-school sports practice. After lots of analysis and consideration, we have selected the best online math tutoring services, that will allow you to get the best assistance you need. The online tutoring market is very vast and varied, but these ten calculus services truly stand above all the rest. 
Learner is one of the top calculus tutoring services on the market. Founded by passionate and experienced educators, this well-rounded service meets all of the criteria for a top-notch online calculus tutoring service. To get started with Learner, interested parties must begin by filling out a short and simple questionnaire. This survey will ask you questions about the subject you need assistance with, what your learning style is, and why you are seeking assistance from Learner. The purpose of this survey? To help learners match you with the best online calculus tutor for you.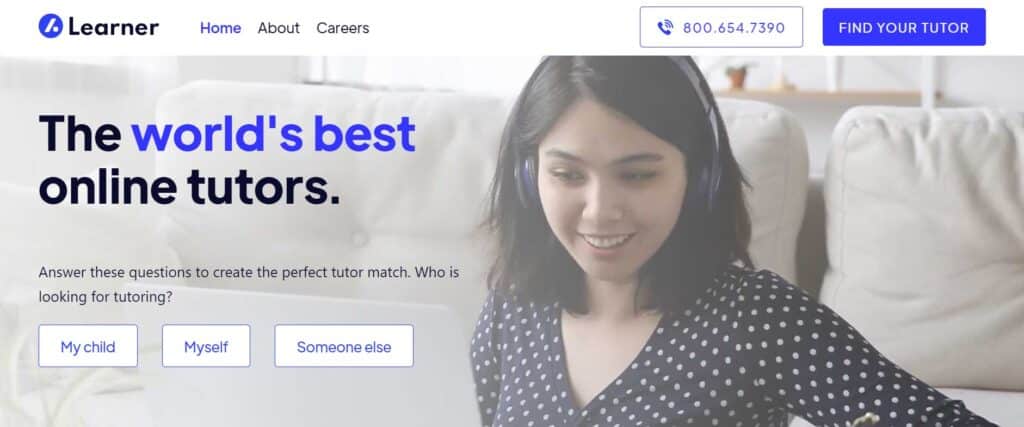 Only 5% of Learner tutors pass the rigorous vetting process that is required to be accepted into their network. While Learner tutors specialize in a wide range of subjects, this tutoring platform is very math-focused. This means, that whether your child is a young learner who is learning calculus for the first time or an advanced differential calculus student trying to get ahead in class, there is a Learner tutor who will be a good fit for them.
One of Learner's other standout features is its online learning tools. After students complete a virtual lesson, the lesson will be recorded and available to download. This allows the student to return to certain lessons whenever they need a refresher. Additionally, Learner also includes feedback sessions after each one of their virtual lessons. This allows parents, tutors, and students to constantly be on the same page about a student's personal calculus tutoring journey. Customer satisfaction is one of Learner's biggest priorities. Not satisfied with your first session? Learner will ensure that your next lesson is completely free.
Pros:
Rigorous vetting process for tutors
This tutoring service has a math focus
Every lesson is recorded
Feedback sessions occur after every lesson
Full satisfaction guarantee 
Affordable rates
Cons:
Tutors are not available 24/7 for quick homework help
Bottom Line: With a rigorous tutoring vetting process, full satisfaction guarantee, and a great tutoring matching process, Learner meets all of the criteria for a top-notch online calculus tutoring service. 
With over 80,000 tutors in its network, Wyzant can best be described as a matching service for students and tutors. Wyzant is not a traditional tutoring service, but rather a portal with thousands of tutors who abide by their own curriculum and methodology. While Wyzant will not match you with an online calculus tutor, students can easily search for instructors based on their subject of interest and hourly rate. While previous students have claimed that the quality of online lessons varies from tutor to tutor, interested customers also have the option to view a tutor's previous ratings and reviews.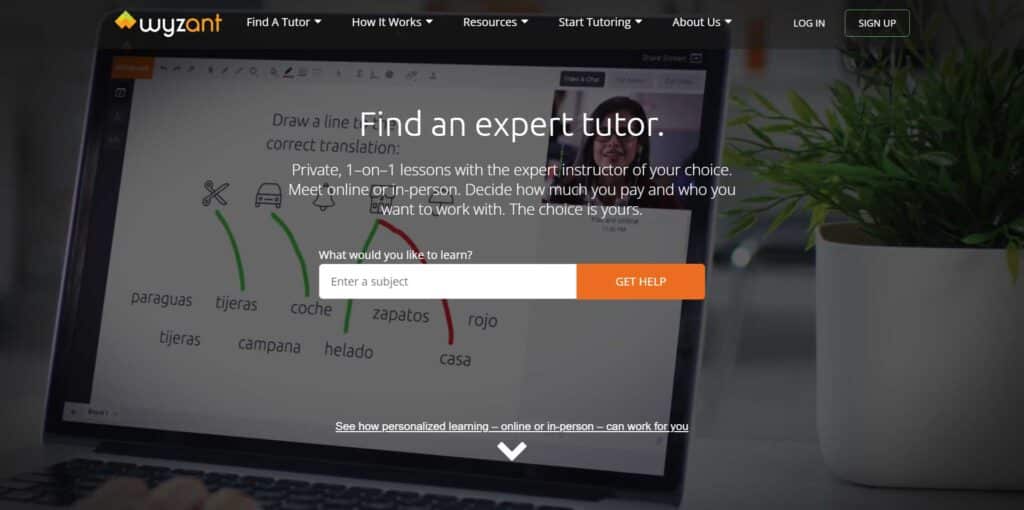 Wyzant's tutors' charge by the hour and each tutor gets to set their own hourly rate. These rates typically range between $10 to $500 per hour. Tutors with lower hourly rates are typically university students who major in math and other STEM subjects while tutors with pricier rates tend to be retired educators with advanced degrees. While students do not have 24/7 access to online tutors through this service, students can typically get matched with a Wyzant tutor within one hour.
All of Wyzant's lessons take place in a virtual classroom with an interactive whiteboard and video features. While this may not be as helpful for STEM subjects such as calculus, Wyzant also has a library of free articles that students can turn to for guidance. 
Pros:
Large portal of tutors
Can easily find a tutor that matches their desired price point and subject of interest
Cons:
Does not have 24/7 access to tutors
Quality of service differs from tutor to tutor
Not ideal for long-term tutoring
Bottom Line: With 80,000 tutors in its extensive network, it is easy for a student to search for a private calculus tutor within their budget. While this service is ideal for one-off lessons and homework help, it is not as tailored to students who desire long-term instruction with customized lesson plans. 
If you are a student trying to balance a hectic schedule filled with academics, extracurriculars, and a part-time job, Varsity Tutors will have many features that appeal to you. Fully integrated with mobile phones and other technological devices, Varsity Tutors' Instant Messaging feature allows students to connect with tutors anytime and anywhere. This interactive feature allows students and tutors to collaborate on anything from difficult calculus homework to integral calculus practice exams. After providing the service with some basic information, Varsity Tutors will match you with a calculus tutor that suits your needs. Your online calculus tutor will then create a customized lesson plan tailored to your strengths and weaknesses.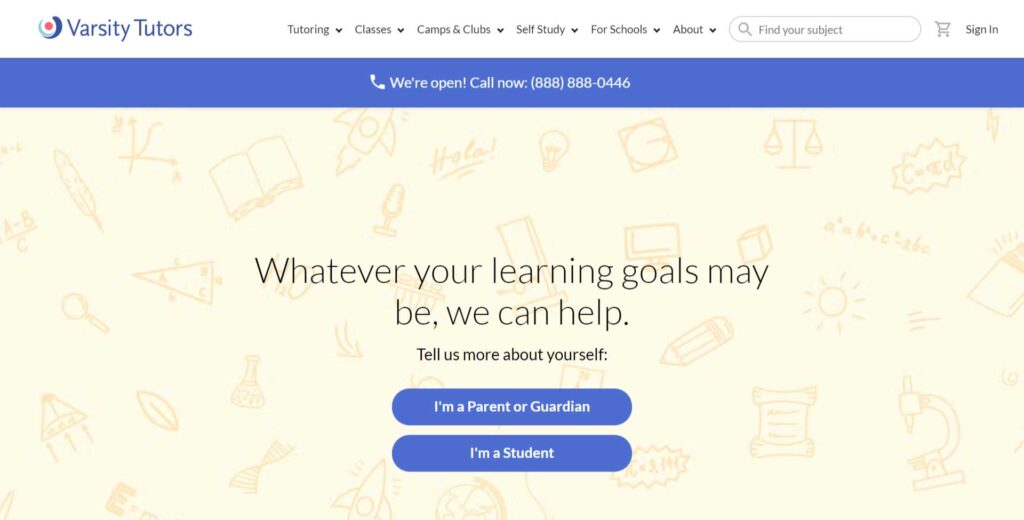 Based on the way this platform is designed, Varsity Tutors is geared towards students who are looking for long-term assistance rather than one-off homework help. One of the few downsides to this service is that it does not provide customers with prices upfront. Students must provide the service with personal details such as their address and zip code to get further information on hourly rates. 
In addition to its virtual lessons, Varsity Tutors also includes bonus learning tools in its packages. Tutees can take advantage of flashcards and practice tests. 
Pros:
The instant tutoring feature is extremely convenient
Matches students with an ideal tutor for them
Bonus learning tools
Cons:
Pricing is only available upon request
Bottom Line: If you are a student trying to balance a hectic schedule filled with academics, extracurriculars, and a part-time job, Varsity Tutors will have many features that appeal to you. Students can take advantage of its Instant Tutoring feature, mobile app, and 24/7 access to tutors. 
Skooli
With its pay-as-you-go pricing plan of $0.82 a minute, Skooli is one of the best services to use for one-off homework help. Students who opt for Skooli's services are not locked into a monthly plan and can use the platform to connect with tutors 24/7. Skooli's website includes tutors for all subjects and grade levels, meaning it will be easy to find a calculus expert who can assist you with any tricky calculus problems you need help with. 
Once you match with a tutor, you will immediately be taken into a virtual classroom equipped with an interactive whiteboard. This feature is particularly useful for calculus, as it allows students and math teachers to collaborate on any homework questions. After every lesson students will receive personalized feedback from their tutor, as well as a recorded version of the lesson to review in the future. While Skooli's pay-as-you-go model is beneficial for shorter sessions, using its services can quickly become expensive. There's also the added pressure of ensuring that every minute you are paying for counts. Each session must be a minimum of 15 minutes. If students are seeking out long-term instruction or tailored lesson plans, there are better platforms available to suit those needs. 
Pros:
Standout learning tools, including an interactive whiteboard
24/7 tutor availability 
Students receive personalized feedback
Recorded session
Cons:
Lessons can get expensive if longer than 1 hour
No tutor matching service
Bottom Line: With its pay-as-you-go pricing plan of $0.82 a minute, Skooli is one of the best services to use for one-off homework help. That said, this service is not cost-effective for those who are seeking long-term instruction or tailored lesson plans. 
Chegg
Chegg is another well-rounded, budget-friendly online calculus tutoring platform. At Chegg, tutors are available 24/7 and offer tutoring in dozens of unique subjects. Each tutor must have a bachelor's degree from an accredited four-year university and pass a proficiency test in their area of expertise to be admitted to its tutoring network. Rather than paying an hourly or monthly rate, Chegg has a $14.95 membership fee that grants students an unlimited number of live lessons. If you want to invest a little extra, you can also opt to pay an additional fee of $9.95 for Chegg Math Solver.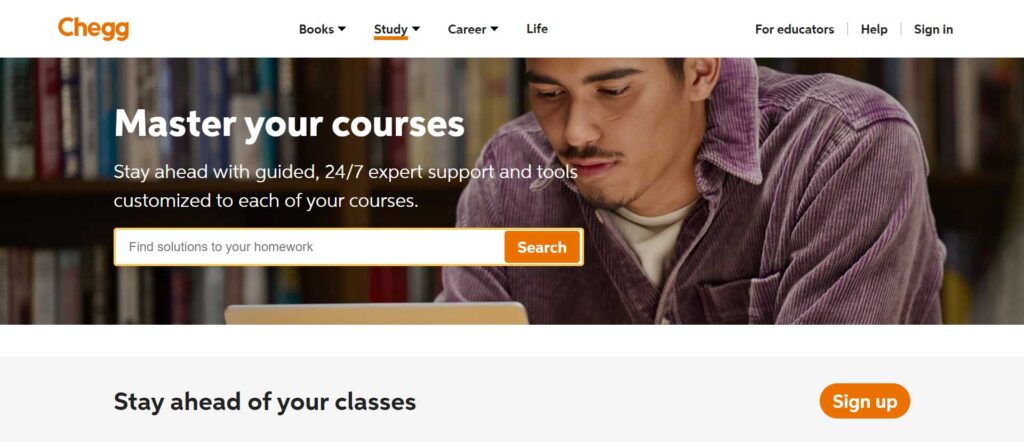 All it takes is three steps to get started with Chegg. Interested parties must answer several questions about what type of assistance they require. After that, they will get matched with a tutor and begin lessons. To get the most out of your tutoring session, parents can message their assigned tutor to provide them with extra contextual information beforehand. With a Chegg membership, students are also able to comb through thousands of previously solved homework problems or upload a problem of their own for an expert to assist with. 
Pros:
Very budget-friendly
Access to previously solved homework problems
Qualified tutors
Cons:
The platform is not tailored to long-term tutoring from the same instructor
No personalized lesson plans
Bottom Line: Chegg is another well-rounded, budget-friendly online calculus tutoring platform. By paying a Chegg membership, students get an unlimited number of live lessons, as well as access to previously solved homework problems. 
SpecialEdTutoring
If your child has learning disabilities or special needs, then you may not be able to rely on a general tutoring service for assistance. That's where SpecialEdTutoring comes in. SpecialEdTutoring provides one-on-one instruction for students of all ages. Every instructor at this tutoring company has a degree in special education, which sets it apart from other online tutoring services.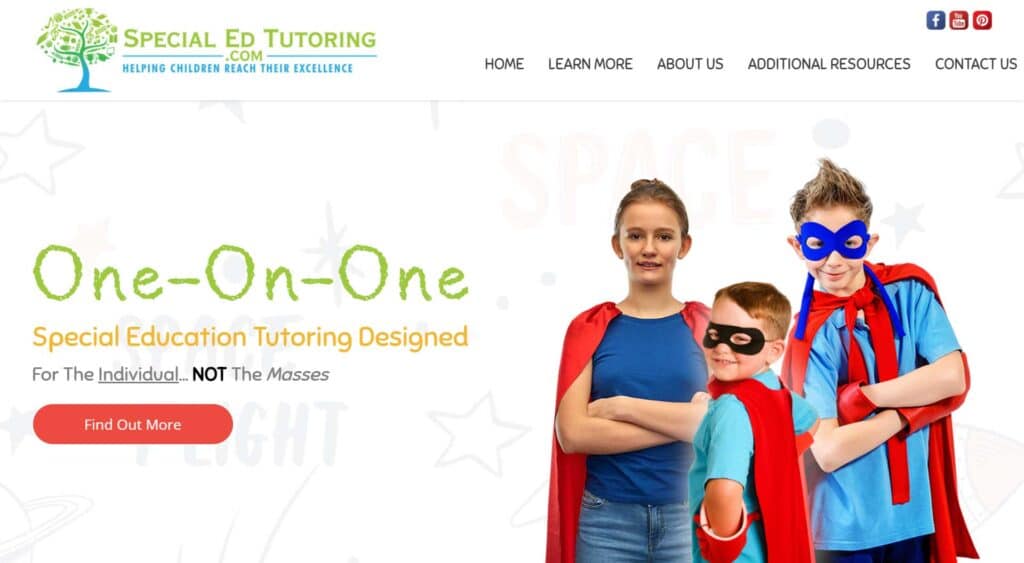 Interested parties will begin their process with SpecialEdTutoring with a free consultation. In this meeting, parents will provide SpecialEdTutoring with further information, which will help this tutoring company decide what tutor will be the best fit for their child. Because pricing differs from student to student, the cost of service will also be something that is discussed in this initial evaluation. If you happen to be homeschooling your child, SpecialEdTutoring is also happy to help you put together a curriculum that caters to your child's needs and learning style. While SpecialEdTutoring operates on the assumption that students with special needs work best in a comfortable and familiar setting, this may not be true of your child. Before committing to SpecialEdTutoring, make sure that your child would not further benefit from hands-on, in-person tutoring. 
Pros:
Every instructor has a degree in Special Ed
A free consultation is included
Helps homeschooling parents build curriculums for their children
Cons: 
Pricing is not provided upfront
Bottom Line: SpecialEdTutoring provides one-on-one instruction for students of all ages. Every instructor at this tutoring company has a degree in special education, which sets it apart from other online tutoring services. 
Backed by the same resources as the well-known Princeton Review, Tutor.com is particularly geared toward those who are in advanced or college-level calculus courses. With tutors ranging from professional tutors and doctors to pilots and professors, Tutor.com has tutors that can assist with multivariable calculus, differential equations, applied calculus, calculus-based physics, calculus in Spanish, and general math tutoring.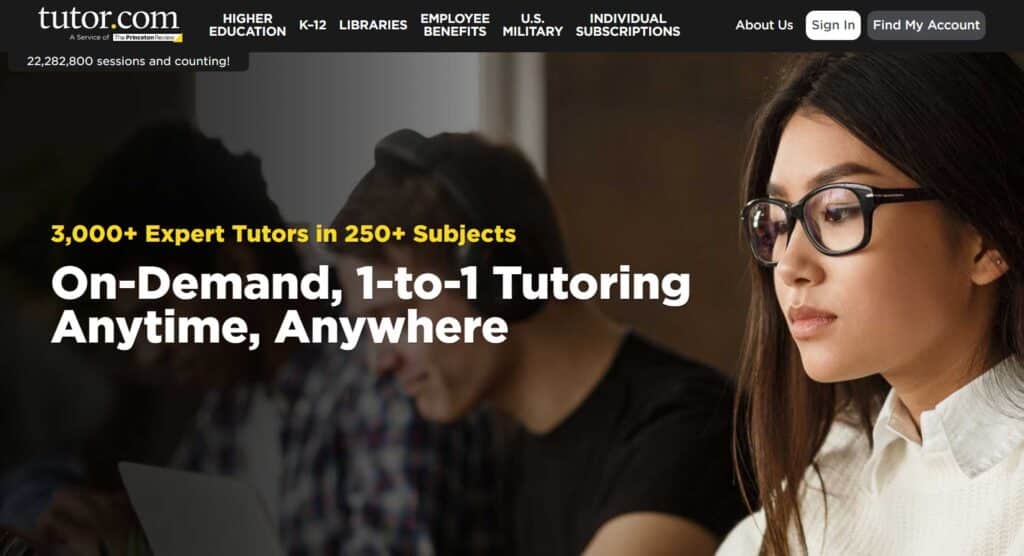 This online tutoring platform has a wide range of tutoring packages available, with rates running at approximately $40 an hour. To get the most out of this service, Tutor.com recommends that students commit to at least two to three hours a month for approximately 3 to 4 months. That said, students will most likely work with a wide variety of tutors if they choose to opt for this service. Tutor.com is not a platform catered toward long-term instruction or those seeking out customized lesson plans. 
Online lessons equipped with virtual whiteboards and video features can be accessed online or through this platform's mobile app. Lessons are recorded in such a way that students can either review the entire lesson or a transcript of the lesson later on. Tutors are available 24/7. 
Pros:
Affordable
Ideal for advanced calculus courses
Lessons are recorded
24/7 access to tutors
Cons: 
No customized lesson plans
Students will most likely have to work with multiple different tutors over a long period
Prodigy
Prodigy caters to students who thrive best in a private, one-on-one tutoring environment. The company's overall mission is to help students reach their "highest potential" and "go beyond their grade level." Do not be misled by the name, Prodigy offers lessons for students of all ages in different levels of math. 
Payment plans at Prodigy rear on the more expensive end of the spectrum. Prices are generally $30 for a half-hour session and $24 if you choose to purchase three or more sessions. Students also have the option to attend half-hour tutoring sessions five days a week for $120.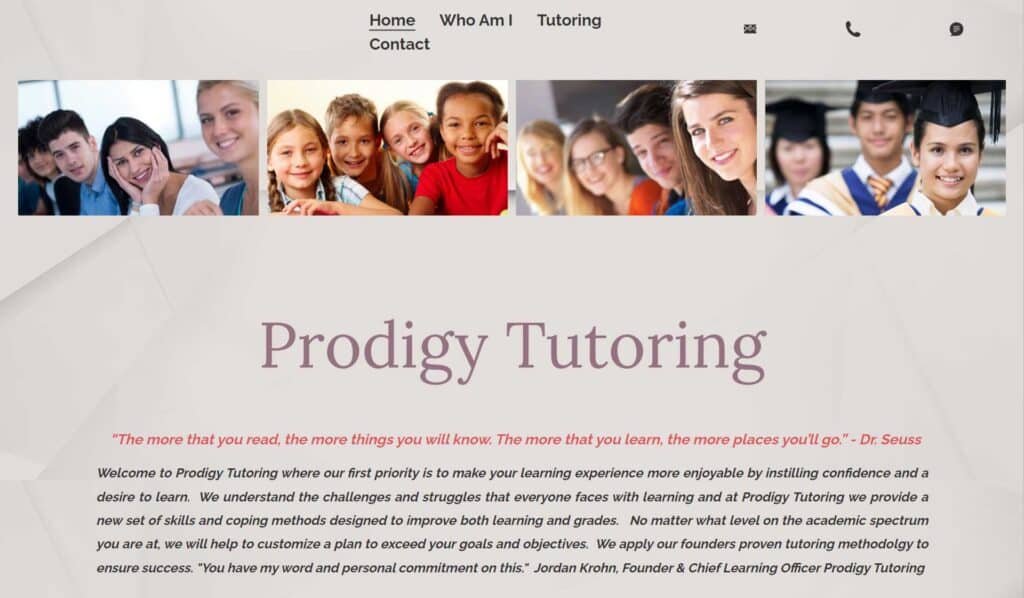 When students are first getting started with Prodigy, they will receive an initial free session with their parents and new tutor. The tutor will complete an assessment to get an idea of the student's current strengths and weaknesses. 
One of the downsides to Prodigy is their virtual learning tools are fairly limited. Lessons are conducted over Zoom, meaning that students will not get to take advantage of interactive whiteboards, and other learning tools that are commonly utilized by other tutoring platforms. After each lesson, students are given feedback on what they are doing well, what areas they still need improvement in, and what the next steps in their tutoring journey will look like. 
Pros:
Customized lesson plans
Feedback provided after each lesson
The initial consultation is free
Cons:
Pricey rates
Zoom lessons will not include some beneficial learning tools
Bottom Line: Prodigy caters to students who thrive best in a private, one-on-one tutoring environment. While students will not benefit from certain virtual learning tools when using this service, Prodigy does create customized lesson plans tailored to each student's strengths and weaknesses. 
Tutor Doctor
Tutor Doctor believes that with lots of practice and a positive attitude, anyone can excel at Math. This service does not believe you need to be gifted to succeed in this challenging subject.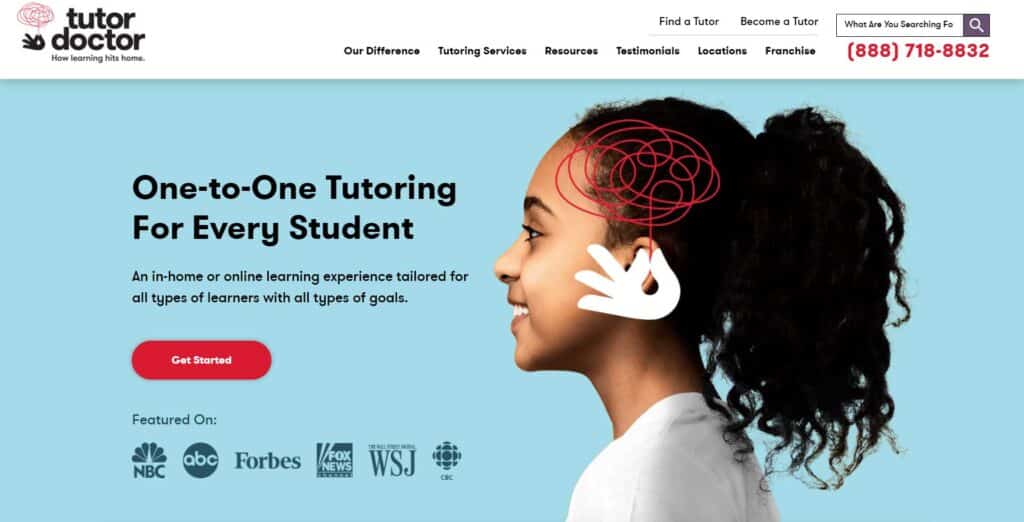 Once an individual is assigned a tutor, Tutor Doctor will create a customized lesson plan that caters to the students learning style. It's important to keep in mind that Tutor Doctor's lesson plans require that students do a lot of self-learning on their own time. Tutor Doctor provides each student with learning tools, exclusive resources, and recordings of each lesson to aid them during this self-learning process. Parents will also receive guidance from Tutor Doctor on how they can be an effective support system during their child's tutoring journey. Depending on the tutee's individual needs, pricing typically ranges from $40 to $80 per hour for this service. Students will receive a free consultation before they begin their first lesson with Tutor Doctor. 
Pros:
Customized lesson plans
Free consultation included
Students provided with resources and learning tools for self-learning
Cons:
Self-learning style of tutoring may not be for everyone
Pricing isn't provided upfront
Bottom Line: With lots of practice and a positive attitude, Tutor Doctor believes that anyone can excel in math. This tutoring service utilizes customized lesson plans and self-learning to guide its students to success. 
Revolution Prep
If you or your child are preparing for a standardized test, Revolution Prep is a great go-to service. Unlike many tutoring services, all Revolution Prep tutors are full-time employees. 
Each tutor must participate in more than 150 hours of training and development before they are accepted into Revolution Prep's network. While no one can deny that the tutors in this network are the best of the best, tutees must pay the fees to match. Private tutoring is $1,200 for 12 hours, while small-group test prep is $400 for 12 hours. While standardized test prep is this company's main area of expertise, Revolution Prep also offers homework help in 37 subjects.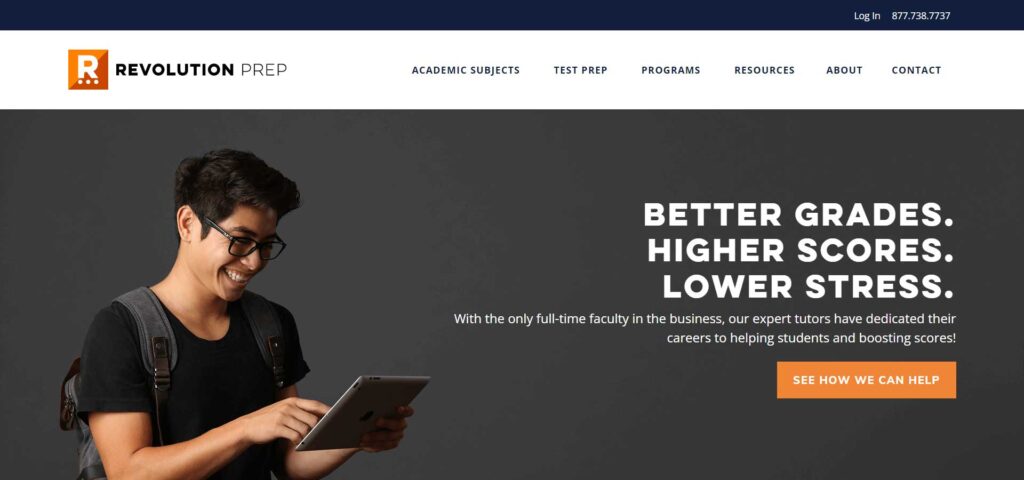 Revolution Prep tries to help make learning math fun by incorporating storytelling and interactive learning into every lesson. Students are provided flashcards, posters, and other tools to make this experience immersive and engaging. Revolution Prep also provides parents with updates on their child's progress through weekly videos. 
Pros:
Uses tactics to help make learning fun
Full-time, highly qualified tutors
Regular progress updates
Cons:
Expensive
Mainly test prep focused
Bottom Line: If you or your child are preparing for a standardized test, Revolution Prep is a great go-to service. While this service may be more expensive than most, Revolution Prep relies on highly qualified full-time employees to help make learning fun. 
How to find the right calculus tutor for your needs
With so many online calculus tutors to choose from, what it really comes down to is finding the best tutoring service for you. Before settling on a tutoring platform, ask yourself what your tutoring goals and priorities are. What are you trying to get out of calculus tutoring? Are you hoping to improve your skills over several months, or are merely seeking out occasional help with your calculus homework? The number of times you plan to meet with a tutor every week or every month with help you hone in on an online tutoring platform that suits your needs. 
You will also want to factor your tutoring budget into your decision. While some tutoring services are very budget-friendly and cost-effective, others are a much bigger financial investment. Consider how long you plan on requiring calculus assistance and how much you can afford to spend on tutoring services every month. This will help you eliminate tutoring services that are outside of your budget. 
How we chose the best online calculus tutoring services
As we carefully handpicked the best online calculus tutoring services for this round-up, we ensured at the very least, each one was an established company that offered high-quality services. However, more importantly, we wanted to ensure that this round-up included a wide variety of options that catered to every individual seeking out online calculus tutoring. No matter what your age, skill level, learning style, or tutoring budget is, you are guaranteed to find an online tutoring service in this round-up that meets your needs. 
Benefits of online calculus tutoring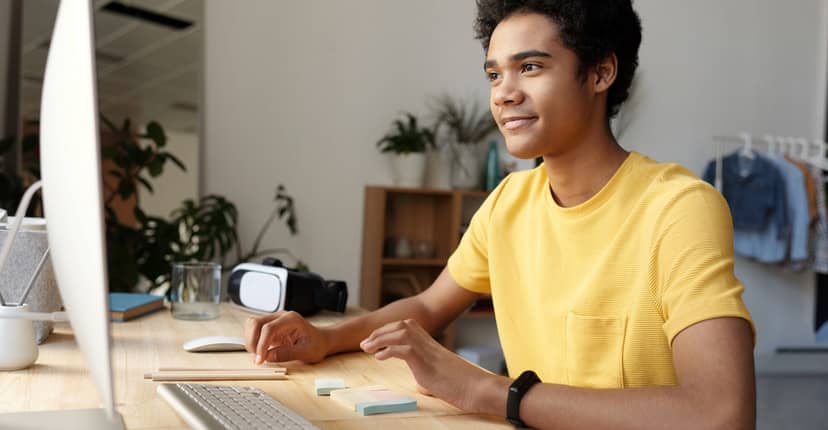 In this day and age, online calculus tutoring is the best way to improve your academic performance, boost your confidence in the classroom, and keep up with challenging homework assignments. While face-to-face tutoring used to be the norm, nowadays, online tutoring is hard to beat. Online tutoring services have thousands of professional math tutors in their networks, who can provide students with immediate assistance whether they have a free minute on their way home from school or are cramming for an exam in the wee hours of the morning. 
Because there is no physical location where calculus instructors must meet, these extensive online networks can attract better instructors, including certified experts and retired professors with advanced degrees. To top that off, many online services have found innovative and creative ways to replicate the benefits of in-person learning. Virtual classrooms are often equipped with interactive whiteboards, video features, and more to ensure that students get the most out of their lessons. 
Benefits of Online Tutoring in Calculus
Online tutoring is becoming accepted by both parents and students. Most students have agreed that online tutoring is easily accessible and convenient, especially when learning calculus. Here are some benefits you may enjoy from learning calculus using an online tutor.
Personalized Adaptive Learning
Online tutoring programs now offer adaptable learning routes customized to each student. This implies that the tutors can tailor specific instructions depending on your needs, challenges, and learning preferences. Customized instructions ensure that you focus your efforts on significant issues.
Improved Recall and Problem-Solving Skills
Numerous studies have proved online coaching significantly improves students' memory. In addition, you will develop critical thinking and reasoning skills if you use an online tutor to learn calculus. You can also benefit from the maximum tutor collaboration considering you learn one-on-one or in a small group.
The collaboration will allow you to examine and deconstruct your ideas in ways that aren't always possible in a large classroom while significantly strengthening your thoughts, providing confidence, and enhancing your problem-solving skills. Most importantly, you can complete the curriculum and seek the coach's assistance only if you run into trouble.
Flexibility
You can study calculus online at home, in a library, or on a break from class at school. If you struggle to concentrate in class, you can learn calculus online and solve problems in silence without interruption.
You will feel less pressure to finish your work because tackling calculus problems online allows you more freedom and flexibility. If you have a hectic schedule, you will value how easy it is to complete your calculus homework online.
Keeps You Motivated
You are far more likely to remain focused, motivated, and determined to achieve when you know someone is there for you anytime you need assistance or support. Online instructors resemble mentors more than traditional instructors.
You will certainly benefit from online calculus tutoring since it ensures that you always have someone on your side to support you during challenging moments. This will prevent you from getting stuck on a particular problem, thus motivating you to learn more.
Self-Paced
An online calculus tutor allows you to progress through the curriculum at your own pace. You will have less tension as each lesson is based on your speed rather than the class or the teachers'. For this reason, you will better understand and assume responsibility for your education.
Self-paced learning is also essential in assisting you to concentrate on crucial calculus topics based on your skills and shortcomings. It's beneficial if you tend to skip ahead in class to pick things up more quickly.
Ongoing Evaluation and Instant Feedback
Online calculus tutors can assess your knowledge, identify your areas of weakness, and provide you with lessons in those areas. They can quickly identify and create thorough learning plans for the comprehension areas you need to improve while updating your guardian. Such treatment is impossible in a physical classroom.
Cost Efficient
Online tutoring is typically less expensive than in-person instruction. This is because there is no travel time, and the tutors teach many students simultaneously. For this reason, you can save a few bucks if you learn calculus using online tutoring.
Welcomes Everyone
Online tutoring is accessible to people of all ages and offers courses for everyone as it is used globally. You can benefit from the program regardless of your age or socioeconomic background. Most importantly, you will learn at your speed in the convenience of your home.
Moreover, online tutoring will significantly benefit you if you want to learn calculus, but your illness prevents you from attending physical classes. All you will need is a device and internet.
Makes Calculus Fun
You indeed find school monotonous, repetitious, and dull, especially when it comes to calculus, even if you cannot admit it. For this reason, teachers usually find it challenging to maintain students' interest in understanding the concept. Learning calculus using online tutoring programs is enjoyable and keeps you focused.
Conclusion
You will undoubtedly reap numerous benefits when learning calculus using online tutoring. The program improves your confidence, self-esteem, and knowledge of calculus problems. In addition, you will learn much at your own pace in the comfort of your home whenever you want.
Frequently Asked Questions
What are online calculus tutoring services?
Online calculus tutoring services are websites that connect students with calculus tutors. These platforms will either match you with a tutor, or the platform will include a portal where the student can search for a tutor based on their subject area of interest. 
Who should use online calculus tutoring services?
Whether you are studying for the SAT or ACT, cramming for an exam, or are looking to improve your calculus skills long term, anyone can benefit from online calculus tutoring services. Most online services cater to a slightly different audience, meaning you will be able to find a service that is a good fit for you. 
How much do online calculus tutoring services cost?
Online calculus tutoring services vary from service to service. Each service also has a different payment plan. While some services charge by the minute or hour, others will charge students a monthly membership.
What should you look for in online calculus tutoring services?
There are many factors that individuals should look for in an online calculus tutoring service. Some of the factors to keep in mind are the quality of the tutors, the hourly rate, the virtual learning tools that are used, and the added benefits that are included in each payment plan. Finding the best tutoring service also comes down to the right fit, so consider your priorities and goals before settling on a service. 
What are the pros of using online calculus tutoring services?
Online calculus tutoring services are superior to in-person tutoring services in many ways. Not only can online tutoring services replicate many of the same benefits of in-person services through interactive whiteboards and video calls, but they are also more affordable and convenient. Many services have tutors available 24/7 that can offer immediate assistance with homework help and test preparation. 
What are the cons of using online calculus tutoring services?
For some individuals, particularly younger children or students with special needs, nothing can replace the experience of in-person learning. If your child struggles to remain engaged and would benefit from a hands-on teaching method, then online tutoring may not be best suited for them.