11 Best Online Math Tutoring Services in 2023, According to a Real Parent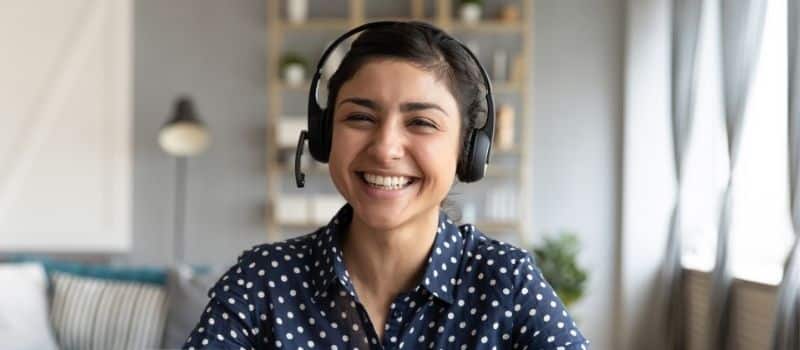 BEST MATH TUTORING
---

Pros:
+ Rigorous tutor screening and vetting process.
+ The first session is 100% free.
+ Easy 3-step process to get started.
+ Uses collaborative tools to boost engagement.
+ Specializes in math subjects.

Cons:
– Specific pricing is not initially provided.
– Currently only offers 1:1 instruction.
The Bottom Line:
An innovative math tutoring provider offering fully online learning with highly qualified tutors. Pricing is very affordable for customized learning plans and tutor matching services, and there is a full satisfaction guarantee.
BEST OF THE REST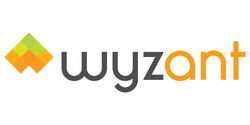 Pros:
+ Includes a free resource page.
+ Easy 4-step process to get started.
+ Access to experts in over 300 subjects.
+ Also offers in-person tutoring services.
Cons:
– Tutors set their rates, which can become costly.
– Background checks are not run on tutors.
The Bottom Line:
A connection platform for students and tutors, Wyzant is great for students who feel confident they can choose the right tutor without the help of a matching service. Tutors are available for several subjects and can set their own prices, so students can usually find a good fit.
HONORABLE MENTION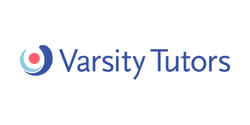 Pros:
+ 24/7 availability. + Tutoring hours can be shared among family members. + Offers Instant Tutoring program for quick questions. + Offers tutoring in more than 2,500 subjects.
Cons:
– Pricing is not available up front. – Extensive application process. – Quality of services vary from tutor to tutor.
The Bottom Line:
Varsity Tutors offers a wide variety of tutoring options, including private and group sessions, in over 2,500 subjects, but the quality of the sessions highly depends on the tutor.
How We Decided
We reviewed each platform independently and scored it using the criteria students care about.
Also reviewed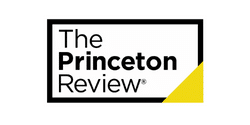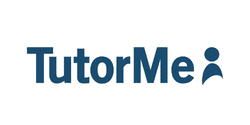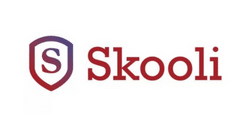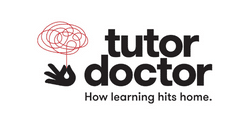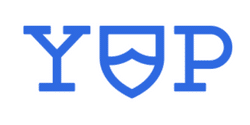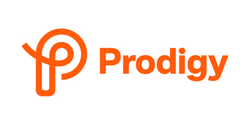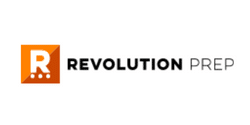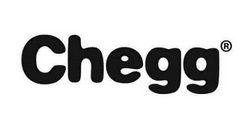 Top Online Math Tutoring Services Overview
It's not unusual for kids to forget the bulk of what they learned in school once summer vacation starts. Thankfully, you can now hire tutors to combat this short term forgetfulness especially when it comes to the Math subject by hiring online tutors for your kids. The online math tutoring market is very wide and varied, but these ten tutoring providers stand out from the rest. If you're looking for the best online tutoring centers the industry has to offer, you can start searching here. They all have their strengths and weaknesses, so here's a quick overview of the ten online tutoring providers we recommend.
Learner: An innovative math tutoring provider offering fully online learning with highly qualified tutors. Learner has high school math tutors who offer a wide range of courses, aside from basic arithmetic and calculus. Expert tutors go online at various times, so make sure they're available for the hours you need. Pricing is very affordable for customized learning plans and tutor matching services, and there is a full satisfaction guarantee.
Wyzant: A connection platform for students and tutors, Wyzant is excellent for students who feel confident they can choose the right tutor without the help of a matching service. Tutors are available for several subjects and can set their own prices, so students can usually find a good fit.
Varsity Tutors: Featuring an Instant Tutoring feature, Varsity Tutors allows students to connect with online tutors specializing in more than 2,500 subjects in a matter of minutes. While this platform guarantees a thorough vetting process for its employees, the quality of services does vary from tutor to tutor.
Revolution Prep: A well-known company offering expensive services to help students prep for tests and mostly focused on college entrance exams. Tutoring isn't centered specifically on math but on improving test scores with help from full-time tutors.
Chegg: An online platform that provides on-demand access to homework solutions and assistance from tutors. Designed as a self-help platform, this company doesn't offer one-on-one tutoring or customized educational plans, but it's an extremely affordable option for students who need occasional help.
Tutor Doctor: A large international tutoring provider that offers English and college prep help along with math. Pricing is a little on the high side, and students may need to sign a contract and pay the full amount for their educational plan before tutoring begins.
The Princeton Review: A reliable provider of online and in-person tutoring with a focus on improving test scores and preparing for college entrance exams. Pricing for help with homework is reasonable, but grad-school prep services are pricey.
Prodigy: With one-on-one tutoring in math for elementary and middle school students, Prodigy is a good option for students who need a little help to understand math better and boost their confidence. Half-hour sessions are $30, and students can get a free assessment and a mini session before signing up.
Skooli: Featuring on-demand virtual classroom sessions with licensed teachers, Skooli is a great solution for students who need occasional help with homework. Students only pay when they use the service, and the $1 per minute rate is affordable for short sessions.
TutorMe: Offering access to qualified experts in numerous disciplines, TutorMe is a good choice for students of all levels. There are options for long-term tutoring with an expert or on-demand help with homework through the online platform, and pricing is affordable.
Yup: An app-based service designed for tablets and mobile devices, Yup offers students unlimited time in one-on-one sessions with tutors who can help them with homework problems. It's a great option for students who like the idea of using an app and who will use the service enough to justify the high monthly price tag.
Read on for detailed reviews of each service.
Our Picks for the Best Online Math Tutors of 2023
Learner was founded by experienced educators passionate about helping people understand math. The company has strict qualifications for its tutors, including a four-year college degree and several years of tutoring experience. Each student gets a customized learning plan based on their needs, grade level, learning style, and goals. Since a working knowledge of high-level math is necessary to increase the chances of bagging scholarships, signing up for a private online math lesson increases the probability of securing a scholarship in any institution.
Learner focuses on providing excellent customer service and guaranteed results. Students are matched with tutors through a proprietary screening process, and the first tutoring session is free. You can search for a tutor by subject, or browse through our directory of tutors to find one that's right for you. Our online platform makes it easy to connect with a tutor, get started on your learning journey, and easily book an appointment through our convenient scheduling system with just a computer and an internet connection. Students can get one-on-one sessions or learn with a small group, and tutors are available for all levels, from kindergarten math through college courses like calculus.
Students and parents can track progress through feedback after each session. Tutors provide clear information about successes and challenges. Pricing starts at $40 per hour.
Pros:
Free first session and 100% money-back satisfaction guarantee
Highly qualified tutors
Advanced online platform that works across devices
Interactive sessions that are recorded so students can review them later
Cons:
Not as affordable as other online services
Can't see tutor profiles without filling out a questionnaire and providing contact information
Not designed for on-demand homework help
Bottom Line: If you're looking for math tutoring from experienced teachers on an innovative platform, Learner is a fantastic and affordable option. So whether you're taking this for math, business, or Psychology class, we can help you find a private online tutor who can teach you tips and tricks for easily understanding complex ideas.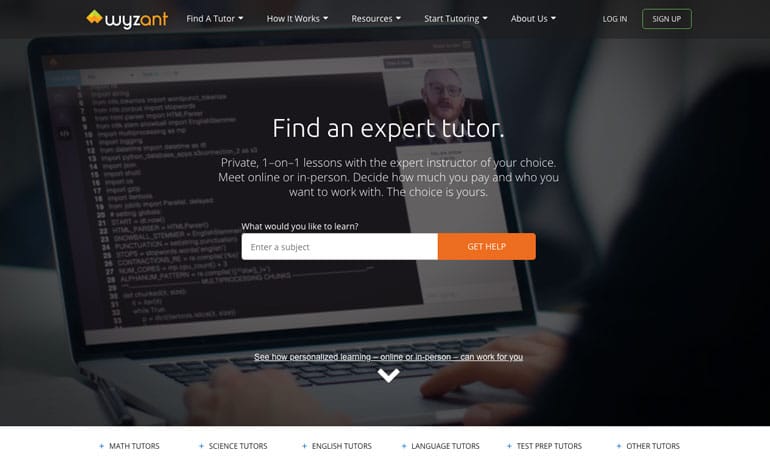 Wyzant serves as a platform to connect students with tutors. Offering options for both online and in-person tutoring in a wide range of subjects, it can be a good choice for students who know exactly what they are looking for and want full control of the process.
Once you tell Wyzant what kind of tutoring you are looking for, the service gives you a list of available tutors. You can narrow down your options based on qualifications and hourly rates, and then connect directly with that tutor.
Wyzant promises that its tutors are qualified instructors, and the company offers a money-back guarantee on the first hour of your lesson if you decide it's not the right fit. The average price for a math tutor on Wyzant is about $40 per hour.
Pros:
Students can choose their own tutor based on price and qualifications
Tutoring for math, chemistry, languages, and other subjects
No contracts or packages, so you just pay for the time you use
Cons:
Students must choose their own tutors from a list of options
With no matching process, it may take time to find the right tutor
Pricing can vary greatly between tutors
Bottom Line: Wyzant's platform connects students with independent tutors and is a good option for students who know exactly what they want and are willing to wade through the options to find someone who meets their requirements.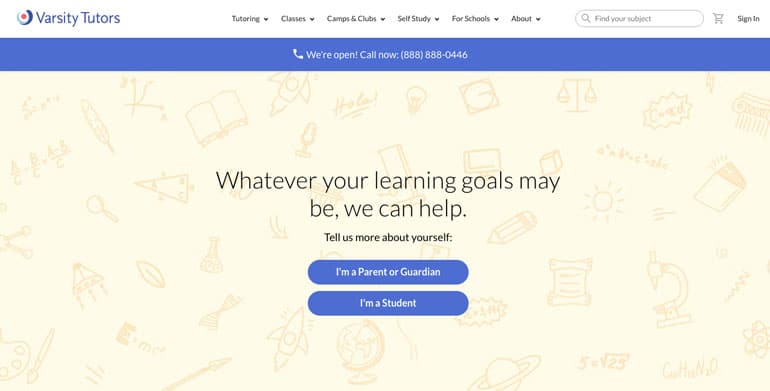 Varsity Tutors offers tutoring in more than 2,500 subjects from more than 40,000 tutors. Not only do tutors work with students ranging from kindergarten through grad school, but this platform also offers a wide variety of classes from 1:1 sessions to larger group courses. In addition to teaching classes in most core curriculum subjects, such as Chinese and computer science, Varsity Tutors also offers courses in test prep and certifications for professional skills. This tutoring platform also offers an Instant Tutoring feature, which allows students to connect with a tutor online in as little as 15 seconds for quick homework questions and exam preparation.
Varsity Tutors guarantees a thorough vetting process for each one of their tutors that involves simulations, background checks, and interviews. However, tutors also come from a wide range of backgrounds and the quality of each tutoring session highly depends on the individual tutor you are working with. To match a student with a tutor, Varsity Tutors utilizes a placement algorithm that looks at factors such as schedule, educational needs, proficiency, learning style, interests, and goals.
Pricing for this service varies, however, each session costs around $50 per hour. One of the perks of using this service is that the hours you purchase can be used across all subjects and shared among family members.
Pros:
24/7 availability.
Tutoring hours can be shared among family members.
Offers Instant Tutoring program for quick questions.
Offers tutoring in more than 2,500 subjects.
Cons:
Pricing is not available upfront.
Extensive application process.
Quality of services varies from tutor to tutor.
The Bottom Line:
Varsity Tutors offers a wide variety of tutoring options, including private and group sessions, in over 2,500 subjects, but the quality of the sessions highly depends on the tutor.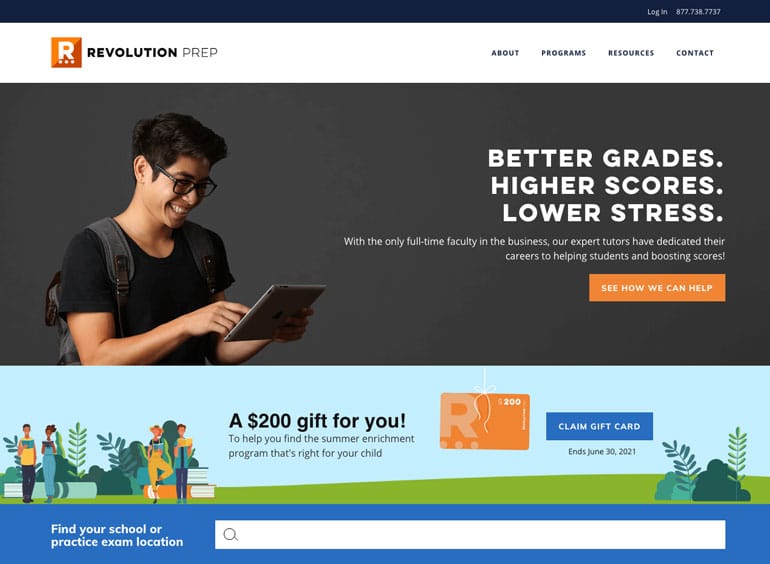 With its staff of full-time tutors and interactive teaching methodology, Revolution Prep offers students and parents a high-end experience. That experience comes at a price – private tutoring sessions for a single student cost $116 per hour. There are some small group options that are more affordable, but even a class of eight students with a single tutor costs $42 per hour.
What can students expect for this premium price? Revolution Prep promises tailored learning plans centered on academic goals or preparation for tests. While there are homework assistance services, the company's emphasis seems to be on college entrance exams.
Tutors are all full-time employees who attend professional development courses to improve their teaching skills. The company also offers academic advisors who work with students, parents, and school counselors to create comprehensive education plans. Students have free access to proctored online practice exams for the ACT and SAT.
Pros:
Full-time tutors
Extensive test preparation materials for college entrance exams
Small group classes and one-on-one tutoring options
Cons:
Expensive, and some reviews mention unclear billing tactics
Focus is on standardized test performance, not necessarily a better understanding of math
Tutors must follow the company's educational methodology, which may prevent them from matching their teaching to each student
Bottom Line: Revolution Prep is a good option for students looking to boost their college entrance exam scores and parents who are willing to pay top dollar for online tutoring.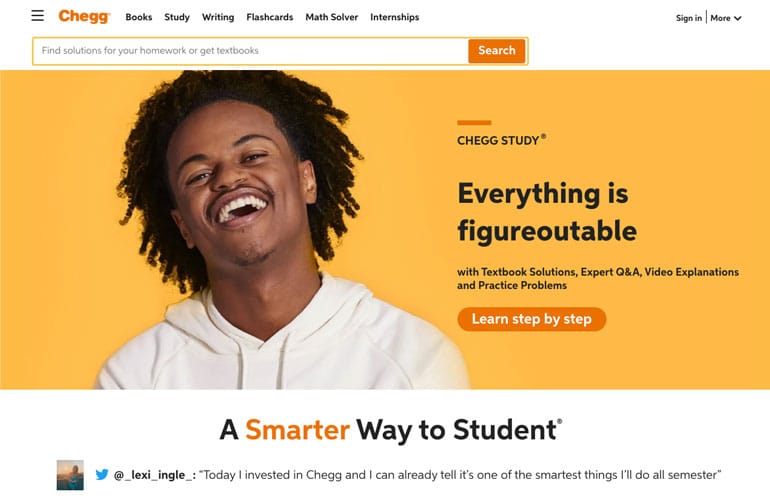 Chegg provides instant help to students 24/7 through its online platform. Rather than focusing on matching students with tutors and creating individualized education plans, Chegg gives members access to its online platform for on-demand math help. Chegg offers help in math and countless other subjects for students of all levels, from elementary school to college.
Chegg doesn't provide customized learning plans or tutor matching services, but it does offer extreme affordability. A subscription to the platform is only $15 per month.
You can also add on the Math Solver service for an extra $10 per month. This gives students access to an online problem-solving service. You can type in or take a picture of a math problem and get a detailed explanation of how to solve it.
Pros:
On-demand access to help with assignments with responses from tutors in under an hour
Numerous subjects offered
Very affordable
Math Solver app works for high-level math problems (calculus and linear algebra)
Cons:
No personalized service
Students don't work with the same long-term tutor
Offers help with homework, not in-depth tutoring or test preparation
Bottom Line: For self-motivated learners who need occasional help with tough homework questions, Chegg is an affordable option with easy-to-use online tools.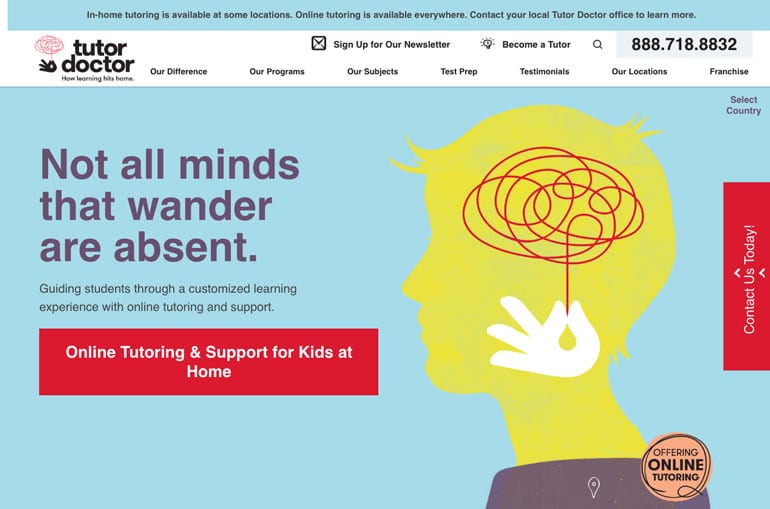 These high quality courses are offered both online and in-home tutoring in math, science, English, and preparations for tests. The company's international staff of tutors includes teachers from 15 different countries. With over a decade of experience in the tutoring industry, Tutor Doctor is a well-known provider.
Students get a free consultation before committing to a tutoring plan. The company's teaching methodology focuses on creating a positive environment and encouraging self-study. As such, each lesson is recorded for students to review later. Tutors also provide students with additional self-study material and parents with infographics about the learning process.
This service matches students with specific tutors and provides customized learning plans. Pricing is fairly standard for this type of service. Online tutoring costs between $40 per hour and $80 per hour.
Pros:
Tailored learning programs based on student needs
In-home tutoring available as an alternative to online programs
Middle-ground pricing
ACT and SAT test prep available
Cons:
Final pricing not available until after the assessment
Some user reviews state that full payment is required up front
Physical locations are franchises, so user experiences may vary
Bottom Line: Tutor Doctor is a large online tutoring provider that offers math, English, and test prep services at fairly affordable prices, though full payment may be required before tutoring starts.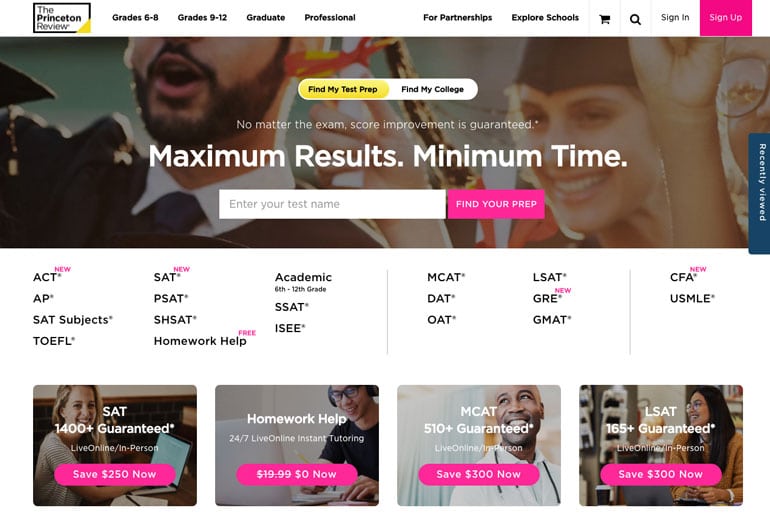 Now owned by Tutor.com, The Princeton Review is a respected provider of online courses, test preparation assistance, help with assignments, and private tutoring sessions. The company seems to focus primarily on test prep for college entrance exams along with the LSAT, MCAT, and GRE.
There are both online and in-person options for tutoring and test preparation assistance. Students can also submit questions through the online platform and get a response back. Those who are looking for online tutoring can complete a free session first, and there are several subscription models at different price points.
Private tutoring is available for students starting at sixth grade, and prices are fairly affordable. Tutoring can cost between $35 per hour and $40 per hour. The company doesn't match students and tutors. Prospective clients can view tutors' profiles online and decide which one they want to work with.
Pros:
Money-back guarantee after completing a certain amount of tutoring hours
Test preparation for numerous high school, college, and postgrad exams
Innovative online platform
Cons:
Students have to choose their own tutor instead of being matched with one
Test preparation can be expensive
Primary focus is raising test scores, not necessarily improving understanding
Bottom Line: For students looking for online tutoring to improve their test scores, The Princeton Review is a well-known provider with reasonably priced services.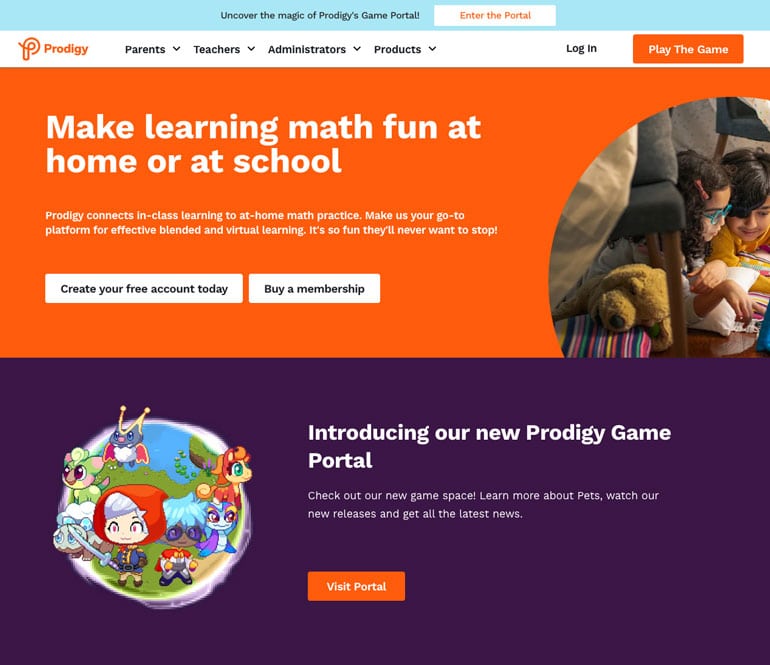 Offering one-on-one online tutoring for students in first through eighth grades, Prodigy is an affordable option for students who want to improve their confidence and deepen their understanding of math. Tutoring is focused on encouraging students to enjoy learning. Prodigy math tutoring is an online tutoring site that will allow young students to learn in a way that is best for them.
Potential students can attend a free session before making a commitment. This session is designed to allow the tutor to assess the student and to demonstrate how standard lessons take place. Students can book sessions with their tutors as needed, and each session includes feedback and a plan for the next lesson.
Sessions are 30 minutes long and cost $30. If you purchase a weekly session and pay monthly, the cost drops to $24 per session.
Pros:
Shorter session time may be better for younger students
Refunds are available by contacting customer support
Emphasis on positivity and learning enjoyment
Cons:
No test preparation services or support for high school and college students
Online platform is not as robust as other services
Older students may need more than the standard half-hour session
Bottom Line: With shorter sessions and affordable pricing, Prodigy is a great option for younger students who don't enjoy math and need help to understand the material and feel confident in their abilities.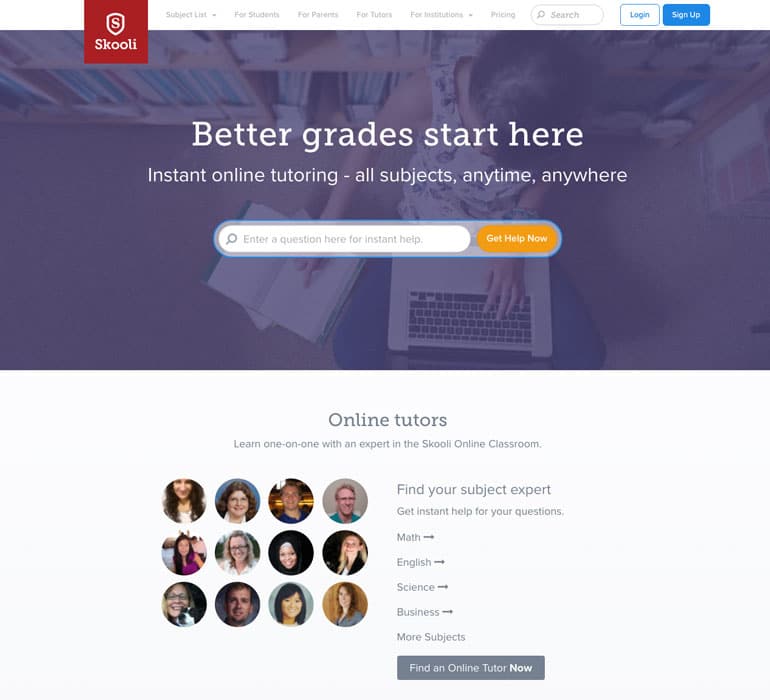 Skooli's tutors are licensed teachers who are available to help students solve homework problems through an on-demand platform. Students who need help with a problem can instantly start a session with a tutor in a digital classroom and use interactive tools to discuss and solve the problem. These sessions are recorded so students can refer back to them.
While Skooli doesn't offer long-term tutoring sessions with customized learning plans, not all students need that sort of assistance. The company's on-demand model is ideal for students who generally understand the material but need a little extra help once in a while. Skooli charges $1 per minute for these online sessions, but sessions are required to be at least 15 minutes long.
Math isn't the only subject available. Skooli offers online tutoring for English, science, business, and other subjects as well.
Pros:
Extremely affordable for short sessions
Ideal for students who need occasional help
Tutors are all licensed teachers
Cons:
No long-term tutoring offered
Students don't work with the same tutor each time
May not provide enough help for some students
Bottom Line: An affordable alternative to traditional tutoring, Skooli's instant homework help service is ideal for students who want occasional support but don't need a long-term tutoring service.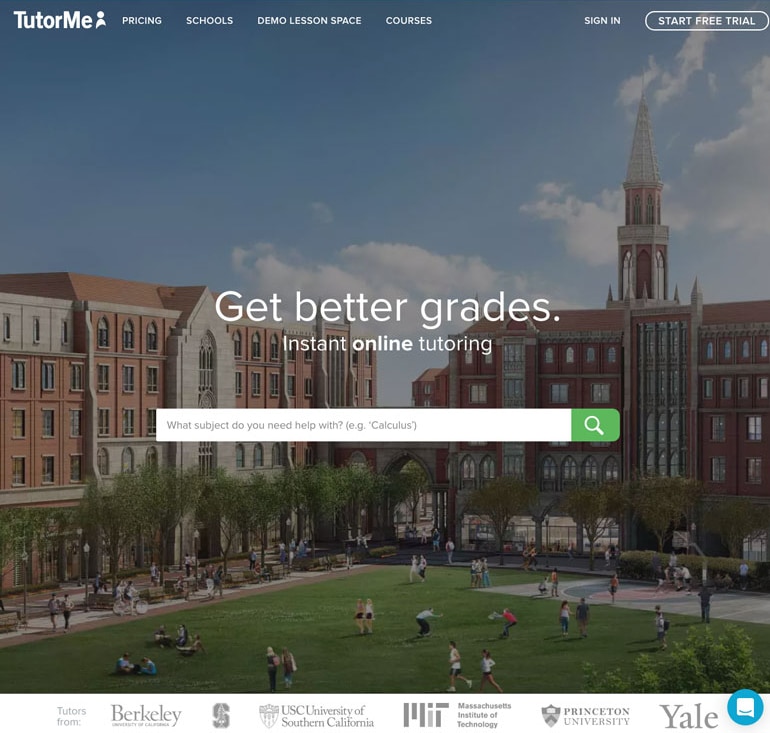 TutorMe offers a wide range of pricing plans for on-demand tutoring in a variety of subjects. Students who know they'll need a lot of time with their tutor can pay for eight hours a month at the low rate of $26 per hour. There are also monthly plans for two hours and four hours of tutoring. If you only need occasional help, you can go with an on-demand plan that costs $1 per minute.
With TutorMe, students get matched with a tutor for a free trial session. One-on-one tutoring sessions happen in a virtual classroom with screen sharing, text, audio and video chat, and a virtual whiteboard. Students and teachers can rate each other after the session.
The company states that they only select 4% of applicants to be tutors, so students get access to highly qualified instructors. Tutoring is available for college subjects as well.
Pros:
Tutoring for many subjects
Several pricing options for long-term or occasional help
Free 30-minute trial session
Cons:
On-demand homework help may not be enough for some students
Package pricing can be confusing
Rating system may be abused
Bottom Line: Providing options for both long-term and short-term assistance, TutorMe offers quality instruction for students in numerous subjects at various different levels.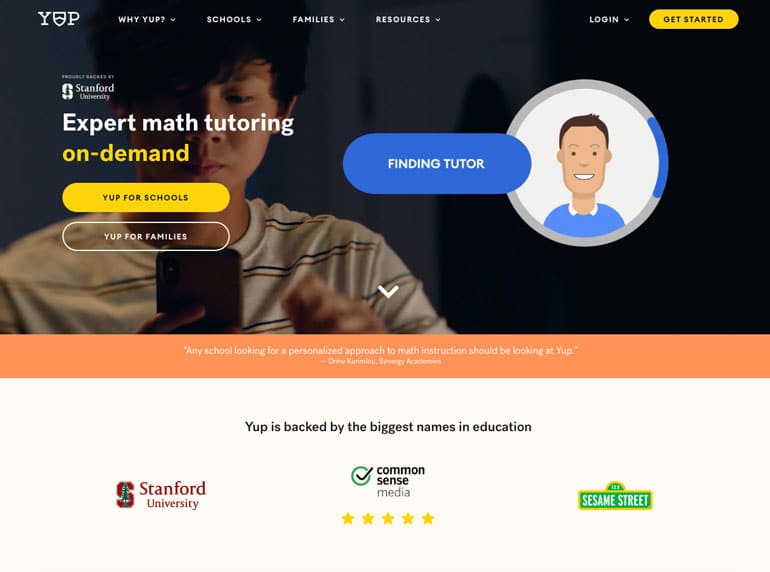 Yup offers individual tutoring with qualified instructors through a smartphone-optimized app. Students can take a picture of a math problem, answer a few quick questions, and get started with a personalized tutoring session in about a minute. The app allows students and teachers to communicate through text in a secure environment, and tutors can also annotate problems on a virtual whiteboard.
Students can access previous tutoring sessions through the app to review or study the concepts. Parents can also view their students' sessions through the Family Portal. This app-based service can be perfect for students who rely on their smartphones for everything and don't want to be part of a video call or online classroom.
Because Yup offers on-demand tutoring through a smartphone app, it's priced as an unlimited-access service. Prices start at $199 per month and are slightly cheaper if you prepay for 12 months at a time.
Pros:
Tutoring happens within a smartphone app
Unlimited access to the app
Students and parents can access all previous sessions
Cons:
Monthly price is fairly high
App-based model may not work for all learning styles
No test preparation or customized education plan services
Bottom Line: Offering instant help with homework problems and a record of all tutoring sessions, Yup may be the ideal tutoring option for students who will use it enough to justify the high monthly fee.
What Makes an Online Math Tutoring Platform Great
Not all online math tutoring services are created equal, and not all platforms will suit your child's specific needs or learning style. With an endless number of tutoring services online, there is no one set of guidelines a program should be following. That being said, you will want to select a tutoring service that meets your family's budget, goals, and schedule. Here are some important qualities that you should be looking out for in online math tutoring platforms.
First and foremost, you will want to ensure that your child will be working with top-quality tutors. This means you will want to enroll your child in a tutoring program that has undergone a strict verification and vetting process. This background check will ensure that your child is working with dedicated tutors, subject experts, and possibly even Ph.D. students who have years of teaching experience. Many companies will include their vetting process on their website, which will allow you to comb through reviews, ratings, and testimonials completed by previous tutees.
Another important factor to consider is the type of teaching tools a platform is utilizing.
When it comes to online teaching, the whiteboard tool is a game-changing tool. The digital whiteboard enhances a child's learning experience and increases information retention and student engagement.
Finally, you want your child to be working with a tutor who helps make learning exciting and stress-free. You want a tutor who is going to simplify difficult topics and demonstrate various methods to solving a problem. If a platform offers a complimentary lesson, then use this experience as your benchmark moving forward. Also, check out recent testimonials on the company website to see what previous customers have said about their experience.
How We Chose the Best Online Math Tutoring Services
We know that the number of online education websites can be overwhelming, so we've researched the options and created this list of the 10 best math tutoring providers. Here are some of the steps we took:
Checking out online reviews and ratings from verified clients
Researching pricing (including money-back guarantees)
Reviewing offered services: one-on-one teaching, small group instruction, homework help, online resources
Verifying customer service, including the matching process for students and tutors
Investigating educational requirements and qualifications for tutors
The companies we recommend offer exceptional customer service, experienced educators, top-notch technology, fair prices, and excellent reviews from verified clients.
Benefits of Online Math Tutoring Services
Tutoring offers many benefits for both students and their parents. Online tutoring math sessions have many upsides and downsides. Here are some of the advantages you can expect when hiring an online tutor knowledgeable in math skills.
1. Convenience
Tutoring is extremely convenient, especially for students with busy schedules. Unlike traditional in-person tutoring, you don't need to drive to a tutoring center or schedule sessions within standard business hours. Tutoring websites can provide tutoring at any time, and students can enjoy the comfort of working from home. Homeschool students can also benefit from tutoring because tutoring can be done after their school day is done.
2. More confidence
When students struggle with math, they often lose confidence in their academic skills and may even start to perform worse in other classes. Tutoring websites allow students to ask questions and work at their own pace without worrying about keeping up with their peers in the classroom. Formidable online tutoring sites can help students thrive in the classroom. With a tutor's help, they can start to truly understand mathematical principles and feel confident about their ability to answer homework and test questions.
3. Customized instruction
Online tutors can help improve a child's math skills by focusing on areas of concern. An online tutor can create personalized lesson plans and alter their teaching methods based on their student's learning style. This type of individualized instruction can help students learn more than a standard textbook or traditional classroom lecture.
4. Better test scores
One of the best benefits of tutoring is better performance on homework and tests. Tutoring helps students get better scores in two ways: increasing their understanding of the material and improving their study skills. A skilled tutor can help students overcome test anxiety and prepare for college entrance exams, such as the ACT and SAT.
5. Deeper knowledge of math
Many online learning sites provide students with customized lessons and the ability to work at their own pace. This creates the right environment for a deeper understanding of the material. When a student "gets" math, they can do better on tests and prepare for higher-level courses. A strong fundamental knowledge of math also allows students to solve real-world problems and improve their logic and critical-thinking skills.
How to Find the Right Online Math Tutor for Your Needs
Parents will want to find the best online tutoring websites for their children. There are many online tutoring websites to choose from, so here are the essential steps to finding the best tutoring for your needs.
Before you start looking at the tutoring market, take a few minutes to decide what type of service you're looking for. Do you need some instant homework assistance for your fifth-grade child? Are you a university student who needs extra help understanding calculus? Do you want to get your high school student ready for the SAT? Once you know what you need, you can look for a tutoring provider that fits the bill.
1. Compare the available options
There are probably multiple providers that offer tutoring online that fits your requirements. But there are several things you can look at to decide which ones to try.
Check out the prices and see whether the provider has a satisfaction guarantee or long-term contract requirements. Decide which service can fit your schedule. Find user ratings and reviews to see which service has the best reputation.
2. Meet with a tutor
Before you commit to several months of tutoring, it's a good idea to meet with the teacher for a test session. It's vital to make sure the tutor and student have compatible personalities and that the tutor can accommodate the student's learning style. Some providers, like Learner, offer a free first session.
3. Modify your plan
Even with a lot of initial research and a trial session, you may not find the right fit with a tutor the first time. If you realize the teaching relationship is not working well, it's important to make changes. Continuing in a less-than-ideal tutoring situation will just make the student and the educator frustrated.
You can learn more with our "How to FInd a Math Tutor for Your Child" guide.
Frequently Asked Questions
Find answers to some of the most common questions about tutoring.
What are online math tutoring services?
Tutoring websites take the traditional concept of one-on-one instruction and translate it into a virtual environment. These services match students with knowledgeable math educators and provide tools and resources that allow the tutors to offer customized instruction to their students.
Some online tutoring services are similar to freelance work sites – they allow students to post job ads looking for a tutor and/or offer space for tutors to advertise their services. Other sites offer a personalized approach focused on customer service. They take a student's information and match that student with the best tutor for the job.
Tutoring websites are not intended to replace school classes. Rather, it provides extra help for students who are having trouble understanding mathematical concepts or performing well on their math homework and tests.
Tutors often create customized lesson plans for their students to address their specific issues. They may also work through example problems, provide test-taking advice, or offer classroom-style lectures. Because online tutoring happens over the internet, tutors usually interact with students through video calls and use virtual whiteboards to demonstrate problem-solving methods.
Who should use online math tutoring services?
An online tutoring service is an excellent choice for anyone who needs help with math. While most people think about math tutoring for elementary, middle school, and high school students, university students can benefit as well. Online tutors can also help adults who are returning to college or taking professional development courses. Many students can benefit from these services, no matter their age or background.
Where can I find online math tutoring for kids?
Prodigy provides online learning sources to children in first to eighth grade. Learner, Chegg, Tutor Doctor, TutorMe, Skooli, Wyzant, and Yup offer math practice that caters to all levels of learners, from elementary level to high school students. Princeton Review tutors children in sixth grade and up.
Where can I find online math tutoring for high school students?
Revolution Prep specifically provides services in tutoring and college prep to high school students. Learner, Chegg, Tutor Doctor, TutorMe, Skooli, Wyzant, and Yup offer services to improve academic performance that caters to all levels of learners, from elementary level to high school students. Princeton Review tutors children in sixth grade and up.
Is math tutoring free online?
There may be free online options for math tutoring, like Khan Academy, though these options are often not personalized. The optimal learning style for each child is different, so it's best to seek out specialized support for your child's education. Students learn best when the material is structured for their specific needs. Free online tutoring options usually share general material rather than individualized material, like the services listed above.
How much should I pay my math tutor?
Payment for math tutors depends on the depth of the material and the length of time your child spends with the math tutor. Some educational websites charge per minute, per hour, per session, or monthly. Some tutors may also have advanced degrees which may increase the amount of money they request per session.
How much do online math tutoring services cost?
The price of an online tutoring service varies. There are some free resources, such as Khan Academy. However, most providers that offer customized courses and one-on-one interactive tutoring require payment. Some math tutoring providers offer free trials and/or money-back guarantees.
Most services charge hourly rates, which can be anywhere from $30 per hour to over $100 per hour. Other providers charge monthly or offer packages of tutoring hours that must be used within a certain time frame. In most cases, tutors charge less for small group lessons than individual sessions.
How do online math tutors make money?
Online tutors can make money by partnering with a tutoring agency that will help them find clients or working independently and charging a fee for their services. Some tutors likely work as contract workers with tutoring agencies and earn money based on the number of clients they see or how many sessions are booked with them. Some tutors can set their own hours and earn money based on how many hours they have available to tutor.
What should you look for in online math tutoring services?
There are several important things to look for in an online tutoring provider:
Price
Tutors' education and qualifications
Subjects offered
User reviews/ratings
Customer service
Satisfaction guarantee
Availability
Technology requirements
Each situation is different, so you need to figure out which of these are most important to you.
What are the pros of using online math tutoring services?
Online tutoring offers several advantages: flexible scheduling, affordable pricing, individualized instruction, and access to expert educators. Some students do especially well with online tutoring because it's more comfortable and less formal than a traditional classroom.
What are the cons of using online math tutoring services?
There are some possible disadvantages to using an online tutor skilled in math. Students may have a hard time getting used to the virtual format. With so many tutoring websites services available, it may take some time to find the right provider. If you have an unreliable internet connection or an old computer, you may experience interruptions during online sessions.
Which tutor is best for math?
The services listed above are some of the best options for tutors who specialize in math topics. These tutoring services have been evaluated based on price, convenience, frequency of sessions, and other factors.
Do math tutors really help?
Math tutors provide individual instruction for learners on all levels. Tutors cater to a student's learning in a way that supplements what they learn from their teachers. Teachers have a classroom full of students to teach whereas a tutor has a small group to focus on at one time. This individualized instruction can help students get a firm grasp on topics.
Who is the best math teacher online?
Because there are so many different types of math, including algebra, geometry, or elementary math, it is best to find a math teacher online focused on your child's specific needs. While some tutors may know basic information about many different types of math, your child may benefit from a tutor with an advanced degree in a specific math subject.
What is the best online tutoring site?
The best online tutor for you will depend on your unique situation. Learner.com has experienced tutors who can help K-12 students and also handle college math courses. Your students may do well with an online service that has short sessions, such as Prodigy. Students who just need occasional help with math homework may get the most out of a service like Chegg.
TutorMe could be the right choice for students who need help in more than just math. High school and university students often need specialized services that offer tutoring for high-level math courses, such as calculus and statistics.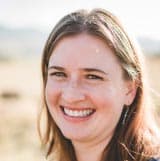 Amanda Holland
Education Expert & Real Parent
Amanda Holland is equally passionate about math and grammar, and she has incorporated both into her career. She spent several years as a signals analyst for the Defense Department, creating and editing reports for the intelligence community. After her two kids were born, she transitioned to a career as a freelance writer.