10 Best Online English Tutoring Services of 2023
ScholarshipInstitute.org is reader-supported. When you buy through links on our site, we may earn a commission. Learn more.
Reading and writing are the foundation for all learning and educational success. Thankfully, if you or your child are experiencing any difficulties with these core and crucial skills, there is an easy remedy: online teaching companies. An online English teacher can help a student improve their reading comprehension, increase their reading speed, enhance their reading accuracy, and build confidence in the classroom.
If you are struggling to find an online English teacher in your area that specializes in English Language Arts (ELA), you're in luck! There are dozens of online English teaching companies available online, each one with the mission of helping you find the perfect tutor to match your needs. To make things easy for you, we've rounded up ten of the top tutoring services available that teach English online. In our review below, we will take a closer look at the pros and cons of each one of these online English tutoring services. Happy learning!
Learner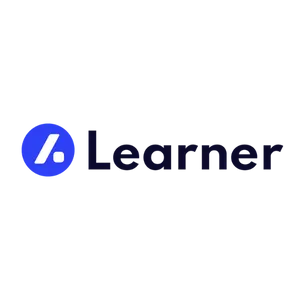 Ranks #1
Score: 93/100
Bottom Line: At Learner, the student is always the number one priority. From recording lessons to feedback sessions, this top-notch tutoring service has numerous features that ensure each student is getting the best learning experience out of all their interactive online English lessons.
Wyzant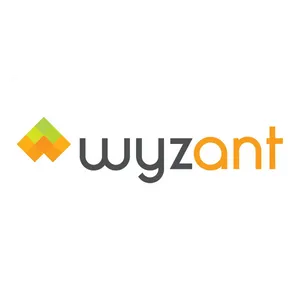 Ranks #2
Score: 86/100
Bottom Line: Wyzant functions extremely well for students who are looking for last-minute assistance on an English Language Arts exam or essay. However, if students are searching to improve upon foundational English skills such as reading comprehension or fluency, then it's probably best to look elsewhere.
Varsity Tutors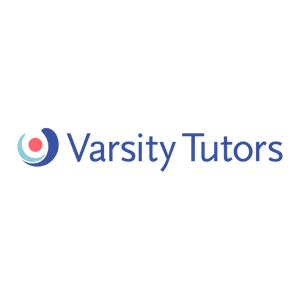 Ranks #3
Score: 80/100
Bottom Line: This well-rounded tutoring platform has an extensive database of tutors that specialize in a wide range of subjects. While Varsity Tutors is thorough with its hiring process, previous customers have divulged that the quality of the platform's services varies from tutor to tutor.
We reviewed each platform independently and scored it using the criteria students care about.
Also reviewed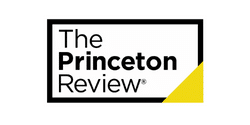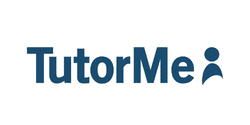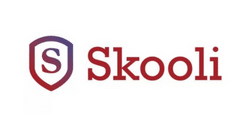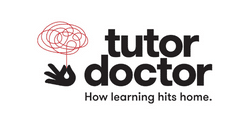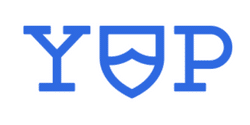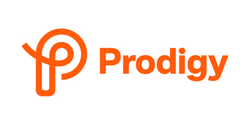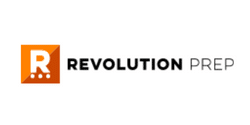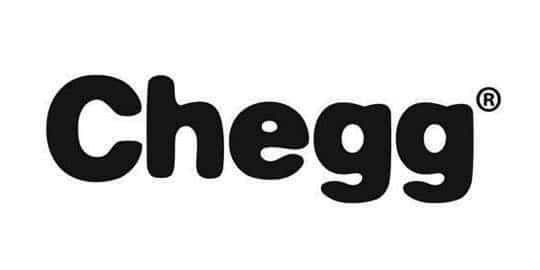 Learner
When it comes to the online English tutoring services available, it's very hard to top Learner. Founded by passionate educators, this online teaching company firmly believes that reading and writing aren't just essential for good grades in primary, middle, and high school. Having a solid foundation in reading and creative writing will help both native English speakers and non-native foreign-language speakers excel on standardized tests, in college courses, and beyond.
Learner also believes that each child deserves the best ELA tutoring experience there is and is committed to helping turn that mission into a reality. First and foremost, Learner offers multiple types of tutoring session styles, including both one-on-one and group sessions. For one-on-one sessions, Learner will create customized lesson plans based on your child's preferred teaching style. For example, if your child is a visual learner or has trouble sitting still for long periods of time, then Learner will take this into account when planning each online lesson. This top-notch tutoring service will also provide feedback after every lesson, meaning that parents will always be in the know about their child's progress. These sessions are also a prime opportunity for parents to ask questions or express concerns.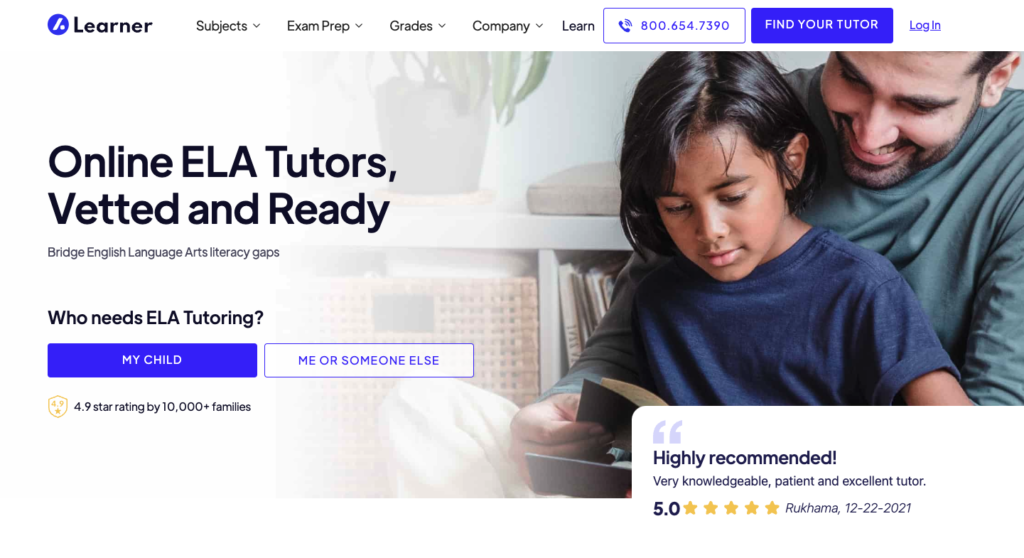 One of the most beneficial aspects of Learner's tutoring sessions is that each online lesson is recorded. Sometimes a one-hour tutoring session can feel like an overwhelm of information. This can put a lot of pressure on the tutee to record and remember each piece of information that is relayed. Having a recording of each session is beneficial for several reasons. Not only can the student go back and get a refresh on anything they might have missed, but it will also help give them peace of mind in each session and relax. Pricing starts at $40 per hour.
Pros:
Customized lesson plans
Regular feedback sessions
Each session is recorded
Very selective with English tutors
Complimentary first session
The platform works on both phones, computers, iPads, and other devices
Cons:
Does not have an instant messaging function
Bottom Line: At Learner, the student is always the number one priority. From recording lessons to feedback sessions, this top-notch tutoring service has numerous features that ensure each student is getting the best learning experience out of all their interactive online English lessons.
Wyzant
While Learner is focused on building strong student and tutor relationships, Wyzant has an entirely different approach to teaching English online. This online service caters to those who need immediate assistance. Gearing up for a late-night of studying? Need help on a paper due in twenty-four hours? Wyzant is available to assist with your last-minute needs. While Wyzant's on-off and as-needed sessions can be beneficial in some ways, there are a few downsides to this style of tutoring. For one, this tutoring platform is not for students who are looking for long-term tutoring. Improving your overall reading comprehension and writing skills is not something that will happen overnight, and many tutees are seeking out an online tutor who can help them gradually improve these skills over time.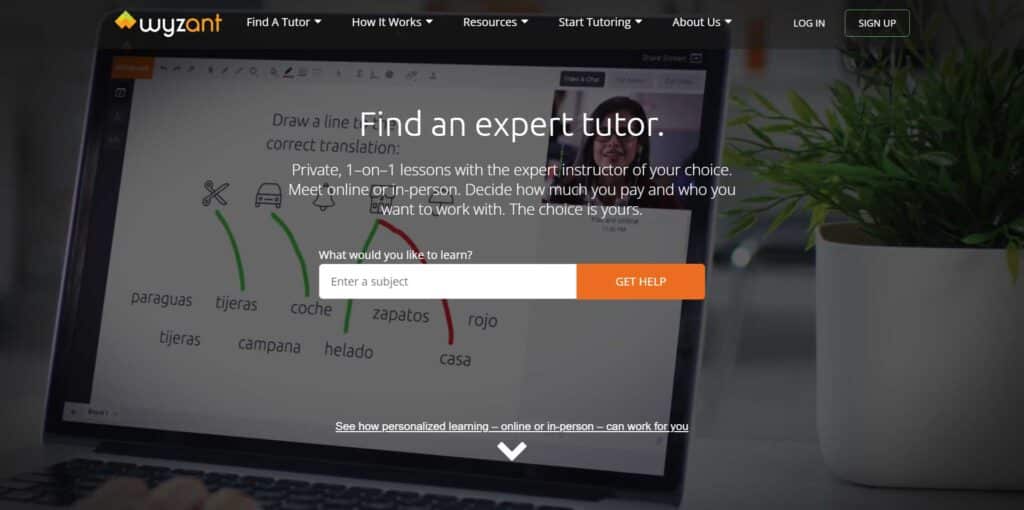 Whether you are seeking out someone to assist you with reading comprehension for young learners, or a college-level 20th-century English literature course, Wyzant has an abundance of online English teachers who each specialize in different English subjects and language skills. Interested parties can easily search through the website to find a tutor based on expertise, niche skills, and grade level. Each private English tutor has their own profile which includes their hourly rate, along with reviews from previous tutees. Each tutor gets to decide upon their own hourly rate, which ranges between $35 to $70 an hour.
Pros:
Provides as-needed assistance
Can search for tutors based on language skills and hourly rate
White-board style feature for online learning
Cons:
Relatively expensive
Less cohesive tutoring platform (tutors do not abide by a specific methodology)
Students can not develop a long-term teaching relationship with an online teacher
Bottom Line: Wyzant functions extremely well for students who are looking for last-minute assistance on an English Language Arts exam or essay. However, if students are searching to improve upon foundational English skills such as reading comprehension or fluency, then it's probably best to look elsewhere.
Varsity Tutors
Similar to Wyzant, Varsity Tutors also excels in the area of on-demand help and assistance. One of its standout features is its Instant Tutoring program, which allows students to connect with English tutors online in a matter of minutes for small homework questions and exam preparation. This versatile platform is also beneficial for students who are looking to receive tutoring in subjects aside from Language Arts. Varsity Tutors has more than 40,000 tutors in its database that specialize in more than 2,500 different subjects. If English is not your native language, then there will be courses geared towards both native speakers and non-native English speakers. A typical ELA tutoring session focus on reading comprehension, writing, English grammar, literature analysis, or different types of writing.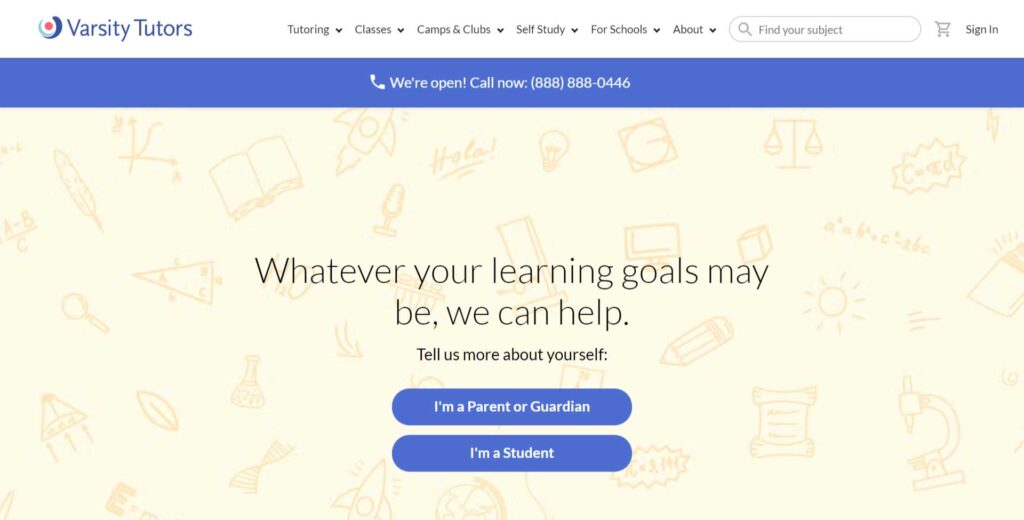 While this tutoring company may have thousands of experienced teachers in its network, Varsity Tutors assures clients that they are very thorough with their hiring process. While a tutor's grades and resume are certainly taken into consideration, Varsity Tutor's most important criteria for tutors is their ability to convey information. To match students with tutors, the platform uses a placement algorithm that factors in a student's schedule, educational needs, proficiency, learning style, interests, and goals. Each tutor has a different hourly rate and pricing is available upon request. Hourly rates average at $50.
Pros:
Instant Tutoring Service
Offers courses in a wide range of subjects
Thorough hiring process
Cons:
Pricing is only available upon request
Previous customers have stated that the quality of services varies from tutor to tutor
Bottom Line: This well-rounded tutoring platform has an extensive database of tutors that specialize in a wide range of subjects. While Varsity Tutors is thorough with its hiring process, previous customers have divulged that the quality of the platform's services varies from tutor to tutor.
Skooli
Joining the ranks of services that assist with instant homework help is Skooli. This well-known tutoring service follows a pay-as-you-go learning model, charging customers $1 per minute for their homework help. This makes this service ideal for super short 15-30 minute sessions (the shortest session that clients can opt for is a 15-minute session). If your sessions last longer than an hour with this service, then your session suddenly becomes rather pricey. Again, this may not be the tutoring platform to opt for if you are looking to improve your foundation in English language skills such as reading comprehension, fluency, and writing, or if you are trying to develop a long-term tutoring relationship.
Tutors are available 24/7 and clients can search for a tutor based on subject and grade level. Skooli also includes some of the same bonus features that Learner includes, such as personalized feedback and recordings of every session.
Pros:
Tutors are available 24/7
Ideal for quick homework help
Records each session
Provides feedback
Cons:
Does not cater as well to hour-long tutoring sessions
The model makes it difficult to build upon foundational English language skills
Bottom Line: With a pay-as-you-go learning model and 24/7 access to tutors, Skooli is a great service for quick homework help. That said, this service may not lend itself as well to subjects like Language Arts or English, where students are trying to gradually improve upon core skills over time.
TutorMe
Like Skooli, TutorMe also follows a pay-as-you-go model. Students can opt for several different tutoring packages including $1 per minute, 1 hour per month, 2 hours per month, or 4 hours per month. Tutors are available 24/7 and students can connect with someone in under 30 seconds if they wish to. Not satisfied with your first session? TutorMe also offers a free trial. While this tutoring service might not cater as well to guiding a student through an entire Language Arts course, it is suited for test prep and homework help.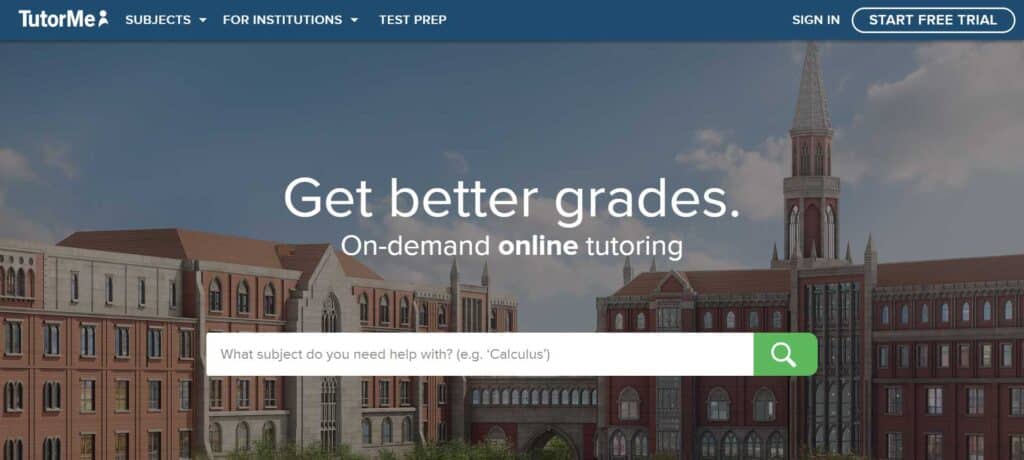 TutorMe has a cutthroat 4% acceptance rate for its tutors, preferring to hire professional teachers from Ivy League colleges all across the country. Every lesson will take place in a portal that can best be described as an online classroom with a whiteboard, text editor, audio/video chat, and screen-sharing.
While students can certainly get help with English and Language Arts courses through this platform, test prep is where TutorMe truly shines. If you or your child need help with the reading comprehension section of the SAT, ACT, or SAT II, TutorMe has programs that specifically help students prepare for these exams.
Pros:
Pay-as-you-go and monthly plans are both offered
Rigorous hiring process for tutors
Free trial
Cons:
No specific reading tutoring course
Specializes in test preparation
Bottom Line: Unlike many other tutoring services, TutorMe has a clear focus on helping students prepare for standardized tests. If you are looking for more general assistance with Language Arts and English courses, you may wish to opt for another service.
Revolution Prep
Revolution Prep is one of the only platforms that hires full-time professional tutors (rather than tutors who are working part-time), setting itself apart from many of the other tutoring platforms available.
While Revolutionary Prep has tutors that specialize in approximately 37 subjects, including English, this is primarily a test preparation platform. Revolution Prep has established a curriculum for various standardized tests, that are usually taught in small groups sessions.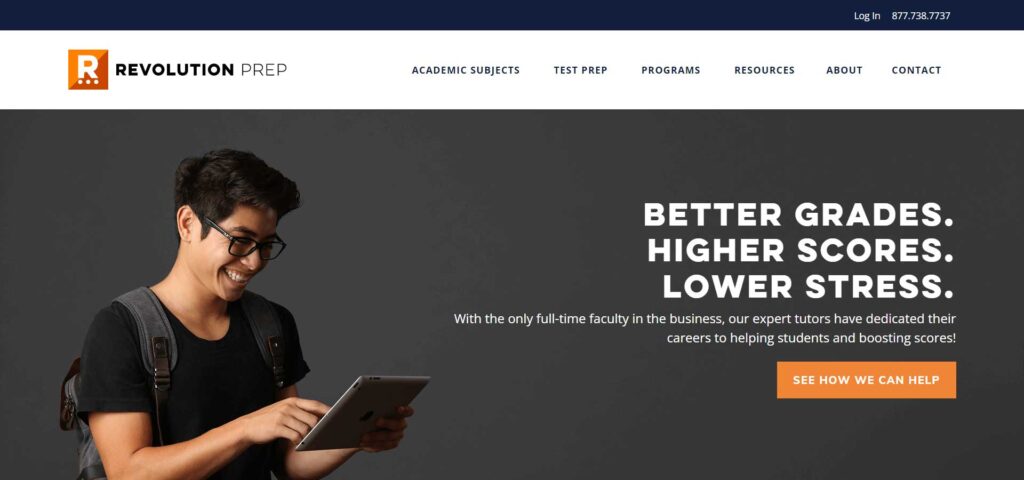 Students can opt for three different test preparation packages: personalized tutoring with two other students for 5 hours ($199), group test prep in a group of up to 8 students for 12 hours ($499), or private, one-on-one tutoring for 12 hours ($1,398). For every package, students will receive feedback sessions, test prep tips, and tricks, practice tests, and personalized study plans.
Pros:
Hires full-time professional tutors
Has many established test prep curriculums
Provides personalized study plans and feedback sessions
Cons:
Primary a test preparation platform
Relatively costly
Customers must be willing to commit to a minimum of 5 hours per month
Bottom Line: If you are looking to financially invest in an online test preparation tutoring platform, it's hard to top Revolution Prep. While it may be costly, this platform has top-notch tutors to guide students through group standardized prep sessions.
Acquired by the Princeton Review in 2014, Tutor.com is another top-notch tutoring platform available. This tutoring service has a wide range of tutors in its network, including "Ph.D.s and Ivy Leagues to teachers, doctors, professors, and pilots," according to its official site. Tutors are available 24/7, online or through the mobile app, to offer homework help and learning sessions for students and adults in more than 250 subject areas, including English and Language Arts.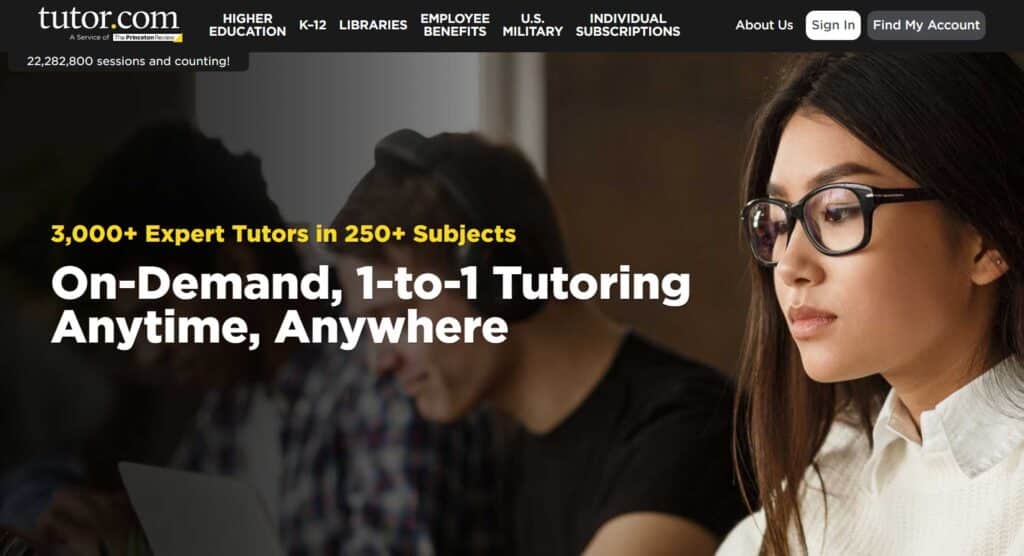 Tutor.com also includes a handful of articles written by the tutors who work for the platform. For example, if you are trying to learn how to write a thesis statement, this platform has an article available titled "Tips to Write an Awesome Thesis Statement," for you to peruse. While this platform is not tailored to those seeking one-off homework help, students can sign up for a wide range of tutoring packages. The average hourly rate is $40 per hour.
Pros:
A wide range of tutoring experts
Has a library of informative articles
Tutors available 24/7
Cons:
Relatively costly
Packages only cater toward longer-term tutoring assistance
Bottom Line: Tutor.com ticks many of the online tutoring service boxes. While it is a relatively costly service and does not cater to off-hand homework questions, its thoroughly vetted tutors are available to offer long-term assistance for English students in need of an extra helping hand.
Online Reading Tutor
If you or your child suffer from dyslexia, then Online Reading Tutor is a great go-to service. This tutoring platform revolves its services around the Orton-Gillingham methodology, which is geared towards any native English speaker who grapples with dyslexia or other reading disabilities. Tutors will focus on five different areas during their lessons including vocabulary, phonics, phonemic awareness, fluency, and reading comprehension.

Online Reading Tutor's mission is to help with more than just your homework and test prep. This service aims to help individuals improve their reading skills in the long term. Regardless of your age or grade level, this specialized tutoring service is here to help. That said, Online Reading Tutor's programs are fairly rigorous. Students are expected to work on lessons between five and six days a week.
Online Reading Tutor has three different packages available. The difference between each package largely depends upon how much one-on-one assistance and personal attention a tutee requires. Customers can opt for a $49 one-week trial. After that, plans range from $179 per up and go up to around $359 per month.
Pros:
Caters to those with reading disabilities
Online teaching company based on research-backed Orton-Gillingham methodology
Cons:
Relatively expensive
Very niche — may not suit everyone's needs
Bottom Line: If you or your child grapple with dyslexia or other reading disabilities, then this service may be worth the investment.
Club Z
Club Z is another popular online tutoring service, that is particularly suited for students in middle school, high school, and college. While there is very little information on the methodology that tutors follow, Club Z tutors tend to cut right to the chase and skip the engagement tactics that are crucial for appealing to younger learners.
Club Z offers in-home and online tutoring 24/7 in more than 300 subjects. This platform tends to focus its services on one-on-one tutoring rather than group sessions. When it comes to English courses, Club Z's main focus is on helping students improve upon their fundamental reading skills, reading comprehension, and vocabulary. While it is less of a focus, they are also able to help students with homework, coursework, and exam prep.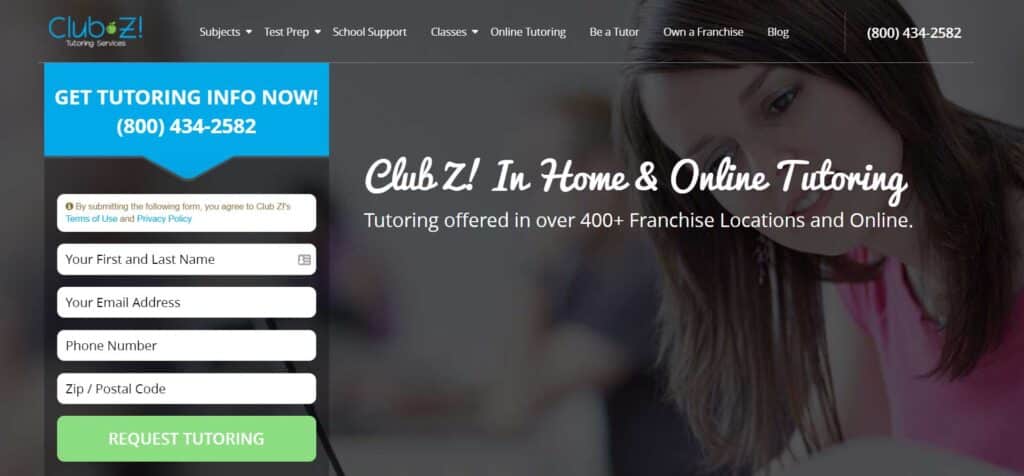 On their official site, Club Z states that their tutoring services have a 98% satisfaction rate, guaranteeing that their tutoring services will help all students increase two letter grades in as little as 60 days. Packages start at around $231 for 4 hours of tutoring, $415 for 8 hours, and $554 for 12 hours. Club Z offers a complimentary first hour to ensure that every customer finds the right fit.
Pros:
Offers in-person tutoring
Cons:
Methodology is not clear or cohesive
Services are not catered toward younger children
Relatively expensive
Bottom Line: While Club Z does have a high customer satisfaction rate, the reliability of this service does not match the standard of some of the other quality online services included in this round-up.
Chegg Tutors
One of the best things about Chegg Tutors? All it takes is a simple three-step process to get started. Students will explain what they need help with and then will get matched with a tutor whose schedule matches their own. After that, students will begin their lessons with tools that include a text chat, audio, and video features. Parents are welcome to communicate with a tutor before the first session and provide them with further information about their child's learning style, as well as any expectations, questions, and concerns that they might have.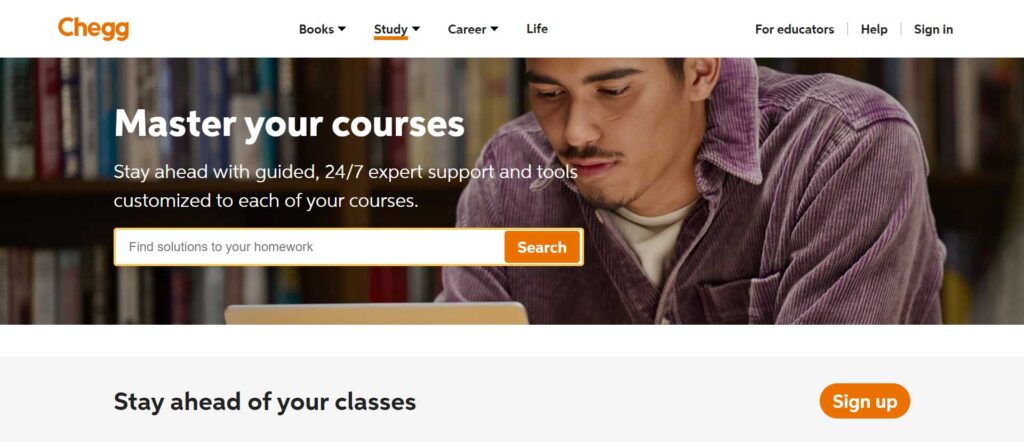 Chegg Tutors does not focus solely on English or Language Arts but on hundreds of different subjects from engineering and test prep to essay writing, AP classes, ESL, and foreign languages. In terms of the hiring process, Chegg Tutors has a few criteria that employees must meet. Firstly, tutors must have prior tutoring or teaching experience, and they must be enrolled or have received a degree in a four-year university. Some of the platform's other standout features include the ability to search through thousands of previous homework problems, as well as the ability to upload a photo of something that you need assistance with.
Unlike many of the other platforms, students will pay a $14.95 membership fee to the platform, rather than specific tutors. If you are looking to work on your writing skills, you can opt to pay an additional $9.95 and subscribe to Chegg Writing.
Pros:
Ability to search through previous homework problems, as well as upload your own
Easy to get started
Budget-friendly
Cons:
The tutor matching process is a bit superficial
The membership payment style makes it difficult to develop long-term relationships with tutors
Bottom Line: Chegg Tutors is a well-rounded platform that is reliable and easy to use. That said, if your priority is finding a tutor that suits your needs, as well as developing a long-term student relationship with a tutor, this may not be the platform for you.
How to find the right online English tutor for your needs
With so many excellent online English tutoring services available, it can be hard to settle on just one. The good news is that the platforms we looked at each have a large pool of tutors with extensive experience teaching English to students in elementary, middle, and high school, as well as adults. So how do you choose which platform – and which tutor – is right for you? Here are some important criteria to keep in mind when choosing the best online English tutor.
Look for a reputable platform that fits your English tutoring needs
The online tutoring services reviewed here are reputable platforms that vet their English tutors thoroughly, but there are important differences in how they operate. Before deciding on a tutoring platform, figure out what your tutoring priorities and goals are. Do you need help preparing for an upcoming English exam? Are you looking to gradually improve your reading comprehension and fluency? Depending on your goals, it may be more important to build a long-term relationship with a tutor who knows your learning style than to have tutors available 24/7 (or the other way around).
Figure out your tutoring budget
Tutoring can be a great way to help yourself or your child learn, but it can get expensive. Consider how often you want to receive lessons and how much you can afford to spend on tutoring every month. If you only need tutoring for a few weeks, you may want to opt for a more expensive, pay-as-you-go service. If you would like to work with an English tutor on a long-term basis, such as for the duration of an AP Literature course, you may need to be more frugal. It's also worth remembering that the most expensive tutors are not necessarily the best. Far more important is finding a tutor who fits your needs, understands how you learn, and knows how to help you reach your English and language arts goals.
Check your English tutor's credentials and qualifications
A reputable online tutoring platform should match you with a well-qualified tutoring professional, but it's always a good idea to double-check your tutor's credentials. Ask about degrees, certifications, and professional experience. Make sure they have experience teaching the specific subject or topics that you'd like to focus on. For example, if your tutor usually teaches phonics and spelling, they might not be the best person to help you with writing an essay or analyzing a piece of literature.
Pay attention to ratings and reviews
Most online tutoring platforms ask clients to leave comments about how they liked working with a certain tutor. Although everyone will have a unique experience in one-on-one sessions, former students can usually give you a general idea about tutoring style and the quality of the tutor's teaching and communication. If your tutor doesn't have any reviews or if they have received negative comments, you might want to reconsider your choice.
Ask friends, family, classmates, or teachers for recommendations
One of the best ways to connect with a high-quality English tutor is to ask around. Chances are, you already know someone who has worked with an excellent tutor, either online or in person. Class teachers and guidance counselors are also great resources for finding local tutors, though they may not be as familiar with online tutoring platforms.
Ask to meet your tutor before your first session
There's only so much you can learn about someone from a profile or list of qualifications. Before your first session, schedule a virtual meeting with the tutor to make sure that they are a good match for you or your child in terms of personality, teaching philosophy, and tutoring approach. This could be done through a formal interview or a sample lesson on a relevant subject like grammar, poetry, or literary criticism.
How we chose the best online English tutoring services
We considered numerous factors when selecting the best online English tutoring services. First and foremost, we wanted to ensure that each tutoring company was reliable, accredited, and offered quality services. We made sure to choose platforms that give students with different needs a wide range of options. Some tutoring services offer on-demand homework assistance, while others help students improve their English grades and standardized test scores over time. During our selection process, we considered tutoring services that offer general assistance, those that cater to gifted and talented learners, and those geared towards students with reading disabilities such as dyslexia. We also wanted to include tutoring services that would work for a variety of budgets.
Regardless of what type of service you're looking for, we're confident that at least one of the tutoring platforms in this roundup will meet your needs. Here are the specific criteria we used in our selection process.
Tutor quality
One of the most important factors we looked at was the quality of the English tutors available on each platform. The best online tutoring companies require their tutors to have relevant degrees and at least a few years of teaching or tutoring experience. Tutors should also have received excellent feedback from former students who earned better grades in their English classes or improved their college admissions test scores.
Tutor compatibility and learning plans customized for each student
The best online tutoring services emphasize the importance of building a tutoring plan that's unique for each student. This starts with making sure that the tutor is a good fit for the student in terms of their knowledge of the subject, the way they teach, and their personality. Not only do the companies on our list do a great job of matching students with tutors, but they also stress the importance of understanding each student's academic goals, learning style, and strengths and weaknesses in English and Language Arts.
Flexible scheduling and availability
Many people seek out online tutoring because it tends to be more flexible and better suited to the hectic schedules of busy families. Being able to connect with an English tutor who's available when you are was one of our most important criteria. We chose companies that offer evening and weekend sessions and have the flexibility to set up long-term or short-term tutoring programs – and to shorten or extend those arrangements as needed.
Feedback and targets for students and updates for parents
For a tutoring arrangement to work, students and parents must receive clear feedback and frequent communication from the tutor. We chose online tutoring platforms that make it easy for students to go over the important points covered in a session, focus on areas that still need work, and ask follow-up questions whenever they arise. Likewise, we know how important it is for parents and guardians to see evidence of student progress and review session recordings.
Online learning made easy
We chose online tutoring companies that incorporate easy-to-use technology into their sessions. The best online tutoring platforms use remote learning tools such as video conferencing, session recordings, instant messaging, and collaborative editing software. With so many digital tools and resources at their disposal, online English tutors should be able to deliver an educational experience that's as good, if not better, than an in-person tutor.
Benefits of online English tutoring
The concepts taught in English Language Arts (ELA) help students improve their ability to read, write, and analyze texts – skills that are not just important in the classroom but also in everyday life. Working with an online English tutor is a great way to improve skills like spelling, grammar, and punctuation and develop techniques for composition, comprehension, and analysis
The many benefits of online English tutoring tend to make it an even better option than in-person tutoring. Online tutoring uses technology to enhance learning and is usually more affordable and logistically convenient than in-person tutoring. It can be just as effective as in-person tutoring at helping students develop effective study habits, learn note-taking and test-taking strategies, improve their overall academic performance, and gain confidence in their reading and writing abilities. Working with a patient and supportive online English tutor can help a student become more motivated and feel better about themselves.
Here are some of the key benefits of working with an online English and Language Arts tutor:
Affordability
Although online English tutors' rates can vary significantly based on factors such as subject level, qualifications, and experience, online tutoring is usually cheaper than in-person tutoring. This is mostly because virtual tutoring sessions don't require travel, so tutors can take on more clients and set more affordable rates. Group tutoring sessions are almost always less expensive than one-on-one sessions, making this even more attractive for those looking to keep costs down.
Convenience, comfort, and flexibility
Perhaps the most obvious benefit of online tutoring is the convenience factor. Students and tutors can connect instantly through a safe online learning platform instead of having to go to a school or learning center or make plans for the tutor to come to their home. Many students prefer this arrangement because it allows them to attend sessions from the comfort of their own home rather than traveling to an unfamiliar location after a long day at school. And when it comes to scheduling, tutors are much more likely to offer sessions in the evenings and on weekends when they take place virtually.
Tutor availability and selection
Unless you live in a major metropolitan area or near a university campus, the selection of tutors in your area may be limited, simply due to location. And even if there are highly experienced English tutors in your city, they may live on the other side of town. With online tutoring, a student's location is no longer a barrier to access. Online platforms can instantly connect students and tutors, allowing you to work with the best tutor for your needs and learning style, no matter where you (or they) live.
Personalized lessons
Online tutoring isn't the only way to make the learning experience fit the student's needs, but online English tutors tend to be especially good at doing this. Many online English tutors have experience working with students with a wide range of learning styles, and some platforms are specifically designed to help students with learning disorders. The best online English tutors know their students well enough to plan lessons with the right pace, level of difficulty, and variety of activities for each learner.
Use of technology
There's no getting around the fact that technology plays an increasingly pivotal role in education, even in more "traditional" subjects such as English. In today's world, digital proficiency is essential for all students. Online English tutoring teaches both the course material and basic computer skills, like how to send emails and work together on shared documents. Online learning tools such as virtual whiteboards and educational games can also be very helpful for learners who prefer a more interactive experience than just reading and answering questions. Parents can benefit from online tutoring sessions by accessing online progress reports, checking the status of classwork tasks, and viewing session recordings.
Frequently Asked Questions
What are online English tutoring services?
Online tutoring services are companies that virtually teach students in online classrooms. Many of these services utilize video and audio features, text chat, and virtual whiteboards to make this experience as beneficial as possible for the students. Many of these services will also record sessions for students to consult at a later time.
Who should use online English tutoring services?
Regardless of your age or grade level, students and adults alike can benefit from online English tutoring services. Whether you are prepping for an upcoming standardized test, seeking help with your coursework, or looking to improve upon your reading comprehension abilities, there is an online English tutoring service that suits your needs.
How much do online English tutoring services cost?
The price of online English tutoring services drastically varies. On average, tutoring services that charge by the hour have an hourly rate of $40. That said, some services that cater to quick homework help will charge $1 per minute. Other packages will charge month to month.
What should you look for in online English tutoring services?
When it comes to online English tutoring services, there are many factors that you should pay attention to including the quality and vetting process of the tutors, the hourly and monthly rates, as well as the special features offered in addition to regular tutoring sessions.
What are the pros of using online English tutoring services?
Online English tutoring services are typically more affordable than in-person tutoring services. Additionally, online tutoring is often more convenient for those who are operating on a busy schedule. Many tutoring services have thousands of tutors in their networks, meaning there will be someone who can cater to your schedule and learning style, and who is an expert in your desired subject.
What are the cons of using online English tutoring services?
Online tutoring may be especially hard for younger students who require hands-on, interactive engagement. That said, online services have become adept at incorporating various learning tools such as instructional videos, animated lessons, interactive quizzes, and more into their virtual lessons.