Kumon vs. Sylvan Comparison – Which Math Tutoring Program is Better?
ScholarshipInstitute.org is reader-supported. When you buy through links on our site, we may earn a commission. Learn more.
Does your child feel as though they don't get the support they need from school? Are you looking for private math tutors but don't know where to start? Perhaps you've seen ads for companies like Kumon and Sylvan but aren't sure which one to choose? If you have asked any of those above questions, this article can help you.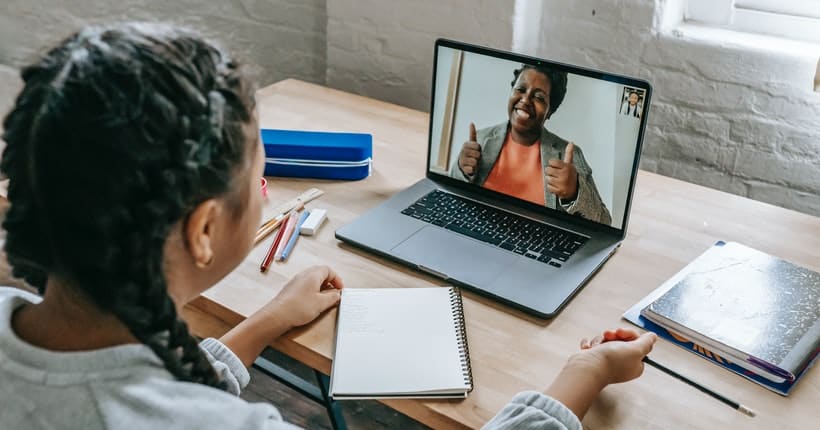 Kumon and Sylvan share some similarities as private touring companies. They both deliver high-quality tutoring for their charges and always prove their worth with quick results that work for students.
In addition, both companies offer math tutoring with clear, accurate instruction guaranteed every time. Kumon and Sylvan also operate from learning centers in areas near you, with dependable customer support.
Since they work out of learning centers, Kumon and Sylvan provide instruction to groups of children in a sort of classroom setting. While this approach may pander to more social children, tutoring centers like Kumon and Sylvan miss out on a one-on-one teaching approach: something online tutoring can accomplish.
Why You Should Consider Online Tutoring
Kumon and Sylvan provide accessible tutoring that offers tangible results, but online tutoring can do the same thing. While learning centers in nearby areas provide convenience with being so close, online tutoring offers a unique one-on-one experience that proves to be immensely valuable to children.
Online tutors can produce the same, if not better, results as in-person tutors. Online tutoring offers more accessibility compared to in-person tutors. Compared to Kumon and Sylvan, online tutors offer that precious one-on-one instruction that has proven to be helpful to young students.
Online tutoring also takes the stress away from parents and children alike. Parents no longer have to worry about their child falling farther and farther behind, as they can instead relax since they know their child is receiving personalized instruction from a tutor that can get to know their learning style.
Children also worry less as they get the help they need and can tackle the problems they face in school and build good lifelong study habits.
One such company that provides the best online math tutors is Learner, which offers the same effective results that companies like Kumon and Sylvan do, but with greater accessibility and one-on-one instruction.
Kumon Overview
To begin deciding between Kumon and Sylvan, we'll delve into who Kumon is, explore what this company stands for, and explain how they help students.
What Is Kumon?
Kumon operates as a tutoring company committed to helping kids excel in school and beyond, working in 50 countries with millions of students. Developed in 1954 by a Japanese math teacher named Toru Kumon for his own son, Kumon tutors children of any age in any subject.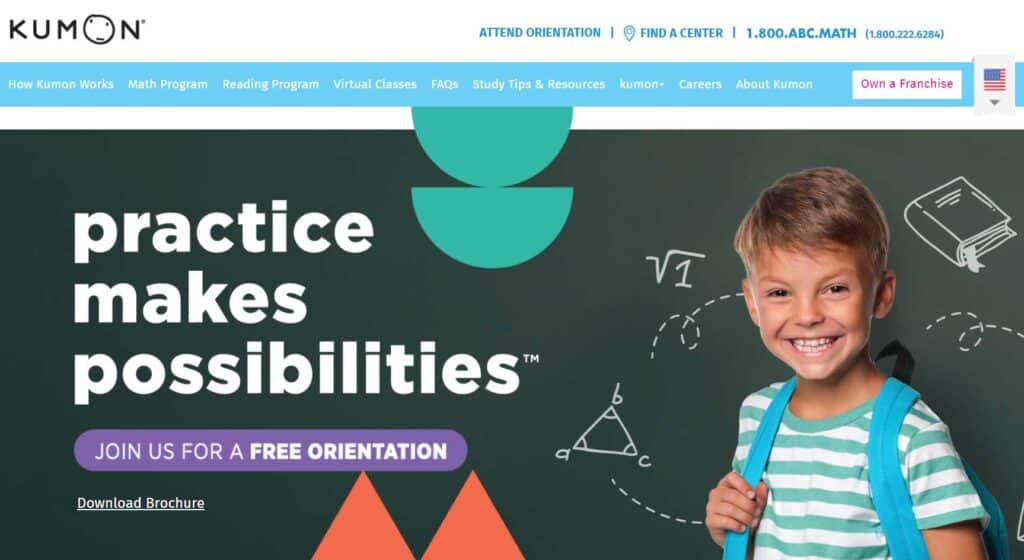 Mr. Kumon believed small, incremental assignments would help his son master math. By sixth grade, young Takeshi was solving calculus problems. Kumon learning centers embody this approach with incremental assignments each day at home and allow children to complete assignments twice a week in the learning center.
Kumon allows parents and children alike to lose the stress and worries they may experience concerning schoolwork and grades. With Kumon, children receive a chance to practice the skills they may need to work on and receive in-person instruction on the problems they may face.
Pros
Incremental assignments to develop learning skills
Allows children to create good study habits
Makes children ask for help in front of a class full of peers
Cons
No one-on-one instruction
Requires accessibility to a learning center
Repetitive worksheets
Bottomline
Kumon combines a proven incremental assignment approach with in-person learning to ensure that kids pass exams, reach academic goals, and create lifelong study habits for college and beyond.
How Does Kumon Work?
Kumon relies on the proven method of giving children incremental assignments each day. The assignments take around thirty minutes to complete and should be worked on at home. Two out of the five days, the students will complete assignments in the Kumon learning center.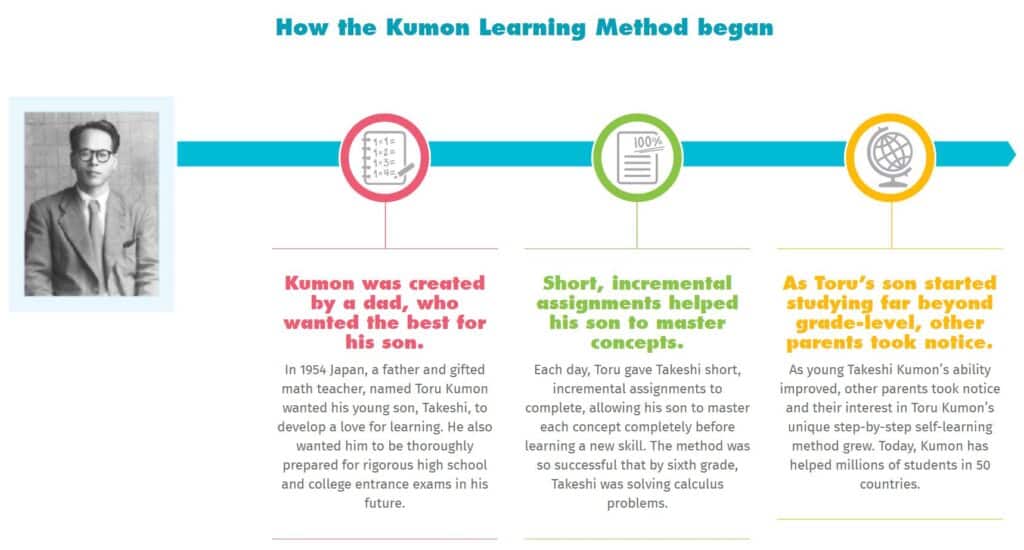 Completing assignments in the Kumon learning center has a two-pronged approach. First, children will have access to an experienced Kumon instructor who can create a personalized lesson plan and set goals for the student in each subject being tutored. Secondly, children will have to ask for help in front of a classroom of sorts.
The second point remains key as many children fall behind in assignments and perform poorly because they are too shy or too proud to ask for help in front of others. Kumon learning centers help create a habit of asking for help the first time. These healthy academic habits will serve children through school and into life beyond.
How Much Does Kumon Tutoring Cost?
The price of Kumon Tutoring depends on the area you live in, as the tutoring will be given in a Kumon learning center and prices vary based on location. Even though prices fluctuate based on your area, you can expect around $50 in registration fees and around $90-$180 per subject tutored.
What Are Customers Saying About Kumon?
Some people are concerned that Kumon is repetitive, sometimes having children repeat the same worksheet up to six times. Some people also take issue with the fact that parents aren't always kept informed about their child's progress.
Nevertheless, Kumon has an A+ rating from the Better Business Bureau. Kumon has yet to apply for accreditation from the BBB, but most reviews from each Kumon learning center remain positive and show that parents are happy with the results from Kumon.
Remember that each Kumon learning center is a separate entity, so reviews may vary.
Sylvan Overview
To finish the decision between Kumon and Sylvan, we'll now discuss Sylvan and explore what this company stands for, how they help students, and how that may differ from Kumon.
What Is Sylvan?
Sylvan provides a "Sylvan Assessment" to get a sense of your child's needs and creates a personalized lesson plan before the tutoring even begins. Sylvan commits to producing tangible results for you and your family. No wonder Sylvan families see three times the growth in math and reading scores.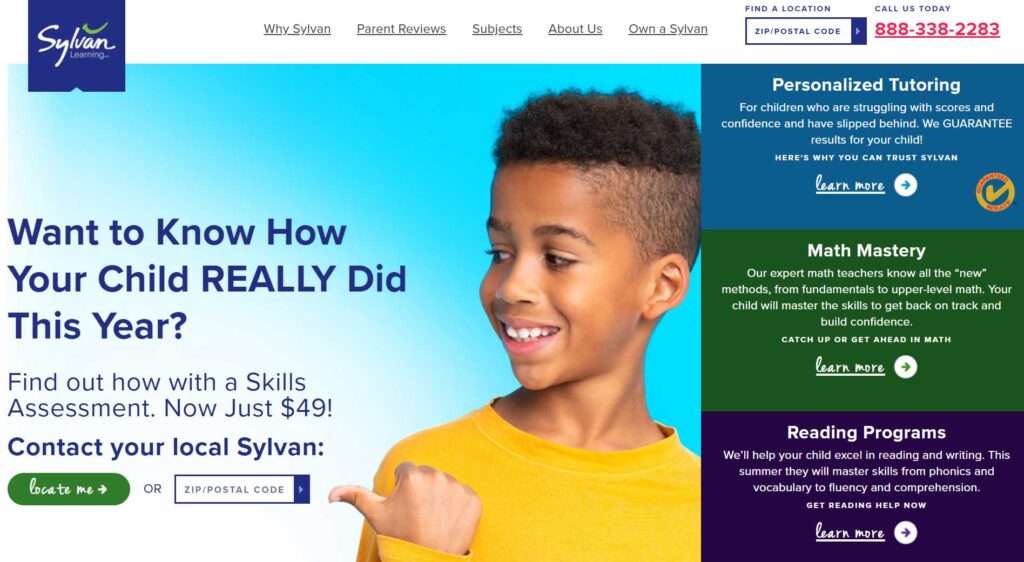 Sylvan also works closely to align with state and provincial standards in the curriculum used so your child will see improvement right in the classroom. Sylvan also prioritizes communication, and both the school and parents are kept in the loop about the child's progress.
With Sylvan, parents and children can experience peace of mind. They no longer have to worry about falling behind in school or failing grades. Sylvan helps students tackle their academic problems, as all the while, they develop healthy habits to use in school and beyond.
Pros
A personalized assessment and lesson plan
Offers online tutoring
Three times the growth seen in the results
Cons
Doesn't necessarily offer one-on-one instruction
Repetitive worksheets
Bottomline
Sylvan believes education is everything and that great teachers inspire. With a personalized lesson plan and periodic assessments, Sylvan makes sure students have the opportunity to learn and create good study habits for themselves.
How Does Sylvan Work?
Like Kumon, Sylvan combines daily assignments with tutoring. Most daily assignments are completed at home, while two must be completed in a tutoring session: either in-person or online. The daily assignments at home give kids the chance to practice skills and problem-solving on their own, while completing them in person gives them the chance to ask for help should they need it.
Unlike Kumon, Sylvan provides an online tutoring option, which makes Sylvan more accessible as there's no need to drive to a physical learning center. You also don't need to live within driving distance of a Sylvan learning center as long as your child has access to an internet or computer.
How Much Does Sylvan Tutoring Cost?
The prices of Sylvan Tutoring vary based on the locations of the Sylvan learning centers, much like Kumon. However, even though prices fluctuate based on location, you can expect most in-person tutoring to cost around $49, while the academic coaching programs cost around $199 per month.
What Are Customers Saying About Sylvan?
This company has not been accredited by the Better Business Bureau and has not been given a rating. However, many complaints have been lodged about the services offered by Sylvan. People claim they pay far too much money and don't see a bit of improvement.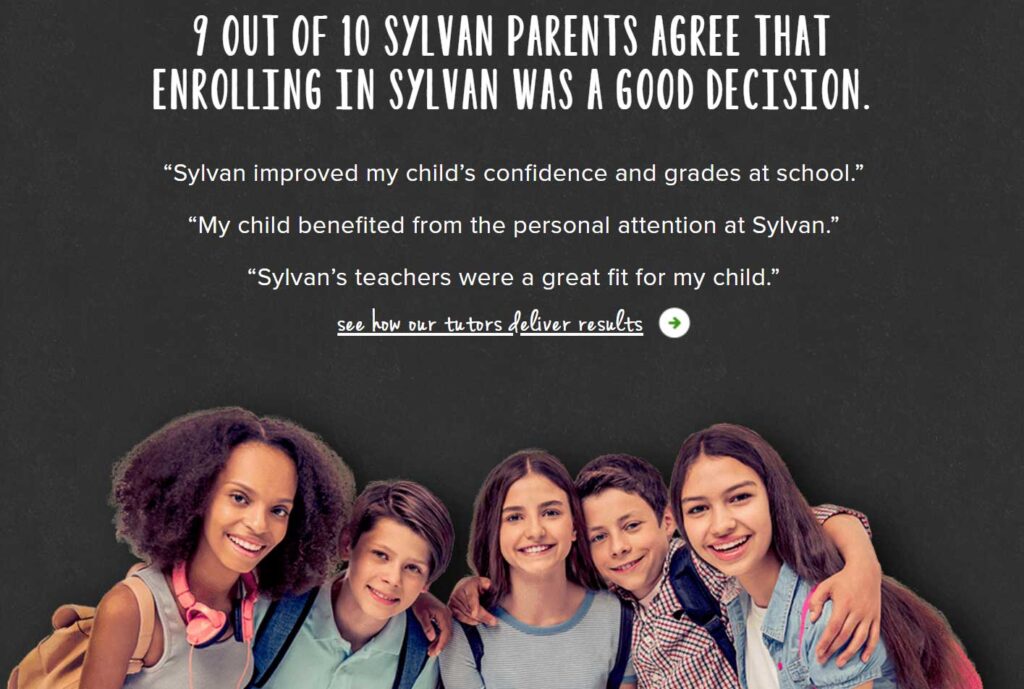 It's important to note that the majority of these complaints have to do with the attention given by the teaching staff at Sylvan. Parents felt as though they paid for nothing as they would arrive to pick their child up after a session, and the tutor had already tossed their child to the side. With a one-on-one tutoring approach, better results could have been achieved.
Remember that each Sylvan learning center is a separate entity apart from the company, so reviews may vary.
Kumon vs. Sylvan Similarities
Learning centers for students to receive instruction
Teaching teams with licenses
Similar pricing
Kumon and Sylvan have a similar tutoring structure by providing learning centers and daily assignments to students. They also have similar pricing, which is based on the various locations of learning centers within your state.
Kumon vs. Sylvan Differences
Sylvan offers online tutoring, while Kumon does not
Kumon has an A+ rating with the BBB, while Sylvan does not
Despite a similar tutoring structure, differences exist between these two companies. For example, Kumon has a better rating and better reviews from the general public than Sylvan, but Sylvan offers an online tutoring option. This option allows for greater attention to students, although Sylvan's reviews, unfortunately, don't reflect that.
Kumon vs. Sylvan – Which is Better?
As mentioned before, Kumon and Sylvan both have similar tutoring structures. They both utilize learning centers as their primary source of teaching, and both use worksheets to develop a sort of muscle memory when it comes to problems.
Sylvan provides an online tutoring option, which gives it an advantage over Kumon since Sylvan can provide a one-on-one experience that Kumon does not. Sometimes, a classroom setting can help children raise their hands and ask questions that may not be normally accustomed to speaking up. However, one-on-one learning has been proven to produce results accurately.
On the other hand, Sylvan has been a hard hit in reviews. People do not believe they give as much attention to their charges as they claim. These reviews must be read with the consideration that the BBB has not accredited Sylvan and that reviews are based on each specific learning center location, not Sylvan as a whole.
Taking all the information we have discussed into consideration, Sylvan seems the best for parents looking to attain tangible results in tutoring their kids. But don't limit your options to either Kumon or Sylvan. Learner Tutors provides the online tutoring with results that you need.
Why We Recommend Learner Tutors Instead
Learner Tutors provide the same results but in a faster time frame. Basing operations online means students are subject to a one-on-one session which increases their learning capacity and helps them solve problems easier.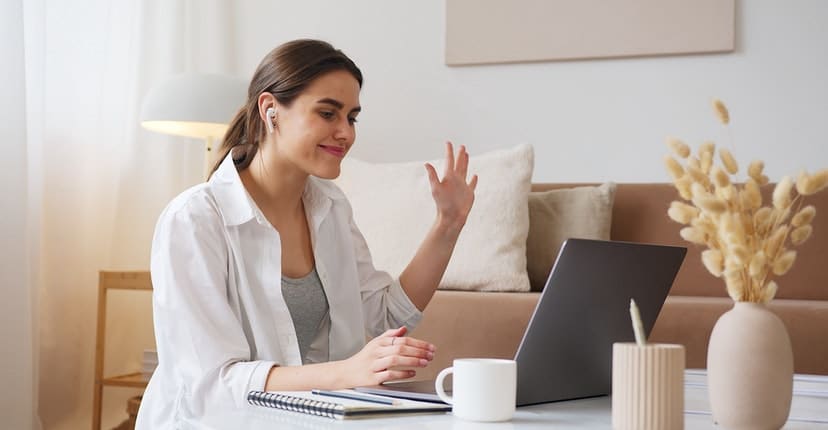 Learner provides the best online math tutors. They offer a custom-matched math expert for everything you need to solve. These math tutors work tirelessly to ensure your child's support by creating customizable lesson plans and setting goals. Learner Tutors help define trajectories after passing the class, as your child simply isn't another number with Learner Tutors.
Learner also takes the burden off of the parent's shoulders. With Learner, you can ensure that your child will receive all of the help they need. Parents can also check up on their child's progress with regular performance checks, guaranteeing that their child stays on track.
World-class tutors who are pedagogy experts and customizable lesson plans to be completed at your own pace and delivered in your learning style are just a few of the guarantees that Learner provide. If your child needs help with math, let go of the stress of taking it on yourself and talk to Learner today!