Mathnasium vs. Sylvan vs. Learner: Comparing Math Tutoring Programs
ScholarshipInstitute.org is reader-supported. When you buy through links on our site, we may earn a commission. Learn more.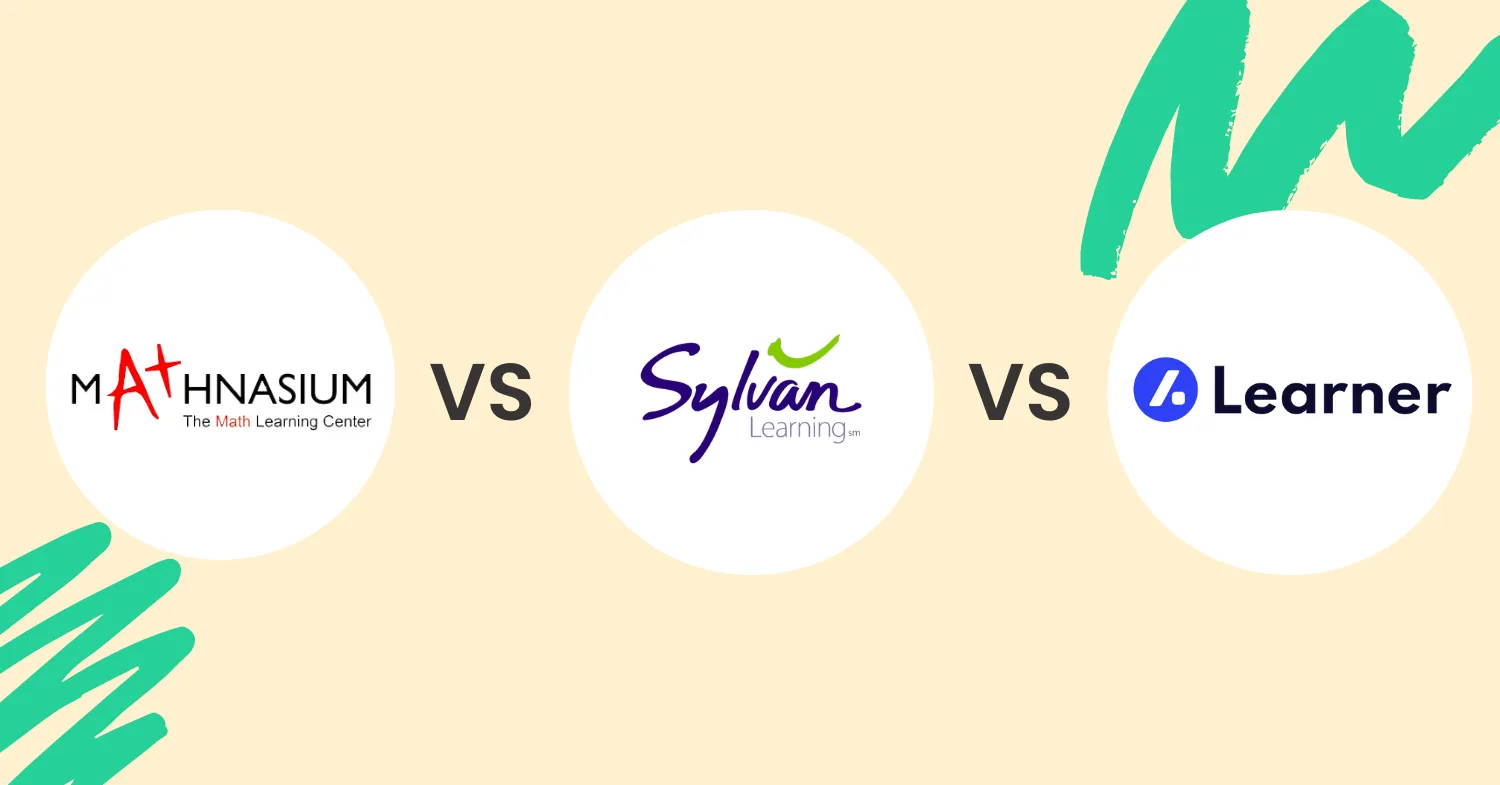 Were you formerly a straight-A student and have since experienced a downward spiral in test scores? Maybe your son or daughter needs a little extra help making the grade or preparing for an important exam.
Math is one of the most challenging subjects for students of all ages to master. This may not be a surprise, but in a recent study, 88% of participants said that math was the subject they disliked the most. Only 6% said they enjoyed it. That's just one of the reasons why working with a math tutor can be so beneficial. Math tutoring is an excellent way to strengthen subject knowledge and build the confidence to tackle challenging topics.
Everyone learns differently and at their own pace, so it's very common to need additional academic support, especially with math skills. But with so many tutoring services available, which one is best for your family?
We'll discuss three popular math tutoring services – Mathnasium, Sylvan, and Leaner – to help you decide which offers the best fit for you or your child's learning needs and objectives.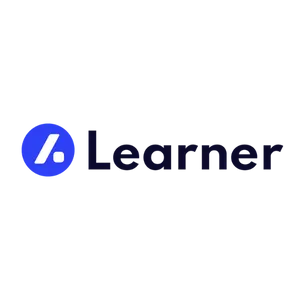 Bottom Line: Learning is a cutting-edge online tutoring platform with highly experienced tutors who deliver individualized lessons for students of all ages, levels, and abilities. The platform is user-friendly, and students typically make rapid progress that parents can observe through feedback from the tutor.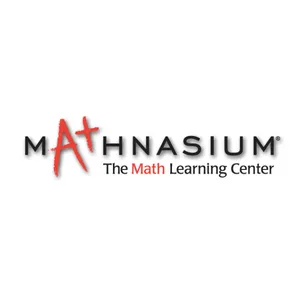 Bottom Line: For students who want to improve their math skills but don't need the undivided attention of a tutor, Mathnasium is a well-regarded yet somewhat pricey learning center that will likely boost your child's grades.
Bottom Line: Sylvan offers well-respected tutoring programs in learning centers across the country (and around the globe) that can help students with a wide range of academic subjects, including math.
Quick Facts
| | | | |
| --- | --- | --- | --- |
| | Mathnasium | Sylvan | Learner |
| Product Quality | Popular chain of learning centers that provide high-quality K-12 math tutoring and focus on making math fun. | Well-known company with learning centers across the world that provides academic help in a range of subjects, including math. | Learner's online math tutors are highly educated and experienced professionals who provide customized tutoring plans to suit each student's unique needs. Learner has a high rate of customer satisfaction with tutor quality and student progress. |
| Academic Results | According to Mathnasium, 90% of students saw an increase in their school grades. | According to Sylvan, students see up to 3x improved academic performance by combining schoolwork and Sylvan tutoring. | According to Learner, it's common for students to notice an improvement in their math grades within weeks of starting a Learner tutoring program. |
| Delivery | Mainly in-person, with some online instruction | In-person and online | Online |
| Pricing | Pricing depends on the center and the specific needs of the student, but is typically $250-$400 per month (with at least two sessions per week). | Pricing varies by learning center, but ranges from around $40 to $100 per hour. | All students are entitled to a risk-free first session for $25. After this, Learner tutors' hourly rates range from around $65 to $90 per hour. |
| Support | Tutors "bounce around" a small group of students, providing help with schoolwork and the Mathnasium curriculum. | Students receive one-to-one tutoring with an individualized learning plan. | Tutors design individual learning plans and work with students in a purpose-built virtual learning environment, providing feedback after each session. |
Why You Should Consider Online Tutoring
Tutoring is one of the most important ways to learn math, English, science, and many other subjects that you can use for the rest of your life. Whether you're a parent looking for a tutor to help a child who usually excels in class or a concerned student wanting to sharpen their math skills, online tutoring is a great option to consider. It's convenient and resilient to change. Recent changes in education practice since the COVID-19 pandemic have resulted in innovative teaching and learning methods – all from the comfort of home. Accessing the internet has never been easier, and fundamental knowledge and one-on-one real-time support are at your fingertips.
Although traditional tutoring services like Mathnasium and Sylvan have plenty to offer, virtual platforms such as Learner have created an unparalleled online learning experience. Learner connects students with world-class tutors and subject experts for one-on-one tutoring sessions in a variety of subjects. Because all sessions are conducted online, students can schedule tutoring around their busy schedules, rather than having to travel to a learning center. Online tutoring also gives families access to a wider range of highly experienced math tutors, as they are not limited to the tutors in their local area. Using an online platform like Learner means you're much more likely to find a tutor who is a subject expert and is also a good fit for the student's personality and learning style. Online math tutoring also makes it easier for parents to keep track of student progress, view feedback and session recordings, and ask questions whenever they arise. Lastly, online learning platforms help students gain useful experience and skills in technology and digital communication that they are likely to need in college and beyond.
Mathnasium Overview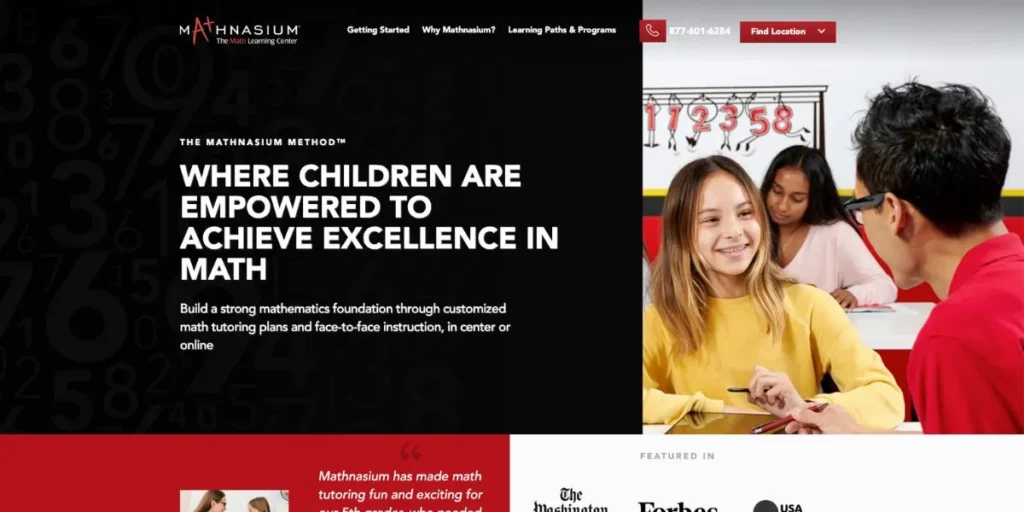 Due to the personalized attention given to each student, tutoring is a worthwhile pursuit to consider for your family. Children of all ages have a good chance of improving their success in math class through tutoring programs like Mathnasium. This is especially true as students progress through their education and math concepts get harder.
What Is Mathnasium?
At its learning centers, Mathnasium offers programs that cover elementary through high school math topics. Mathnasium instructors teach math with the special "Mathnasium Method" and strive to help students develop an appreciation and enjoyment of the subject. Students follow the Mathnasium curriculum but can also get help on their schoolwork during sessions. Although Mathnasium primarily focuses on in-person tutoring, the company has expanded to include online sessions since the coronavirus pandemic.
Several independent studies have suggested that this specialized program helps students do better on standardized tests in 20 tutoring sessions or less.
Pros
Students can get help with schoolwork and homework during sessions, including test prep
Well-respected math curriculum for students of all ages
Learning plans designed for each student
Some sessions take place online
Cons
Students may not work with the same tutor every week
Tutors are responsible for helping several students simultaneously
More expensive than many other tutoring services
Math is the only subject taught
The Bottom Line: For students who want to improve their math skills but don't need the undivided attention of a tutor, Mathnasium is a well-regarded yet somewhat pricey learning center that will likely boost your child's grades.
How Does Mathnasium Work?
Mathnasium's tutoring program is open to students from kindergarten through 12th grade. It involves sessions where students work with a tutor to build skills and grasp math concepts. Students can get assistance with homework and assignments from school, yet they are also taught a special Mathnasium curriculum that helps them understand the mechanics behind the work they do in math class. The learning center's unique way of teaching is called "The Mathnasium Method." This method builds a strong number sense and involves mastery checks to make sure students are making progress.
Incoming students are assessed using a tool that is unique to Mathnasium. Tutors utilize the assessment results to create a personalized program for each student, while families discuss the results and prospective plan with the center director. This custom program is then divided into a certain number of tutoring sessions, which can last from 30 to 90 minutes, with most students coming to the center two or three times a week. During sessions, each tutor works with a few students at once, giving each one some personal attention before moving on to the next student and allowing them to attempt their work independently. The tutor is available to offer help throughout the session, though students may not work with the same tutor every week.
How Much Does Mathnasium Tutoring Cost?
Mathnasium customizes lessons for each student's level and learning needs. This means that there isn't a set price for all tutoring sessions. Knowing how much Mathnasium will cost your family requires additional information about your tutoring needs and geographic location. For example, sessions at a Mathnasium center in Texas start at around $300 per month. The overall range tends to be around $250 to $400 per month, with three sessions offered per week, though this can also vary. The cost for students in more advanced courses is likely to be on the more expensive end of that range.
Is Mathnasium Legit?
Yes. Mathnasium is a legitimate education company that has successfully helped thousands of students improve their grades and test scores by attending tutoring sessions at Mathnasium learning centers. Mathnasium tutors are qualified, professional, and helpful for most learners. Although Mathnasium is relatively expensive, it tends to produce results and improve confidence for students struggling in their math classes.
What Are Customers Saying About Mathnasium?
Most Mathnasium parents have good things to say about the program, especially about how their child's enthusiasm for math has grown after attending tutoring sessions, while students themselves find the teaching methods fun and engaging.
Customers tend to praise Mathnasium's tutors, who help inspire students to enjoy math, even while working through challenging problems. Many parents like the fact that Mathnasium allows students to bring in their own schoolwork while also getting the benefits of working through the tried-and-tested Mathansium curriculum. Overall, most parents report that students do better in school after regularly attending Mathnasium.
There are a few aspects of the Mathnasium program that customers say could be better. Especially considering the cost, some families would prefer for their children to work with the same tutor each week. Likewise, some would prefer one-to-one sessions rather than the tutor going back and forth among several students – though this does encourage students to develop their independence and attempt challenging problems before asking for help. Some families have expressed frustration with the logistics of attending in-person sessions and would like Mathnasium to expand its online offerings.
Sylvan Overview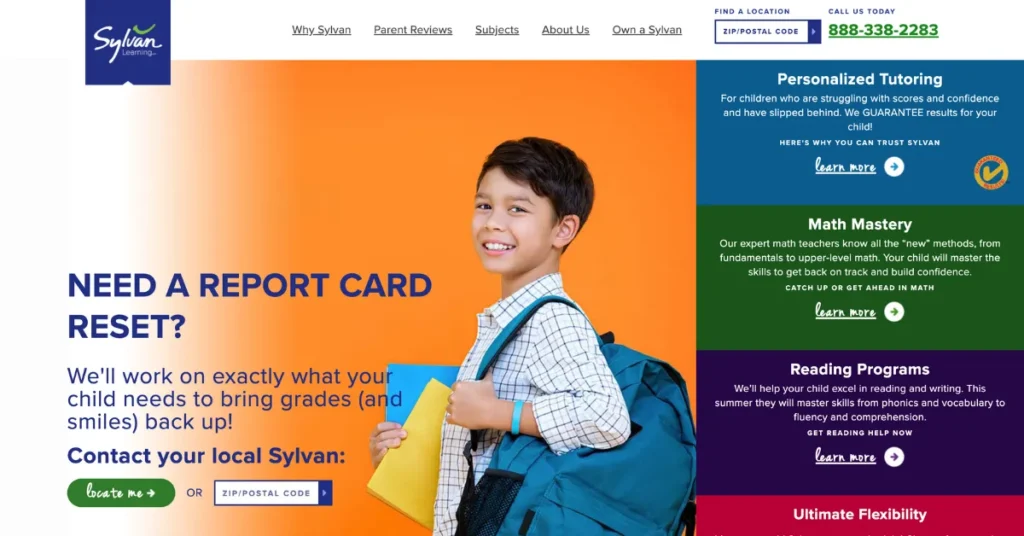 Students of any grade level, from elementary school to high school, can attend Sylvan Learning Centers for extra help with their regular school curriculum. Unlike Mathnasium, which is exclusively math-oriented, Sylvan offers support in subjects such as English, foreign languages, coding, STEM, and more. They offer assistance with college prep, homework, and study skills. Students can attend Sylvan Learning Centers throughout the school year or during the summer.
What Is Sylvan?
At Sylvan Learning Centers, concepts are taught using a system that mimics the classroom setting but with significantly more individual attention. This customized curriculum can help students make great strides in improving their math and writing skills. Many students attend Sylvan Learning Centers for writing help, homework, or homeschool support. Sylvan is an excellent resource for students struggling with challenging math courses, including precalculus and AP calculus, although many other subjects are also covered.
Pros
Numerous subjects are taught, not just math
The customized curriculum addresses students' individual needs
Students can get help with homework and test prep
Cons
Prices can vary significantly between learning centers
Tutors may not be subject specialists
The Bottom Line: Sylvan offers well-respected tutoring programs in learning centers across the country (and around the globe) that can help students with a wide range of academic subjects, including math.
How Does Sylvan Work?
Sylvan teaches math through a four-step process called Sylvan Insight. This process includes a personalized assessment that identifies each child's needs and which areas to focus on. Sylvan then designs a customized learning plan for the child while ensuring that all programs align with national, provincial, state, and local standards. Sylvan also tracks the learning progress of each student. Sylvan tutors are trained to meet high standards that coincide with national curricula and teaching guidelines.
Depending on the child's needs, students may be enrolled in intensive tutoring programs, academic coaching, help with advanced courses, or test prep. Sylvan has a wide range of programs that cater to the child's grade level, subject, and time of year, including tutoring, classes, and summer camps.
Sylvan also offers online tutoring with the same teachers who work at Sylvan's in-person locations.
How Much Does Sylvan Tutoring Cost?
The cost of Sylvan tutoring varies from center to center. However, a rough estimate is about $40 to $100 per hour for tutoring. Sylvan offers financing options to help parents pay for their child's tutoring.
Is Sylvan Legit?
Sylvan is a legitimate, widely trusted tutoring service that has been in business for over thirty years and has helped millions of families. There are over 750 Sylvan Learning Centers located across the United States and Canada, as well as in countries such as China, Kuwait, Vietnam, and the United Arab Emirates. Many Sylvan Learning Centers have become integral to their local communities. They offer a wide range of educational services taught by experienced tutors in subjects like math, reading, writing, science, foreign languages, and more.
What Are Customers Saying About Sylvan?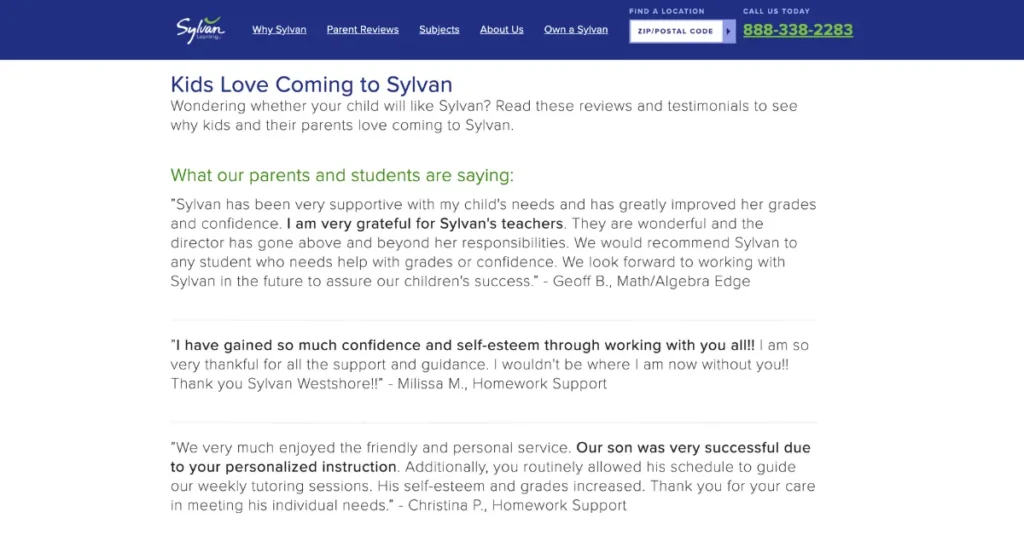 Students and parents often comment that sessions at Sylvan Learning Centers help children feel more confident about their schoolwork. Some satisfied customers have praised Sylvan for instilling a love of reading and mathematics in previously reticent learners. Other positive comments revolve around Sylvan being a well-established company with a decades-long track record of guiding students of all ages to success in math and other subjects. Satisfied customers have good things to say about the quality of Sylvan's tutors, as well as the "Sylvan Guarantee" of academic progress and success, so parents know they will see results with Sylvan. Another popular feature is that students can attend Sylvan Learning Centers during the school year and/or over the summer.
Some parents have commented on the high cost of Sylvan's tutoring programs, which can quickly add up for students enrolled in long-term or intensive tutoring. Others have noticed that the progress Sylvan says a student is making doesn't always match up with how they do on assignments and tests in school. Another negative comment that some parents make is that the tutor's focus is divided among multiple children during a session, which does not always provide enough individual attention.
Learner Overview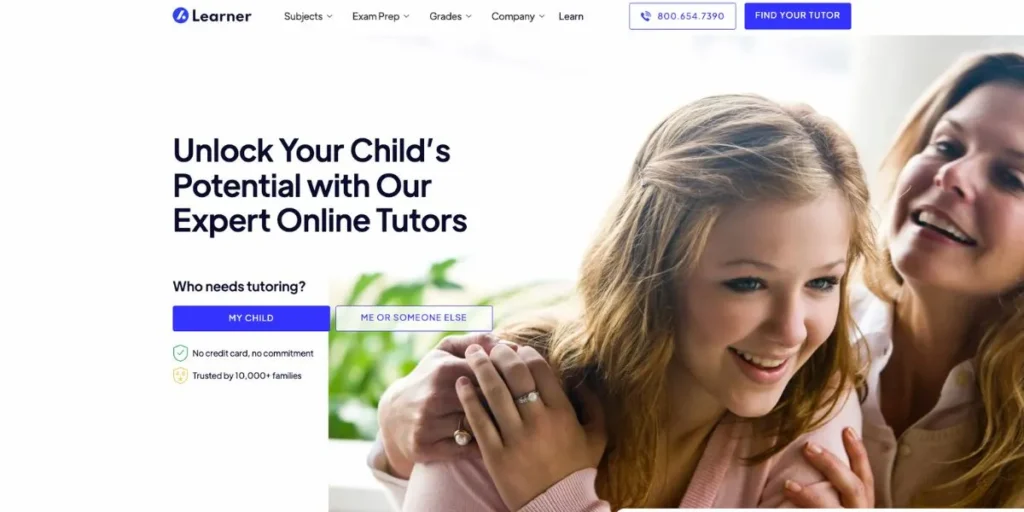 Thanks to their convenience and the high quality of their teaching, online platforms such as Learner are increasingly becoming the norm for math tutoring. As Learner tutors are not based in one location, students have access to some of the best instructors in their respective subjects, regardless of where they live. Overall, parents and students have been very pleased with the effectiveness of Learner's online math tutoring programs.
What Is Learner?
Learner provides individualized online tutoring services in a range of subjects, including elementary, middle, high school, and college mathematics. Learner tutors can also assist with subjects such as English and Language Arts, science, and test preparation for the SAT Math and ACT Math.
Tutoring sessions are conducted via Learner's carefully designed online platform, which connects students with highly qualified and experienced teaching professionals. Learner students receive a personal tutoring plan based on their unique learning style and academic goals. They work with the same tutor in every session, building up a relationship of trust and increasing their subject knowledge and confidence as they progress.
Pros
Students work with the same tutor in every session
All Learner tutors have relevant qualifications, significant teaching experience, and an established track record of success
Students of all ages, grade levels, learning styles, and abilities are welcome, with subjects ranging from elementary school math to calculus, plus English, chemistry, and physics
Learner's intitutive online platform encourages communication between tutor, student, and parents
Many students prefer online tutoring as they can learn from the comfort of their own home, free from distractions
Easy to set up sessions around busy schedules, including before school, in the evening, or on weekends
Cons
All sessions are delivered online – some students may prefer to attend in-person sessions at a learning center
Some tutors, especially those with years of experience and excellent success rates, charge relatively high hourly rates
The Bottom Line: Learning is a cutting-edge online tutoring platform with highly experienced tutors who deliver individualized lessons for students of all ages, levels, and abilities. The platform is user-friendly, and students typically make rapid progress that parents can observe through feedback from the tutor.
How Does Learner Work?
One of the most important aspects of Learner's tutoring program is that students are matched with the ideal tutor for their subject, ability, learning style, and personality. The first step in finding the perfect online tutor is for the prospective client to complete a short online questionnaire to help narrow down the options. A Learner education specialist will also be available to discuss the company's approach and which tutor will be best for the student. All interested families can enjoy a $25 initial session to ensure that they want to move forward with the program and make sure that their matched tutor is the right fit.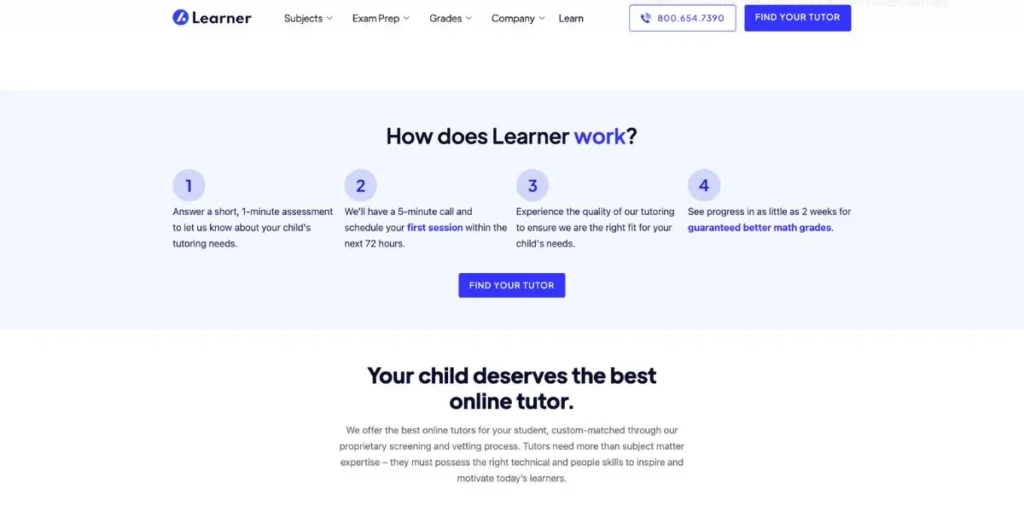 The tutor will design a personalized learning plan that is entirely unique to the student, taking into account factors such as their age, subject knowledge, and academic goals. This plan forms the framework of their tutoring approach but can be adapted as sessions progress.
Learner tutoring sessions take place entirely online. Students can access the secure platform from any location on any device – all that's needed is an internet connection. The virtual learning platform allows students and tutors to work together in real time, thanks to features such as audio, video, and text chat, uploading and sharing documents, automatic lesson recordings, and posted feedback, progress reports, and suggestions.
Sessions may involve working on topics from math class that the student finds challenging, getting help with homework, or preparing for an upcoming test. Unlike many other tutoring services, Learner ensures that the student works with the same teacher every week, so that the tutor truly gets to know the student and understands their academic needs and goals.
How Much Does Learner Cost?
Learner offers all families a no-risk initial session for $25 so that they can see whether the program is likely to work for their child. Following this session, tutors usually charge around $65 to $90 per session, based on factors such as the tutor's qualifications, years of professional experience, and the subject and grade level taught. Learner's education specialists can create a personalized plan to make sure the student gets the tutoring they need while staying within their family's budget.
Is Learner Legit?
Yes. Although Learner is a newer company than Mathnasium and Sylvan, it has already built up a reputation for the high quality of its tutors and the results they deliver. Learner's math tutors are among the most experienced and well qualified of any tutoring platform, as they all have relevant degrees, significant teaching experience, and a measurable track record of student achievement.
What Are Customers Saying About Learner?
Families who have worked with Learner tutors have very positive comments about their experience, with a few suggestions for how it could be improved. Nearly all of the customers have been happy with the quality of the teaching and the tutors themselves, who are always highly qualified education professionals. The individual tutoring plans are designed around the needs of each student, consistently taking into account their unique learning style and what they want to achieve academically. Similarly, parents have been impressed with how well Learner matches students and tutors, and how friendly, personable, and professional the tutors are, noting that students often respond far better to their tutor than to their teacher in school.
The convenience of Learner's online platform is another common theme throughout customer reviews, with customers praising how easy it is for both parents and students to use. They also like that sessions can be scheduled at times that fit their schedules, and that there is flexibility to change sessions as needed. Many parents enjoy how easy it is to communicate with tutors and follow their child's progress, thanks to clear feedback, comments, and targets. Best of all, many parents say that their children have grown in confidence since starting with Learner and are demonstrating a better grasp of the material.
Some families noted that they were slightly put off by the lack of information about pricing on Learner's website, which seems to be a common critique of tutoring companies in general. However, they felt that Learner's educational specialists were very responsive and were able to set up a tutoring package based around their goals and their budget.
Mathnasium vs. Sylvan vs. Learner – Similarities
Although they each have a unique approach to the learning process, Mathnasium, Sylvan, and Learner all teach a wide range of math subjects and create personalized learning plans that target weaknesses and learning gaps. All three tutoring services strive to boost students' confidence in math and help them enjoy the subject.
Students in elementary, middle, and high school are eligible to enroll in these programs, each of which has an online option (or, in Learner's case, is exclusively online). Each tutoring platform has a combination approach to delivering their own curriculum and resources while also helping students with their schoolwork.
Overall, customers have left positive feedback on the quality of these programs, including that the tutors are professional and helpful. Across all three tutoring services, parents were generally pleased with how the tutors helped students build up their confidence and grasp challenging concepts.
Mathnasium vs. Sylvan vs. Learner – Differences
One of the biggest differences between Mathnasium, Sylvan, and Learner is the range of services they offer. Students can get help with a wide range of academic subjects at Sylvan, whereas Mathansium is exclusively a math tutoring center. Learner focuses mostly on math, but it also has tutors who are experts in English, science, and SAT/ACT test prep.
At Mathnasium, students get help with their homework and use the Mathnasium Method to improve their math skills. Students who opt for Sylvan will use the Sylvan Insight process to target the areas of their math knowledge that need improving. On the other hand, Learner tutors take a holistic view of the student's needs and goals to design a personalized tutoring program that is entirely tailored to them.
While the majority of Mathnasium and Sylvan tutoring sessions take place at their respective learning centers, both companies also offer some tutoring sessions online. With Learner, all sessions are conducted via the company's virtual learning platform. Due to Learner's online-only structure, the company is able to hire subject experts from anywhere in the world, rather than being restricted to those who can also teach face-to-face at the local learning center.
There is a big difference between the three services in how much individual attention is given during tutoring sessions. Mathnasium tutors work with several students at once, moving among them to provide assistance while also giving them space for independent work and study. At Sylvan Learning Centers, students can sign up for a wide range of tutoring services with varying levels of support, ranging from classes and small groups to camps and coaching. Students at Mathnasium and Sylvan may work with a different tutor at each session, whereas Learner students are matched with one tutor who is a subject matter expert and will be their long-term teacher.
The experience level of the tutors can vary significantly at learning centers like Mathnasium and Sylvan, though most have undergraduate degrees and have completed specific training. All Learner tutors have undergraduate degrees in a relevant subject, and most have further qualifications such as master's degrees or teaching certificates. To work for Learner, these highly qualified tutors must also be able to prove that they have guided former students to measurable success in their classes or on exams.
Mathnasium and Sylvan offer tutoring services to elementary, middle, and high school students. Learner also offers K-12 math tutoring, as well as catering to college students and adults. Tutoring in advanced courses such as calculus and statistics is a key aspect of Learner's offerings, yet the platform works just as well for much younger children who are encountering math for the first time.
Mathnasium vs. Sylvan vs. Learner: Which Is Best?
Choosing a math tutoring service depends on a variety of factors. Every family will have their own reasons for seeking out a math tutor, just as every student has a unique learning style. Some students may enjoy attending sessions at a learning center, in which case Mathnasium or Sylvan would be preferable to an online-only platform like Learner. These students may learn best when they are grouped with other students in a traditional classroom environment and are given a combination of instruction and independent tasks.
Mathnasium and Sylvan are well-respected programs that have guided thousands of students to academic improvement. Despite some shortcomings, both of these tutoring services provide students with a supportive environment in which to build confidence and develop key skills. Although they each have their own teaching and learning methodologies, Sylvan and Mathnasium offer a certain amount of personalization based on the child's needs and challenges in school. Their tutors are generally very knowledgeable about the subject matter and can successfully manage a classroom or small group setting. For students looking for in-person math tutoring, Mathnasium may be a slightly better option, as the company focuses exclusively on math instruction. It's also a good choice for younger students whose biggest obstacle to learning is their mistrust or dislike of the subject. On the other hand, if your child has a wide range of academic needs, not just math, Sylvan offers more flexibility to pick and choose the tutoring topics.
In most cases, however, Learner is the best overall option for math tutoring. Although this service is online-only, that does not appear to be a drawback, according to the numerous positive reviews from satisfied customers. In fact, many families prefer online tutoring because of the convenience and flexibility, as well as the increased access to subject experts and more experienced teachers. Learner's online format has been carefully designed to have all the resources of an in-person session, so students and tutors can talk in real time over video chat and work through the same resources. This virtual learning environment offers advantages over traditional, in-person tutoring. Not only can it be accessed from anywhere, but the Learner platform also helps students and parents by recording lessons and providing an easy way to track progress and view feedback and comments.
For families who are open to trying online tutoring, Learner offers tutoring for a wider range of grade levels than Mathnasium and Sylvan. It's an excellent option regardless of the student's age, ability, or learning needs. No matter what challenges the student is facing, their Learner tutor will be able to create a tutoring plan that leads them to a better understanding of the subject matter, increased confidence, and a desire to keep learning in math and other subjects.
Why Learner Is Our Top Choice
Although the idea of online tutoring may be relatively new, technological developments have made it an excellent alternative to traditional learning centers. Learner is at the forefront of this innovation. As an entirely virtual tutoring platform, Learner is one of the best options we've come across for tutoring, whatever the age, subject, level, or specific needs of the student. Although Learner initially focused on math topics like statistics and precalculus, they now have well-established offerings in English, SAT/ACT test prep, and many other subjects.
We also rate Learner above other tutoring programs because of the exceptional quality of their tutors. Learner tutors undergo a rigorous vetting process, ensuring they have the qualifications, background, experience, and personality to provide excellent tutoring to a wide range of students. All Learner students receive one-on-one tutoring with the same tutor every session, which is not always the case at learning centers that rotate tutors and may have a high student-to-tutor ratio.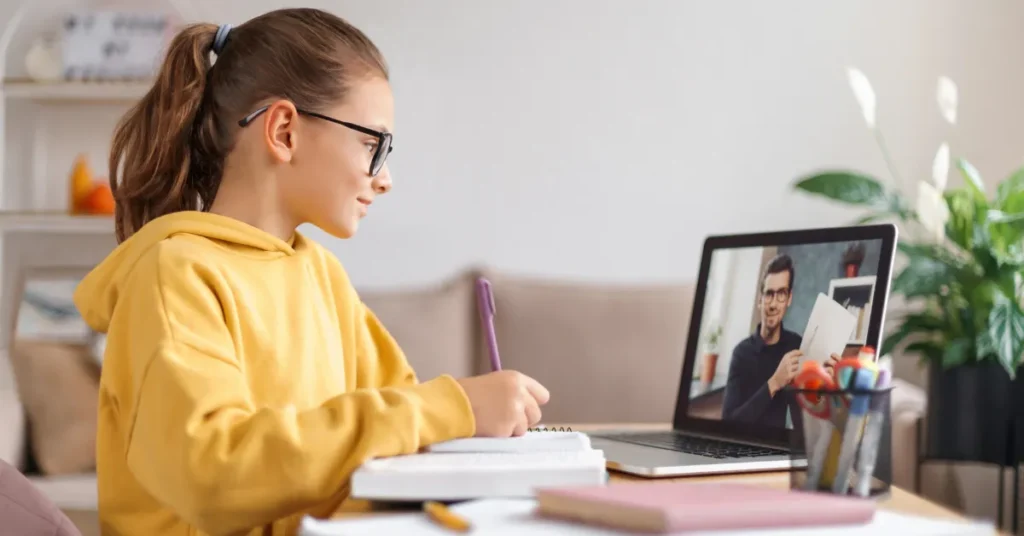 Because Learner is an online platform, students are able to connect with the best math tutors available, regardless of where they live. Learner takes the guesswork out of finding math tutors by matching each student with the ideal tutor for their needs, based on a telephone consultation and discussion about learning objectives. Learner promises that you'll be satisfied with your matched tutor, or they'll find another one who's a better fit. And unlike most tutoring services, Learner offers a discounted first session and guarantees that your child will make measurable math progress within two weeks.
As an online tutoring service, Learner offers students the convenience and flexibility to learn from the comfort of their own homes at times that fit their busy schedules. The easy-to-use virtual platform is safe and secure and allows students and parents to track progress, share and receive feedback, and review lesson recordings. This ensures that the Learner tutoring experience is just as good – if not better – than what you'd expect from an in-person learning center. Added to Learner's unbeatable instructor quality, the convenience of not having to juggle pickups and drop-offs from a learning center makes Learner an even more attractive option.
Frequently Asked Questions
If you're wondering about Mathnasium, Sylvan, Learner, or tutoring in general, these frequently asked questions and answers can help you understand what to expect from your tutoring experience.
How much does tutoring cost?
Tutoring costs can vary significantly depending on the tutor's qualifications, experience, background, and the student's subject-level needs. One-on-one tutoring is typically more expensive than group sessions, and online tutoring tends to be cheaper than in-person learning centers. There is a vast range of costs, from $10 per hour for an unqualified high school student tutor to over $80 per hour for a teacher or professor who is a subject specialist. Some companies offer tutoring by the hour, by the session, or by the month.
How much should I pay my tutor?
Budgeting and financing are essential parts of the conversation when you embark on choosing a tutoring service. Although tutors offer a valuable service, it's crucial to stay within your means and choose a tutor in an acceptable price range for your family's budget. Often, online tutoring packages can be more affordable than attending sessions at a learning center.
Is a tutor worth it for your child?
In most instances, additional skills practice and individualized attention can help children stay on track with their schoolwork and reach their full potential, both inside and outside the classroom. A tutor can fine-tune lesson plans based on your child's ever-changing needs, ensuring they get help with areas of weakness or take on appropriate challenges to extend their abilities.
How can I find a tutor online?
Rather than just doing a general search for a tutor online, it's a good idea to use a tutoring marketplace that thoroughly vets its private tutors. Alternatively, choosing a high-quality online platform like Learner removes the uncertainty of selecting a tutor yourself. Learner guarantees that your child will be matched with a professional tutor with the ideal background and teaching experience.
Is online tutoring better?
Although some people prefer traditional in-person tutoring, many families looking for flexibility and high-quality teaching gravitate towards online tutoring. Online tutoring offers convenience and instant access, allowing parents and children to connect with the best online math tutors in the country – not just those who work at a local learning center. Learner and other online tutoring sites make sure that their tutors meet a very high standard. Online tutoring is worth considering if you're looking for an innovative way to stay on top of homework, test prep, and math skills.