Mathnasium vs. Sylvan Comparison – Which Is Best?
ScholarshipInstitute.org is reader-supported. When you buy through links on our site, we may earn a commission. Learn more.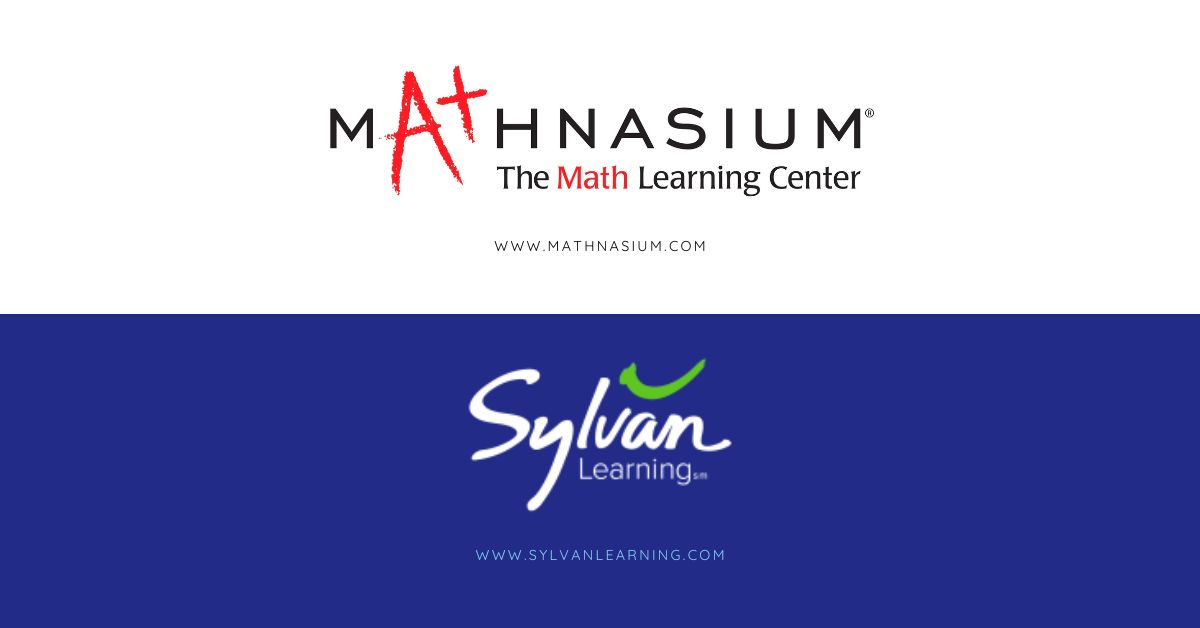 Were you formerly a straight-A student and have since experienced a downward spiral in test scores? Maybe your son or daughter needs a little extra help making the grade. Learning is a complicated process, and many people need additional academic support, especially with math skills.
Math is one of the most challenging subjects for students of all ages to master. This may not be a surprise, but in a recent study, 88% of participants selected math as the subject they disliked the most. Only 6% said they enjoyed math. That's why working with a math tutor can be so beneficial. Not only can it help you develop math skills, but it can also help you acquire an appreciation of the subject.
Sylvan and Mathnasium are popular tutoring services that provide personalized attention for students struggling with math or other academic subjects.
| | | |
| --- | --- | --- |
| | Mathnasium | Sylvan |
| Product Quality | Quality learning center that provides math tutoring | Well-known learning center that specializes in a range of subjects. |
| Academic Results | According to Mathnasium, 90% of students saw an increase in their school grades | According to Sylvan, students see up to 3x improved academic performance by combining schoolwork and Sylvan tutoring |
| Delivery | In-person and online | In-person and online |
| Pricing | Pricing depends on the specific needs of the student, but is typically $200-$300 per month | Pricing varies by learning center, but roughly $40 to $100 per hour |
| Support | Customized learning plan focusing on mastering concepts through schoolwork tasks | One-on-one tutoring with an individualized learning plan |
Why You Should Consider Online Tutoring
Tutoring is a pivotal tool for cultivating lifelong skills in math, English, science, and many other school subjects. Whether you're a parent looking for a tutor to help a child who usually excels in class, or a concerned student wanting to sharpen their math skills, online tutoring is the perfect option. It's convenient and resilient to change. Accessing the internet has never been easier, and fundamental knowledge and one-on-one real-time support are at your fingertips.
Mathnasium and Sylvan are well-known learning centers that have been mainstays of local communities for years. However, many tutoring services are moving to online platforms offering far more flexibility, convenience, and personalization. Recent changes in education practice since the Covid-19 pandemic have resulted in innovative teaching and learning methods – all from the comfort of home.
Although traditional tutoring services like Mathnasium and Sylvan have plenty to offer, virtual tutoring platforms such as Learner have created an unparalleled online learning experience. Learner connects students with world-class tutors and subject experts for one-on-one tutoring sessions in various subjects.
Mathnasium Overview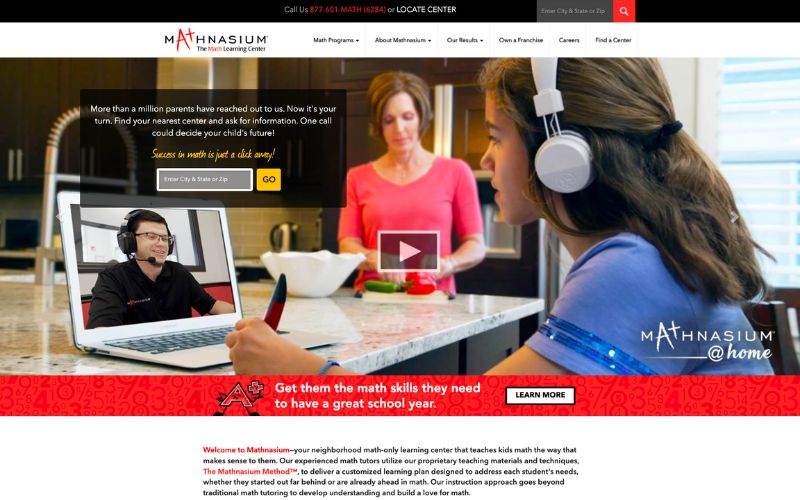 Due to the personalized attention given to each student, tutoring is a worthwhile pursuit to consider for your child. Children of all ages have a good chance of improving their success in math class through one-on-one tutoring in programs like Mathnasium. This is especially true as students progress through their education and math concepts get harder.
What Is Mathnasium?
At local learning centers, Mathnasium provides math programs with curricula spanning from elementary to high school. Mathnasium instructors teach math with the special "Mathnasium Method." Several independent studies have found that participation in this specialized program improves grades on standardized tests in twenty tutoring sessions or fewer.
Pros:
Tackle schoolwork and homework during sessions, including studying for tests
Well-respected math curriculum for students of all ages
Learning plans designed for each student
Some sessions take place online
Cons:
Students may work with several different tutors rather than the same one each week
Group sessions are common
More expensive than many other tutoring services
Math is the only subject taught
Bottom Line: For students who want to improve their math skills, adapt to small group sessions, and afford the high price, Mathnasium is a well-regarded learning center that will likely boost your child's grades.
How Does Mathnasium Work?
Mathnasium's math program involves sessions where students work with a tutor to build skills and grasp math concepts. They can get help with math homework and math assignments. This schoolwork combines with a special curriculum that helps students understand the mechanics behind the work they are doing in school. The learning center's unique way of teaching is called "The Mathnasium Method." A strong number sense is embedded in this teaching method.
Incoming students are assessed using an assessment tool that is unique to Mathnasium. Tutors utilize the assessment results to create a personalized program for each student. This custom program is then divided into individual tutoring sessions.
How Much Does Mathnasium Tutoring Cost?
Mathnasium is a learning center that personalizes lessons for each student's level and learning needs. This means that there isn't a set price for all tutoring sessions. Knowing how much Mathnasium will cost your family requires additional information about your tutoring needs and geographic location. For example, sessions at a Mathnasium center in Texas start at $295-$300 per month.
Is Mathnasium Legit?
Mathnasium is legit. Thousands of students have successfully improved their grades and test scores by attending tutoring sessions at Mathnasium learning centers. Mathnasium tutors are qualified, professional, and helpful for most learners. Although Mathnasium is relatively expensive, it tends to produce results and improve confidence for students struggling in their math classes.
What Are Customers Saying About Mathnasium?
Mathnasium parents are generally very positive about their child's experience with the program, especially the increased interest and enthusiasm for math after attending tutoring sessions. Many customers praise Mathnasium's tutors, who help inspire their students to enjoy math problems. Mathnasium has received positive reviews for students' improved enthusiasm after attending the program. Many students find the teaching methods fun and engaging – a clear departure from a typical math class.
Sylvan Overview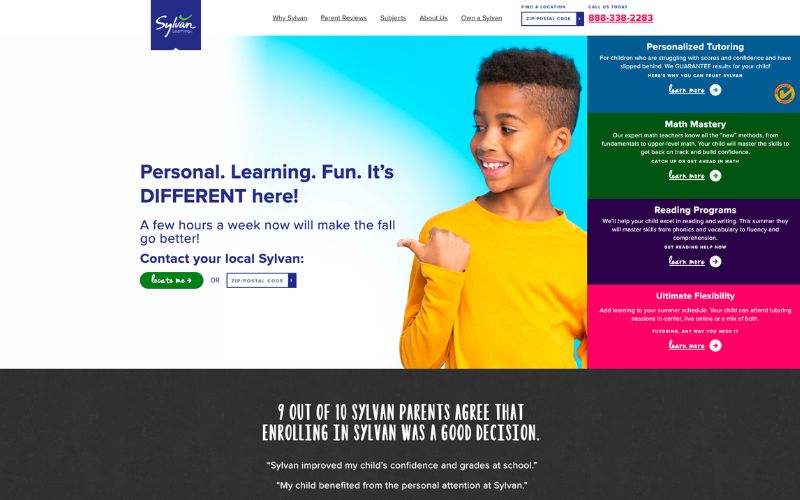 Sylvan Learning Centers offer support in math and many other academic subjects. From elementary to high school, students of any grade level can access Sylvan tutoring to gain extra help with their regular school curriculum. Unlike Mathnasium, which is exclusively math-oriented, Sylvan offers support in other subjects, including English, foreign languages, STEM, and more. They offer assistance with college prep, homework, and study skills. Students can attend Sylvan Learning Centers throughout the school year or during the summer.
What Is Sylvan?
At Sylvan Learning Centers, concepts are taught using a system that mimics the class setting but with significantly more individual attention. This customized curriculum helps students make great strides in improving their math and writing skills. Many students attend Sylvan Learning Centers for writing, homework skills, or homeschool support. Sylvan is an excellent resource for students struggling with challenging math courses, including precalculus and AP calculus, although many other subjects are also covered.
Pros:
Numerous subjects are taught, not just math
The customized curriculum addresses students' individual needs
Students can get help with homework and test prep
Cons:
Prices can vary significantly between learning centers
Tutors may not be subject specialists
Bottom Line: Sylvan offers well-respected tutoring programs in local communities around the country that can help students with a wide range of academic subjects, including math.
How Does Sylvan Work?
Sylvan teaches math through a four-step process called Sylvan Insight, which includes a personalized assessment that identifies each child's needs and which areas to focus on. Sylvan then designs a customized learning plan for the child while ensuring that all programs align with state and provincial standards. Sylvan also tracks the learning progress of each student. Sylvan tutors are trained to meet high standards that coincide with national curricula and teaching guidelines.
How Much Does Sylvan Tutoring Cost?
The tutoring cost at Sylvan Learning Center varies from center to center. However, a rough estimate is about $40 to $100 per hour for tutoring.
Is Sylvan Legit?
Sylvan is a legitimate, widely-trusted tutoring service that has been in business for over thirty years. They offer a wide range of learning services taught by experienced tutors in subjects like math, reading, and writing.
What Are Customers Saying About Sylvan?
Students and parents often comment that sessions at Sylvan Learning Centers help children feel more confident about their schoolwork. Some satisfied customers have praised Sylvan for instilling a love of reading and mathematics in previously reticent learners.
Mathnasium and Sylvan Similarities
Mathnasium and Sylvan teach a wide range of math subjects and create personalized learning plans that target weaknesses and learning gaps. Both tutoring services use one-on-one tutoring and individualized attention to fill knowledge gaps.
Mathnasium and Sylvan Differences
The big difference between Mathnasium and Sylvan is the variety of services offered. At Sylvan, there is a wide range of academic subjects that students can get help with, whereas Mathansium is exclusively a math tutoring center. Mathnasium and Sylvan also use different resources for their tutoring programs, including worksheets.
At Mathnasium, students can receive tutoring specifically focused on completing homework tasks. Alternatively, they can benefit from daily practice to sharpen their math skills. Students who opt for Sylvan will use the Sylvan Insight process to target the areas of their math knowledge that need improving.
Mathnasium vs. Sylvan – Which Is Better?
If you are specifically looking for help with math, Mathnasium is a good choice, with dedicated tutors who specialize in the subject. On the other hand, if your child has a wide range of academic needs, not just math, Sylvan offers more flexibility to pick and choose the tutoring topics.
Mathnasium and Sylvan are similar in their approach; they provide tutoring at your child's pace at in-person learning centers. Although they each have their own teaching and learning methodologies, Sylvan and Mathnasium offer a certain degree of personalization based on the child's needs and challenges in school.
However, both of these services are fairly pricey, so we recommend thinking carefully before making a decision. In fact, after doing our own extensive research, we have found an option that we believe is a better option for most families.
Why We Recommend Learner Instead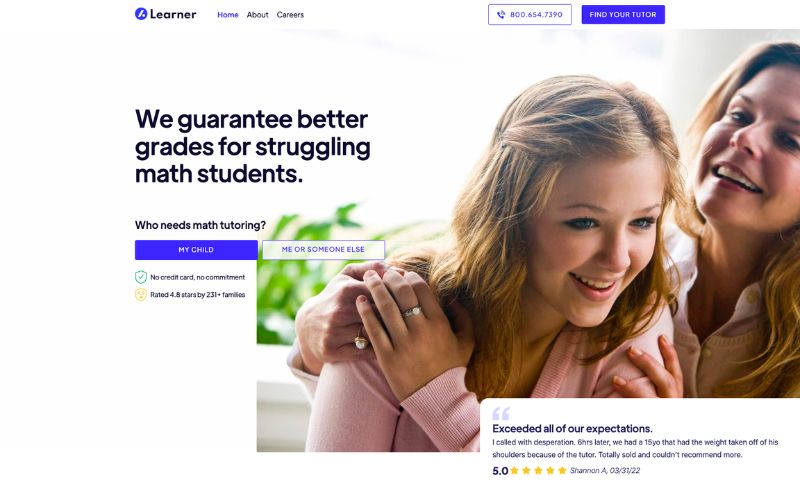 Although the idea of online tutoring may be relatively new, technological developments have made it an excellent alternative to traditional learning centers. Learner is at the forefront of this innovation. As an entirely virtual tutoring platform, Learner is one of the best options we've come across for tutoring, whatever the age, subject, level, or specific needs of the student. Although Learner initially focused on math tops like statistics and precalculus, they now have well-established offerings in English, SAT/ACT test prep, and many other subjects.
We also rate Learner above other tutoring programs because of the exceptional quality of their tutors. Learner's tutors undergo a rigorous vetting process, ensuring they have the qualifications, background, experience, and personality to provide excellent tutoring to a wide range of students. All Learner students receive one-on-one tutoring with the same tutor every session, which is not always the case with more traditional services that rotate tutors and sometimes offer group sessions.
Learner also takes the guesswork out of finding math tutors by matching each student with the ideal tutor for their needs, based on a telephone consultation and discussion about learning objectives. Learner promises that you'll be satisfied with your matched tutor, or they'll find another one who's a better fit. And unlike most other tutoring services, Learner offers a free first session and guarantees that your child will make measurable math progress within two weeks.
As an online tutoring service, Learner offers students the convenience and flexibility to learn from the comfort of their own homes at times that fit your family's busy schedule. The virtual platform is safe and secure and allows students and parents to track progress, share and receive feedback, and review lesson recordings. Added to Learner's unbeatable instructor quality, the convenience of not having to juggle pickups and dropoffs from a learning center makes Learner an even more attractive option.
Frequently Asked Questions
If you're wondering about Mathnasium, Sylvan, Learner, or tutoring in general, these frequently asked questions and answers can help you understand what to expect from your tutoring experience.
How much does tutoring cost?
Tutoring costs can vary significantly depending on the tutor's qualifications, experience, background, and the student's subject level needs. One-on-one tutoring is typically more expensive than group sessions, and online tutoring tends to be cheaper than in-person learning centers. There is a vast range of costs, from $10 per hour for an unqualified high school student tutor to over $50 for a teacher or professor who is a math specialist. Some companies offer tutoring by the hour, by the session, or by the month.
How much should I pay my tutor?
Budgeting and financing are essential parts of the conversation when you embark on choosing a tutoring service. Although tutors offer a valuable service, it's crucial to stay within your means and choose a tutor in an acceptable price range for your family's budget. Often, online tutoring packages can be a more affordable option,
Is a tutor worth it for your child?
In most instances, additional skills practice and individualized attention can help children stay on track with their schoolwork and reach their full potential inside and outside the classroom. A tutor can fine-tune lesson plans to target your child's needs, ensuring they get help with areas of weakness or take on appropriate challenges to extend their abilities.
How can I find a tutor online?
Rather than just doing a general search for a tutor online, it's a good idea to use a tutoring marketplace that thoroughly vets its private tutors. Alternatively, choosing a high-quality online platform like Learner removes the uncertainty of selecting a tutor yourself. Learner guarantees that your child will be matched with a professional tutor with the ideal background and teaching experience.
Is online tutoring better?
Although some people prefer traditional in-person tutoring, many people looking for flexibility gravitate towards online tutoring. Online tutoring offers convenience and instant access, allowing parents and children to connect with the best online math tutors in the country – not just those who work at a local learning center. Virtual tutoring platforms like Learner ensure that their tutors are vetted to a very high standard. Online tutoring is worth considering if you're looking for an innovative way to stay on top of homework, test prep, and math skills.