Finding the Best Statistics Tutors Online: Our Top 5 Services
ScholarshipInstitute.org is reader-supported. When you buy through links on our site, we may earn a commission. Learn more.
More than almost any other, math is regarded as one of the most challenging academic subjects for students of all ages. Even so, mastering mathematics can have a profound impact on a student's personal and professional life—even for those who don't pursue a career in the sciences. This is because, love it or hate it, studying math teaches students how to apply structure and reasoning in order to solve problems, a skill that can be carried forward in arguably every walk of life.
Among specific types of math, few offer this type of lesson more readily than statistics, which deals with the collection, analysis, interpretation, and presentation of data. Despite its relevance in many fields, including business, computer science, and healthcare, many students struggle with statistics due to its technical nature and complex concepts. Statistics involves calculations, probability distributions, hypothesis testing, and dealing with large amounts of data, which can be time-consuming and daunting for those with or without a strong background in math.
Fortunately, students and parents have many tools at their disposal to help overcome the challenge of mastering statistics, the most potent of which is a high-quality statistics tutor. Still, you want to be sure that the tutor you choose is experienced, trustworthy, and a good match for your learning style, so doing a bit of research in the short term can mean massive benefits later on.
To help, we've assembled our list of the top five online tutoring services, with our pros, cons, and overall thoughts on each. While we ultimately believe that Learner can provide the best statistics tutor in most situations, we want to leave it to you to decide for yourself.
At a Glance:
Top Pick: Learner
Second Choice: Wyzant
Third Choice: Varsity Tutors
Learner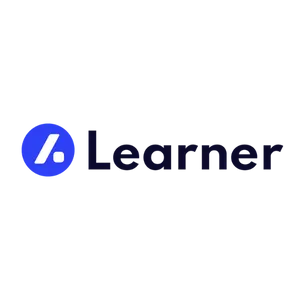 Ranks #1
Score: 93/100
Bottom Line: Due to its strict qualifications for tutors, smart matching system, innovative technology, customized lesson plans, and affordable rates, Learner is our top pick for online statistics tutoring services.
Wyzant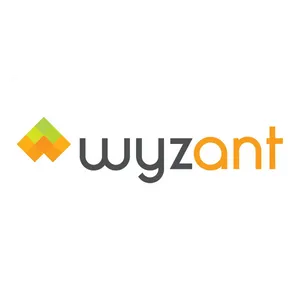 Ranks #2
Score: 86/100
Bottom Line: Wyzant is a great choice for students or parents who want to choose their own private tutor. Aside from lessons, Wyzant's website also has a lot of other resources that students can use whenever they want.
Varsity Tutors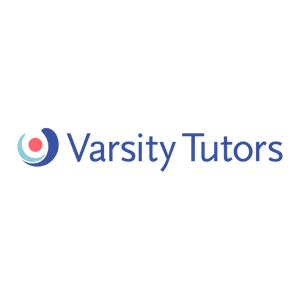 Ranks #3
Score: 80/100
Bottom Line: Varsity Tutors strives to provide academic help even to students with limited available time windows. Its platform works on mobile phones and laptops, allowing students to sign on whenever they have a minute to spare, whether on the bus to school or between classes.
We reviewed each platform independently and scored it using the criteria students care about.
Also reviewed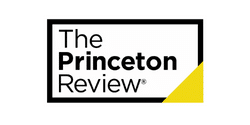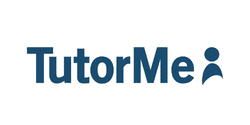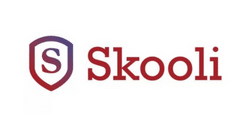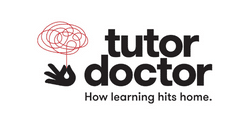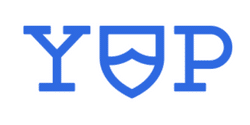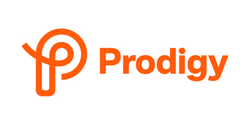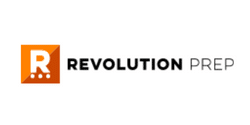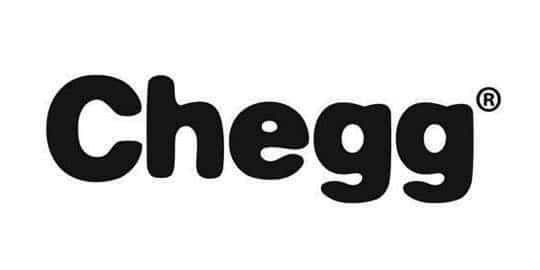 Top 5 Online Statistics Tutoring Services
There are dozens of statistics tutoring platforms available online, and most of them are genuinely good services that can benefit a student. Still, the best statistics tutors can be hard to find, so we've taken it upon ourselves to narrow the list to the top five statistics tutoring platforms online.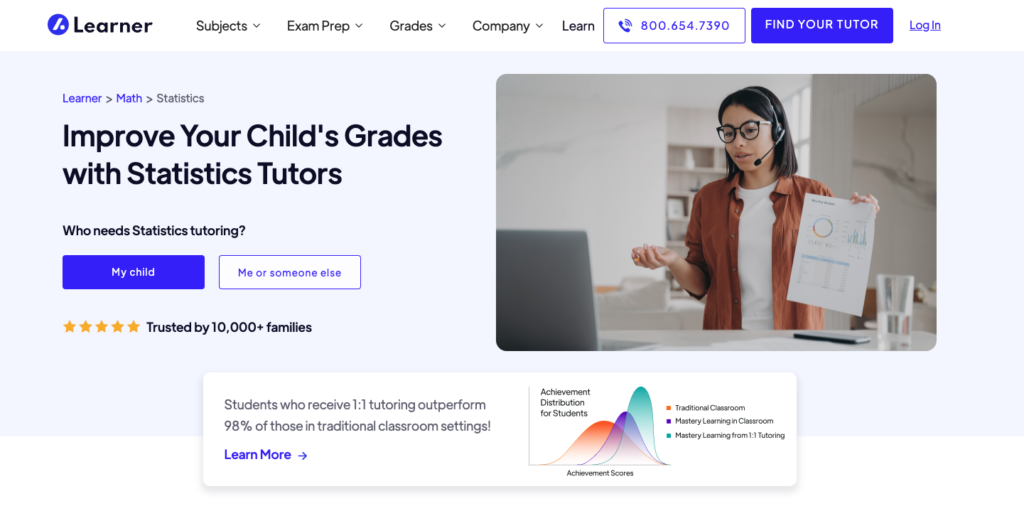 Learner was founded by experienced educators passionate about helping students understand complex math subjects, including statistics. When designing their service, these educators took special care to build it with simplicity and convenience in mind, which is why it takes only three simple steps to get started with Learner.
First, students must fill out a short online quiz, providing information about themselves, their learning style, and their academic goals. Then, Learner's dedicated matching specialist uses this information to connect each student with a compatible math tutor in Learner's network. Once you've been matched with an instructor, you can schedule your first lesson for a date and time that works for you.
Even more than most companies on this list, Learner maintains strict qualifications for all of its statistics tutors. Only individuals with a bachelor's degree from a four-year university and several years of teaching experience can apply, and only 5% of applicants are accepted into Learner's network.
Every lesson occurs in a state-of-the-art virtual classroom with an interactive whiteboard, screen sharing, video, audio, and file sharing, and Learner's excellent customer service team is on hand to help with any technical questions that arise. Students can access recordings of their lessons after the fact to use as study resources, and parents can also use these recordings to review lesson quality. Pricing starts at $60 per hour, but the first session with Learner is always free.
Pros
Strict qualifications for private tutors
Innovative technology, including recorded lessons, interactive whiteboards, and file sharing
Full money-back guarantee
Affordable prices
Dedicated matching system
Customized lesson plans
Easy application process
Cons
Not geared toward students in need of on-demand statistics homework help
Tutors are not available 24/7
Bottom Line: Due to its uncompromising qualifications for tutors, smart matching system, innovative technology, personalized lesson plans, and affordable rates, Learner is our top pick for online statistics tutoring services.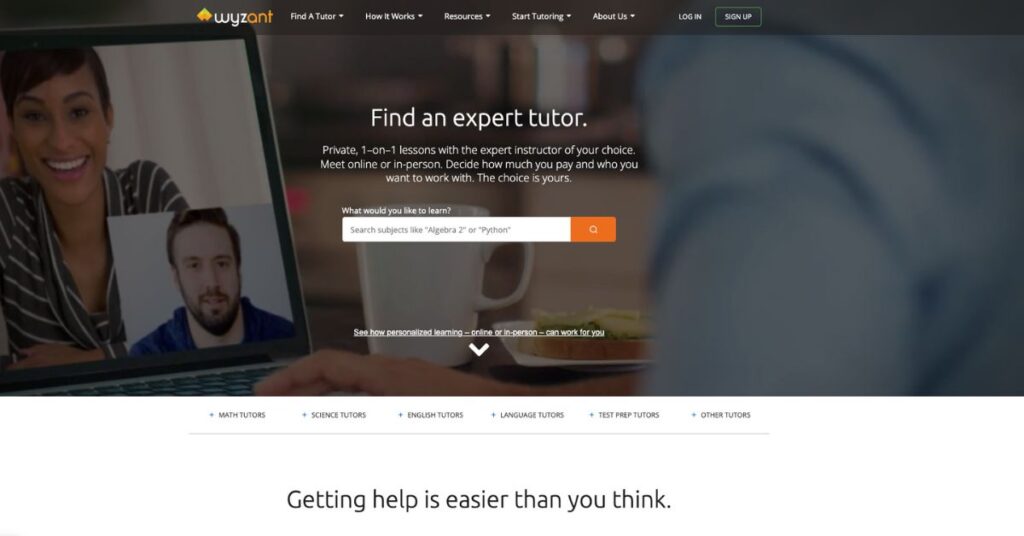 Wyzant is an excellent option for students or parents who want complete control over selecting their private tutor. Unlike other services, which use an intake quiz or matching specialist to pair each student with a tutor, the Wyzant platform acts as a marketplace that allows statistics students to connect independently with appropriate tutors. Rather than scroll through the 80,000 tutors available in Wyzant's network, you can input your subject of interest, in this case, statistics, and you'll be provided with a list of vetted tutors.
Each tutor has an accompanying profile, ratings, and reviews to help inform your decision. Pricing differs from tutor to tutor, starting at $10 per hour and going all the way up to $500 per hour. Statistics instructors with relatively lower rates are typically college students, whereas pricier tutors tend to be professors with advanced degrees or who have taught a college-level statistics course in the past, so it's of note that tutor quality varies.
Wyzant also offers a Good Fit Guarantee: if you are unsatisfied with the first hour of your lesson, you will receive a full refund. Aside from lessons, Wyzant also has a slew of supplemental resources available on its website for students to use at their convenience.
Pros
Wide range of tutors available at various price points
Easy-to-use marketplace
Good Fit Guarantee
Supplemental resources
Cons
Tutors are not available 24/7
Choosing your own tutor can be time-consuming or overwhelming
Bottom Line: Wyzant is a great choice for students or parents who want full discretion to choose their own private tutor. Aside from lessons, Wyzant's website also has a lot of other resources that students can use whenever they want.
Varsity Tutors' platform is for high school athletes, busy students, and people with part-time jobs who may have trouble finding time for tutoring. The platform works on mobile phones and laptops, allowing students to sign on whenever, whether between classes or on the bus to school. This flexibility is a foundational aspect of Varsity Tutors, which strives to provide academic help even to students with limited availability.
Falling between Learner and Wyzant in terms of matching, Varsity Tutors uses a basic matching system to connect each student with one of the 40,000 tutors in its network. Once a tutor has been chosen, each student then receives a customized statistics curriculum tailored to their needs. Every lesson occurs in a virtual classroom, with recordings available after the fact.
Pricing varies depending on the subject, time, and type of tutoring desired, and it's important to note that the quality of this service highly depends on the tutor you are matched with. Some tutors only have high school diplomas, while others have advanced degrees and certifications. Pricing information is not available upfront but averages $40 per hour.
Pros
Platform works on mobile phones
Basic matching system
Innovative technology, including recorded sessions
Extremely flexible schedules
Cons
Quality of service varies depending on the tutor
Pricing is not available upfront
Bottom Line: Varsity Tutors strives to provide academic help even to students with limited available time windows. Its platform works on mobile phones and laptops, allowing students to sign on whenever they have a minute to spare, whether on the bus to school or between classes.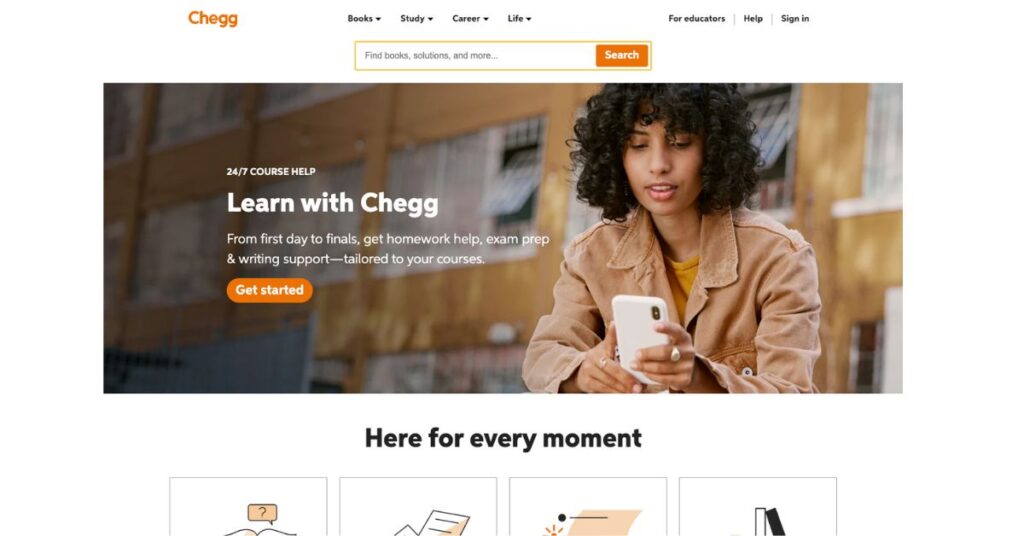 For $15.95 a month, Chegg members can get help with their homework and textbook problems whenever needed. Typically, this help involves either uploading a photo of a statistics problem you need help with or scrolling through millions of already-solved solutions. If you choose to upload your own problem, you may receive an answer in as little as 30 minutes. It's important to note that dedicated private tutoring is not offered through Chegg, so if you're in need of long-term assistance, it may be best to look elsewhere.
That said, the Chegg tutors who help with homework all come from accredited colleges and universities and must pass a subject-proficiency test before getting accepted into Chegg's network. Additionally, tutors are available 24/7, making this a great platform for busy high school and college students who study late into the evening and early in the morning.
Students can also opt to add the Math Solver service for an additional $10 monthly. This tool gives users access to unlimited solutions and detailed explanations. To add a graphing calculator to your plan, students must pay an additional $9.95 a month. While the option to mix and match your subscription fees adds pricing flexibility, it may be less straightforward than an all-inclusive, personalized service like Learner.
Pros
Affordable
Highly-qualified tutors
Great for on-demand statistics help
Pricing flexibility
Cons
Private lessons are not offered
No customized lesson plans
Unclear pricing
Bottom Line: Chegg offers on-demand homework help and textbook solutions for an affordable monthly subscription. This platform is an affordable option for those who need occasional assistance, but if you are looking for long-term help, it may be best to look elsewhere. 
Skooli prioritizes offering high-quality tutoring services at an affordable price. Many of the tutors in Skooli's network are licensed educators, while others are certified statistics tutors with advanced degrees, including AP statistics, statistical modeling, mathematical statistics, and other statistics courses.
Skooli bases its pricing around a pay-as-you-go model of $0.82 per minute with a minimum lesson time of 15 minutes. If you choose to opt for a full hour of tutoring, this will cost you approximately $50 per hour.
Students can interact with Skooli's services in one of several ways and can select a tutor based on their subject matter expertise and reviews. Alternatively, students can also input the question they need assistance with and instantly get matched with a tutor who can help them solve that problem.
Every Skooli lesson occurs in a virtual classroom with an interactive whiteboard, video, and chat room. This platform also works on mobile phones, making it easy for busy students to hop on whenever they have a moment to spare.
Pros
Great for on-demand homework help
Affordable
Works across platforms, including mobile phones
Cons
No customized lesson plans
Bottom Line: Skooli prioritizes offering high-quality tutoring services at an affordable price point. Certified statistics tutors can help students with their homework whenever they need it for about $0.82 per minute.
Why Online Statistics Tutoring?
Online tutors can support students in various ways by guiding them through numerous statistics courses, helping with specific homework questions, or working to build confidence with test-taking. A private statistics tutor can even help students understand complex statistical concepts, such as standard deviation and linear regression, by using real-life examples and analogies and breaking down complex ideas into more digestible pieces.
Private online tutoring also provides students with one-on-one attention, allowing the tutor to focus on the student's specific needs. The tutor can identify the areas where the student is struggling and tailor the instruction to address those areas. Whether students need help with practice problems, test preparation, or simply need guidance, encouragement, and support, private tutors can help them achieve their goals and find academic success.
How to Find the Right Online Statistics Tutor for Your Needs
When choosing an online statistics tutoring service, you should think about what you need from the service. Here are some factors to consider when making your final decision:
Use a reputable online tutoring platform
Before anything else, you want to confirm that the online tutoring service you select is credible. Look for information on the company's website about how they hire and vet their tutors. You want to ensure the company checks the tutors' backgrounds and talks to them in depth before hiring them. Not only is this important for your child's safety, but it will give you the peace of mind that you are investing your time and money in a worthwhile cause.
Check tutor credentials
With some tutoring services, like Learner and Varsity Tutors, you will be matched with a tutor. With other services, like Wyzant, you are responsible for selecting your own tutor from thousands of candidates. When choosing your own tutor, you should make sure to check each candidate's background.
Dig into a tutor's education, certifications, years of experience, and statistical expertise. For instance, if you want to find a tutor for your child in AP Statistics, you should ensure the tutor has taught this subject before and knows the curriculum.
Read reviews and ratings
While a tutor's profile is important, it may not give you all the information you need to make a final tutor selection. A tutor's education, experience, personality, philosophy, approach, teaching style, and success rate are all important. Looking at a tutor's ratings and reviews is a great way to get a candid understanding of their work. Former and current students will talk about what it was like to work with that tutor, which may change your mind about whether or not to choose that tutor.
Ask for recommendations
A referral or recommendation from someone you trust is a great way to find a good online statistics tutor. Put the word out in various networks amongst friends, family, co-workers, neighbors, and fellow parents. There's a chance that someone has had a great experience working with an online statistics tutor in the past.
It's also worthwhile asking around at your child's school and speaking with their middle or high school math teacher. Your child's math teacher may have someone they can directly refer you to, but they may also be able to offer guidance on what type of tutor would best suit your child's needs.
Conduct an interview
Once you've narrowed your search to a few possible tutors, ask them if they'd be willing to do a short interview. An interview will allow you to ask any final questions you couldn't answer yourself through the tutor's profile, ratings, or reviews. Also, when you talk to someone in person or on the phone, you can get a sense of who they are and how they act.
If you have extra time, ask the tutor if they would be willing to walk you through what a standard statistics lesson with them might look like.
Methodology: How We Chose the Best Online Statistics Tutoring Services
There are dozens and dozens of online statistics tutoring services out there, so it's reasonable that you may be wondering how we narrowed down that extensive list to our top five. Here is the methodology we followed during our selection process:
Quality of tutors
Even if an online tutoring service has customized lesson plans, a great matching system, and affordable rates, it won't be worthwhile if it doesn't have top-notch tutors. We put the most weight on finding tutoring services that carefully vet their tutors through background checks, simulations, and interviews.
Most of the services we selected only hired tutors from accredited colleges and universities with prior teaching experience. However, we also wanted to select services like Wyzant and Varsity Tutors, which hired less qualified tutors at more affordable rates.
Customized learning plans
One of the biggest advantages of online tutoring over classroom learning is customized lesson plans. Private tutors have the opportunity to cater their lesson plans toward a single student, meaning they can bypass the statistics concepts and skills a student is confident in and focus on the areas they need the most assistance with.
Private tutors can also tailor lesson plans around students' interests, revolving practice statistics questions around their real-life hobbies and passions. So, we looked for tutoring services that could make custom lesson plans and curricula for each student.
Availability and flexibility
Many high school students and college students are busy during typical Monday-Friday working hours. Therefore, we wanted to prioritize services that offered tutoring early in the morning, late in the evening, and on the weekends. Some of these services, like Chegg, even have tutors working 24/7. We also wanted to find a mix of services that offered both on-demand homework help and long-term assistance so that this list would be useful for all students.
Communication and feedback
Receiving regular feedback is an important part of every student's learning journey. Positive feedback increases student confidence, whereas critical feedback reminds students of the areas they still need improvement in. It's also important for families to be in the loop about their child's progress, as it allows them to take action when necessary. Therefore, we selected tutoring services with systems in place to track student progress, communicate with parents, and provide regular updates.
Technology and resources
One of the biggest reasons online tutoring is now considered equally effective as in-person tutoring is technology. Innovative technology has allowed online tutoring services to create virtual classrooms that mimic the experience of in-person learning environments. We chose tutoring services that utilize interactive whiteboards, file sharing, screen sharing, and video and audio. Some of the services we selected even record their lessons.
Benefits of Online Statistics Tutoring
There are many advantages that online statistics tutoring has over in-person tutoring and classroom learning. Here are the ways that your child can benefit from signing up for an online service:
Convenience
One of the most significant advantages online tutoring has over in-person tutoring is convenience. Students do not need to commute to and from a tutor's home or a tutoring center for lessons, saving them lots of valuable time and money. Even if commuting to a tutoring lesson only takes 30 minutes, this can almost double the time commitment that a student makes to tutoring each week. Online tutoring services allow students to call in from a classroom or their bedroom without wasting time.
Personalization
In math classes, teachers must tailor their lesson plans around what will benefit the most students. In an online tutoring environment, tutors can work at the best pace for their students and leave time for them to ask as many questions as needed before they fully grasp a concept. Most importantly, private tutors can focus on the areas that students need the most assistance with and skip over the concepts that they already have a strong handle on.
Access to a wider range of tutors
One of the biggest struggles of in-person tutoring is finding an instructor close by who checks all of your boxes. Even if you find someone with the right subject matter expertise, their schedule might not align with yours, or their rates may be outside of your budget. With online tutoring, you never need to worry about geography, which broadens your tutoring pool tenfold.
You can find someone who meets all of your tutoring requirements without settling for second best. For instance, if you are a graduate student looking for a statistics tutor, you can locate an experienced statistics tutor who specializes in business statistics.
More affordable
More often than not, online tutors have more affordable rates than in-person tutors. If an in-person tutor hosts lessons in a center or office, then they pay overhead fees for rent, utilities, and resources, which they may factor into their hourly rates. On the other hand, if in-person tutors are commuting to their tutees, this will also cost them time and money. Because there are fewer in-person tutors, the demand for these instructors is higher, allowing them to raise their rates while remaining competitive.
Technology integration
Many parents are worried that online tutoring won't be as effective or engaging as in-person tutoring. Thanks to innovative technology integration, that's no longer the case. Innovative tools like interactive whiteboards have been made by tutoring services to make it feel like students are in a real classroom. Tutors also rely on instructional and interactive games to enhance their students' learning experiences.
Our Final Thoughts
Whether you love math, need help passing a statistics course, or simply want to build confidence with test-taking, tutoring is one of the most potent tools for achieving greater academic success. Unlike traditional schooling, where teachers are often limited by class size, tutoring offers each student the direct, one-on-one support they need to truly excel.
Even so, we know that tutoring can be a significant investment for most students and their families, which is why we advocate for only the highest-quality, most reliable services. And, while we would happily suggest any of the tutoring services from among these five, we're most confident in Learner. With their thorough tutor matching process, dedication to tutor quality and standards, and whole-hearted embrace of modern technology, Learner is an excellent example of what to look for in online statistics tutoring.
Frequently Asked Questions
Deciding whether or not tutoring is right for you is a complicated process, and it's only natural that you'd have lingering questions. Below, we answered some of the most common questions we've encountered during our research of different tutoring services.
Who should use online statistics tutoring services?
Any student learning statistics can benefit from an online tutoring service. While most students seeking tutors are falling behind in statistics class or need help brushing up on the basics, other students are looking to get ahead in the curriculum or challenge themselves with more advanced coursework.
How much do online statistics tutoring services cost?
Online statistics tutoring services vastly vary in price. Some services charge by the hour, while others charge by the minute. Some tutoring services set the rates, while at other times, tutors will set their own rates. On average, services tend to cost between $30 and $80 an hour.
What should you look for in online statistics tutoring services?
You should consider many factors when selecting an online statistics tutoring service. Most importantly, you want to consider the quality of the tutors the service hires. You also want to consider whether you would benefit more from occasional homework help or long-term assistance.
What are the pros of using online statistics tutoring services?
There are many advantages to using online statistics tutoring services. These services are more convenient and affordable than in-person tutoring and give you access to tutors from all over the country. Online tutoring is now thought to be just as good as in-person tutoring because of new technology.
What are the cons of using online statistics tutoring services?
Some students have trouble staying interested when all they have to do is look at a screen. This is especially true for younger children and students with learning disabilities. If your child is easily distracted or struggles to pay attention for long periods of time, they may benefit more from an in-person learning environment.