5 Best Online Statistics Tutoring Services
ScholarshipInstitute.org is reader-supported. When you buy through links on our site, we may earn a commission. Learn more.
For many students, math can be the most stressful, challenging subject to study. Since this course is part of the standard core curriculum, statistics is a math concept many schools require students to take. While some find it easier than other concepts, such as algebra or calculus, many still struggle with understanding and completing their statistics coursework. This guide provides all the information you and your child need to find the best online statistics tutoring services to help your student boost their grade in their statistics class and guarantee a high score on their next statistics exam.
Learner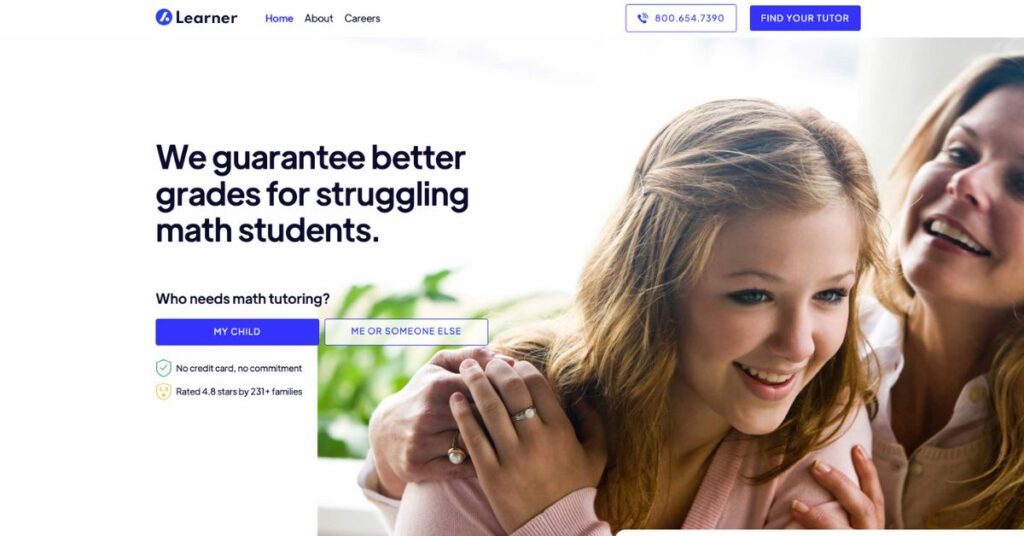 Learner offers high-quality online statistics tutors, an excellent private statistics tutor matching process based on students' individual needs and learning styles, and standout virtual learning tools to make every session interactive and engaging. Learner is one of the best online statistics tutoring services dedicated to virtual learning and matching students with the best online statistics tutors available for any subject or concept. First, students are matched with online tutors after completing a questionnaire that assesses their academic situation. Students of all ages and grade levels are encouraged to try Learner and can choose to participate in one-on-one or small group sessions. Learner also offers a total satisfaction guarantee, and every first tutoring session is free for all students. Pricing starts at $40 per hour.
No matter what subject you are struggling with, Learner guarantees matching statistics students with a qualified teacher specializing in that subject area. For those who require extra help in statistics, Learner offers numerous online statistics tutors to choose from. Learner only hires highly qualified online statistics tutors that meet their specific standards, such as having a four-year college degree and several years of previous tutoring experience in their area of expertise. Additionally, employees at Learner meet with each statistics tutor upon hiring them to ensure they meet the company's qualifications.
After every online session, a statistics tutor will provide students and parents feedback on their progress, including successes and current struggles they still need to work on. One of Learner's most beneficial features is its recording feature for tutoring sessions. With this feature, students will receive recordings of all of their tutoring sessions, allowing them to review anything they need to when studying for a test or completing statistics homework on their own.
Pros:
Satisfaction guaranteed
Highly qualified tutors
Excellent tutor matching
Affordable plans
Record feature for each tutoring session
Offers feedback after sessions for parents and students
Cons:
No in-person tutoring option
Bottom Line: With highly qualified statistics tutors, affordable hourly rates, a total satisfaction guarantee, and an excellent tutoring matching, and screening process, Learner is one of the best online statistics tutoring services out there.
Wyzant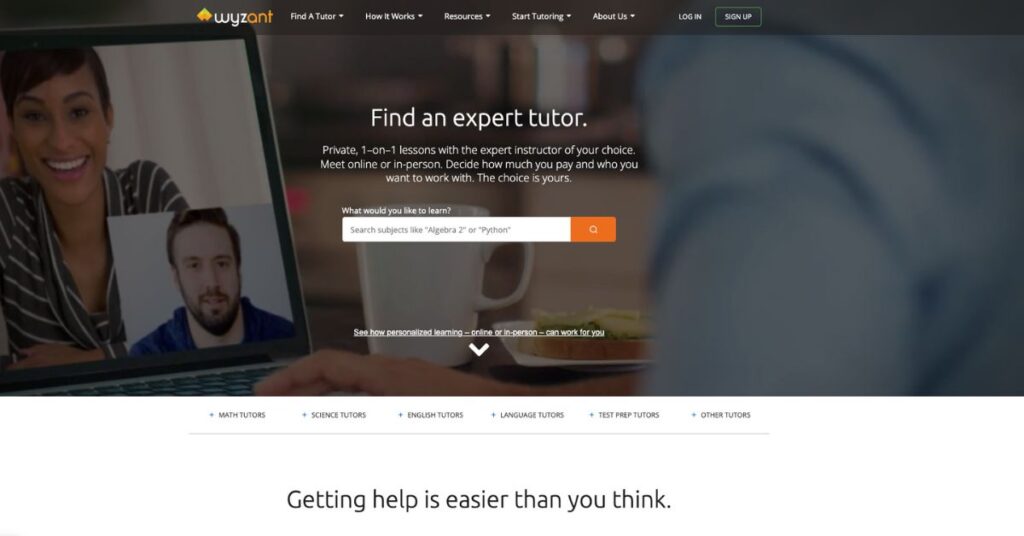 To begin your statistics tutoring journey on Wyzant, you must complete their four-step process. First, you will answer several personal questions about your academic history, learning style, and tutoring needs. Based on your answers, you will select an instructor of your choice out of the thousands the platform offers. From there, you will have a brief conversation with your statistics tutor and book your first session if you believe they are a good fit. Wyzant offers a good fit guarantee, meaning that students get the first hour of their session free if they are unsatisfied with their selected statistics tutor.
One thing to remember with Wyzant is that students must do most of the work independently to find the right statistics tutor. If having complete control over the tutor selection process appeals to you, Wyzant may be your solution. Wyzant has 80,000 online tutors in more than 300 subjects, including math and statistics. Each tutor sets their price rate, ranging between $10 and $700 per hour. Depending on your budget, you can either match with a university student tutor studying statistics or a professional educator in statistics. The latter tends to be more expensive.
While Wyzant doesn't provide 24/7 access to statistics tutors like most services, students can usually be connected with an online statistics tutor within an hour. Wyzant also offers access to a resource library with more than 1 million interactive lessons and videos created by private tutors in any subject.
Pros:
Good fit guarantee
Students search for tutors on their own
Library of free resources
Cons:
Students must find a tutor to match with on their own
It doesn't offer 24/7 access to tutoring services
Relatively expensive based on tutor skill level
Bottom Line: Wyzant has 80,000 tutors available in more than 300 subjects and a free resource library with interactive lessons and videos. This tutoring platform is catered to individuals who want complete control over their tutoring selection process.
Varsity Tutors
This tutoring service targets students who are balancing a tight schedule due to extracurricular activities, such as sports, completing chores at home, and part-time jobs. Varsity Tutors Instant Tutoring feature is designed to provide students with homework help whenever they have spare time throughout their day. This feature is exceptionally beneficial for a subject like statistics, when a student may be stuck on one particular problem, so they can save a lot of time instead of struggling by themselves for hours. Varsity Tutors is fully compatible with mobile phones and other devices, so students can use this service on the way to school, walking home after sports practice, or even on break at work.
While Instant Tutoring is Varsity Tutors' most popular feature, this service is more tailored for students seeking long-term instruction rather than occasional homework help. Varsity Tutors match students with a statistics tutor who will then create a customized lesson plan for that particular student. However, previous customers have claimed that the quality of statistics tutors vastly differs across the board. Therefore, after signing up, it isn't guaranteed you'll match with a professional statistics tutor who is an expert in their field.
To receive specific pricing information, students must provide personal information, including their full address and zip code. Varsity Tutors also offer an abundance of free resources, including practice problems, flashcards, and complete practice tests for numerous subjects, including math and statistics.
Pros:
Instant Tutoring feature
Customized lesson plans are created for every student
Library of free resources
Cons:
Rates and pricing are only available upon request
The quality of tutors varies
Bottom Line: Varsity Tutors' platform is conducive for students juggling a busy schedule and only has short time slots available for statistics tutoring work.
Chegg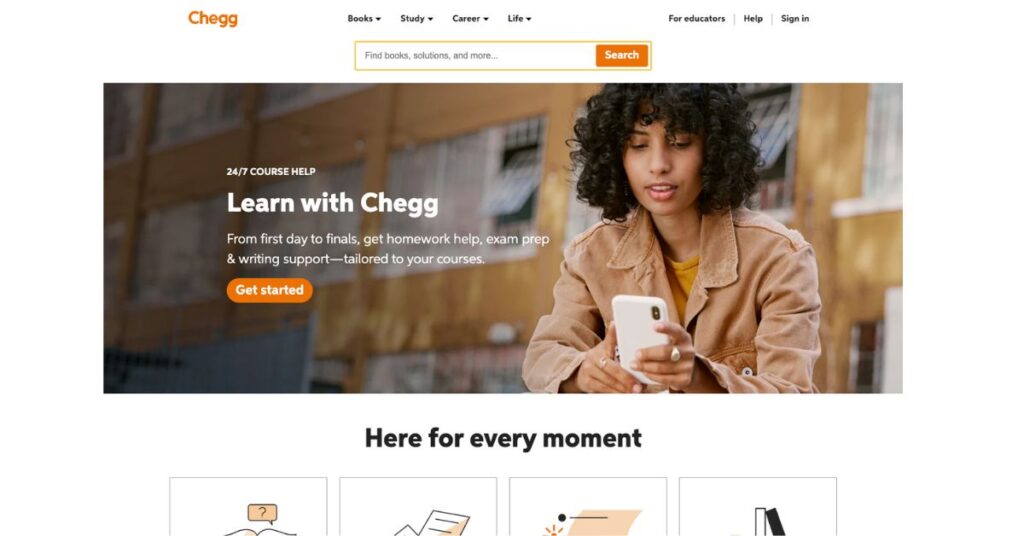 Chegg is an excellent service for students who only need help with specific homework problems. With Chegg Math Solver, students can ask for help with their studies by uploading a photo of a homework problem. By doing so, the student should receive support on the issue within 30 minutes. With a Chegg membership, students can search through Chegg's library of over 21 million homework solutions.
With Chegg, students can pay $6.95 for a single private tutoring lesson or $14.95 per month for unlimited tutoring services. Students who are focused explicitly on statistics tutoring and improving their math skills can also pay an extra $9.95 for Chegg Math Solver.
All statistics tutors at Chegg must pass a subject proficiency test to participate in Chegg's network. While their specialty is helping guide students through individual problems, Chegg offers tutoring in hundreds of different subjects, including statistics, AP courses, and standardized test preparations, so students can find the help they are looking for one problem at a time.
Pros:
Relatively cheap
It offers an extensive library with step-by-step homework solutions and explanations
24/7 access to tutors
Cons:
No personalized lesson plans
Not ideal for long-term tutoring needs
Bottom Line: When it comes to budget-friendly tutoring options, Chegg is a great choice. For approximately $25 a month, students can receive unlimited tutoring services and specialized math assistance. Not only can students search through an extensive library of homework solutions, but they can also upload a specific homework problem and receive help in minutes.
SpecialEdTutoring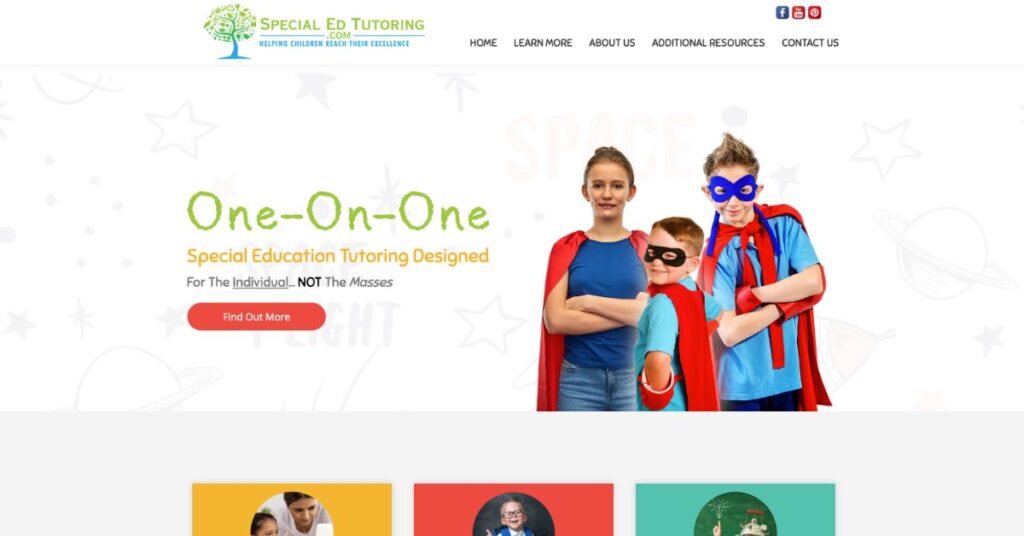 If your child has special needs or suffers from a learning disability, SpecialEdTutoring is the best tutoring service for you. SpecialEdTutoring's mission is to provide the best tutoring services from qualified statistics tutors who have at least a Bachelor's degree in Special Education in a virtual manner that understands students with special needs work best when they're in a familiar environment at home.
To begin the tutoring process at SpecialEdTutoring, you must sign up for a free consultation. From here, parents will discuss their child's learning style, needs, and what they believe a good tutoring fit would be. The initial consultation will also address pricing, as plans vary for each student. Tutors at SpecialEdTutoring are certified in Special Education but are also experts in their field, including math and statistics, so it's guaranteed your child will receive the help they need. If you are a parent who is homeschooling a child with special needs, SpecialEdTutoring can also help you design a curriculum best suited for your child. SpecialEdTutoring is more tailored towards students who need long-term tutoring rather than individual homework help.
Pros:
Every tutor has a Special Education degree
Helps parents design a homeschooling curriculum for their child
Cons:
Pricing isn't given until the initial consultation
Tutoring services are only geared towards students with special needs
Bottom Line: With every tutor certified in Special Education, SpecialEdTutoring will help you find a qualified statistics tutor that suits your child's learning style and overall needs.
How To Find the Right Online Statistics Tutor For Your Needs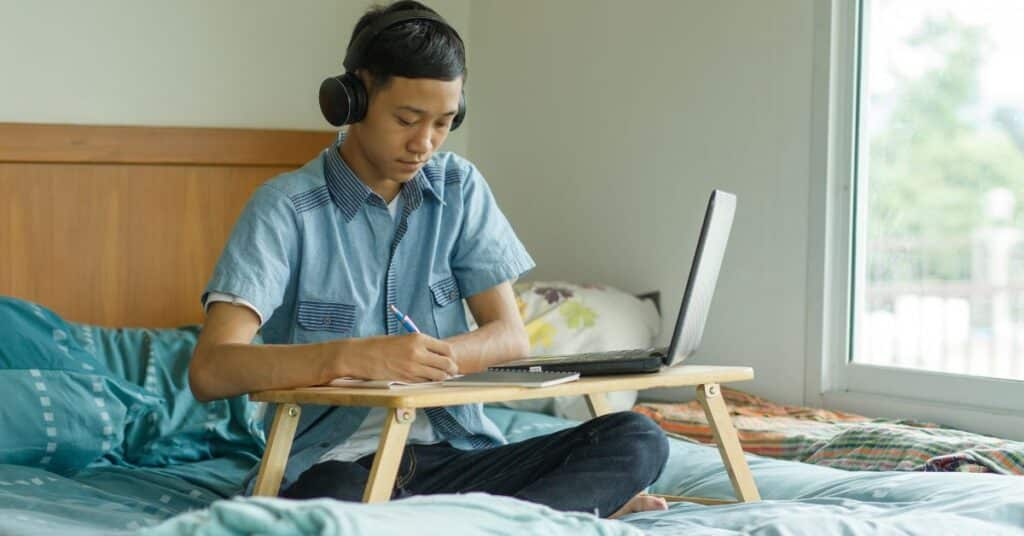 When deciding which online tutoring service is best for you and your family, it's essential to establish your financial goals and your child's educational needs. Having an open and honest conversation with your son or daughter can help you determine what areas they're struggling in and what type of tutoring style they think will help them the most. For example, if your student is only looking for occasional homework help, an online tutoring service with tutors available 24/7 may be best for them. However, if they require long-term tutoring, you may want to look into services with excellent tutor matching programs and personalized lesson plans that cater to your child's strengths and weaknesses.
While your child's educational needs are essential, you must consider your budget and what you can realistically afford. Sitting down and looking over your finances can help determine how frequently your student can meet with a statistics tutor and how much you can afford to spend on a qualified statistics tutor.
Taking your and your child's needs into account when choosing the right online statistics tutor can save lots of stress for you and your family. While you want your child to be happy and grow in their education, you also need to be realistic about what you can reasonably afford. The choice of which online statistics tutoring service is best lies within your hands.
Online Tutoring vs. In-Person Tutoring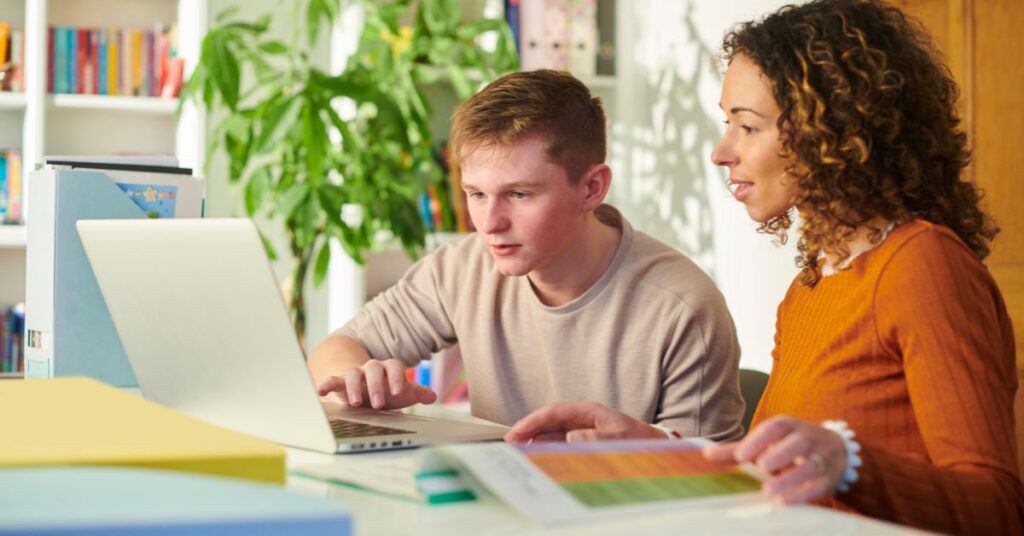 While online tutoring can be more convenient for parents and families, many students perform better with in-person tutoring. With in-person tutoring, students are offered a quiet space, similar to a classroom, where they can stay focused in group tutoring sessions with their tutor or peers. In-person tutoring is an excellent option for students who quickly get online fatigue, struggle working independently, and better focus in a quiet space with hands-on work.
On the other hand, online tutoring can be a perfect solution for students struggling in math, statistics, or any other subject. Online tutoring is more beneficial for those with a busy schedule since parents don't have to worry about commuting, and students can complete sessions from their bedrooms. Additionally, virtual tutors offer a more comprehensive range of qualified tutors for your student, and online tutoring tends to be relatively cheaper than in-person sessions. Therefore, online tutoring may be a better option for parents with a busy schedule and for students who learn better with one-on-one virtual tools and lessons.
Benefits of Online Statistics Tutoring
There are many educational and social benefits to getting a private online statistics tutor for your son or daughter, especially if they are having difficulty learning and feeling comfortable in their statistics classes. Below are some of the top benefits that a statistics tutor can have on your child.
Individual Learning Experience
One benefit of online statistics tutoring for students is that children can feel comfortable learning at their own pace without the pressure of statistics teacher expectations and classroom competition. With online tutoring statistics sessions, students don't have to feel embarrassed about their level of understanding of a subject or concept. Statistics tutors online create a learning environment that helps each child learn and feel comfortable throughout the process.
Encourages Students to Ask Questions
In school, many students become afraid to speak up or ask questions out of fear of being ridiculed or judged by their peers. In statistics tutoring sessions, students are taught that it's okay to ask questions because someone else may be wondering the same thing, which will help the student understand the topic. Being engaged and asking questions about class material shows personal investment and critical thinking vital to success in many subjects, including statistics.
Improves Confidence and Self-Esteem
Classroom environments aren't always positive, especially for struggling students in statistics class. Since statistics tutoring sessions are typically one-on-one, students are more comfortable being honest about what they know and what areas they're having trouble in. Therefore, certified tutors can target the problem areas and help students enhance their skills and learning abilities. This sense of achievement can help students feel confident and increase their self-esteem as they will believe in themselves and no longer feel like outcasts.
Facilitates Good Study Habits
Once students showcase proven success with tutoring services, they will gain valuable skills throughout their academic career, even after their sessions with a statistics tutor. Statistics tutors teach students skills to enhance their performance in the subject of math through different studying and learning techniques and methods. These are lessons that students can carry with them when they have to study for SATs or other important exams that will impact their academic evaluation. Having a statistics tutor is beneficial at the moment and can teach your child skills they can carry with them throughout the rest of their lives in math and other subjects.
Peaks Interest in Math
When students excel at a subject, such as math or statistics, this sense of pride and confidence can make them interested to learn more and continue to expand their knowledge in the matter. Since a statistics tutor can assist students with their performance in math by helping them understand the concepts being taught, students will feel confident and become more interested in the subject since they have a better understanding of how it works and why it's essential to know.
How We Chose the Best Online Statistics Tutoring Services
All the online tutoring services we listed above are established and accredited companies with highly qualified certified tutors and excellent online learning tools. More importantly, this list includes a wide variety of tutoring services that cater to students of all backgrounds and learning needs.
When creating this list, we included tutoring services that appeal to students of all ages, grade levels, and subjects looking for long-term tutoring and individual homework help. Additionally, regardless of your financial background, many of these tutoring companies will suit your needs and satisfy your budget. Overall, no matter what experience you or your child come from, there is an online tutoring service to help your child improve their statistics grades and boost their confidence in school without damaging your wallet.
Frequently Asked Questions
If you are still curious about online statistics tutoring, below are some common frequently asked questions by parents and students about tutoring statistics.
What are online statistics tutoring services?
Online statistics tutoring services use online teaching methods such as a virtual classroom, video, and an interactive whiteboard to replicate an in-person learning experience at a lower cost to make tutoring more convenient for students and parents.
Who should use online statistics tutoring services?
Anyone can use and benefit from online statistics tutoring services. Whether you are struggling with statistics or want to prepare for an important exam, there are numerous online statistics tutoring services to fit your needs.
How much do online statistics tutoring services cost?
The cost for online statistics tutoring services depends on the company, how qualified the online tutor is, what kind of session your child needs, and how many subjects your student needs help in. Some services charge per hour, while others offer membership fees or monthly packages.
What should you look for in online statistics tutoring services?
When looking into online statistics tutoring services, you should pay attention to the quality of tutors, the tutor matching process, and the learning tools the service uses in each session. Some services are tailored towards quick homework help, while others offer long-term tutoring options.
What are the pros of using online statistics tutoring services?
The pros of online statistics tutoring services are that they are typically more affordable and convenient than in-person sessions. Additionally, many online tutoring services offer interactive whiteboards, instant messaging features, 24/7 access to tutors, and the ability to record and download sessions.
What are the cons of using online statistics tutoring services?
Some high school students prefer the experience of in-person learning. If your student has a short attention span, learning disabilities, special needs, or is easily fatigued by computers, then online statistics tutoring may not be best for them.
What should I look for in an online statistics tutoring provider?
Online statistics tutoring providers who are typically excellent math tutors should showcase strong interpersonal skills. Math tutors need to have lots of patience, empathy, and positivity to keep students engaged in the subject. Therefore, online tutoring providers should showcase these skills to their tutors.