Bold.org Scholarship Review (93/100)

BEST CHANCES OF WINNING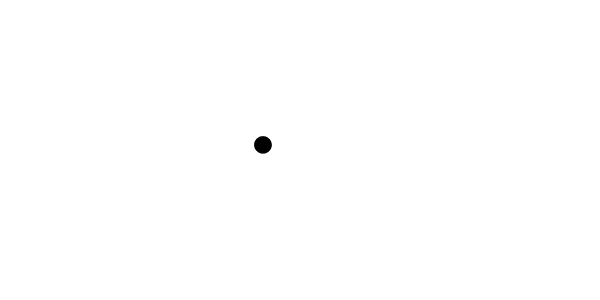 Pros:
Scholarships are exclusive to the platform, so your chances of winning are higher.
Protects your data. No ads or unrelated offers.
Student profile to showcase to scholarship panels.
Streamlined applications on the platform.
Cons:
Smaller than large scholarship databases.
Creating a great profile takes ~15 minutes.
The Bottom Line:
Although Bold.org is smaller than other platforms here, it provides you the best chance of winning. It offers a robust student profile to ensure you look great for scholarship panels, and it provides funding exclusive to the platform, which means lower competition.
Bold.org ranked first on our list of the best scholarship platforms, with a total score of 93 out of 100. Bold is a brand-new platform that takes a radically different approach to the scholarship search and application process.
Rather than just providing a list of the various scholarship opportunities that are available on other websites, Bold differentiates itself in 3 ways: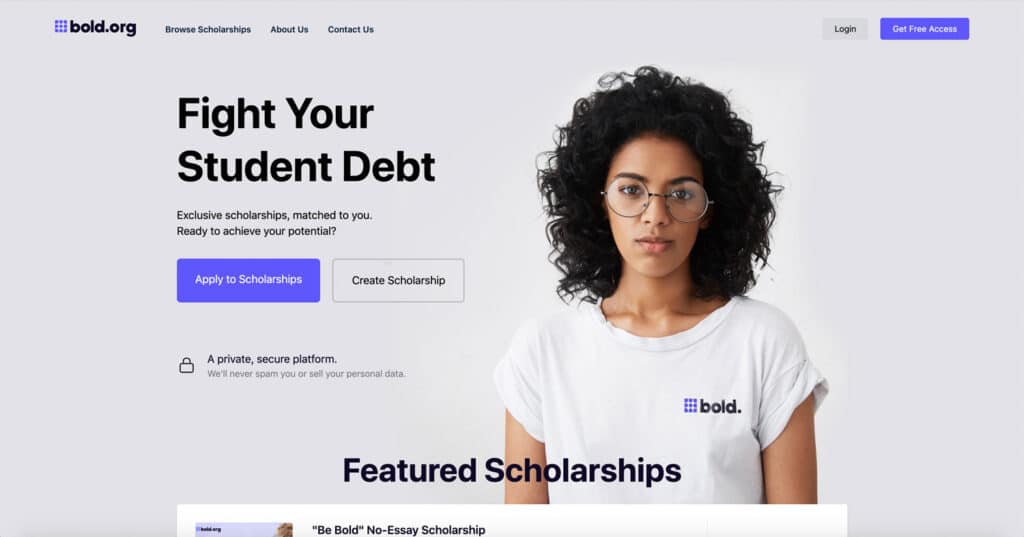 Bringing exclusive scholarship opportunities that can't be found anywhere else to students.
Allowing students to apply directly on the platform.
Helping students to create profiles to showcase their experience to scholarship panels.
Combining these factors, while Bold is not among the larger sites, by managing everything in-house, Bold.org provides students the highest likelihood of winning scholarships.
Bold also simplifies and streamlines the application process. Similar to other platforms, including Sallie Mae's Scholarship Search, students create a profile on Bold, but then can also actually apply to opportunities directly through the Bold website, rather than having to create an entirely new application to fulfill the unique requirements of each awarding organization.
This common-sense approach can save students a significant amount of time and energy. Although most of the opportunities on Bold.org require a scholarship-specific essay of 500-1000 words, that is the only additional portion of the application; the rest of the applicant's Bold profile is already saved and ready to be shared with the scholarship panel.
Creating a profile on Bold.org is a fairly lengthy process, at least compared to some of the other platforms we analyzed. Students need to answer a series of questions about their academic interests, career aspirations, employment experience, hobbies, sports, financial resources, and more.
However, while the initial onboarding takes time, students are rewarded with an impressive profile that showcases their full achievements well for scholarship panels.
Thus, it's important for students to craft an excellent profile that expresses who they are and encapsulates their interests and aspirations. Rather than having to repeat any information, students benefit from having a single, comprehensively-detailed Bold profile that they can continually edit and improve and which will be shared across all of their applications. Additionally, students can earn "Bold Points" for completing all of the sections of their Bold profile, which gives them access to further scholarship opportunities.
Having been launched as recently as 2019, the Bold brand feels entirely modern and relevant, with an understanding of the challenges faced by today's college applicants. Bold's user interface works seamlessly and the platform earned high ratings for clarity, ease of navigation, and user-friendly design.
There are many very specific scholarships on Bold that are aimed at individuals of diverse backgrounds, educational experiences, and interests. This nearly always increases a student's chances of submitting a successful application, as there will be fewer overall applicants who meet the criteria for that scholarship. High school students, current undergraduates and graduate students, and prospective medical students will all be able to find opportunities on Bold.
Furthermore, all of these scholarship opportunities are unique to Bold, so students won't find them on other platforms, which increases their likelihood of winning. Students who have created a Bold profile will be automatically notified whenever there is a new scholarship match — and this happens regularly, as the list of scholarships is constantly being updated.
Is Bold.org safe?
Yes, Bold.org is safe.
Another factor that sets Bold.org apart from many other platforms is its commitment to protecting users' privacy and personal data. In fact, this privacy and security are some of Bold's top priorities.
Student data on Bold is never shared with other users, affiliates, or third parties. While a student's profile is quite extensive, the information students input there is entirely relevant to helping scholarship donors determine their eligibility for various award opportunities. Students also have tight control over the privacy settings on their profiles, and Bold's privacy policy is detailed and transparent.
There are no fees at all on Bold, nor will users ever receive any marketing communications. The only emails that Bold sends to its users are updates about new scholarship matches with approaching deadlines.
And because the sole focus of Bold is to provide access to scholarship opportunities, users never see advertisements or offers for any other products or services. For example, unlike Sallie Mae, which provides a detailed list of scholarships but is also in the business of arranging private student loans, Bold was established specifically to make it easier for students to find unique scholarship opportunities and for individuals and organizations to create those opportunities.
Some factors that mark scholarship opportunities as possible scams are application fees, payment for premium access, applications that ask for your bank or credit card information, or guaranteed scholarships. It's important to note again here that Bold.org never asks you to pay any money whatsoever to use their service—as a scholarship applicant OR as a donor. They also will not ask for private financial information, and scholarships are never guaranteed.
How, then, does Bold.org make money? This is an important question to consider, as no business is run for free. Bold.org, however, takes a unique approach to earning money to keep its operation running.
The company partners with highly vetted companies that offer financial support, which allows Bold.org to continue offering scholarships to students. These partners are also presented to student applicants as valuable (optional) resources to assist them to move forward in their education and career. If a student chooses to accept information from a partner company, they now are helping that partner company to receive more business. When a student finds these resources useful, Bold earns some revenue from these partner companies.
Are Bold.org scholarships legit?
Yes, Bold.org scholarships are legitimate.
First, let's explore where these scholarships are coming from. Bold scholarships are funded by entrepreneurs, investors, philanthropists, brands, families, and individuals, who are anxious to power the next generation forward in their education and careers.
The founders of Bold saw an opportunity to improve the scholarship funding experience for donors. In most cases, establishing, marketing, and operating a scholarship is a lot of work, and oftentimes, if working through other legitimate scholarship websites, a percentage of the proceeds goes to the platform to keep the business running. Many people who have desires to be generous are deterred by the arduous process it typically is to fund and run scholarships, as well as the fact that a portion of their funds doesn't end up going to the winning students.
As a solution to these problems, Bold developed a system to do all the heavy lifting for donors. Their donor team helps streamline the scholarship creation process. They also help sort through applicants and narrow down a list of finalists for the donor to choose from. And of course, Bold ensures that 100% of scholarship donations go directly to funding the educational goals of deserving winners.
Bold also requires donors to fund scholarships upfront—at the creation of the scholarship, before a winner has been chosen. This helps them verify that the award is real and ready. They hold these funds in escrow until a winner has been selected, and then give all of the award amounts directly to the winning student.
In addition to simplifying the process for donors, Bold strives to solve problems students experience when applying for scholarships. On most scholarship sites, students are very closed off to details about what happens to their application after it's been submitted. They may apply to several scholarships through various sources, but they are often clueless as to whether these efforts are paying off.
With Bold.org, however, students are constantly updated on the status of their applications. They're notified when scholarships they may be eligible for having upcoming deadlines. They're also notified when an application of theirs has been submitted, is in review, has been selected as a finalist, or has been selected as the award winner. Not only does this help the student have some peace of mind to see where their applications are in the process, but it also may help them see if their profile or applications need improvement.
What is Bold.org?
The creators of bold saw an opportunity to aid in fighting student debt and took it. Today, the average student graduates with more than $30,000 in debt. This sets them back and makes them less likely to buy homes, start families, choose high-impact careers, or start businesses. Bold was established to try to tackle this problem by helping fund higher education, one student at a time.
Bold also serves as a solution for people who wish to make a positive impact in the community with donations to students, but aren't sure how to do it or are overwhelmed by the process.
Bold.org solves scholarship issues for both donors and students, by streamlining and simplifying the processes of creating, managing, applying to, and winning scholarship awards.
Bold focuses on exclusive scholarships, trustworthiness (privacy and security), and user experience. All scholarships on the site are not found anywhere else, automatically creating a smaller applicant poll and increasing a student's chances of winning. The platform provides you control over your privacy settings, and never bombards you with ads or promotions. And finally, they have a user-friendly, intuitive site and process for setting up a student or donor profile.
How to find scholarships on Bold.org
Create your profile
It takes a bit of initial time investment, but once you create your profile on Bold.org, the entire process of finding and applying to scholarships just got so much easier. You'll include information about your education level, fields of study you're interested in, and the college(s) you attend or are considering enrolling in. You may also include work experience, hobbies, and volunteer experience.
Once you've completed your profile, Bold.org can notify you of scholarships that match your interests and eligibility.
Browse scholarship categories
Bold.org will create targeted funds for various groups and types of students. They offer scholarships for minorities, individuals of various races and ethnic groups, high schoolers, women, students pursuing medicine, graduate students, computer science and tech students, and plenty of other categories, as well.
Conduct a filtered search
Alternatively, you can browse all of Bold's scholarships at once, simply using their filters at the top of the page to select your education level, the category of the scholarship, the current status of the scholarship, and whether or not the opportunity requires an essay. You can also choose to have the results sorted by relevance, how old the opportunity is, the application deadline, and the award amount.
Once you find a scholarship that you'd like to apply for, be sure to toggle the flag icon to bookmark it for your personal list of "saved" scholarships. That way, you can come back and apply for it at your earliest convenience.
How to apply for scholarships on Bold.org
Create your profile
On Bold, it's much easier to apply for scholarship opportunities once you've completed your profile. Essentially, your profile does much of the application work for you. This way, you won't have to fill out pages and pages of forms requesting your information—all relevant information is already there, in your profile, to be reviewed and evaluated for any scholarship you apply for.
Complete essays (if applicable)
Some scholarship applications on Bold are "no-essay," meaning you really don't need to do anything more to apply besides having a completed profile at the ready.
On the other hand, if you are applying for a scholarship that requires an essay, this would be your next step. Write an essay that's thoughtful, personal, and creative. And, of course, be sure to check that your spelling and grammar are all accurate.
Click "Apply to scholarship"
Finally, submit your application! If the scholarship requires no essay, then you can simply apply with one click. If you had to write an essay first, you'd then submit it afterward.
After you've applied, you keep an eye on the status of your application, so you'll know when it's in review, selected as a finalist, or selected as the winner.
Best scholarships on Bold.org
Amount: $25,000
Application deadline: November 29, 2021
Details: The "Be Bold" No Essay Scholarship opportunity is a legitimate scholarship designed to award candidates with the boldest profile on Bold.org—"bold" meaning earnest, moving, and determined. This scholarship is open to applicants at any education level and requires no essay to apply—simply a striking profile on the site that showcases your accomplishments, your motivations, and your goals for the future.
Amount: $500
Application deadline: March 1, 2022
Details: The Bold Learning and Changing scholarship honors students who approach life with an open mind and willingness to learn. Change is a critical force in moving individuals and communities forward—but it has to start with one person's willingness to change. To apply, students of any education level must write an essay describing how their opinion about something important in their life was changed with a new perspective.
Amount: $500
Application deadline: March 1, 2022
Details: The Bold Financial Freedom scholarship seeks to assist a student in achieving a future goal of financial freedom. While a college education can help open up job prospects, it can also land a student in a load of debt by the time they graduate. This award seeks to ease that burden of student debt. Students of any education level may apply by writing an essay about the most helpful piece of financial advice they had ever received.
Tips on winning scholarships on Bold.org
Apply to as many scholarships as possible
In some ways, applying to scholarships—especially those with high competition—is essentially a number game. This is why it's encouraged to apply to as many scholarship opportunities as you possibly can (as long as you meet the eligibility requirements, of course—so double check before you begin applying).
Bold makes it easy to apply to tons of scholarships. Since your profile is basically your application (besides the essay required for some scholarships), several opportunities allow you to simply apply with one click.
Capitalize your time
Even though it's encouraged to apply to as many scholarships as possible, it's also important to balance that by capitalizing your time on the award opportunities that are likely to benefit you the most. This might include those with high award amounts or those you are most likely to win. If a scholarship has low competition, unique eligibility requirements that you fit, or a small geographical region, for example, you may have a better chance of being selected as the winner.
That's one benefit to searching for scholarships with Bold.org. While Bold is a smaller database, it also has a smaller audience and will only publish scholarships that are exclusive. These factors mean that you'll have much less competition and better chances of winning with Bold than with other scholarship search platforms.
Submit as early as possible
The early bird gets the worm. The earlier you apply, the more you'll stand out. So submit your scholarship applications as early before the deadlines as possible.
Follow instructions precisely
Sometimes perfectly sound scholarship candidates can be disqualified for making small, avoidable mistakes. Be sure to read through application instructions carefully and then follow them precisely.
Make your essay stand out
When applying for scholarships that require an essay, be creative, personal, and professional in your writing. Be sure to double-check that your spelling and grammar are correct, too.
FAQ on Bold.org
How does Bold.org make money?
Bold.org works with highly vetted partner companies that financially support their business operations. These partners act as resources that Bold can refer students to (should they choose to accept). This system enables Bold to keep their scholarship platform completely free for both applicants and donors, giving scholarship winners 100% of the donations funded by scholarship sponsors.
Is Bold.org for college students?
Yes. Bold.org is created for future, current, and past college students. The platform offers various award opportunities for high school students, current students in specific fields of study or from an array of life circumstances, as well as graduate students who are focused on paying off their student debts.
What are Bold Points on Bold.org?
Bold Points are awarded to students for taking various actions, such as completing all sections of their profile, referring a friend to the site, or learning about a helpful financial resource for students. These points give applicants access to additional scholarship opportunities.
Is Bold.org a scam?
No, absolutely not. Bold.org is a safe, secure scholarship service. You will not be asked for any information that is too personal (such as bank or credit card information). You also have full control over your privacy settings to determine who can see your information—and it will never be shared with third-party companies. It's also good to keep in mind that the site is completely free for both donors and applicants.
Bold works actively with the individuals and organizations who fund their scholarships, so you can trust that these are vetted sponsors. They ask for all the donation funds upfront, to ensure they are legitimate and ready for a student to receive once a winning candidate is selected.