BEST CHANCES OF WINNING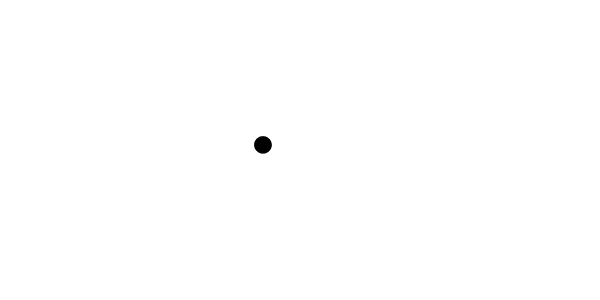 Pros:
Scholarships are exclusive to the platform, so your chances of winning are higher.
Protects your data. No ads or unrelated offers.
Student profile to showcase to scholarship panels.
Streamlined applications on the platform.
Cons:
Smaller than large scholarship databases.
Creating a great profile takes ~15 minutes.
The Bottom Line:
Although Bold.org is smaller than other platforms here, it provides you the best chance of winning. It offers a robust student profile to ensure you look great for scholarship panels, and it provides funding exclusive to the platform, which means lower competition.
Bold.org ranked first on our list of the best scholarship platforms, with a total score of 93 out of 100. Bold is a brand-new platform that takes a radically different approach to the scholarship search and application process.

Rather than just providing a list of the various scholarship opportunities that are available on other websites, Bold differentiates itself in 3 ways: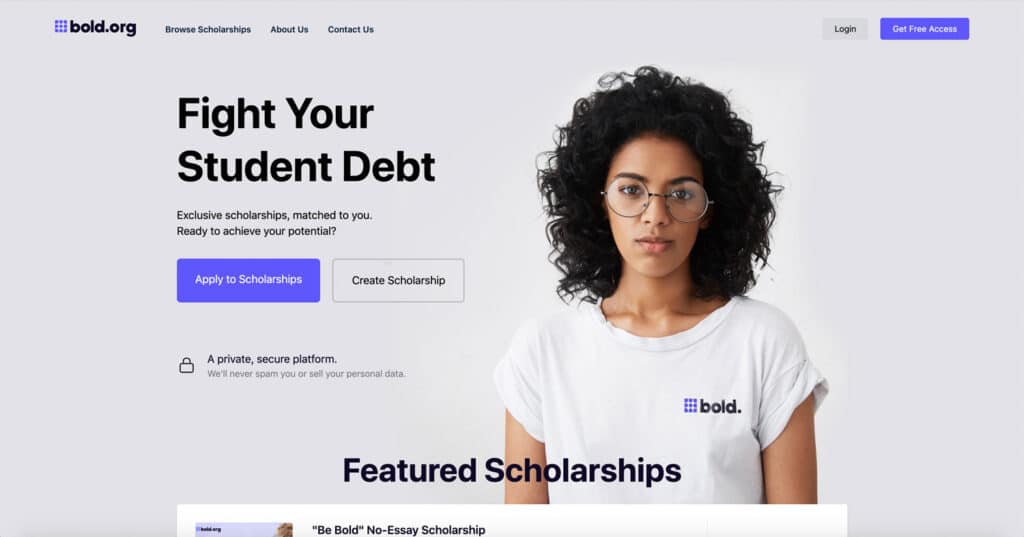 Bringing exclusive scholarship opportunities that can't be found anywhere else to students.
Allowing students to apply directly on the platform.
Helping students to create profiles to showcase their experience to scholarship panels.
Combining these factors, while Bold is not among the larger sites, by managing everything in-house, Bold.org provides students the highest likelihood of winning scholarships.

Bold also simplifies and streamlines the application process. Similar to other platforms, including Sallie Mae's Scholarship Search, students create a profile on Bold, but then can also actually apply to opportunities directly through the Bold website, rather than having to create an entirely new application to fulfill the unique requirements of each awarding organization.

This common-sense approach can save students a significant amount of time and energy. Although most of the opportunities on Bold.org require a scholarship-specific essay of 500-1000 words, that is the only additional portion of the application; the rest of the applicant's Bold profile is already saved and ready to be shared with the scholarship panel.

Creating a profile on Bold.org is a fairly lengthy process, at least compared to some of the other platforms we analyzed. Students need to answer a series of questions about their academic interests, career aspirations, employment experience, hobbies, sports, financial resources, and more.

However, while the initial onboarding takes time, students are rewarded with an impressive profile that showcases their full achievements well for scholarship panels.

Thus, it's important for students to craft an excellent profile that expresses who they are and encapsulates their interests and aspirations. Rather than having to repeat any information, students benefit from having a single, comprehensively-detailed Bold profile that they can continually edit and improve and which will be shared across all of their applications. Additionally, students can earn "Bold Points" for completing all of the sections of their Bold profile, which gives them access to further scholarship opportunities.

Having been launched as recently as 2019, the Bold brand feels entirely modern and relevant, with an understanding of the challenges faced by today's college applicants. Bold's user interface works seamlessly and the platform earned high ratings for clarity, ease of navigation, and user-friendly design.

There are many very specific scholarships on Bold that are aimed at individuals of diverse backgrounds, educational experience, and interests. This nearly always increases a student's chances of submitting a successful application, as there will be fewer overall applicants who meet the criteria for that scholarship. High school students, current undergraduates and graduate students, and prospective medical students will all be able to find opportunities on Bold.

Furthermore, all of these scholarship opportunities are unique to Bold, so students won't find them on other platforms, which increases their likelihood of winning. Students who have created a Bold profile will be automatically notified whenever there is a new scholarship match — and this happens regularly, as the list of scholarships is constantly being updated.

Another factor that sets Bold.org apart from many other platforms is its commitment to protecting users' privacy and personal data.

Student data on Bold is never shared with other users, affiliates, or third parties. There are no fees at all on Bold, nor will users ever receive any marketing communications. The only emails that Bold sends to its users are updates about new scholarship matches with approaching deadlines.

And because the sole focus of Bold is to provide access to scholarship opportunities, users never see advertisements or offers for any other products or services. For example, unlike Sallie Mae, which provides a detailed list of scholarships but is also in the business of arranging private student loans, Bold was established specifically to make it easier for students to find unique scholarship opportunities and for individuals and organizations to create those opportunities.