The Princeton Review: My Personal Experience with the Career Test
ScholarshipInstitute.org is reader-supported. When you buy through links on our site, we may earn a commission. Learn more.
The Princeton Review is famously known for offering valuable test prep study guides, but does its career test live up to the same reputation? I spent time taking the test and reviewing my results while recording what I liked and didn't, to give you an overview of what to expect. I'll cover everything I learned and provide my honest take on the whole experience, helping you decide if it's worth your attention.
Princeton Review Career Test Overview
The Princeton Review career test is one of the shortest assessments on the market, with only 24 questions. From my experience, it's easy enough for practically anyone in high school or above to take (including mid-career professionals), but the results and insights are underwhelming.
Pros
Reputable education and study prep brand
No cost to take the test
Cons
No personalized career recommendations or advice
Sparse report with generic information
Basic user interface
Bottom Line: Princeton Review's career test may be a good starting point for those just beginning their career journey. But for anyone wanting personalized recommendations with usable information, I recommend taking the career test on JobTest.org.
Why Did I Try the Princeton Review Career Test?
I'm satisfied with my writing and editing career, but looking for inspiration and discovering other possibilities never hurts. When researching the best career tests, I knew I couldn't pass up one of the leading resources for student study prep. While the Princeton Review isn't technically affiliated with the university, I still benefited from its SAT guides in high school, so I figured its career test might offer similar value.
My Experience with Princeton Review's Career Test
Princeton Review's career assessment isn't easy to find on the homepage, so I ended up searching for it on Google. Once I found it, I was immediately taken to the start of the test.
Registration and Preparation
I registered when I finished and had to include my highest level of education (and whether I plan on pursuing another degree), ZIP code, and an area of study that appeals to me. I also had to enter my name and email address and create a password. The Princeton Review doesn't provide pre-test tutorials, but the assessment has directions at the top.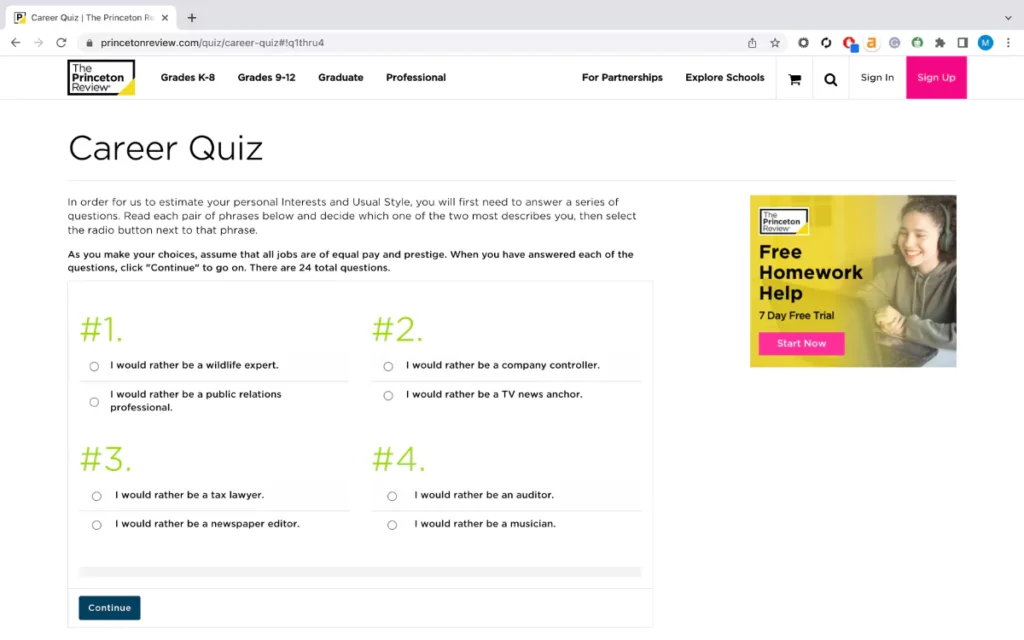 Test Procedure and User Interface
The career test is relatively straightforward and only contains 24 questions. I finished the test in a little over five minutes and encountered no technical issues, but I couldn't revisit previous questions and change my answers. The user interface works fine but is basic and has no noteworthy features. It's not focused on visuals or user experience, but it's easy enough to navigate and find the end quickly.
Question Types and Clarity
All the questions were multiple choice and asked which of two phrases best describes me. Some options were jobs, like if I'd rather be a bookkeeper or an electrician. Others asked how I act or feel, such as whether it's easy or hard to be sociable with strangers. Each question was easy to understand and didn't require a thought-out response, allowing me to finish quickly.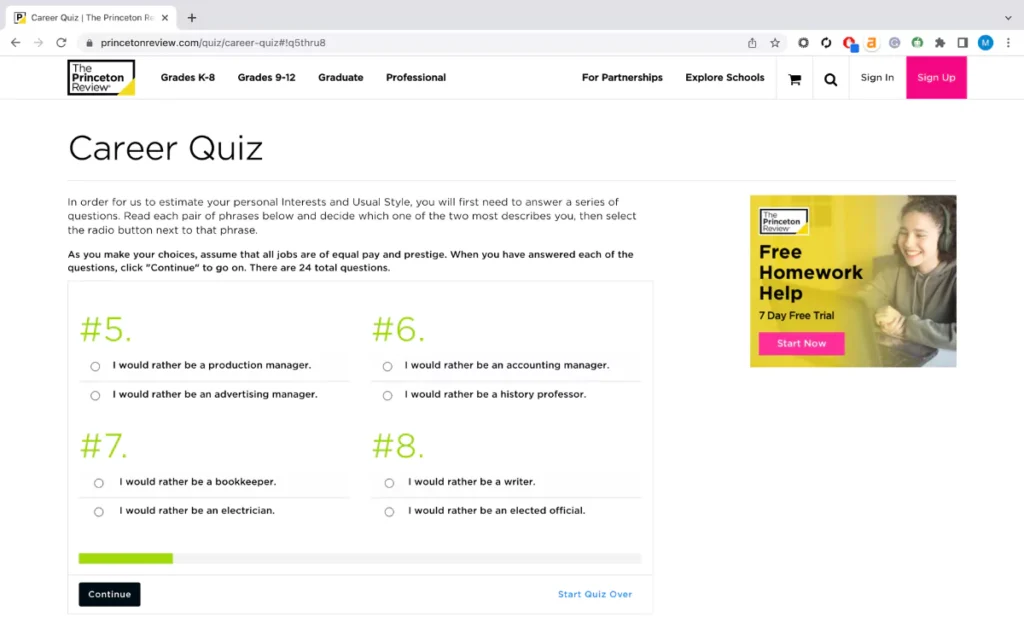 Privacy and Data Handling
According to its privacy policy, The Princeton Review discloses personal information to third parties, including affiliates, schools, service providers, and others. However, users can avoid this by opting out at the bottom of the homepage.
Customer Support
Besides a chatbot on the homepage, Princeton Review has student support and enrollment advisory hotlines listed on its contact page. However, nothing suggests these resources are meant for the career test.
What Did My Results Show?
For only 24 questions, five minutes, and $0, I wasn't expecting to receive a comprehensive report that rivals the premium paid tests. I was a little surprised I had to sign up for an account after finishing, but I was able to access my results immediately. Here's how it went:
Report Delivery
I can only view my results on Princeton Review and can't save them (even though I made an account). But since the report is only two pages, it's easy to take screenshots and save them for later.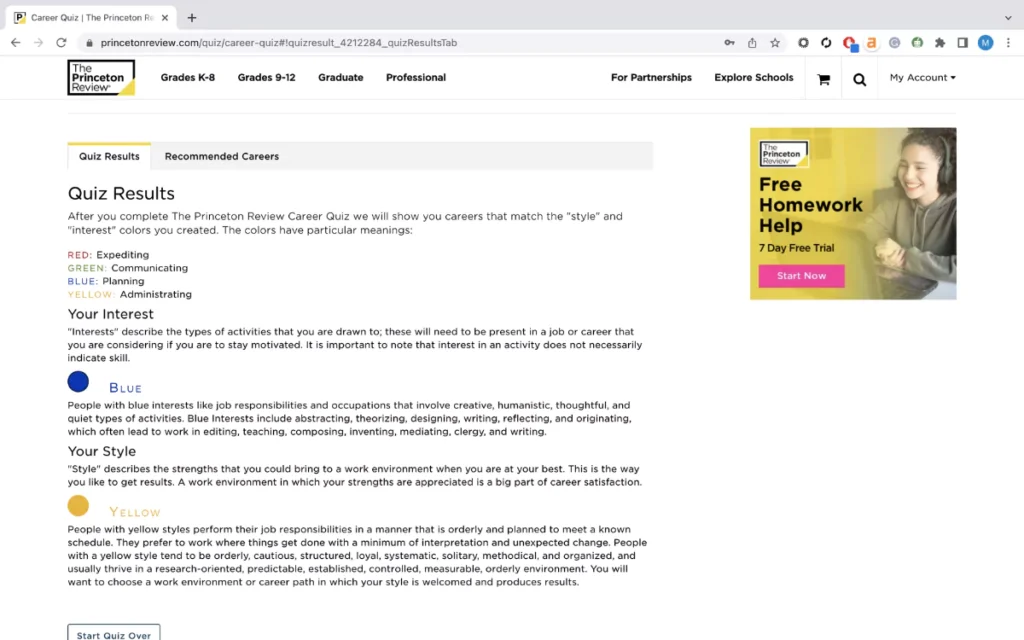 Presentation and Depth
The first page covers my quiz results, which are my top "style" and "interest" areas represented by a color (blue in my case). These describe which activities I prioritize and the way I like to work. While they're somewhat accurate and identified writing as a core interest of mine, the report only provides a generic overview of the trait rather than me as an individual.
The second page lists dozens of potential careers my "blue" interest category may enjoy, from acting to substance abuse counseling. But because it's such an extensive range, it doesn't help me pinpoint specific areas to consider. Both pages of the report are easy to navigate but don't go in-depth or give me much insight.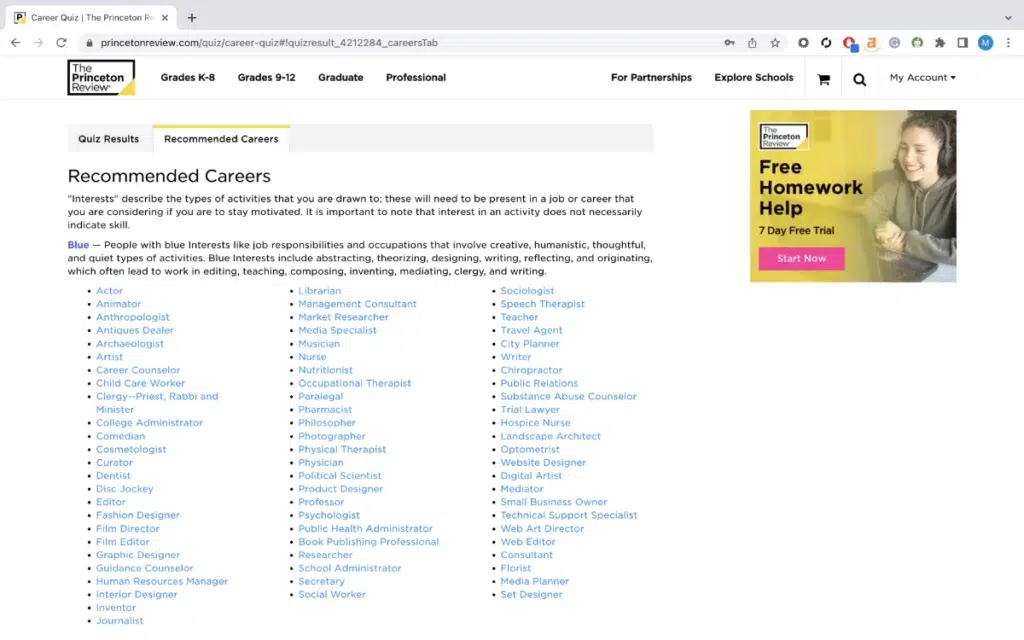 Relevance and Usability
Since the results are generic, they're not very helpful to my career search. I have a basic assessment of my core traits and a broad spectrum of areas I can explore, but that doesn't move me further than I was before taking the test.
Princeton Review's results may help someone who is unfamiliar with what careers are available, especially children and young adults. But for actual career guidance and inspiration, I can't say I gained much other than learning about what it means to have "blue" vs. "yellow" personality traits.
Post-Test Support and Resources
Each recommended career in the report links to a more detailed overview covering the profession, education requirements, and present and future outlook. Princeton Review also has several blogs and career help guides, but most are targeted at high school, college, and graduate students.
Do I Recommend Princeton Review?
I would still use Princeton Review for its test prep and study resources, but I don't recommend its career test to gain career inspiration.
On the other hand, JobTest.org is a far more comprehensive and accurate career test that I can attest to. JobTest.org uses machine learning and real-time career data to provide accurate results, and I can tell the difference. My results feel authentic to how others have described me, but I also learned new things about myself and paths to consider.
Although it costs about $30, my personalized report covered everything from income potential to how I can maximize my strengths and weaknesses. Instead of listing dozens of careers like Princeton Review does, JobTest.org gave me tailored recommendations that matched to my personality and preferences, not to mention post-assessment resources to help me put those careers into action.
Whether in school or the middle of a career, try out the career test on JobTest.org for the best overall experience.
| | JobTest.org | Princeton Review |
| --- | --- | --- |
| Work Personality Assessment | | |
| Career Recommendations | | |
| Personalized Feedback | | |
| Industry Expertise | | |
| Work Environment Matching | | |
| User Experience | | |
| Multiple Languages | | |
| Post-Test Resources | | |
| Career Change Assistance | | |
| Dedicated Customer Support | | |
| | Learn More | Learn More |