123test Career Test: My Personal Review and Experience
ScholarshipInstitute.org is reader-supported. When you buy through links on our site, we may earn a commission. Learn more.
Charting a new career path is more complex than we'd like, whether it's the first time or the tenth. To find out if 123test could make a difference in my job search, I took the career test and carefully recorded my experience. I'll walk you through what I learned, from taking the assessment to deciphering the results, highlighting what to expect, and whether I recommend it. Ultimately, I'll help you determine if the test is worth your time or if you should consider other options.
123test Career Test Overview
123test offers dozens of self-assessments, and its career test aims to identify the top careers that fit the user's personality based on the Holland Codes. The free career test takes five to ten minutes, but the final report isn't personalized.
Pros
Based on the Holland Code personality types
Short test and free to take
The report recommends 20 careers
Cons
Short report with no personalized advice
No work personality insights
Few support resources
Bottom Line: For only ten minutes and $0, 123test's career test offers several job recommendations that may be worth exploring. However, the report lacks depth and doesn't provide nearly as much usable information as paid career tests, especially JobTest.org.
Why Did I Try 123test?
As someone recently graduated from college, I can relate to the stresses and worries of finding the right career. While I've found a satisfying writing career, I realize I may be happier working in a different industry. As a result, I looked into the best career tests and came across 123test. With credible models behind the test and no cost, I gave it a try to see what I could gain.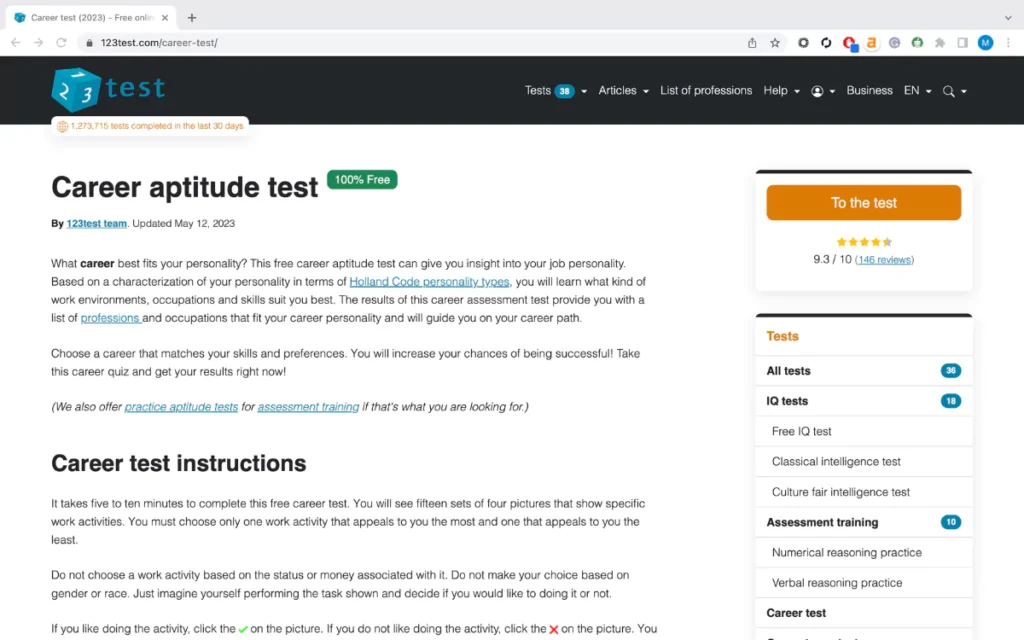 My Experience Taking the 123test Career Test
123test has several personal tests available, and its career test is on the homepage and menu bar. After reading over the test information and directions, I started answering questions right away.
Registration and Preparation
I didn't have to register or prepare before taking the test. 123test doesn't offer pre-test guides or tutorials other than the directions, but I felt prepared and understood the test. After I finished, I had to provide my education level, gender, and age and answer why I'm taking the test. 123test also asked about my occupational status and related information, but I never had to enter my name or email address (unless I wanted my report emailed directly to me).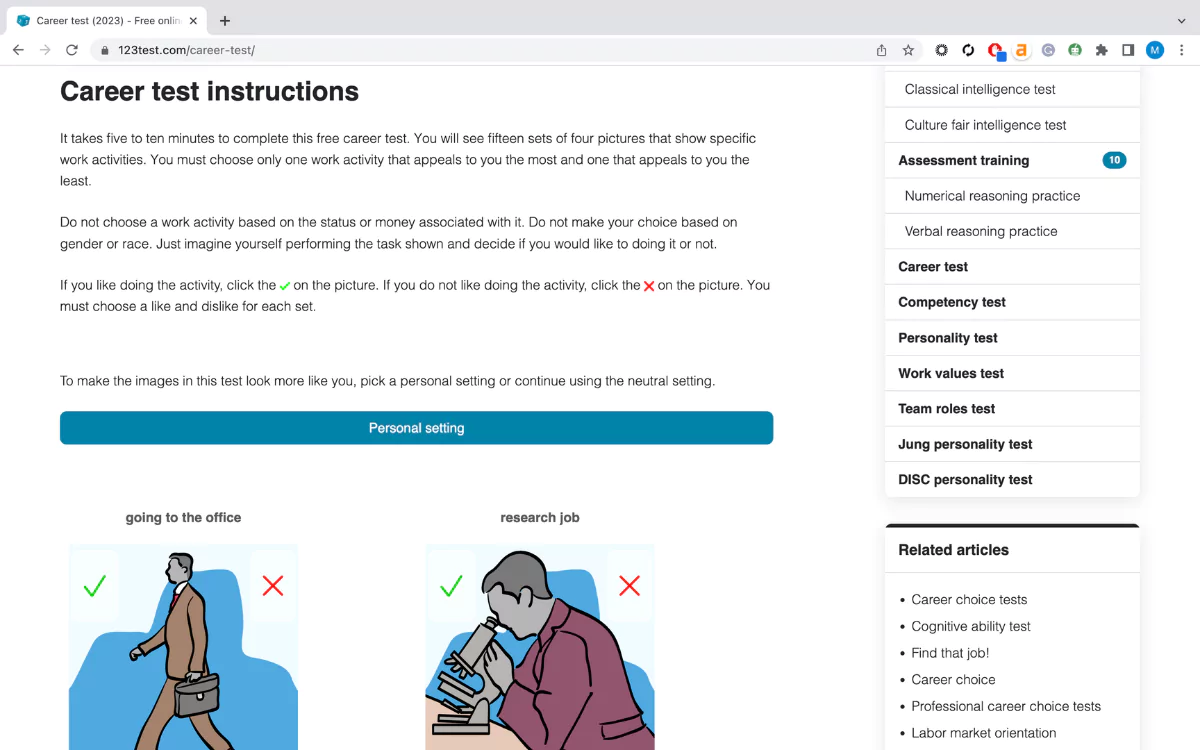 Test Procedure and User Interface
The 123test career test only has fifteen questions and takes up to ten minutes to complete, but there isn't a time limit. I needed about five minutes and encountered no technical difficulties or issues with the test.
The user interface is nothing extraordinary but still looks modern and updated. Only one question occupied the page at a time, and 123test didn't let me return to previous pages to change my answers. I didn't notice any unique features while taking the test, but I understood how to progress through the questions and make it to the end.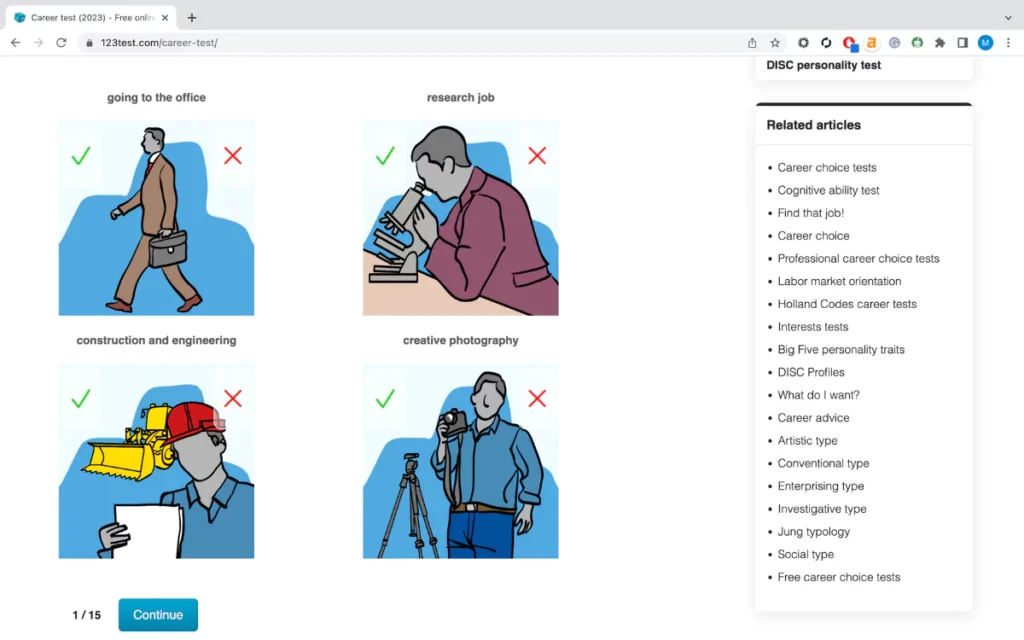 Question Types and Clarity
Each question had four images that represented a different work activity. I had to indicate which one I liked the most by clicking on a green checkmark and vice versa with a red X. I left two options blank, meaning they were the job tasks that fell somewhere in the middle of my preferences.
None of the questions were challenging or hard to understand, but I had to consider which one I loved and despised the most carefully. Some of them had clear answers, while others required more thinking on my part to give the most accurate answer.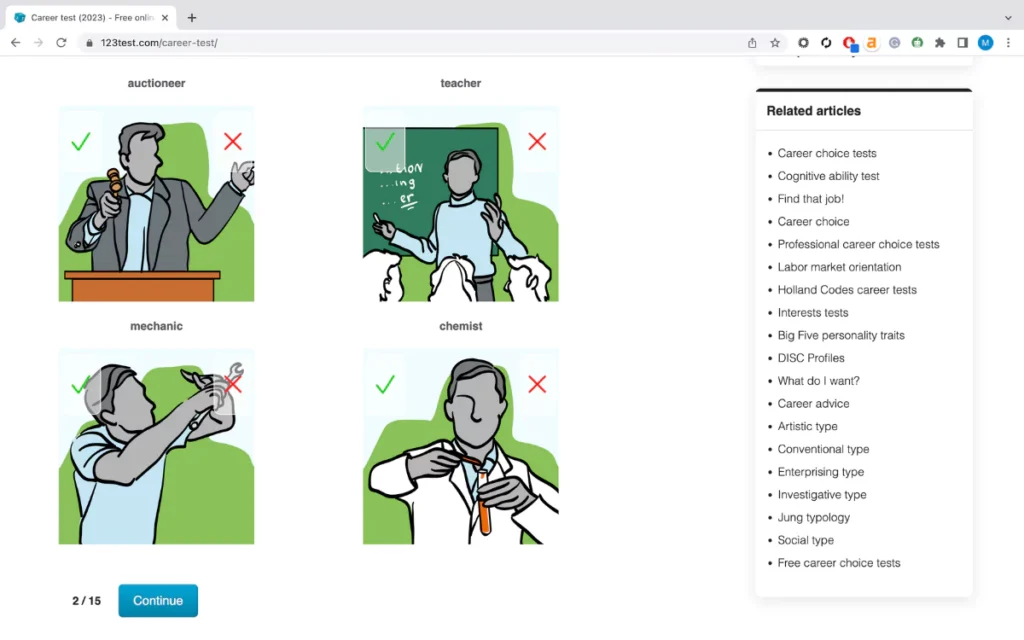 Privacy and Data Handling
123test claims it does not sell personal information to third parties, but it doesn't have a formal privacy policy at the bottom of the homepage. I had to find its data handling policy on the FAQ page, but it should've been easier to find on the website.
Customer Support
123test has a general inquiry contact form on the contact us page at the bottom of the homepage. Users can also email inquiries directly to info@123test.com. However, the page doesn't specify estimated response times or customer service availability.
What Did My Results Reveal?
I wasn't counting on much considering the report was free, but I still gave it the benefit of the doubt to see what I could learn. Here's what I encountered:
Report Delivery
I received my report immediately after I finished the test and entered my personal information. I can access the results directly on 123test, but I had to sign up for an account to save them for later. Additionally, 123test lets me keep my report as a PDF, or I can connect with Facebook, Twitter, LinkedIn, or Google accounts to share.
Presentation and Depth
My career test results cover Holland Code personality types, my personality type, and my top job matches. However, the report needs to provide more in-depth information on the Holland Codes, and I'd recommend reading elsewhere if you truly want to understand what they mean.
I learned that I'm primarily "Enterprising," "Investigative," and "Social," but 123test only lists a handful of qualities that embody these traits at the beginning of the report. While they have a more detailed explanation of the Holland Codes on a separate blog page, 123test doesn't include a link on the report.
The report has a clean presentation, but it doesn't explain my personality type in detail or have unique elements that distinguish it from other career tests.
Relevance and Usability
Overall, I found the career test report somewhat relevant to my career search, but I couldn't gather why I received the job matches I did. Each career has a match score related to my personality type, but 123test doesn't explain how the career appeals to my preferences, skills, future outlook, and so on. Moreover, the career recommendations felt a bit outdated and didn't fully reflect today's job market.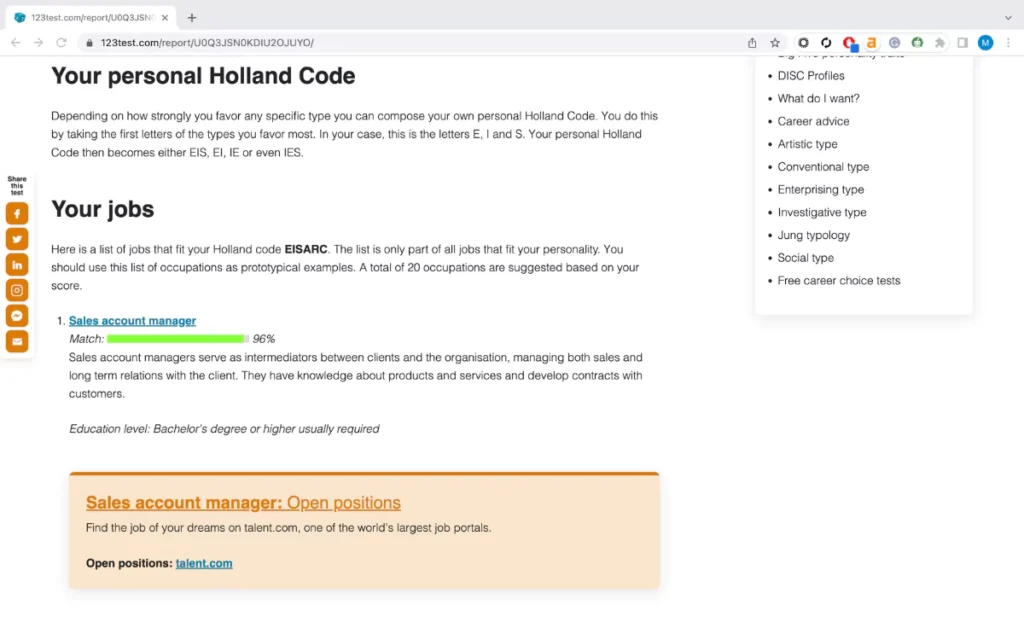 Because the report only has generic information based on my personality type, I don't envision myself using it any further. I didn't receive personalized advice, detailed personality insights, or helpful career tools that will make it worth revisiting.
The initial insights gave me some things to consider, but I wish the report had more relevant and current career information to use deeper in my career search.
Post-Test Support and Resources
123test has several blogs and articles for career searching, self-assessments, and related topics. My career matches also link to an expanded overview of the specific profession, which covers required skills, similar disciplines, general details, and a job search tool. While these may be helpful for someone completely unfamiliar with their suggested careers, it needs more detailed and updated information, like salary data and future outlook.
Do I Recommend the 123test Career Test?
For less than 10 minutes and at no cost, the 123test career test offers a decent starting point for a career search. I learned a few things about my personality type and basic career possibilities, but I'm still left with questions and plenty of room to explore.
For the best experience with usable results, I recommend using the career test on JobTest.org, which constantly updates with the latest career data and statistics to reflect the ever-changing job market. My results had tons of relevant information, including a detailed analysis of my work personality, top career matches, and additional support tools.
My experience with JobTest.org was the best out of any career test I've tried. My report was made for me, not my personality type, and gave me valuable insights into navigating each career field. Head over to JobTest.org to try its career test and see what you can learn, whether you're a student looking for your first career or an adult looking for a change.
| | JobTest.org | 123 Career Test |
| --- | --- | --- |
| Work Personality Assessment | | |
| Career Recommendations | | |
| Personalized Feedback | | |
| Industry Expertise | | |
| Work Environment Matching | | |
| User Experience | | |
| Multiple Languages | | |
| Post-Test Resources | | |
| Career Change Assistance | | |
| Dedicated Customer Support | | |
| | Learn More | Learn More |