17 Best Scholarships for Disabled Students in 2023
Ever since the Americans with Disabilities Act (ADA) was signed into law in 1990, colleges, universities, and trade and vocational schools have made great strides in creating a more level playing field for college students with disabilities. Financial aid programs have expanded rapidly. Those changes have torn down many of the barriers that made it harder for disabled students to access the same opportunities as everyone else when it comes to pursuing higher education.
About Scholarships for Disabled Students
Today, the physical environment of many college campuses is much easier for physically disabled students to navigate. In addition, educational strategies and facilities are specifically designed to assist undergraduate students and graduate students with learning disabilities and emotional, mental, and physical health challenges to succeed and earn a valuable college degree or professional certification.
Those improvements have made a real difference for students once they get to college, technical college, or vocational school. Still, many students with disabilities face equally daunting financial aid barriers when it comes to finding the money to pay for their education while also taking care of their health needs. For too many, that's meant giving up before they can finish school or never starting at all.
As those financial challenges have become more recognized, however, many organizations have stepped up to provide financial aid dedicated specifically to making higher education at an accredited college more affordable for students with disabilities both during their years at school and afterward, when student loan debt can create impossible burdens.
Scholarships for disabled students help them stick with college and even earn a graduate degree and make it possible to avoid piling up unsustainable amounts of student debt along the way. There are programs aimed at students dealing with a specific disability and more awards available to students with a wide range of physical or cognitive disabilities, including learning disabilities. These scholarships can help many populations of people who struggle to find financial support as they consider ways to pay for a bachelor's degree program, and in the future, possible graduate programs.
Of course, high school students, undergrads, and graduate students with disabilities are frequent winners of many other annual scholarships. These can be ones where they qualify due to their academic excellence, family financial status, musical and athletic talents, ethnic or national background, and many other criteria.
Top Disability Scholarships to Apply For
There are many different options when it comes to the top disability scholarships to apply for. Included in this list are also scholarships based on possible student interests, academic goals, personal outlooks on life, and topics like environmental activism.
Amount: $500
Application Deadline: August 20, 2022
This award seeks to support students who have been affected by congenital heart disease either personally or through a sibling. Any high school student with at least a 3.0 GPA who has a form of congenital heart disease or a sibling with congenital heart disease may apply for this award. To apply, students will need to share about their experience and their family's experience with congenital heart disease, including the type and the way that it has directly impacted them.
Amount: $4,150
Application Deadline: August 1, 2022
This award aims to honor John D. Sherman by supporting low-income students or students with financial instability who live in Vermont and have MS or other disabilities. To apply, students need to share how they have persevered through their disability or other obstacles to get to this point in their education for the pursuit of their goals and interests that they are passionate about.
Amount: $500
Application Deadline: August 15, 2022
This award aims to honor much-loved furry friends and their loving owners by awarding one student $500 to put towards their education. Any high school senior, undergraduate, or graduate student who's a U.S. citizen or permanent legal resident and has been impacted by a dog may apply.
Amount: $500
Application Deadline: August 15, 2022
This award seeks to support students who are passionate about health, wellness, and leading physically and mentally healthy lives. Any high school senior, undergraduate, or graduate student who's a U.S. citizen or permanent legal resident and passionate about health and wellness may apply for this financial award.
Amount: $500
Application Deadline: August 15, 2022
This award aims to show appreciation for pets and their loving owners by supporting pet-loving students pursuing postsecondary education. Any high school senior, undergraduate, or graduate student who's a U.S. citizen or permanent legal resident and has a pet they love may apply.
Amount: $500
Application Deadline: June 30, 2022
This award aims to support students who are passionate about caring for seniors and improving their lives. Any student who is involved in caring for seniors may apply for this award. To apply, students will need to share one thing they do to make the lives of the elderly people in their community better.
Amount: $500
Application Deadline: June 25, 2022
This award exists to support students who are passionate about making sure future generations have access to education. The scholarship is open to all students and non-students from any field of study. To apply, students will need to write about one change to education they believe would positively impact future generations.
Amount: $500
Application Deadline: June 25, 2022
This award exists to support a student who is passionate about thinking deeply and making a positive impact on the world. This award is open to all students from any field of study. To apply, students will need to share which problem they think poses the greatest threat to the world, and one way to work towards fixing it.
Amount: $500
Application Deadline: June 25, 2022
This award exists to support one student with a great mind who is passionate about using their mind to the fullest in order to benefit the world. This award is open to any student from all fields of study. To apply, students will need to share about a historical figure they admire, and why.
Amount: $500
Application Deadline: June 24, 2022
This award will support one student who is struggling with mental health or is passionate about helping others who struggle with mental health. This scholarship is open to all students. Students can apply by sharing what they think should be done to help people who struggle with mental health.
Amount: $100
Application Deadline: June 12, 2022
This award exists to support someone who is committed to being a generous beacon for those around them. The award is open to all students and non-students from any field of study. The only requirement is that applicants believe in the power of generosity and strive to help those around them whenever they get the chance.
Amount: $500
Application Deadline: April 16, 2022
Millions of people suffer from various physical and mental disabilities, and unfortunately, they also deal with disability discrimination and disproportionate representation in the impoverished population.
Continuing discussions and raising awareness for people with disabilities is fundamentally important to ensure equal rights, treatment, and opportunity for all people. This is one of several awards that seeks to assist students in need.
To support those with disabilities, the WiseGeek Disability Scholarship will be awarded to one student at any grade level or field of study who has a disability and large ambitions for their life.
Eligibility Requirements
Students with mental or physical disabilities
U.S. Citizen or permanent legal resident
Amount: $1,000
Application Deadline: May 5, 2022
This award aims to support austistic students who are pursuing or planning to pursue post-secondary education. Any high school or college student who is on the autism spectrum may apply for this award. To apply, students will need to share an essay or video telling us about a dream or goal of theirs and how higher education will help them achieve it.
Amount: $1,170
Application Deadline: March 31, 2022
Individuals with diabetes deserve to be recognized for their resilience and determination to keep going even when things get tough. This award will be given to 20 individuals who live fearlessly and fight to make the world a better place despite their diagnosis. To be eligible, students must be a high school senior or an undergraduate in a 2- or 4-year program who has diabetes. To apply, students will need to upload a short video that is two minutes max, answering this question: How do you live fearlessly with diabetes?
Amount: $1,000
Application Deadline: March 20, 2022
Having a learning disability is a challenge for many students, but it shouldn't get in the way of students seeking to fulfill their dreams. This is something that Dylan was truly passionate about. Dylan's Journey Memorial Scholarship will be awarded to one student with Neurofibromatosis (NF) and/or a learning disability of any variety. High school, undergraduate, and graduate school students are eligible to apply. To apply, students will need to submit a video or write an essay that tells about their experience with NF or a learning disability, their motivation for pursuing higher education, and why they feel they are a good candidate for this scholarship.
Amount: $1,000
Application Deadline: April 30, 2021
Actor and disability activist RJ Mitte created this $1000 scholarship to help students who deal with disabilities overcome challenges and pay for school. Mitte says that his own experience with disability has taught him that no one can stop you from achieving your dreams. Applicants are asked to write a 250- to 750-word essay explaining, " How has your experience growing up with a disability influenced your choice of field of study and your goals for the future?" Applications are due by April 30 each year, and the awards are announced in mid-May.
Amount: $1,000
Application Deadline: April 30, 2021
College is hard work for everyone, but it can be even tougher for those of us who need to manage a chronic condition like Type 1 Diabetes. For people pursuing their degree during the pandemic, those challenges are even greater. The T1D Warrior Scholarship provides $500 to help a high school senior or undergraduate student who has Type 1 Diabetes pay for educational expenses. Each year, the scholarship is awarded to a student who is successfully managing their own diabetes and influencing others to do the same. Include an essay describing how you've embraced the burden of your diabetes for the benefits that it provides. The 2021 deadline is November 6, and the award winner will be announced December 6.
Where to Look for Scholarships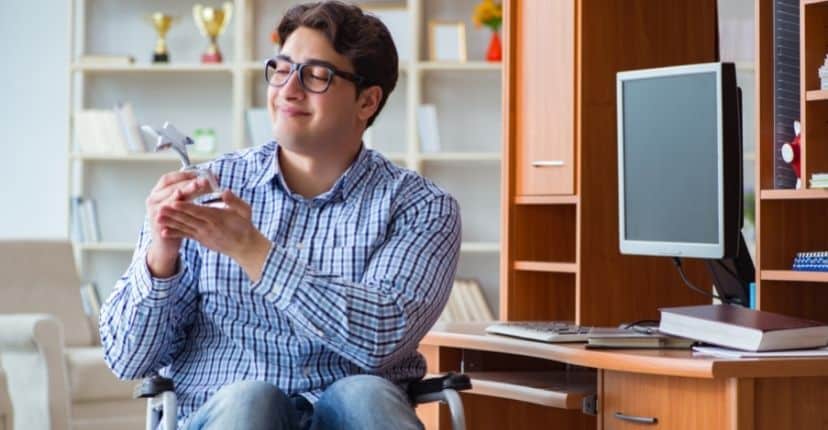 Scholarships for disabled students pursuing a college education are available from the federal student aid program and from many private sponsors operating in every part of the country, including large national organizations, state and local programs, and many non-profit endowments created by individual people and businesses.
For high school seniors and high school juniors, the place to start looking for disability scholarships is at your college advisory office and the special needs office if your school has one. They will know about many of the high-profile tuition assistance programs available from a national federation but may also have leads to local organizations.
Check with the national offices of large non-profit organizations that focus specifically on the disability or disabilities you contend with. Even if they don't offer a free scholarship program themselves, they will provide you with extensive lists of scholarship sponsors.
Check with college financial aid offices for any awards available to eligible applicants based on a documented disability, academic achievement, financial need, and other factors.
Even with those resources available, finding and learning about how to apply for some of the thousands of available scholarships (and millions of available dollars) can be a challenge. That is why online scholarship information and assistance services like Bold.org and WiseGeek put major resources in place to make that search easier and more effective.
Those services will do much more than give you a long list of scholarship funds with programs you might qualify for. They have built online application systems that allow you to input information about yourself and then help match you to the best possibilities based on your profile. You'll find out about deadlines for applying for annual scholarships and any special requirements you'll need to meet. They can answer any questions you have about their process and the whole financial aid and scholarship jigsaw puzzle. Depending on the scholarship rules, they may even submit your application for you.
Most of these services can also connect you to help with boosting your grades or test scores and help you strategize about what to put into a personal essay or other pieces that some sponsors ask for as part of your application package.
Types of Scholarship Sponsors
As mentioned above, many public and private organizations and individuals generously fund millions of dollars in scholarships each year. Much of it awards money in support of those of us with disabilities that make it more challenging to access the same educational and social resources that many people don't understand.
Hopefully, most of our disabled students have a solid support system in place in parts of our lives. You can suggest to someone you admire that they create a scholarship fund to help folks who need it. You can suggest who they might support.
Talk to your pastor, your imam, your rabbi – or ask if anyone you know talks to them. Every religious and cultural community wants to help us to succeed. They know someone to contact and where to find out more.
Non-profit organizations exist to do noble work, and supporting students with disabilities to avoid student debt is a noble investment. Ask if family or friends know of any non-profits focused on helping communities in your area. Many support training programs you can participate in as part of the scholarship program. And they are all connected to corporate scholarship funders.
Corporations and business associations are always looking for ways to help us succeed and to get noticed for doing so. Chambers of Commerce, regional business alliances, local offices of large enterprises all offer enticements to learn more about their business so you can be more valuable to them later on. Paying off student debt only provides financial benefits to a few large lenders and their networks. And it is well-documented that financially stressed workers are less engaged and creative.
Scholarship Application Strategy
Make a plan. Find out what you need to know. Then find out where you can find that information. Your financial aid office is a good place to start. Figure out the system, and you will be able to have a chance at multiple scholarship awards each year of school. Stick to your scholarship search plan, and you'll remember to apply.
Start right now. Make a calendar.
Deadlines are critical. Can you keep track of them all? For some of us, keeping track of deadlines can be tough on top of everything else in our lives, but keeping track is a good job for software. Online services like Bold.org use tech to make sure your scholarship applications get in on time and, if you miss a deadline, let you know when you can apply again.
Plus, remember that being a disabled student doesn't make you automatically qualified for every scholarship. But all the other important things about you probably will qualify you for more than one scholarship each year. How are you different? Family background, special interests, where you live, talents, and more all help to define who you are. Whatever group(s) you identify with, there is likely to be a scholarship of some size aimed specifically at people like you. Look for those things as you research scholarships. Some applications require you to tell the scholarship board why you are a good investment. Make sure you can tell them the story that explains why you are where they should put their money.
Then keep applying. Scholarship application deadlines fall on every day on the calendar and it's never too early to start applying. And doing the research upfront helps you figure out what works and how to use online scholarship services effectively. Then just keep applying. Don't waste the scholarship decision makers' time with "spam applications" but apply everywhere where you can tell a compelling story about why you should get the award.
It's best to apply to relevant scholarships of any kind or amount, including any type of academic scholarship, musical scholarship, merit-based scholarship, and even an annual scholarship. Many of these awards aim to support students at all levels, including anyone who is an undergraduate student or graduate student. There are many scholarship opportunities out there, and these awards can add up and take away some of the financial burdens that comes with paying for higher education.
Commonly Asked Questions About Scholarships for Disabled Students
What percentage of students with disabilities go to college?
Less than 25 percent of students report that they have a disability. Because it is illegal to ask a student who applies to college if they have a disability, that statistic is much lower than the actual percentage of college students with some form of recognized disability. Disabilities include learning and mental disabilities, as well as physical disabilities and researchers, estimate that approximately 50% of adult Americans experience some form of mental or emotional illness during their life.
Can I get a scholarship for being a disabled student?
Yes. There are hundreds of scholarships available to students with a wide variety of learning disabilities, as well as mental and physical health challenges. Online scholarship search and assistance services will help you find the ones you qualify for. Awards are available for students looking to attend trade school for vocational training, community college, four-year colleges, and every other type of accredited school.
When should I start applying for scholarships?
Every scholarship had different deadlines and start dates for accepting applications. It is always a good idea to send in your application as close to the start date as possible. Early bird students definitely get more scholarship offers. Some scholarship organizations accept applications as early as the student's junior year in high school while others will require that you've started your senior year. Enrolled students can apply for scholarships every year during their undergraduate program and post-graduate college years.
What types of scholarships are available for students with disabilities?
Students with disabilities have access to the full range of merit-, talent-, and needs-based scholarships for students attending accredited universities and colleges. In addition, there are hundreds of scholarships available only to students with disabilities. Scholarships range from a few hundred dollars to help pay for books, lab fees and other college expenses up to full-ride financial assistance awards that cover essentially all the costs of attending an accredited vocational school, community college, and public or private universities.
What to consider when applying for scholarships?
When applying for any scholarship, the most important considerations are whether you meet the requirements shared by the funders and how many scholarships you can realistically apply for. There is a lot of work involved in crafting a unique essay or other personal material like a video or design portfolio for scholarships that include those requirements. That limits most students' ability to apply for more than a couple of those kinds of scholarships. But that doesn't mean you can't apply for many more. Sites like Bold.org make it very simple to apply for more than one or two no-essay awards each year.
How do I make my application stand out?
Your school record and test results are often critical for winning and keeping disability scholarships. Check out online tutoring and test prep services during your junior year, if not before, if you want to boost those scores. Beyond your academic achievements, highlight your unique interests and skills. Community service is a good way to get scholarship organizations' attention as well.
How can I increase my chances of getting scholarships?
Remember that these organizations exist for just one reason – to help high schools students and current college students like you. So read up on each scholarship's mission statement and think about how your education and work-life might contribute. Tell them how you will put their gift to work both during college and after.