For many students, complex subjects such as algebra can be a dreaded source of stress, frustration, and anxiety. Even if you already have an excellent teacher guiding you through the subject, certain students struggle to keep up with homework and perform well on exams. Rather than wait for the problem to get worse with time, there's an easy solution to all of your algebra woes: working with an online algebra tutor. Whether your child needs help with elementary algebra or college algebra, there are online algebra tutors and math tutors who are available to lend their services.
Receiving one-on-one instruction outside of the classroom can help students improve their academic performance, build confidence, improve study habits, and even help change their attitude toward school and academics. The trickiest part about the online tutoring process is finding the right online math tutoring service for you. To make things easy for you, we've reviewed ten of the best algebra tutoring services available and provided a breakdown of each service. Let's get started!
Learner
With high-quality tutors, an excellent tutor matching process, and standout virtual learning tools, Learner is one of the best online algebra tutoring services on the market. Fully dedicated to virtual learning, this innovative math tutoring provider has a very streamlined process for students to get started with online learning. First, students are matched with online tutors through a proprietary screening process. Students of all ages and grade levels can then choose to opt for either one-on-one sessions or a small group session. 
Regardless of whether you are taking a middle school algebra course or a college-level algebra class, there will be a math teacher who specializes in your subject area and syllabus. Learner only hires highly qualified tutors and has cutthroat qualifications that each employee must meet to apply to this network, some of which include a four-year college degree and several years of previous tutoring experience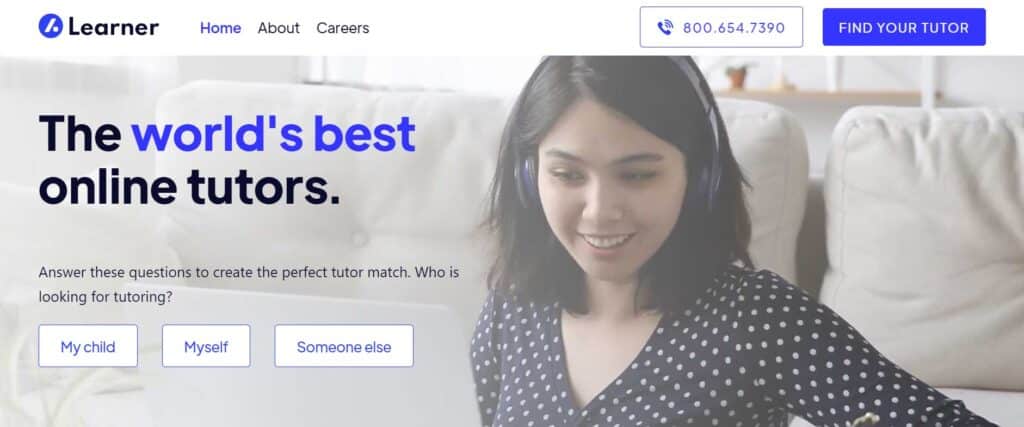 After every session, a math tutor will provide students and parents feedback on their progress, which includes both current struggles and successes. One of the most beneficial features that Learner includes in its tutoring sessions is its recording feature. Students will receive recordings of all of their sessions, which allows them to go back and review anything that they need to. Learner also offers a full satisfaction guarantee and every first tutoring session is free for clients. Pricing starts at $40 per hour. 
Pros:
Affordable pricing
Founded by experienced educators
Full satisfaction guarantee 
Excellent tutor matching
Records each online lesson
Includes feedback sessions after each lesson
High-quality tutors
Cons:
No in-person tutoring option
Bottom Line: With high-quality tutors, affordable hourly rates, a full satisfaction guarantee, an excellent tutoring matching process, and standout virtual tutoring features, Learner is one of the best online algebra tutoring services on the market.
Wyzant
Wyzant can be best described as a connection platform for students and teachers. To begin your tutoring journey, interested parties must go through a four-step process. First, you will answer several personal questions, then you will select an instructor. After a brief chat with your math tutor, you will then book your first lesson. Wyzant has a good fit guarantee, meaning that tutees get the first hour of their session free if they are not satisfied with their tutor.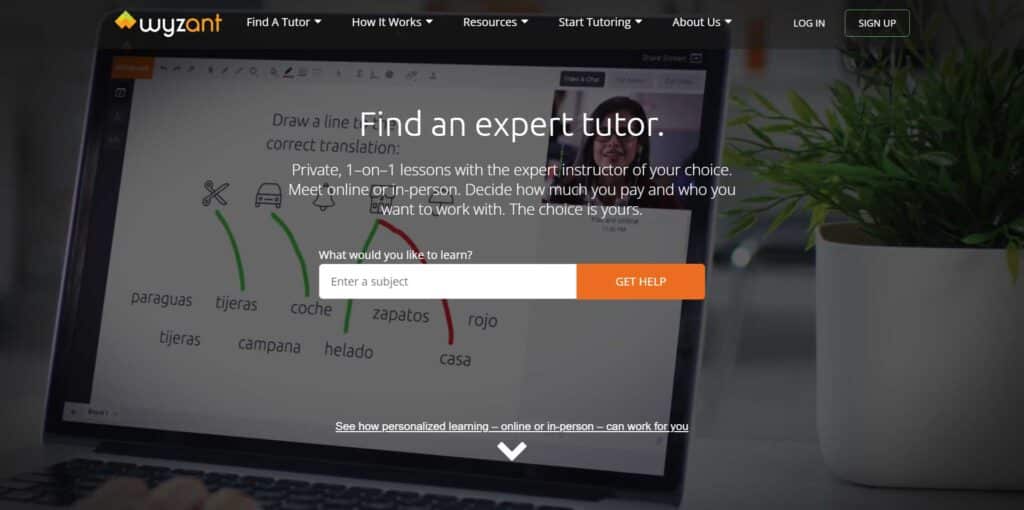 One of the major downsides of this online tutoring site is that clients have to do the heavy lifting of searching for their own tutor. However, if you want complete control over the tutor selection process, then this may be a good option for you. Wyzant has 80,000 tutors available in more than 300 subjects. Each tutor sets their own price rate, which ranges between $10 and $700 an hour. If you are looking for a more budget-friendly algebra tutor, you will most likely match with a university student majoring in STEM at an accredited institution. More expensive tutors will often be professional educators. 
Wyzant also includes a resource library with more than 1 million interactive lessons and videos created by private tutors. While this platform does not provide 24/7 access to tutors, customers can usually be connected with a tutor within one hour. 
Pros:
Library of free resources
Students can search for tutors based on hourly rates and skill level
Good fit guarantee 
Cons:
Tutees must match with a tutor themselves
Does not have 24/7 access to tutors
Relatively expensive
Bottom Line: Wyzant has 80,000 tutors available in more than 300 subjects, along with a resource library with interactive lessons and videos. This connection platform is catered towards individuals who want to select the tutor themselves, as they will not do the heavy lifting of finding a tutor best suited for you. 
Varsity Tutors
Varsity Tutors' mission is to help students who are balancing a busy schedule packed with sports, school, and part-time jobs. The company's Instant Tutoring feature is designed to provide students with help whenever they have a free moment in their day. This feature is especially helpful for a subject like algebra, when a student may simply be stumped by one particular problem. Fully integrated with mobile phones and other devices, students can use this platform on the way to school, in the locker room after sports practice, or even when they have a moment to spare at their after-school job.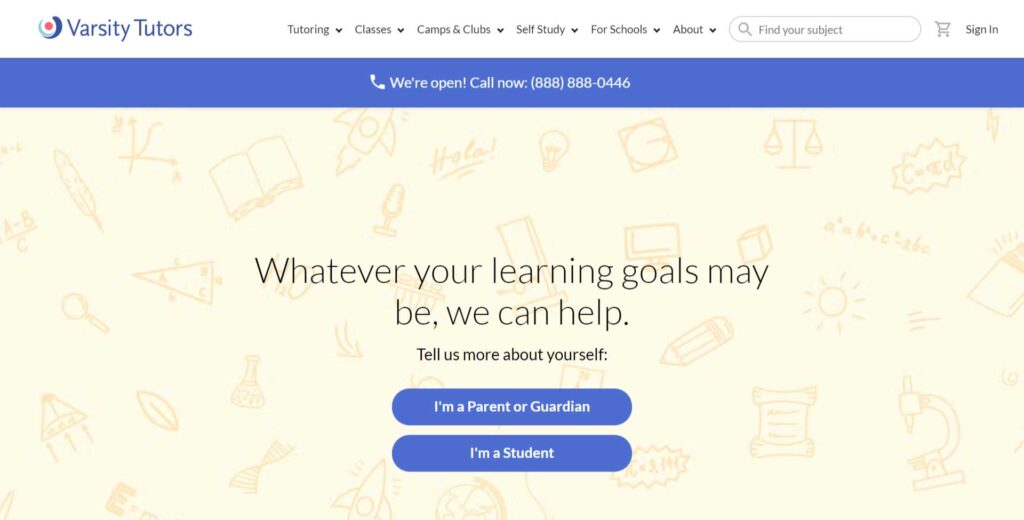 While its most popular feature may be its Instant Tutoring feature, this platform is better suited for students seeking out long-term instruction rather than occasional one-off homework help. This service matches students with a tutor who will then create a customized lesson plan for this student. Students must provide personal information, including their full address and zip code, in order to receive information about pricing and hourly rates. Varsity Tutors also as an abundance of free resources including practice problems, flashcards, and complete practice tests. 
Pros:
Instant Tutoring feature
Library of resources available
Customized lesson plans are provided for each student
Cons:
Hourly rates only available upon request
Previous customers have disclaimed that the quality of tutors differs vastly across the board
Bottom Line: Varsity Tutors' platform is especially helpful for students who are juggling a busy schedule and only have short time slots available for tutoring. 
Skooli
Skooli prides itself on offering high-quality tutors at budget-friendly costs. The majority of online teachers in Skooli's network are either former or current teachers who have taught kindergarten through high school level courses. Other tutors are certified with degrees in subjects such as algebra, high school algebra, linear algebra, and other specialized subjects. Students have the opportunity to search within the platform for a tutor based on hourly rates and area of expertise. Students can also read previous reviews for the tutor left by other students. Students also have the option to upload a certain question and get immediately matched with a tutor. 
Skooli is catered to those who are looking for occasional homework help or test preparation guidance. This platform is not designed for individuals who are looking for long-term tutoring. Skooli charges a flat, pay-as-you-go rate that costs around $0.82 per minute. Every lesson a student signs up for must be a minimum of 15 minutes. 
All tutoring sessions occur in an online classroom, equipped with a whiteboard, video, and text chat. If you want to go back and rewatch your lesson, you have the opportunity to do so. All of Skooli's lessons are recorded. 
Pros:
24/7 access to tutors
High-quality tutors at budget-friendly costs
All sessions are recorded
Cons:
No customized lesson plans
Platform does not cater to students interested in long-term tutoring
Bottom Line: With high-quality tutors and a pay-as-you-go payment plan, Skooli is a great online tutoring option for students in need of occasional homework help and test preparation guidance. 
Chegg
When it comes to budget-friendly tutoring options, Chegg is a great go-to. Students have the option to pay $6.95 for a one-off private tutoring lesson or $14.95 per month for unlimited tutoring services. For those who are specifically focused on algebra tutoring and improving their math skills, students can also pay an extra $9.95 for Chegg Math Solver, a feature that provides special assistance on how to use a graphing calculator. Chegg Math Solver also allows students to ask for help by uploading a photo of a homework problem. By doing so, the student should receive help on the problem within 30 minutes or so. With a Chegg membership, students also have the opportunity to search through Chegg's library of over 21 million homework solutions.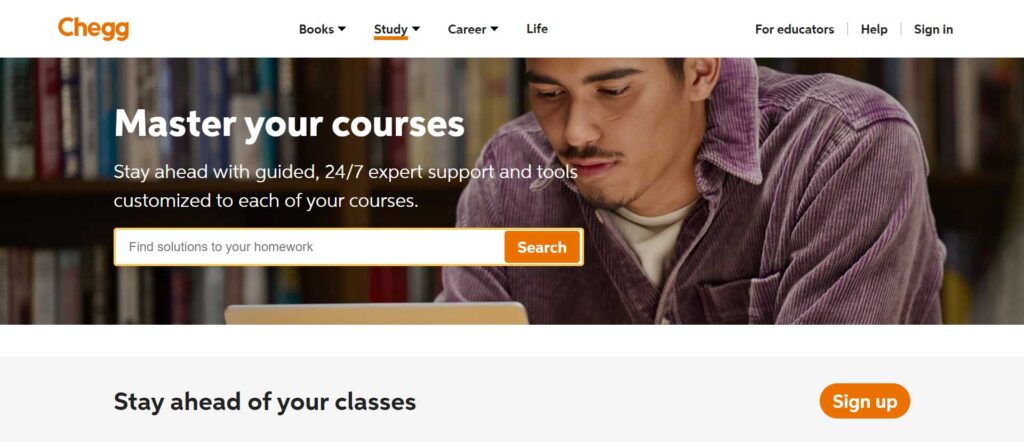 All tutors must pass a subject proficiency test in order to be admitted into Chegg's network. While their specialty is helping guide students through the college admissions process, Chegg offers tutoring in hundreds of different subjects including algebra, AP classes, and standardized test preparations. 
Pros:
Very budget-friendly
An extensive library filled with homework solutions
24/7 access to tutors
Cons:
No customized lesson plans
Not ideal for long-term tutoring 
Bottom Line: When it comes to budget-friendly tutoring options, Chegg is a great go-to. For approximately $25 a month, students can receive unlimited tutoring services and specialized math assistance. Not only can students search through an extensive library of homework solutions, but they can also upload a specific homework problem and receive help within 30 minutes. 
SpecialEdTutoring
If your child has special needs, sometimes a run-of-the-mill tutoring company with general lesson plans isn't going to cut it. That's where SpecialEdTutoring comes in. With every tutor having at least a Bachelor's degree in Special Education, SpecialEdTutoring operates on the understanding that students with special needs work best when they're in a familiar environment: home.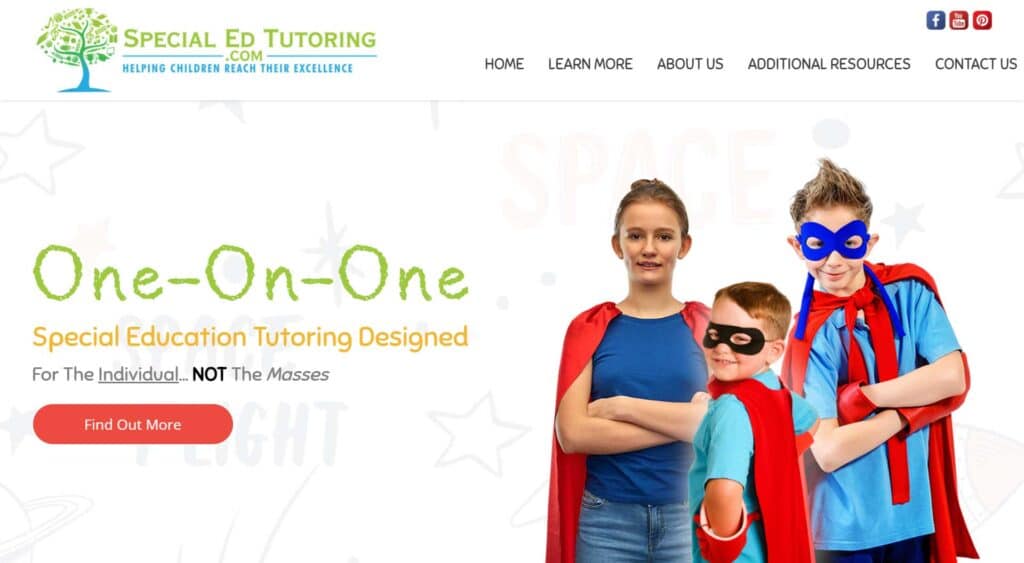 The first step to getting started with SpecialEdTutoring is signing up for a free consultation. During this consultation, parents will discuss their child's learning style, needs, and what they think a good tutoring fit would be. Pricing will be another factor that is discussed in the initial consultation, as plans very much vary from student to student. An added bonus? If you are a parent who is homeschooling a child with special needs, then SpecialEdTutoring can even help you design a curriculum best suited for your child. SpecialEdTutoring is best suited for individuals who are seeking long-term tutoring rather than students who need one-off homework help. 
Pros:
Every tutor has a Special Education degree
Will help homeschooling parents design a curriculum for their child
Cons:
Pricing plans are not provided upfront 
Tutoring services are only geared toward students with special needs
Bottom Line: With every tutor having at least a Bachelor's degree in Special Education, SpecialEdTutoring will help you find a long-term tutor that suits your child's learning style and overall needs. 
Club Z
All online math tutoring services have a focus and Club Z's is holistic tutoring. This tutoring service aims to help students not just with subject-specific skills, but also help improve students studying habits and classroom confidence. To get started with Club Z, students must complete a short survey that outlines the subject they need assistance with and the tutoring schedule they are hoping to abide by. Every tutoring session will occur in a virtual classroom, equipped with a whiteboard and video features. Students will also have the ability to download each recorded session and review the lesson as needed. All Club Z tutors hold an educational degree and have relevant and previous tutoring experience. Some tutors are also certified to work with students who have special needs.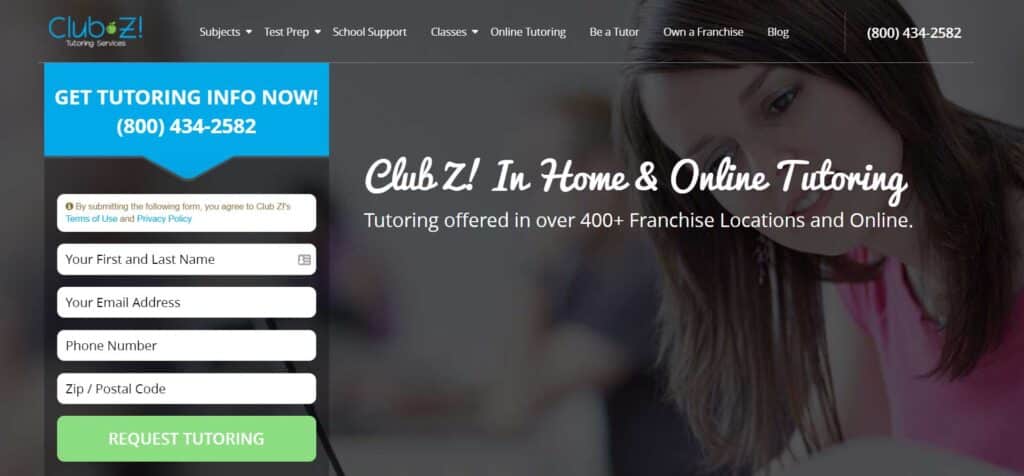 Club Z's three available tutoring packages are four hours per week ($231), eight hours per week ($415.80), or twelve hours per week ($554.40). If none of those packages suit your needs, you also have the option to create a customized package. Students also have the option to peruse Club Z's various math-related articles in their spare time. Access to these articles is included in the tutoring packages and a few of these articles are algebra-related. 
Pros:
Lessons are recorded
Highly qualified tutors
Focus on "holistic tutoring"
Cons:
Bottom Line: If you are willing to invest a pretty penny, Club Z offers high-quality tutoring sessions that help students improve upon subject-specific skills, as well as study habits and classroom confidence. 
Learn to Be
If the high cost of online tutoring has been an obstacle for you, Learn to Be might just make all of your dreams come true. This non-profit's "choose if you can pay" model aims to help low-income families by offering free or low-cost services. Since the non-profit was launched in 2012, Learn to Be has helped more than 2,000 families in need.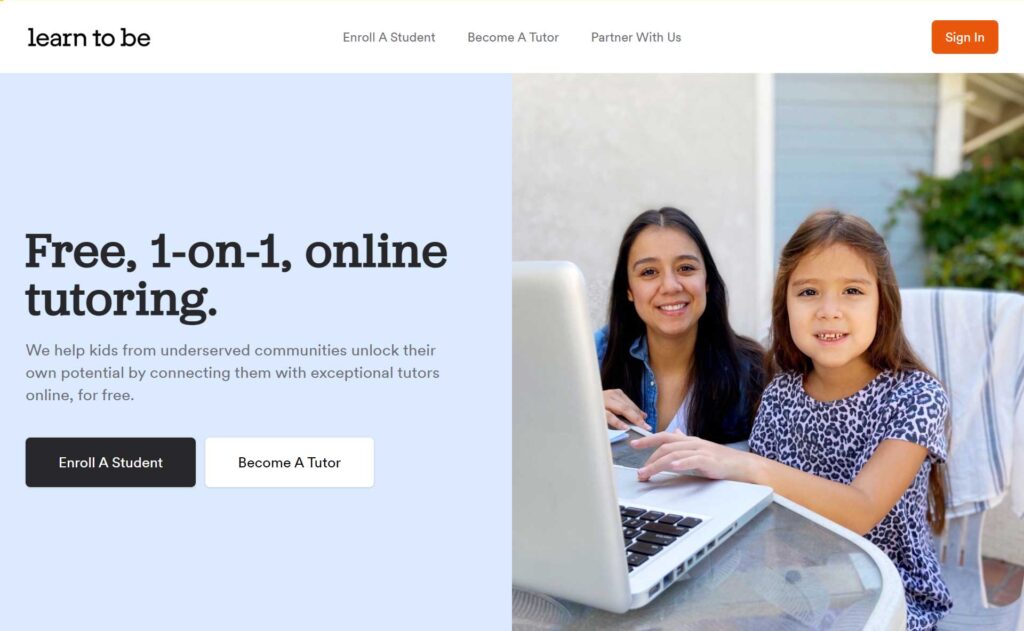 That said, not just anyone can benefit from Learn to Be's budget-friendly platform. Students must fill out an extensive application that includes sections for parents, school teachers, and others. Once you have been approved, Learn to Be will then match you with a tutor and create a customized lesson plan for you. This platform offers tutoring for students in kindergarten through high school in core subjects such as math, English, science, and history. 
Pros:
Mission helps low-income families afford tutoring services
"Choose if you can pay" model
Cons:
Lengthy application process
Only assists with core school subjects
Bottom Line: If you come from a low-income background, Learn to Be is a non-profit that can help make online math tutoring an affordable option for you. If your application is approved, you can then receive assistance in various core subjects including algebra and pre-algebra. 
Mathnasium
Mathnasium is best known as a neighborhood math-based learning center, with over 1,000 locations across the country. In recent years, Mathnasium has also built an online platform that offers customized one-on-one math tutoring programs taught by high-quality teachers. Whether you are a struggling math student, someone trying to pass intermediate algebra, or a mathlete who wants to advance your skills even further through prodigy math tutoring, Mathnasium will be able to cater to your needs.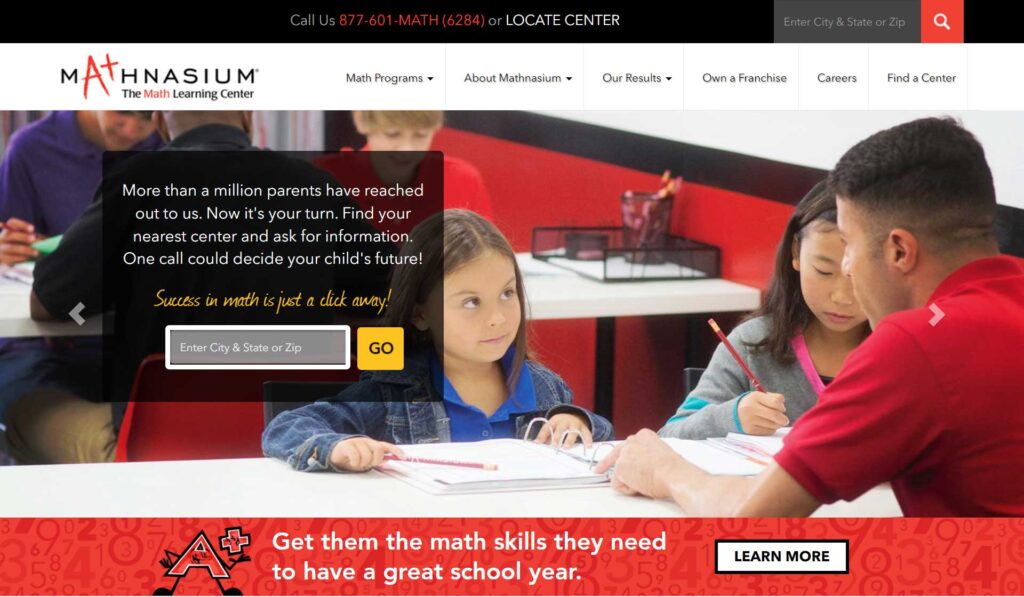 This program begins with an assessment of each student's current understanding of relevant math topics, including algebra. After reviewing your assessment, a private tutor will design a personalized curriculum that caters to your general strengths and weaknesses. Homework help and test preparation will also be incorporated into each lesson plan, along with frequent assessments which are used to measure and evaluate each student's progress. Online programs vary from zip code to zip code, but typical packages range between $200 and $300. 
Pros:
Math specific tutoring platform
Customized lesson plans taught by experts
Regular evaluations and feedback sessions
Cons:
Payment packages are not designed for on-demand homework help or one-off sessions
Relatively pricey
Bottom Line: Whether you are learning algebra for the first time or an advanced mathlete who wants to advance their skills even further, Mathnasium will be able to cater to your needs. While participating in this program may be a financial investment, it is a great option for those interested in long-term math tutoring. 
Acquired by the Princeton Review in 2014, Tutor.com is a very well-rounded online tutoring service. Each one of the tutors in their network is available either online or through the mobile app and can assist students in more than 250 subject areas. Some of these subjects include core curriculum courses such as math, science, and the humanities, as well as standardized test preparation. If you or your child are struggling with other essential skills such as note-taking, organization, or time management, Tutor.com can also help students improve in those areas, as well.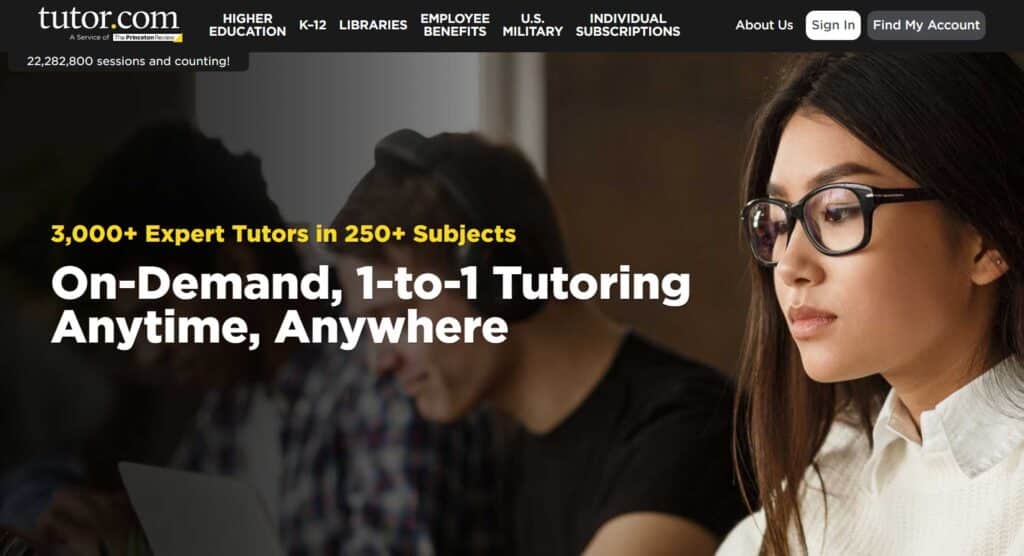 Prices vary depending on the package you select. Students can opt for an hourly or a monthly pay rate. Hourly rates start at $40 per hour. If you come from a military family, this online tutoring company offers complimentary services. 
Pros:
Assists with school subjects as well as study skills
Relatively affordable rates
Tutors are available 24/7
Cons:
Not catered towards those looking for quick homework help
Bottom Line: With 24/7 access to tutors, relatively affordable rates, and a wide range of tutoring subjects available, Tutor.com is a comprehensive and well-rounded online tutoring service. 
How to find the right online algebra tutor for your needs
With so many top-notch online algebra tutoring services available, the question becomes, which is the best one for you? While all of the online tutoring services listed above are certainly top-notch services, not all of them are going to cater to your specific needs. The first factor to consider when selecting the right online algebra for you is: what are your academic goals and priorities? If you are only looking for occasional homework help, you may want to select a tutoring service that has tutors available 24/7 and a pay-as-you-go plan. On the other hand, if you are looking for long-term tutoring, you may want to select a company that has great tutor matching and offers personalized lesson plans that cater to your strengths and weaknesses. 
Hourly rates and payment plans will also be a factor to take into consideration. Sit down and calculate how frequently you want to meet with a tutor and how much you can afford to spend on a tutor per month. This will easily help you eliminate services that are outside your price range.
How we chose the best algebra tutoring services
All of the online tutoring services included in this round-up are established and accredited companies with high-quality tutors and standout online learning tools. More importantly, this round-up includes a wide variety of tutoring services that cater to students of all backgrounds and learning needs. 
We made sure to include tutoring companies that cater to both younger students and college students looking for both long-term instruction and one-off homework help. Additionally, regardless of what your financial background is, one of these tutoring services will also suit your needs. While some of these tutoring companies appeal to the average student, others specifically cater to military families, low-income families, and students with special needs. 
Benefits of online algebra tutoring
There are numerous benefits to online algebra tutoring. Like in-person tutoring, online tutoring doesn't just help students with math courses and exam preparation, but one-on-one tutoring also helps elementary and high school students build confidence in the classroom and good study habits. Even if you already have a top-notch algebra teacher at school, no learning experience can compare to receiving one-on-one lessons that cater specifically to your algebra skills. 
To top that off, online tutoring is often more affordable and convenient than in-person tutoring. Many online tutoring platforms have thousands of tutors in their networks, meaning that there is a one-of-a-kind tutor out there that will especially appeal to your schedule, learning style, and skill level. Not to mention, students can often receive assistance at a moment's notice, easily fit tutoring into their busy schedules, and save time and money on commuting. 
Advice For Learning Algebra Online
Some people struggle with the idea that they might benefit from tutoring services. But receiving help is not a mark against you. Instead, getting tutoring help proves that you prioritize your education. 
Learning online may be more difficult for some than learning in person. Here are a few tips to keep yourself engaged. 
Put Your Phone Out of Sight 
This guideline is for phones and any other distracting devices. It's tempting to check messages or other notifications, but it's essential to give your tutor undivided attention. Remember that your tutor's goal is to help you grow and learn. 
Close Unnecessary Windows on Your Computer 
Make sure also not to open distracting windows during the tutoring session. Most tutors can tell when a student is distracted and looking at something else. Plus, if you aren't paying attention, you won't receive the full benefits of the session.
Take Notes
Sometimes, students believe that paying attention is all they need to do during a tutoring session. But that claim is only accurate for a select few, such as people with photographic memories. 
Most need a reference to remember new material. Taking notes may seem like too much work, but it pays off in the end. Notes can come in handy when you can't remember an equation, 
Not to mention that scientists have proven that writing information down by hand helps memory recall. Taking notes online or through digital methods does not have the same effect. So it's best to pick out a notebook and use that to take your algebra notes. 
Stay Organized
Organization is key to successful learning. For example, it's important to keep your algebra notes in one place, like one particular notebook. That way, you know where they are and can look at them for reference when you study for your next test.
In some cases, students use one notebook or folder for every class or subject. But this system may confuse you later, especially if you know you have trouble keeping organized. 
How To Become an Online Algebra Tutor
Becoming an online algebra tutor is easier than it sounds. But you must ensure that you have an advanced understanding of the subject. 
Some tutors have certificates and degrees, but not all of them do. Those without degrees can still apply to become online tutors. But it's easier to become one with a degree. 
Online employers often prefer candidates with experience, so you may want to start tutoring in person before searching online for jobs. You could make flyers and post them in your school. You could also ask your friends if they need help. After a few years of experience, online tutoring programs will be more likely to hire you. 
However, the application and hiring processes for online tutors vary depending on which platform you use. Some websites may request a background check or an interview. Others may ask you to set up a profile and wait until students contact you. 
Ways To Find an Algebra Tutor In-Person
Perhaps you have looked at online tutoring programs and decided they weren't the right fit for you. Now what? Where do you go next?
Online tutoring is not the only available option. If you want to connect with an in-person tutor, here are some ways to find one. 
Your school is a wonderful place to start. First, you may want to talk with your algebra teacher. They will usually know the rate of your progress and the topics that you struggle with already. This prior knowledge can make the tutoring process faster. Reach out to your teacher if you think you need more time to learn the concepts but like your instructor's teaching style.
However, you may not like your instructor's teaching style. Maybe you struggle to understand their explanations of concepts. Then it makes sense to look elsewhere for a tutor.
Consider whether a friend or classmate may be able to help you. Is there someone who seems to understand the material easily? You could ask them to tutor you outside of school. Unlike teachers, these students may ask for an hourly payment. But you might also enjoy having a tutor closer to you in age.
FAQs
What are online algebra tutoring services
Online algebra tutoring services provide an alternative to in-person tutoring. These tutoring services use online teaching methods such as virtual classrooms, video, and interactive whiteboards to replicate an in-person learning experience. 
Who should use online algebra tutoring services
Whether you are struggling with algebra or you are a math whiz trying to build upon your already strong foundation, anyone can use and benefit from online algebra tutoring services. There are also online algebra tutoring services that are geared towards low-income families and students with special needs. 
How much do online algebra tutoring services cost
The cost for online algebra tutoring services varies across the board. Some services charge by the minute or the hour, while other services offer membership fees or monthly packages. 
What should you look for in online algebra tutoring services
There are a few factors that you should keep in mind when selecting an online algebra tutoring service. Pay attention to the quality of the tutors, the tutor matching process, and the learning tools that the service utilizes in each lesson. Some services cater more towards off-hand lessons and quick homework help, while other services are geared towards long-term tutoring. 
What are the pros of using online algebra tutoring services
Online algebra tutoring services are typically more affordable and more convenient than in-person tutoring options. To top that off, many online services have become adept at replicating the experience of in-person tutoring. With interactive whiteboards, instant messaging features, 24/7 access to tutors, and the ability to record and download lessons, online algebra tutoring services are superior to in-person tutoring services in many ways. 
What are the cons of using online algebra tutoring services
For some students, nothing can replace the experience of hands-on learning. If your child has a short attention span, learning disabilities, or special needs, then online algebra tutoring may not be the best tutoring style for them.