Best Online SAT and ACT Tutoring Services
ScholarshipInstitute.org is reader-supported. When you buy through links on our site, we may earn a commission. Learn more.
This complete guide will provide details about the best SAT and ACT tutors available online so that you can pass the test with flying colors. Your goal is probably to get a high score on the test. This is an excellent goal because it could open various unique opportunities for you. If you are looking for top-notch tutoring options, fear not. In this article, you will find the best online tutoring services available, their services, and their prices.
Let's Talk About Learner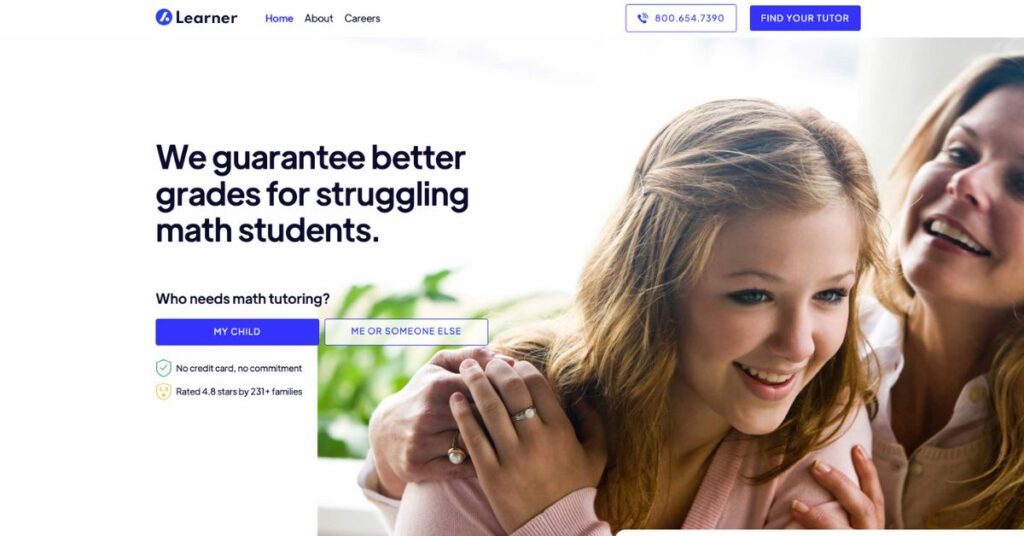 No doubt in mind, the number one pick for best online math tutoring services is Learner. They care about students and educational professionals. Learner created a platform that inspires students to keep going and changes how people think about education.
If you are at the top of your class or struggling to keep up in one of your subjects, Learner has you covered. The tutors are available online, and all go through a screening process. So don't worry, if you're looking for help with the math portion of your SAT and ACT, Learner has your back!
Learner was founded by educators, and they believe that positive outcomes in education are achieved if you combine mastery with passion.
Pros About Learner
Super Convenient online tutoring options
5-day free trial
Affordable
Easy to find a tutor
You dont need a credit card to sign up
Cons About Learner
Only math tutoring
There are really no cons check them out for yourself
About The SAT
The SAT is an exam that is used by most colleges to make decisions about admissions. The SAT is a multiple choice test and was created by the College board. The SAT measures high school students readiness for college.
It provides colleges with data on students ability to understand certain subjects. College admissions officers review SAT scores along side high schools students GPA. They may also look at the classes that students too and letters of recommendation.
The higher the score you get on the SAT the more options open up for you to attend college and receive scholarships. The SAT is a standardized exam and it is a very important part of the college admissions process. The higher your SAT score is the better the chance you have at attending your dream college.
There are many SAT prep course available to provide students with assistance before they take the exam. In this article you will find details on how to pass the test and also learn about some of the top SAT affordable online tutoring services available.
When Do You Take The SAT
High schools students prepare all year for the SAT test. Some schools have SAT prep courses included in their curriculum. Allot of students choose to get extra tutoring alongside the classes they have at school.
Usually students take the SAT around the spring of their junior year in high school or the fall of their senior year. Students have options to retake the test but make sure to do it before you apply to college.
What Is On The SAT
The SAT has three sections. The SAT has 154 multiple choice questions on these subjects:
Math – 58 multiple choice questions
Reading – 52 multiple choice questions
Writing and Language – 44 multiple choice questions
How Long Is The SAT
Do not worry if you prepare for the exam properly you can finish the SAT in 3 hours and 15 minutes. If you choose to sign up for the optional essay, it adds on an additional 45 minutes to your exam. So in total its about 4 hours to complete the SAT exam and you are allowed to have breaks.
What Score Do You Need To Pass The SAT
Each section of the SAT is scored individually. The score is based on a 200 to 800 point scare. Your total SAT score is the total of all three sections you have completed on the exam. The highest possible SAT score you can achieve is a 1600.
The SAT Vs The ACT
Most universities accept ACT and SAT scores. Many students choose to take both the ACT and The SAT. In 2016 their were changes made to the SAT that made it better to prepare for both test at the same time. You can take a time full length practice test to see which tests is right for you.
The SAT and the ACT are very similar. If you are worried about passing, their are online tutoring options available and you can also work on time management. Try the Quiz here to see which test is best for you.
About the ACT
The ACT is an entrance exam very similar to the SAT. Most students choose to take both exams. The purpose of the ACT is to measure a highschool students readiness for college and provide colleges with data that help them access the students ability to understand the subjects.
The higher your score on the ACT, the more options for attending and paying for college will be available to you. Many students find that online act prep tutors can be very helpful. ACT prep tutors offer online act prep classes that help students boost their act score. You can check out the best online act tutoring programs by searching for them on google.
What Is On the ACT
There is a difference between the SAT and ACT. The ACT has one more section. There are four sections on the ACT that students are tested on. These sections are:
English
Reading
Math
Science
How Is The ACT Scored
Each section section of the ACT is scored differently. The sections are score on a 1 to 36 point scale. The total score of your ACT is comprised of a total of each sections scores.
If you choose to take the ACT with the Writing test you will receive a separate score for your writing test. You score perfect results on the ACT by achieving the highest of score of 36 in each section.
Benefits of Online SAT Tutoring
Online tutoring offers so much flexibility and convenience. Traditional tutoring can sometimes conflict with people's schedules. Having the option to do online tutoring makes life so much easier. You don't have to commute, and it can be done virtually. Online tutoring is even more convenient when you are traveling.
Online Tutoring Benefits
Convenient and flexible for high school students looking for SAT tutors
Online tutoring is available for any subject
There are tons of SAT online tutoring services available
Online tutoring can be more affordable
One one personal sessions that provide you with confidence to pass your test
Most people choose to find an SAT tutor online because they can have privacy. Sometimes learning in a group can be hard.
Online tutors offer students one on attention which can build their confidence. Look through the many tutoring services available and choose the one that best fits your budget and schedule.
How To Find The Best Online SAT Tutor
Almost 2 million high school students take the SAT each year. There's a good chance that you are one of the students hoping for the best results on this important test. If you want to ensure that you achieve rock star test scores, you probably need a private tutor, to help with some of the subjects you're not confident in.
If you are unsure about how to choose a tutor, do not worry. The internet makes it so easy and offers so many options.
When it comes to finding an online tutor, you want to make sure the tutors are Qualified for SAT Prep. Some tutors are really experienced and have been tutoring high school students for years. These can be some of the best tutors.
When you are looking for a tutor, don't be afraid to ask your tutor any questions you may have before you commit to them. This will help you assess whether the tutor is right for you.
Top 10 Benefits of Having an Online SAT Tutor
Flexibility
Variety of Options for Online Tutoring Available
Enhances your chances of passing the test
Convenience
Tutors with a Variety of Experience
Builds Confidence
Virtual Setting
One on One Sessions
Affordable
Support System
Four Of The Best Online SAT Tutoring Services
1. Prep Scholar SAT Tutoring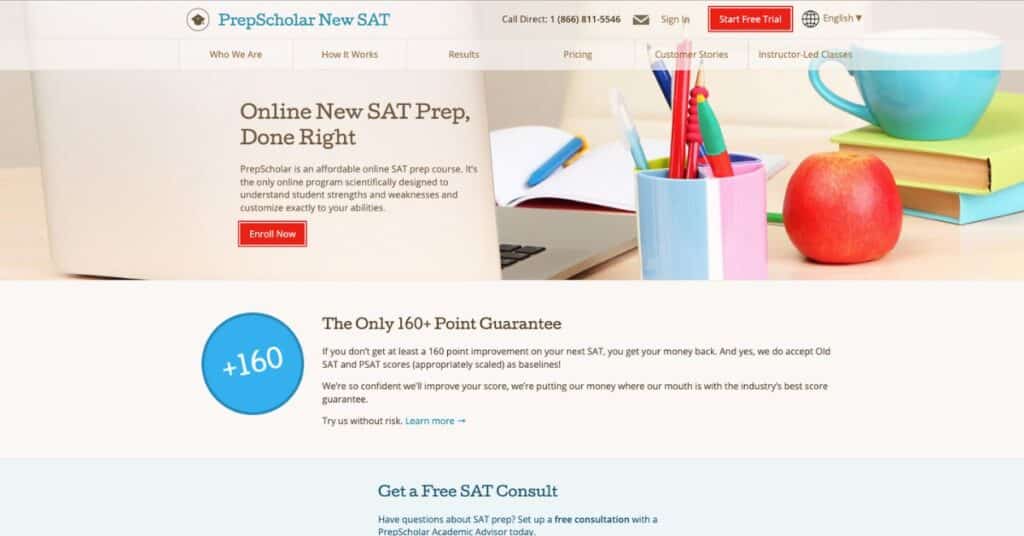 Prep Scholar has amazing tutors and offers so many high-value tutoring services at an affordable price point. Prep scholar tutors are qualified to tutor students in many subjects. They break down difficult concepts for students to understand and make them easier to understand.
That is really key when it comes to SAT tutoring. PepScholar also has SAT Prep materials that they integrate into the lessons with the students. You do most of your work online through their SAT prep program. The tutor will check on you regularly to see if you are grasping the content and understanding the concepts. Prep Scholar tutors also give high school seniors homework based on the subjects they need help with.
Prep Scholar Tutoring Bundles – You can choose between bundles that start at 4 hours of tutoring all the way to 54 hours of tutoring. The cost is about $23 an hour for tutoring.
Bottom Line: Prep Scholar offers tons of affordable tutoring options. They also care about their students and want to see them succeed. Most of all they offer students a 160+ Point Score Increase on their SATS, or you get your money back!
2. Princeton Review SAT Tutoring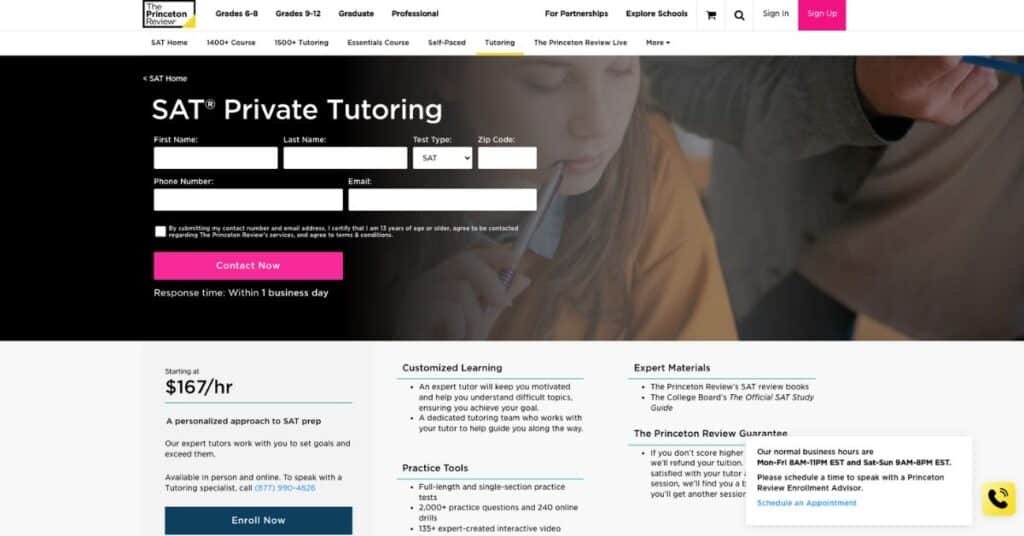 Second on the list is Princeton Review. Many online tutoring providers offer only online tutoring. Princeton Review is one of the few tutoring services that offer in person tutoring as well as online tutoring.
Out of the tutoring providers that offer both online and in-person tutoring. Princeton Review comes out on top for SAT and ACT tutoring services. They offer self-paced tutoring materials. The tutors at Princeton Review are very patient and make sure students understand the problem before moving on to a new topic. They offer students the flexibility of choosing to have face-to-face tutoring sessions.
Princeton Review Prices – Their prices are a little on the pricey side starting somewhere between $150 to $180, an hour.
Bottom Line: Princeton review offers both, in person and online tutoring, and they also have some of the best-qualified tutors available. They also include SAT prep materials with their tutoring services.
3. Varsity Tutors SAT Tutoring
Varsity Tutors offers budget friendly tutoring services. Price is a really important aspect when looking for a, tutor and they understand that. Tutors offer individual lessons which can make for a really unique experience. Varsity Tutors dont follow a particular teaching framework for their SAT instruction, instead, they work on subjects and areas that the student is struggling with.
Varsity Tutors Price – The hourly rates are lower than most tutoring services.Varsity Tutors charge around $20 per hour all they way up to $175 per hour. You could find the perfect tutor for under $75 an hour.
Bottom Line: They are a budget friendly tutoring service. The tutors create their own strategies and deliver unique techniques, to helps students pass their test. They do a great job at connecting students with qualified SAT and ACT tutors.
4. Wyzant SAT Tutoring Services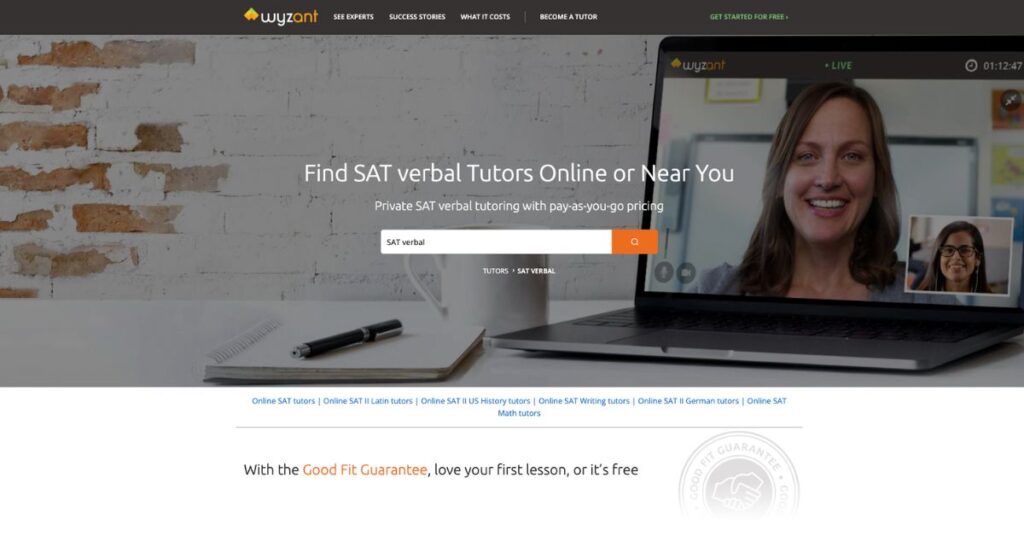 Wyzant offers online tutoring in over 300 subjects. They have over 65,000 qualified tutors available for students. Their tutors offer different hourly rates based on experience and subject difficulty. You can communicate with your tutor via, Wyzants free browser based online learning platform.
Wyant Prices – Wyzant tutoring prices vary on the tutor you select. Some tutors charge as low as $20 per hour. Check the platform for the tutor that best fits your needs. You only pay for the tutoring hours that you need and their are no up front payments or subscriptions.
Bottom Line: Wyzant offers one-to-one tutoring services to students to provide them with more accessibility and convenience. They connect students with tutors who are experts on the subjects they need assistance with.
How To Find The Best ACT Online Tutor
Many companies provide students with Online ACT support. They helps students raise their ACT scores through unique prep course. These prep course vary when it comes to time, length and price but having the option to tutor online gives students many options to find the course that suits their needs. Search online to find the tutor that best fits your needs.
Tutors prices vary from $20 per hour all they to $175 per hour. Online you can find many providers who offer top online tutoring services at affordable rates.
Top 10 Benefits of Having an Online ACT Tutor
Personalizes your studying plan
Prepares you for the exam
One-on-one tutoring
Ability to get help on area struggling with
Flexible tutors
More Convienient for Busy Parents and Students
Virtual Lessons
Self-Paced Programs
Affordable tutoring Options
Boosts Scores
How To Get The Top Score On Your ACT and SAT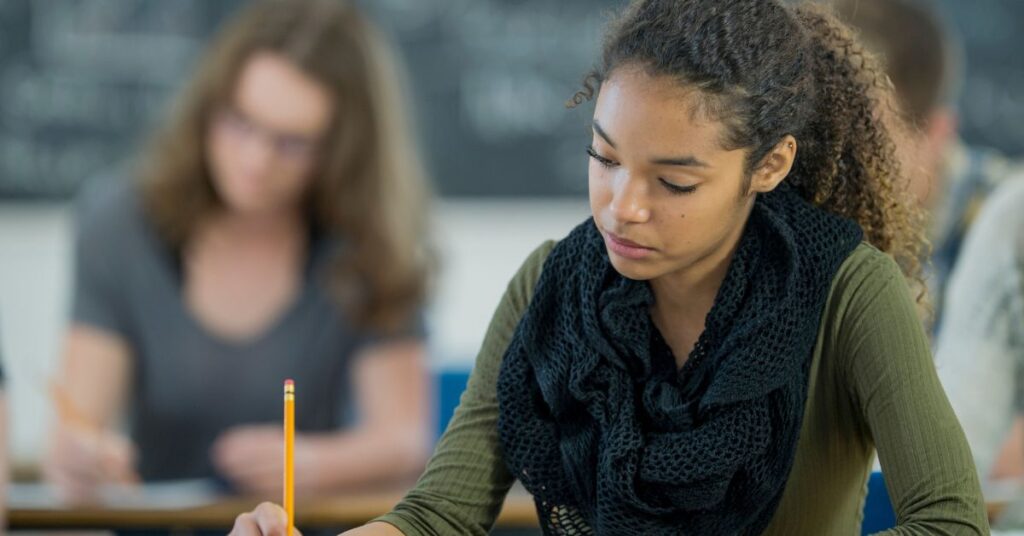 If you are wondering how you can achieve the top score on the ACT and SAT, do not worry anymore. All you need to do is give yourself enough time to prepare for the exams. Even students with perfect grades are nervous about the sat act test. Its a very important test and shapes many students lives after high school.
There are plenty of study tips and tricks out there to help you do well on the test and pass it with flying colors. Thorough preparation, time management, confidence and perfecting your knowledge on the subjects in the test will help boost your score.
Another way students perfect their act score is by hiring an experienced act tutor. Having a private act tutor can provide students with lots of help. Some of the best act tutors offer students a 160+ score increase or students can have their money back.
Here Are Some Tips and Tricks To Pass the ACT and SAT
Review the format of the test to understand what you need to study for
Create a study plan to keep yourself motivated and focused
Think of the score you wish to achieve on the test and work towards that goal using a practice test online
Take a Practice Test to prepare you for the real thing
Brush up on areas of the test you need help with like English punctuation, for example
Find ways to help you memorize math formulas because you are not allowed to use a calculator
Familiarize yourself with basic scientific knowledge, and make sure you can comprehend what you are reading
Practice writing a draft essay to prepare you for the writing section
Make sure to relax your mind and rest the night before your test
Eat a healthy breakfast in the morning on the day of your test
Most important stay calm during the test to maximize your score
Frequently Asked Questions
Parents and students are very curious about the SAT and ACT exam and usually want to know the best ways that their students can pass the exam. This is understandable because this exam can be life-changing.
The ACT and SAT is a tests that can make some student's dreams come true. No wonder you have questions about it. A lot of parents and students have many questions about the SAT And ACT process.
They want to make sure their children receive the best results so that they can go to the best universities.
Taking a test like the ACT or SAT can be very scary at times for students. Students can become overwhelmed in the process and have so many questions throughout it. Getting your questions answered is very important and will help put a handle on some feelings of anxiety.
Here are some of the most common questions that students have asked about the SAT and ACT. Take a look at the answers because they could provide you with the assistance that helps your prepare for the exam.
If achieving the perfect score on your SAT and ACT is important to you. Take a look at the questions below to find answers to some of the questions you may have.
What are online SAT and ACT tutoring services?
Online SAT, and ACT tutoring services are services that provide high school students with the tactics they need to guarantee successful results on the exam. These services offer students test prep to brush up on their skills before they take the test. Hiring an Online tutor can be very convenient and rewards students looking to achieve top scores on their tests.
Who should use online SAT and ACT tutoring services?
Online SAT, and ACT tutoring services are for everyone. But usually, students who are taking their ACT or SAT use the services. These students are usually high school juniors and seniors preparing for college and what to receive top scores on their tests.
How much do online SAT and ACT tutoring services cost?
Private tutoring services can be very affordable and offer students flexibility. Some act tutoring services also provide students with SAT prep material so that the students can practice on their own time. Tutoring services range from $20-$175 per hour. Many tutoring providers offer students a free trial or money-back guarantee.
What should you look for in online SAT and ACT tutoring services?
When looking for an online tutor you should make sure that the tutor is qualified to teach you the subject you need help in. Also, look out for reviews; some tutoring platforms have reviews of their tutors to help students choose the best tutors for them
What are the pros of using online SAT and ACT tutoring services?
The pros of using private tutoring for the SAT and ACT are accessibility. This is a busy time for students and most are preparing for college. Having the ability to log online and use a tutoring platform can be really convenient for busy students and parents. It is also a very affordable option for those who are a budget, but still want a quality instructor.
What are the cons of using online SAT and ACT tutoring services?
The cons of online SAT and ACT tutoring could be the lack of personalness. Sometimes it can be really nice to have face-to-face instruction. Luckily there are some online SAT and ACT tutoring providers that offer students with both virtual tutoring and in-person tutoring. Check online for the best tutoring options available to you.
What should I look for in an online SAT and ACT tutoring provider?
Make sure to look out for qualified instructors and reviews. A lot of tutoring services offer reviews of their tutors, and you want to ensure you find the one that best suits your needs.