Mathnasium vs. Kumon vs. Learner: Comparing Math Tutoring Programs [2023]
ScholarshipInstitute.org is reader-supported. When you buy through links on our site, we may earn a commission. Learn more.
Finding online math tutors for yourself or your child can be a difficult task. You want to find an experienced teaching professional who is easy to learn from and has a thorough understanding of the material yet doesn't charge too much per session.
This guide will compare the tutoring platforms Mathnasium, Kumon, and Learner based on factors such as price, teaching quality, outcomes, and ease of learning. You'll learn whether the math-only Mathnasium is worth it and how Kumon transitions between multiple academic subjects in one learning center. We'll also cover the benefits of online tutoring and why working with one of Learner's best online math tutors is a great way to help students thrive.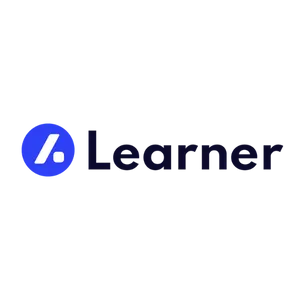 Bottom Line: Learner offers flexible, convenient sessions across a variety of subjects and grade levels. Learner tutors are highly experienced and work with students one-to-one, providing personalized learning plans and constant feedback to ensure measurable progress.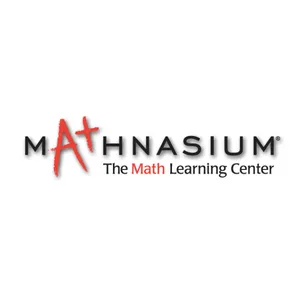 Bottom Line: Mathnasium is a good option if your child struggles with math but doesn't need help in other subjects, and is comfortable working in small group sessions with different tutors.
Bottom Line: Kumon offers reading and math tutoring for students who thrive in a highly structured environment and learn best through repetition, though it's not a great fit for students who do better with personalized learning plans and may need one-on-one help.
Quick Comparison Facts
| | | | |
| --- | --- | --- | --- |
| Teaching Focus | Various subjects, personalized learning | Math-only, focuses on making math fun | Math and reading, highly structured |
| Delivery Method | Online | Mainly in-person with some online option | Mainly in-person with some online option |
| Tutor Qualifications | Highly experienced, all have degrees | Tutors vary in experience and education | Variable qualifications, some inexperienced |
| Support | One-on-one tutoring, constant feedback | Tutors move around small groups of students | Students mainly work independently |
| Bottom line | Offers flexible, convenient sessions across subjects and grade levels. One-to-one, personalized learning plans and constant feedback. | Offers math-specific help, for students comfortable working in small group sessions with different tutors. | Offers a highly structured environment, for students who thrive through repetition |
| Pricing | Starts at $199/month | Varies by location, $250 to $400/month | $150 to $200/month, subject-dependent |
| | Learn More | Learn More | Learn More |
Why You Should Consider Online Tutoring
There are many compelling reasons to consider online tutoring. Convenience is arguably the biggest reason why families turn to online tutoring. Rather than having to travel to sessions at a tutoring center, online tutoring allows students to learn from the comfort of their own homes at times that fit their busy schedules. Online tutoring platforms like Learner frequently offer morning, evening, and weekend sessions, so even students involved in numerous after-school activities can take part. Likewise, as the tutor doesn't need to spend time or money on travel, they can offer sessions that tend to be more affordable than in-person private tutoring, as there are fewer overhead costs.
Tutor quality is another key reason why online tutoring has such wide appeal. Online tutoring platforms connect students with knowledgeable and highly experienced teachers based all around the world. This means that students aren't limited to tutors in their local area. You're much more likely to work with a subject expert who is a great fit for your learning style when you choose online tutoring, as you'll have a much wider pool of tutors to choose from.
Mathnasium Overview
Math is often said to be one of the hardest subjects to learn, so it's not surprising that many families turn to tutors for extra help with math. While other tutoring centers spread their resources and offer multiple subjects, Mathnasium focuses exclusively on teaching math well and making it fun.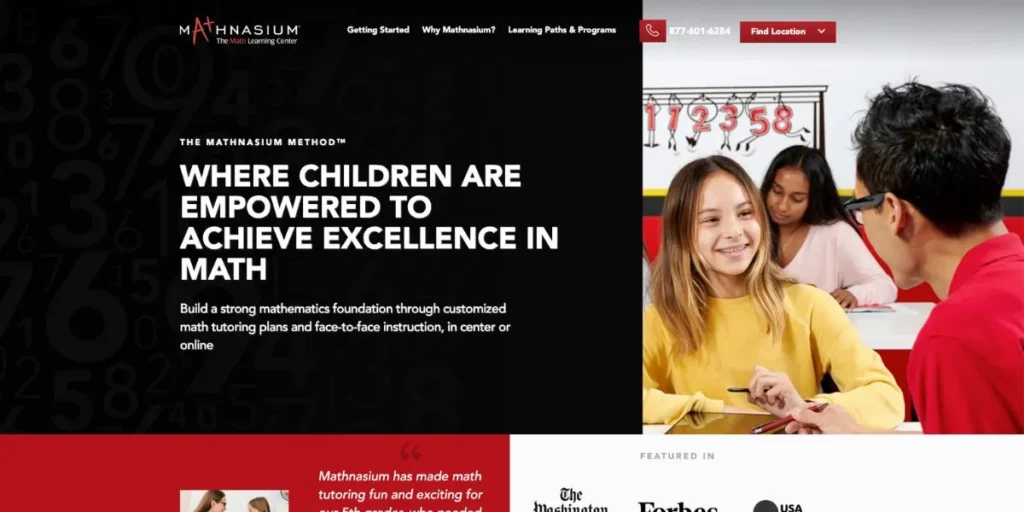 What Is Mathnasium?
Mathnasium is a K-12 math-only tutoring center that strives to give students a strong foundation in the subject and complement the math they are learning in school. Founded in 2002, the company's goal is to give children the opportunity to enjoy math and not be intimidated by the subject while working on the specific areas they find challenging.
With frequent assessments and personalized learning plans, Mathnasium's approach to learning math is popular with many families. Since the coronavirus pandemic, the company now offers both online and in-person tutoring sessions.
Pros:
Hands-on learning environment
Personalized learning plans
Self-scheduled tutoring sessions
Offers both in-person and online sessions
Cons:
Math is the only subject taught
Can be expensive
Students don't work with the same tutor every time
Not one-on-one tutoring
The Bottom Line: Mathnasium is a good option if your child struggles with math but doesn't need help in other subjects, and is comfortable working in small group sessions with different tutors.
How Does Mathnasium Work?
After signing up for Mathnasium, your student will take an initial assessment. You'll discuss the results and your goals with the center director. Your child will design their own binder and receive a personalized learning plan.
Most centers suggest two or three tutoring sessions a week to help your child progress at a steady pace and catch up with homework and test prep. Depending on your plan, sessions last between 30 and 90 minutes and involve worksheets and mastery checks. When a student receives enough punches on their mastery card, they are invited to pick out a prize from the Mathnasium prize cabinet. This method is designed to keep students engaged and offers them ways to track their own progress and see results.
At Mathnasium centers, tutors work with several students at once in a group called a "pod." They move from student to student, giving each one a chance to get personalized help and solve problems on their own.
How Much Does Mathnasium Cost?
The prices for each center are slightly different, but Mathnasium costs around $250 to $400 a month. The specific pricing structure depends on your location and the length of your child's tutoring sessions. For example, if you have a high school student with 90-minute sessions, it will likely be on the more expensive end of that range.
The base package covers three Mathnasium visits a week with no rollover plan. However, at some locations, you can add an extra visit at no extra cost. For specific payment plans and options, contact your local Mathnasium center.
What Are Customers Saying About Mathnasium?
Parents and students generally have positive things to say about Mathnasium. Many children who previously seemed afraid of math or said they hated it formed a much more positive opinion of the subject after working with Mathnasium. Overall, Mathnasium tutors are friendly, well-trained, and work hard to keep students engaged and actively learning.
Although it offers its own curriculum, Mathnasium allows students to bring in their math homework from school and prepare for tests while at the learning center. Homework and test prep sheets count towards mastery stamps and are included in the student's binder. Many customers praise this practice and say they've noticed an improvement in students' grades after several months of Mathnasium visits.
Students and parents are generally happy with the level of personalization within each center. Even students who started off disliking math say they feel seen and understood and are better able to grasp difficult concepts with the help of their tutors.
Although Mathnasium is a well-established system that produces good results, some customers say there are things that could be better. Not all students thrive when working with a different tutor each week, and some would benefit more from one-on-one sessions. Even though Mathnasium now offers online tutoring, in-person sessions are still the main focus, which can be tricky for some families to plan and organize.
Kumon Overview
Kumon is a dual math and reading program with tutoring centers all over the country. Founded in Japan in the 1950s, Kumon has used the same teaching methods for over 60 years.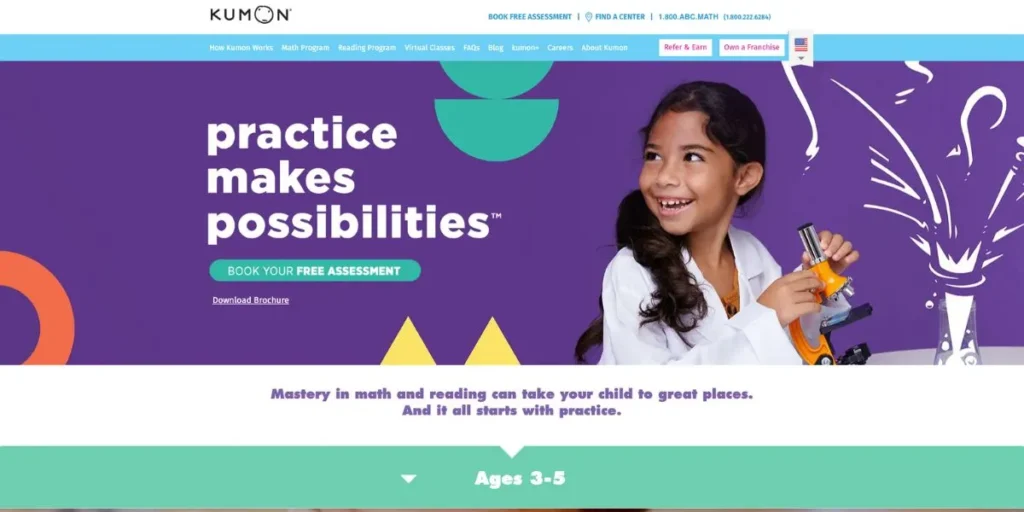 What Is Kumon?
Instead of using personalized learning plans, Kumon focuses on the basics and tests students to find out their level. The Kumon Method involves students working through a series of worksheets on their own so that they develop the skill of independent learning, though they can seek out help from center instructors and assistants when needed. They complete around 30 minutes of work each day, including two weekly sessions at a Kumon center. Once a student masters a specific skill set, they can move on to the next level in mathematics or reading.
Kumon is primarily an in-person program, though they have also branched out into online sessions as a result of the coronavirus pandemic.
Pros:
Highly structured curriculum
Offers reading and math tutoring
Less expensive than some other programs
Encourages students to learn independently
Cons:
Less focus on individual learning style
Students receive extra homework
Learning is based around repetition with little flexibility
Kumon staff aren't always subject experts
The Bottom Line: Kumon offers reading and math tutoring for students who thrive in a highly structured environment and learn best through repetition, though it's not a great fit for students who do better with personalized learning plans and may need one-on-one help.
How Does Kumon Work?
On the surface, Kumon seems similar to Mathnasium – both are mainly in-person tutoring centers that offer services from kindergarten through high school. However, the teaching methods are very different.
Kumon focuses on repeating the basics as many times as needed until the student remembers the concepts. After taking their initial assessment, the student will be assigned to a slightly lower class than the one they tested into. This ensures they have a solid foundation before moving on to the next stage of Kumon's curriculum.
At Kumon, students spend their time completing worksheets focused on the concept they are trying to master. They don't move on until they have mastered that concept, and they never bring in their homework or prepare for school tests during sessions. In fact, Kumon assigns around 30 minutes of additional homework each day.
The staff at Kumon centers function more as facilitators than tutors or teachers. They are in charge of a large group of students who are working on the same subject matter. They are available to answer questions about the worksheets if necessary, but they rarely provide one-on-one assistance – it is up to the student to complete their tasks.
How Much Does Kumon Cost?
Kumon costs anywhere from $150 to $200 per month, depending on the location, grade level, and subject matter. Kumon students attend twice a week and have about 30 minutes of extra homework every day, which is included in the cost. The main variable in cost for Kumon students is whether they are enrolled in tutoring for math, reading, or both.
What Are Customers Saying About Kumon?
On the whole, Kumon's reviews are somewhat mixed, with a sizeable number of former Kumon students and parents saying that the staff at Kumon centers don't provide enough personal support. Some parents cited the lack of college degrees and prior teaching experience, though others said their child enjoyed their Kumon experience and felt that they were helped by the assistants and instructors at the center.
Many customers noted that the Kumon Method involves a lot of work – including additional homework – and that the sessions didn't necessarily align with the topics their children were studying in school. It's certainly not the right fit for students who want their tutor to help them with schoolwork or prepare for tests.
However, other customers emphasized that Kumon's rigorous, highly structured curriculum and independent learning method produce results – even if it means that students spend some time reviewing material they already know or redoing work from previous grade levels.
Although customers often had mixed feelings about their Kumon experience, they largely agreed that the system helps students learn math and reading concepts with little chance of forgetting them later on.
Learner Overview
For those interested in online tutoring, Learner offers experienced tutors across a wide range of subjects. Although it is a relatively new platform, Learner has already earned significant praise from students and parents who are impressed with the quality of the instruction and the rapid progress that most students make with their Learner tutor.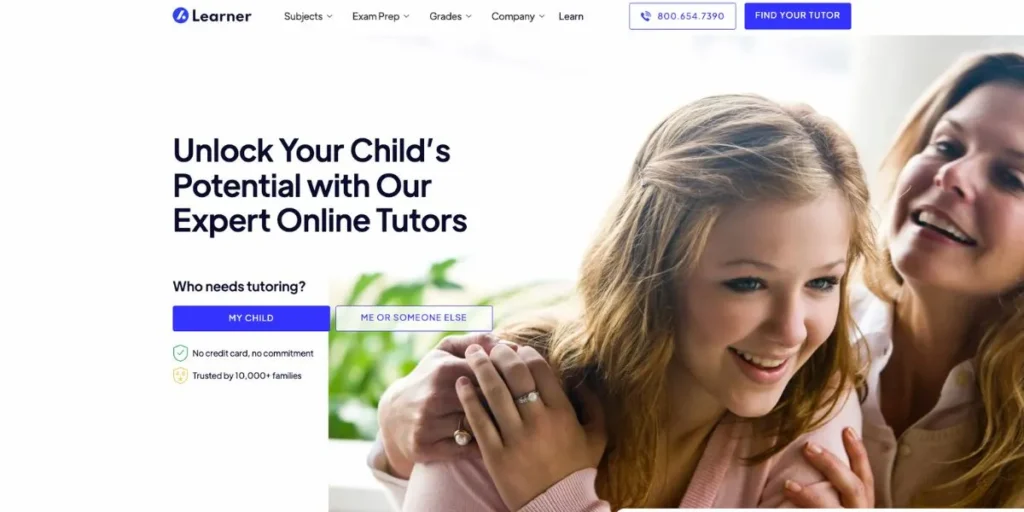 What Is Learner?
Learner is an online tutoring platform that offers one-on-one tutoring sessions via its secure virtual learning environment. Learner caters to students of all ages, grade levels, and abilities, from elementary school to college and beyond. Most students seek out Learner for math (from second grade up to college-level math), though Learner tutors can also help with chemistry and physics, reading and writing, and SAT Math and ACT Math test prep.
Unlike many other tutoring companies, Learner ensures that all of its tutors have college degrees, at minimum. Learner tutors provide students with personalized learning plans to suit their specific goals, including mastering concepts they are learning in school, completing homework, and preparing for exams, including college admissions tests like the SAT and ACT.
Pros:
Very experienced tutors who are subject experts
One-to-one tutoring sessions available
Students work with the same tutor every session
Various subjects offered, from elementary school math to Language Arts to physics to calculus
Virtual learning environment facilitates communication, collaboration, and feedback
Flexible and convenient scheduling
Cons:
Some students may prefer in-person tutoring
More expensive than some other services due to the experience level of tutors and the personalized instruction offered
The Bottom Line: As a leading online tutoring platform, Learner offers flexible, convenient sessions across a variety of subjects and grade levels. Learner tutors are highly experienced and work with students one-to-one, providing personalized learning plans and constant feedback to ensure measurable progress.
How Does Learner Work?
The first step is to complete a brief yet thorough online questionnaire to narrow down the list of potential tutors and ensure that you are paired with a tutor who has the right subject knowledge, teaching approach, personality, and interests to click with you or your child. Interested parents can also chat with an education specialist to discuss what they are looking for and ask questions about the program. All customers receive a discounted, no-obligation first session with their Learner tutor. If a family isn't happy with their paired tutor, Learner will help them find one who is a better fit at no extra cost.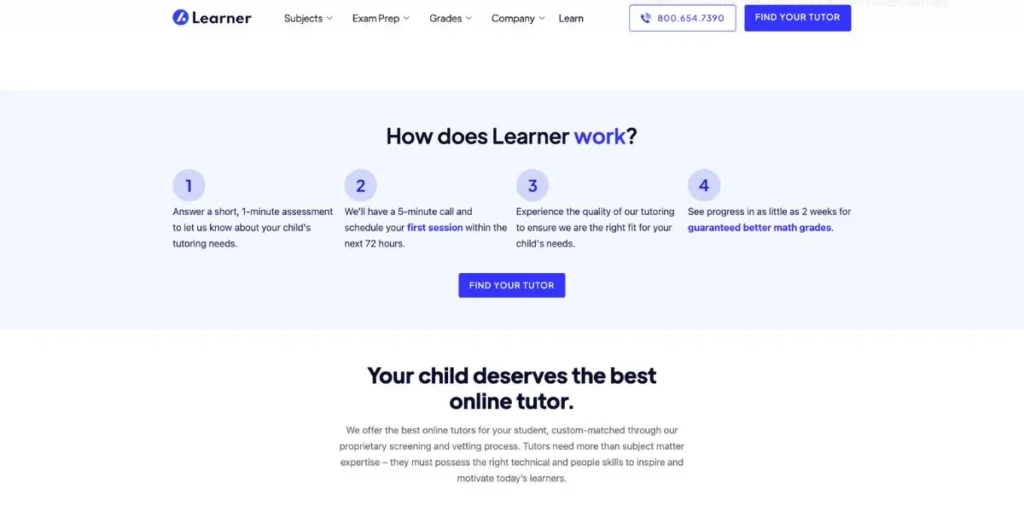 All of Learner's tutoring sessions take place through the company's online learning platform, which allows students and tutors to interact through video, audio, and text, collaborate using a virtual whiteboard, and access feedback and progress reports. All lessons are recorded so that parents can stay in the loop and students can re-watch relevant portions when completing homework or preparing for tests.
Rather than adding to the student's workload, Learner offers assistance with homework and test preparation, while also providing additional resources when needed. Students work with the same tutor each week so that they can build a relationship. The tutor will get to know the student's unique personality, academic objectives, learning style, and academic strengths and weaknesses.
How Much Does Learner Cost?
The first session with a Learner tutor is always discounted, so students can try out the program for $25 without committing to further sessions. After the initial session, Learner tutors typically charge around $65 to $90 per session. This is competitive with the rates charged by many private math tutors, especially considering that Learner's sessions are tailored to each student and delivered by subject experts. Interested families are invited to chat with one of Learner's education specialists to design a tutoring plan that best fits their needs and their budget.
What Are Customers Saying About Learner?
Parents have given overwhelmingly positive feedback about the program. Many families praised the quality of instruction and how much of an effort the tutor makes to structure their sessions around the student's specific needs and goals. Feedback on scheduling, convenience, and customer service is also very positive, with most families satisfied with the tutor-matching process.
Learner customers also commented on how quickly students made progress, with many noticing an improvement in grades (as well as improved confidence) within just a few weeks of beginning their tutoring program.
Even families that were new to online tutoring found the virtual learning platform to be an asset, rather than a hindrance, to the learning process. Many customers were effusive about how convenient it is for students to receive personalized instruction from subject experts at times that fit even the busiest schedules.
Some customers mentioned that it was somewhat challenging to find information about the structure, pricing, and delivery of Learner's tutoring program from the website, but praised the company's customer support team for helping them arrange a suitable tutoring package.
Mathnasium vs. Kumon vs. Learner – Similarities
On the surface, Mathnasium, Kumon, and Learner all have the same goal: to help students develop their confidence, build a strong academic foundation, and enjoy the learning process. Beyond that, the structure and approach of the three programs are quite different.
However, there are a few key similarities. All three companies offer math instruction for elementary, middle, and high schoolers, and there is an online learning option available from each of the three programs. Each platform has developed its own proprietary approach to helping students learn.
Based on the feedback of former customers, Mathnasium, Kumon, and Learner all have positive reputations, especially when it comes to how friendly, caring, and approachable the tutors, facilitators, and instructors are.
Mathnasium vs. Kumon vs. Learner – Differences
Mathnasium, Kumon, and Learner each have their own approach to education and see the role of the tutor very differently. Mathnasium, which offers only math tutoring, focuses on building a strong academic foundation and uses rewards to encourage students to make progress. Although Mathnasium has its own curriculum, students can also work with Mathnasium tutors on their schoolwork. Sessions take place in pods, with the tutor (who generally has an undergraduate degree) continually moving among the students to help each one individually, while also giving them the opportunity to make independent progress. Most Mathnasium sessions take place in learning centers, though they have recently branched out into online delivery.
Kumon offers a very standardized and rigorous approach to math and reading education that the company has been delivering for decades. The Kumon Method encourages students to work through a series of worksheets, both at home and at the center, with minimal input from center staff (who are described as instructors or assistants, rather than tutors). With a focus on repetition and making small steps towards understanding, Kumon's curriculum is designed to complement what students learn in school rather than provide help with classwork.
One of the key differences between Learner, Mathnasium, and Kumon is the qualifications and experience of the instructors. At Kumon centers, students mainly interact with center assistants, who may still be in high school or college. Most Mathnasium math tutors are college educated and have completed training to work at the center, though their experience level and work history can vary significantly. On the other hand, Learner tutors are highly educated teaching professionals. All Learner tutors have college degrees, though many have graduate qualifications, too. To work for Learner, they must have at least several years of tutoring experience and a track record of helping former students achieve measurable success.
While Mathnasium and Kumon only offer instruction to students in kindergarten through 12th grade, Learner works with college students and adult learners, too. Learner also has the widest range of subject offerings, from elementary school math to calculus and statistics, as well as chemistry, physics, reading, writing, and test preparation.
Unlike Kumon and Mathnasium, Learner is an exclusively online platform. All sessions are delivered one-to-one from the comfort of the student's home.
Each program has a unique pricing structure, with Mathnasium and Kumon offering monthly plans, while Learner tutors charge by the hour.
Mathnasium vs. Kumon vs. Learner: Which Is Best?
Everyone learns in their own way and responds differently to various teaching styles and methods of instruction. Some students prefer to learn in an in-person environment, surrounded by at least a few peers. In that case, either Mathnasium or Kumon is preferable, as they offer in-person sessions, whereas Learner is only online.
Between Mathnasium and Kumon, the decision mainly depends on what the student needs. Some students benefit from a rigorous, repetitive curriculum with additional work to complete at home (Kumon). However, others learn better with the possibility of rewards and visible progress (Mathnasium).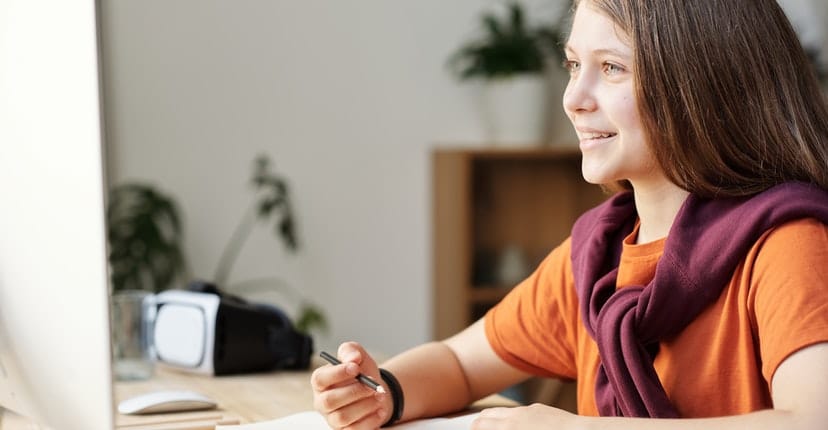 If your child needs help with both math and reading, Kumon is the better in-person option, and it's also less expensive than Mathnasium. However, Kumon places far more emphasis on children following a prescribed program than learning in ways that best suit them. Mathnasium is better for students who want some in-person interaction with a tutor but are happy to mainly work independently on both classwork and Mathnasium's own curriculum.
However, we found that Learner is the best math tutoring option of the three, as long as the student is open to online tutoring. Even though many students have done well with Mathnasium and Kumon, we found that Learner has a more complete tutoring program that can be tailored to the needs of any student, regardless of their learning style or academic goals. This goes beyond the fact that Learner caters to a wider range of ages, subjects, and grade levels than Mathnasium and Kumon. Students struggling academically, those who need a confidence boost, and those who need to be challenged can all benefit from working with a Learner tutor
Why Learner Is Our Top Choice
It's hard to overstate the convenience of Learner compared to Mathnasium and Kumon. As Learner is an exclusively online platform, families have the flexibility to arrange tutoring sessions at times that fit their schedule and never have to travel to a learning center after a busy day at school. It's also ideal for students who thrive in a distraction-free environment and would prefer to have the undivided attention of the tutor.
Learner's online learning environment provides a comparable experience to what students would encounter in an in-person tutoring session, thanks to resources such as video conferencing and virtual whiteboards. Even families that are new to online tutoring will quickly catch on to the easy-to-use platform, which facilitates collaboration, communication, and access to progress reports, lesson recordings, and feedback.
As previously mentioned, one of the most significant benefits of online tutoring is that it allows students to connect with tutors who are subject experts, no matter where in the world they are located. As a rule, Learner tutors are friendly, patient, and highly knowledgeable. Learner has a very rigorous selection process and hires a small fraction of applicants, all of whom have successfully guided many students to academic success.
Learner makes the process of finding a tutor very simple by inviting prospective customers to fill out a questionnaire and then discussing possible matches in a follow-up appointment. To ensure that students are completely satisfied with their tutor, Learner offers a discounted first session and the option to switch to a different tutor if necessary.
The emphasis on getting the tutor selection process right is very important, as students will work with the same tutor in every session, thus building a relationship of trust and understanding. Knowing they have a reliable tutor "in their corner" makes it much easier for students to develop confidence in themselves and their academic abilities.