Learner Online Math Tutor Review [October 2023]
ScholarshipInstitute.org is reader-supported. When you buy through links on our site, we may earn a commission. Learn more.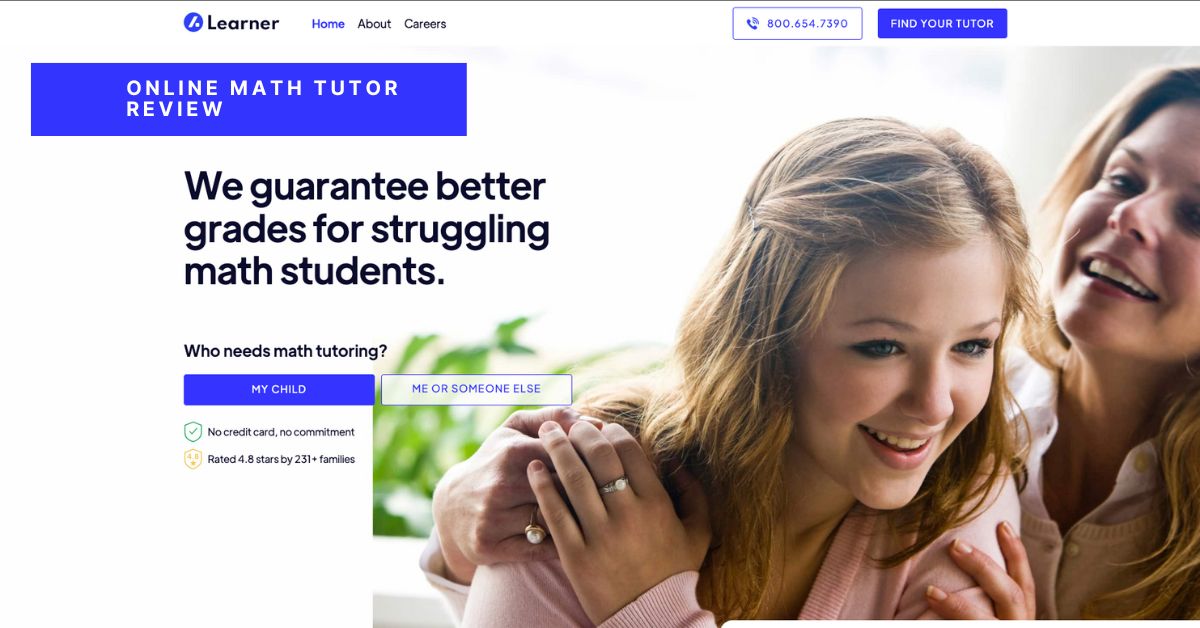 Learner provides online math tutoring through an innovative virtual platform. Tutors are all highly qualified and offer each student customized lesson plans appropriate for their grade level, academic goals, and learning style. Each student is paired with the best available tutor using the company's matching system. Although Learner.com charges premium prices, most users agree that the cost is worth it for the level of customer service and instruction. Read on to get our full review and find out whether this service is a good choice for you.

Our Verdict
Learner is a leading online tutoring platform that caters to high school and college students looking for high-quality math instruction to augment school coursework and/or prepare for standardized tests. The service does offer some English subjects and options for middle school and elementary students, but its primary focus is upper-level math.
All tutoring takes place online, which is great for students who can't or don't want to meet in person. The online platform works well on most devices, but we wish there was an app.
Learner's customer service is excellent, and we appreciate their tutor-matching approach that's designed to find the best instructor for each student. Math tutors must meet strict educational requirements and have years of tutoring experience, so we feel confident in the quality of instruction Learner provides. This service is designed for long-term instruction, not one-off sessions for math homework assistance.
As far as pricing goes, Learner advertises and delivers world-class instruction from math tutors with prestigious educational pedigrees. As such, it's one of the more expensive providers of online math tutoring. There isn't a way to check prices on the website; you must go through the online quiz to create a tutoring plan before you can see how much it will cost.
Overall, we highly recommend Learner for high school and college students who are willing to pay a little more for in-depth, customized math instruction from top-notch online tutors.
Pros
Highly educated and experienced math tutors
Satisfaction guarantee
Online classroom that's accessible on most devices
Feedback provided after each session
Tutor-matching process gives students the best educational experience
Tailored lesson plans based on each student's goals, level, and learning style
Cons
Prices are not listed on the website; you must go through the initial consultation to get a quote.
Limited options for elementary and middle school students
No mobile app or live-chat feature on the website
Pricier than most online math tutor "marketplaces" and homework help websites
Learner Tutoring Review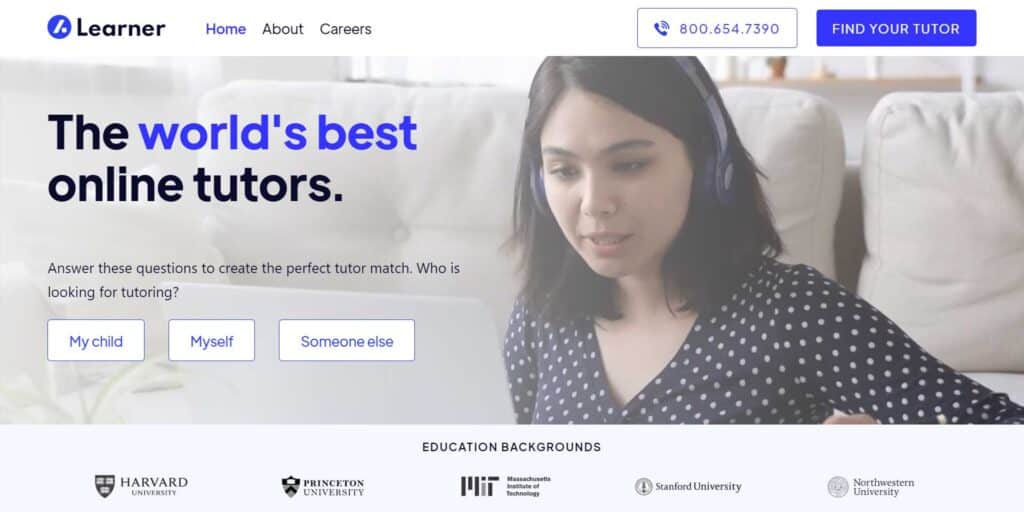 Learner is an online platform that provides math tutoring services to help students improve their math grades and/or prepare for standardized tests like the ACT and SAT. The company primarily focuses on mathematics instruction for high school and college students but also offers English language arts tutoring.
What Is Learner?
Learner provides students of all ages with personalized instruction from highly qualified online tutors. It was founded by people who are passionate about education and believe in making learning a positive experience for the instructor and student.
Learner provides tutoring in a virtual classroom environment, so students can meet with their instructors from anywhere they have internet connectivity. Having access to online lessons is especially convenient in a post-pandemic world where meeting in person isn't a viable option for many people.
Students can work with a Learner private math tutor in small group classes or choose one-on-one instruction. In either case, the company uses a proprietary matching system to ensure each student is placed with a tutor who has the right expertise, personality, and teaching style.
What Subjects Do Learner Tutors Teach?
Learner specializes in math instruction. Tutors teach a wide range of math topics for high school and college students:
Students who are using niche curricula such as IB Math and Integrated Math can also get customized instruction from a Learner tutor.
Learner offers tutoring in other subjects, including test preparation for standardized exams like the SAT and ACT. Additionally, students can hire an online tutor for help with English language arts subjects: reading and writing. While the company primarily focuses on teaching high school and college students, instructors for elementary school and middle school students are also available.
How You Get Started With Learner?
Learner's methodology centers on improving each student's understanding of math and performance in class. As such, students are paired with a tutor who will work with them over several weeks or months. The process is fairly straightforward:
Step 1
Take the online pre-screening quiz. This is where you can answer questions about what your (or your child's) tutoring needs. The questions are designed to learn the student's background and unique educational goals.
Step 2
Once you submit the quiz, you can schedule a phone call with Learner's Academic Coach. During this live consultation, you can discuss learning goals and get more information about how tutoring works.
Step 3
Learner uses a proprietary matching process to choose the ideal tutor for each student based on their academic level, educational goals, and learning style. Once you or your child is matched with a tutor, you can schedule your first tutoring session, which is completely free of charge.
Step 4
The first tutoring session is the perfect opportunity to make sure the service and instructor are right for you. You can experience Learner's online instruction platform and make sure the tutor's teaching style is compatible. If you aren't satisfied with the first session, you can request a new tutor for free.
Is Learner Tutoring Effective?

Yes. Many experts agree on the benefits of private instruction, and Learner's tutors are all high-caliber teachers. Here are a few examples of reviews from satisfied clients:
"My performance for math has increased substantially with the help of my amazing tutor. He knows exactly what he's talking about and will make sure the message gets across so that you're actually learning." -Joey
"From start to finish, our experience with Learner has been amazing. Onboarding was seamless and the customer engagement team was friendly and listened well." -Alisha
"John is an exceptional teacher who will have the patience to make sure that his student understands the concepts before they get to solving the problems." -Sharad
"Set up was simple, and now my daughter has weekly sessions with someone who helps her feel supported and strong in math." -Sarah
Does Learner Guarantee Its Services?

Learner offers a 100% satisfaction guarantee. The first tutoring session is completely free, so you can use the time to make sure the online platform and the tutor are a good fit for you. If not, simply contact the customer service team. They will work with you to find a better fit for your needs.
What Are the Benefits of Learner?
Every student is different, so it's important to find the tutoring solution that fits your unique needs. However, Learner's service offers many advantages for students.
Tutoring for Individuals and Small Groups
Learner mainly offers one-on-one tutoring that allows a student to receive individualized instruction from the same tutor over several weeks or months. This type of private instruction allows the student to work at their own pace, ask questions, and receive customized assistance in areas where they need it.
Students can also request small-group instruction, which is less expensive than private tutoring. This environment still provides in-depth instruction, and it may be a better choice for students who feel intimidated or uncomfortable at the thought of one-on-one tutoring.
Test Prep Services
While Learner's primary tutoring services center on high school and college math courses, the company also has instructors who specialize in test prep for the SAT and ACT. Students who want to boost their math knowledge to improve their test scores can benefit from working with an instructor who can pair math instruction with test-taking tips.
Tutor Matching
Unlike some tutoring platforms, students don't pick their Learner tutor based on a picture and brief online profile. Rather, the company matches each student with the best available tutor based on the information provided in the online quiz and phone consultation. Students can request a different tutor if necessary, but reviews indicate that the company's matching process is very effective at assigning the right instructor.
Virtual Classroom and Flexible Scheduling

Tutoring sessions take place in Learner's online platform, which is available on most devices. This system seems to work well for students who want the flexibility to learn in a comfortable and familiar environment.
The virtual platform is extremely interactive, so students can talk with their tutors and collaborate to solve sample problems. Each session is recorded and available at any time, so students can review the material during their own study time.
Customer Service
Learner advertises "white glove" service, and the company mostly delivers. While we would like an online chat option on the website, it's easy to reach the customer service team over the phone or through the online contact form.
How Much Does Learner Tutoring Cost?
Learner's website doesn't provide up-front pricing information, and the cost varies depending on the exact setup of each student's tutoring plan. The lowest price for tutoring services from Learner is $55 per hour.
Learner Provides Excellent Math Tutoring
Learner is one of the best online tutoring services for high school and college students who want help with math. The company has a rigorous hiring process that weeds out all but the most qualified educators, and there is a risk-free satisfaction guarantee.
Tutoring from Learner is on the higher end of the price spectrum, but it can be a great investment for students who want to gain a thorough understanding of key math concepts. Learner's personalized instruction helps students of all ages improve their grades and standardized test scores.