What is Animal Genetics?
ScholarshipInstitute.org is reader-supported. When you buy through links on our site, we may earn a commission. Learn more.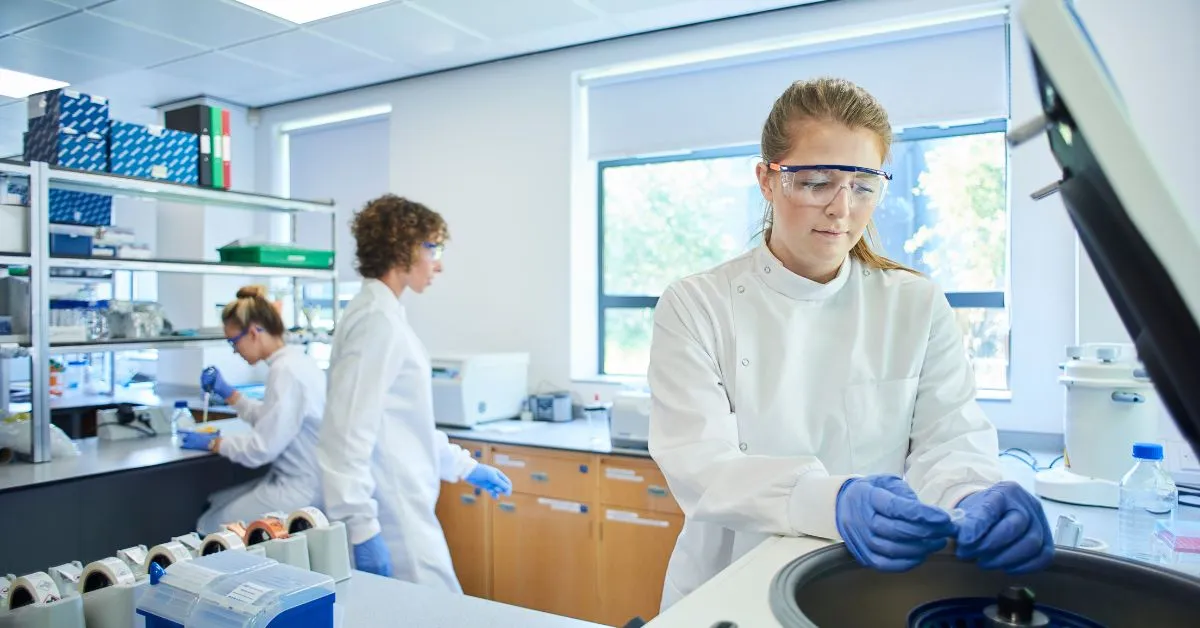 Animal Genetics is a field of study within biology that focuses on analyzing multicellular animal life forms from clinical, comparative, and experimental standpoints. An Animal Genetics degree path will expose students to a number of core disciplines of animal genetics that include: molecular genetics, molecular evolution, gene regulation, gene expression, epigenetic phenomena, DNA recombination, DNA repair, and genetic interactions.
An animal geneticist will apply scientific principles to improve the health of wild animals and endangered species, help farmers enhance meat production and quality of livestock, and various other areas of specialty.
Career Summary
Median Salary: $72,890
Percent above National Income Average: 49.14%
Total Sector Employment: 2,470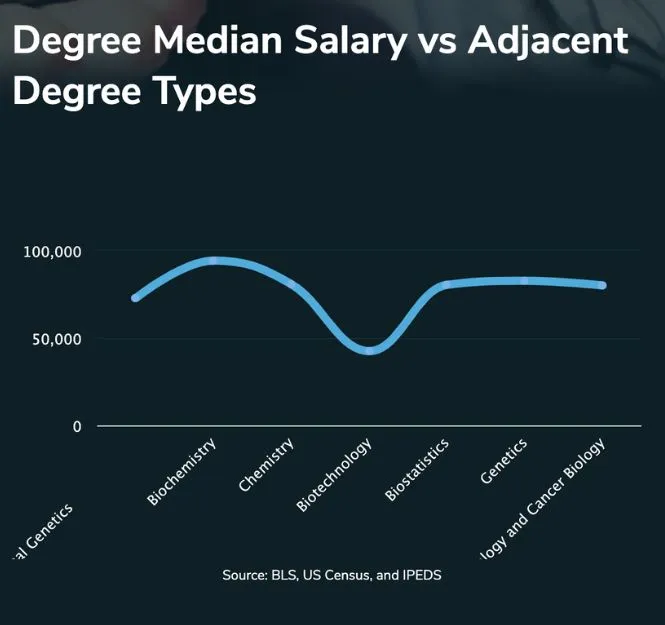 2023 Best Animal Genetics Degree
1. Columbia University in the City of New York
New York, NY
Columbia University in the City of New York has been serving the people of New York and beyond since 1754. It houses graduate and undergraduate students, faculty, and staff who are all dedicated to create positive changes in today's society. Its department of biology has developed a degree in animal genetics focusing on a curriculum supporting genetics approaches, transmission, and the biological function of animals and humans. Students will also learn to participate in experimental discoveries as well as internships and other activities throughout the program. Upon completing the requirements, students can earn an undergraduate degree in biology.
Graduation rate: 95.49%
Acceptance Rate: 5.45%
Student to Faculty Ratio: 6:1
2. Cornell University
New York, NY
Cornell University aims to provide exceptional research and academic programs to its graduate, professional, and undergraduate students. It was founded in 1865 to serve the local communities of Ithaca, New York as well as the diverse people of the world. The university has been offering animal science courses where students can learn a wide variety of lessons including animal genetics. Students of this program will learn through online lessons that cover basic animal genetics, genetics revolution, genome mapping, cloning, gene therapy, and more. The program offers a flexible schedule by providing an online class option to its students.
Graduation rate: 95.53%
Acceptance Rate: 10.85%
Student to Faculty Ratio: 9:1
3. Johns Hopkins University
Bel Air, MD
Founded in 1876, John Hopkins University has been home to world-class faculty and alumni who contribute to provide a better world for today and the future generation. It is located in Baltimore, Maryland, and offers various courses including biology, finance, medicine, business, and more. John Hopkins offers a program focusing on animal genetics, care, and medicine. Students of the program will study how to improve the health of animals as well as understand their genetics and reproduction. With various facilities, training, medical care, and more, students will gain skills and knowledge needed for a career in the industry.
Graduation rate: 92.86%
Acceptance Rate: 11.17%
Student to Faculty Ratio: 7:1
4. Tufts University
Taunton, MA
Recognized as one of the finest universities in the nation, Tufts University offers students with educational programs that are essential to achieve their academic and professional goals. It has been serving the local communities of Massachusetts since 1852. With the help of the university's veterinary school, students can enroll in the biological sciences program focusing on anatomy, clinical skills, general pathology, organ system structure, and genetics of animal and human. It is a four-year course that allows students to obtain a bachelor's degree upon completing the program requirements. The university also allows students to participate in various activities inside and outside of the classroom including community engagement and internships.
Graduation rate: 92.26%
Acceptance Rate: 14.95%
Student to Faculty Ratio: 9:1
5. Tulane University of Louisiana
Locambe, LA
Tulane University of Louisiana accommodates more than 14,000 students yearly on its 110-acre campus in New Orleans. Founded in 1834, the university aims to provide excellent education in business, agriculture, science, arts, and more while helping students to have a transformative experience that develops their personal and professional growth. Individuals who have finished their undergraduate degrees can enroll in Tulane's graduate program focusing on evolutionary biology. It is designed to help students discover their independence while also maintaining a close mentor relationship with the faculty. It has courses in marine ecology, systematic biology, genetics, animal physiology, animal biology, plant ecology, and more.
Graduation rate: 86.21%
Acceptance Rate: 12.87%
Student to Faculty Ratio: 8:1
6. Stony Brook University
Buffalo, NY
Located in New York, Stony Brook University offers more than 200 major and minor programs that aim to help students expand their knowledge and skills in their chosen fields. It has more than 1,400-acre campus that serves roughly 27,000 students each year. The college of arts and sciences has developed a graduate program concentrating in genetics. Individuals enrolled in the program will broaden their knowledge in molecular genetics, cell biology, laboratory rotation, systems biology, data analysis, evolutionary ecology, functional genomics, animal genetics, and more. The program also encourages students to participate in research, internships, seminars, laboratory work, and other related activities in the field.
Graduation rate: 76.36%
Acceptance Rate: 44.15%
Student to Faculty Ratio: 18:1
7. Clemson University
Orangeburg, SC
Clemson University is known for being an excellent provider of research and academic knowledge. Since 1889, the university has offered undergraduate and graduate degrees in various fields such as psychology, art, nursing, history, law, communication, and medicine. One of its bachelor's degree programs is designed to provide veterinary and animal sciences courses that help students to become prepared to take care of animals. The program provides a curriculum that revolves around animal health, food production, nutrition, animal genetics, food management, and more. Clemson University also provides students with access through its six livestock farms in sheep, poultry, equine, dairy, beef, and swine.
Graduation rate: 86.73%
Acceptance Rate: 51.26%
Student to Faculty Ratio: 16:1
8. Washington State University
College Place, WA
Established in 1890, Washington State University has been serving the people of Pullman, Washington, and the world. It has a 1,70-acre campus that houses more than 10,000 students, faculty, and staff. Students who are interested in the study of domestic animals can enroll in the animal sciences. They will study a wide range of courses that make up a top ranked animal genetics degree that include animal welfare, physiology, breeding, nutrition and genetics. The program also focuses on providing laboratory work, seminars, training, career counseling, etc. as part of student services.
Graduation rate: 60.22%
Acceptance Rate: 75.8%
Student to Faculty Ratio: 15.1
9. Long Island University – C W Post Campus
Syracuse, NY
Long Island University – C W Post Campus has a purpose to provide a variety of undergraduate and graduate degree programs in several fields of studies including education, technology, business, science, arts, and more. It is located in Brookville, New York and serves more than 5,000 students each year. Students who have already got an undergraduate degree and want to pursue a graduate education can enroll in the university's genetic counseling program. Students will learn to develop their skills and knowledge that are essential for a successful career in the field including clinical, psychosocial, and scientific aspects of genetics. Upon graduation, students can obtain a master's degree in the field.
Graduation rate: 46.3%
Acceptance Rate: 80.09%
Student to Faculty Ratio: 13.1
Focal Studies for Animal Geneticists
In a broad sense, students in genomics or animal genetics degrees that seek to understand and document the fundamental genetic, cell biological, biochemical, and developmental principles that govern life. To achieve this end, accredited colleges and universities must utilize leading-edge tools and technology in a variety of related disciplines. The areas of study that support animal genetics and help advance the field of study include the following:
Genomics
Nanobiotechnology
Imaging
Proteomics
Cell Biology
Computational Biology
Biochemistry
Animal Geneticist Careers
There are a number of sub-disciplines in animal genetics for students to consider. In fact, it is not uncommon to have colleges and universities offer a broad range of genetic pathways for students to pursue as supported by ISAG.
At most research universities, you will find students and teaching faculty working on separate projects utilizing different research methodologies and techniques. However, synergy is created when projects overlap resulting in cross-collaboration sharing insights and knowledge from a diverse group of specialists.
The areas of study in animal genetics will vary from school to school. Specialties and projects will be a function of school resources, student interest, faculty expertise, and market demand. An abbreviated list of areas of study in animal genetics include:
DNA Replication
Morphogenesis
Cellular Behavior
DNA Recombinations
Meiosis
Reproduction
Gametogenesis
Fertilization
DNA Repair
Cellular Organelle Functionality
Protein Secretion
Transcriptional Regulatory Mechanisms
Population Genomics
Epigenetic Mechanisms
Stem Cell Research
Membrane Trafficking
Signal Transduction
Cell Development
Schools and Degrees in Animal Genetics
The degree programs found in animal genetics will primarily be graduate-level degree programs. Graduate degrees found in a school's course catalog will be a master degree and/or doctorate degree in the field of study. Niche degrees in genetics are research-intensive programs that aim to advance the field of study year over year. An overview of each program can be found below to understand each degree pathway in more granular terms.
Animal Genetics Masters Degree
Master degrees in animal genetics is a niche degree within the genetics or genomics umbrella within a research university. A master's degree can be conferred as a Master of Science (MS) or Master of Applied Science (MAS) depending on the college's program emphasis. MAS and MS graduate programs take approximately 2-3 years to complete.
The length of time it takes to complete the degree will be a function of course requirements, student qualifications, pace, and course load. Graduate students may be able to elect a thesis or non-thesis track in the genetics program. Non-thesis options will require students to take additional classes approved by department chairs or academic advisors in the genetic department.
Students can expect the degree program to be a mix of classroom-based lectures, labs, research projects, seminars, and hands-on learning. Net results of the MS and MAS degree in animal genetics will help prepare students for further education in the field or employment in a variety of science-rich research organizations. We have found University Global responds quickly and Purdue University Global does as well.
Animal Genetics Doctorate Degree
The doctorate degree in animal genetics is conferred as a PhD and is known as a terminal degree. PhD degrees are known as terminal degrees as there are no additional degrees conferred beyond the doctorate level in the field of study.
Doctoral programs can take 3-5 years to complete dependent upon course load and time invested in a board-approved dissertation project. Class configuration in a PhD program will vary from school to school as course work is often self-designed by each student under the tutelage of program advisors. Graduates from the PhD program in animal genetics will be equipped to launch careers in teaching and/or research with a variety institutions across various industries.
Masters Requirements for Geneticists
In terms of educational requirements, students pursuing a degree in animal genetics will take a number of science-rich classes. The focus of understanding animals on a biological level will require granular-level understanding of DNA. As such, you will likely take the following foundational classes while in school:
Employment in Animal Genetics
Earning an animal genetics degree from an accredited university will provide students with key skills per the ISAG. Technical skills and biological knowledge will prepare you to tackle thorny problems and ethical dilemmas of all kinds. Graduates interested in pursuing similar careers in genetics may consider a number of tracks. Liberty University responds quickly to all students according to a recent survey. Info Liberty University and Info Purdue University are readily available on our website.
Examples of careers similar to animal genetics include: postsecondary teaching, genetic research analyst, genomicist, immunologist, virologist, toxicologist, biomedical engineer, microbiologist, epidemiologist, or nutritional scientist. Request admissions details today and ensure the university responds quickly or any school responds quickly for that matter.
Animal Genetics Jobs & Career Growth
Animal genetics jobs should be abound in the coming decade. The BLS and DOL estimate a growth rate nearly double the national average of 6%. Careers such as biomedical engineering and biochemists are projected to see 23% and 11% growth respectively. In these two jobs alone, nearly 5,700 new jobs will be created in the coming years. The largest employers of geneticist are research firms, medical equipment manufacturers, colleges, instrumentation companies, and pharmaceutical organizations. Be sure to read the job description for each carefully to ascertain specific degree and certificate thresholds.
A rapidly growing industry with highly trained scientists will typically yield exceptional pay with myriad benefits. In fact, the median annual income for biochemists is $91,190 and $88,040 for biomedical engineers. Compared to the median income for all occupations, these professionals are well over double the national average.