7 Best SAT Prep Courses Reviews in 2021 | Ace the Test With Solid Preparation
ScholarshipInstitute.org is reader-supported. When you buy through links on our site, we may earn a commission. Learn more.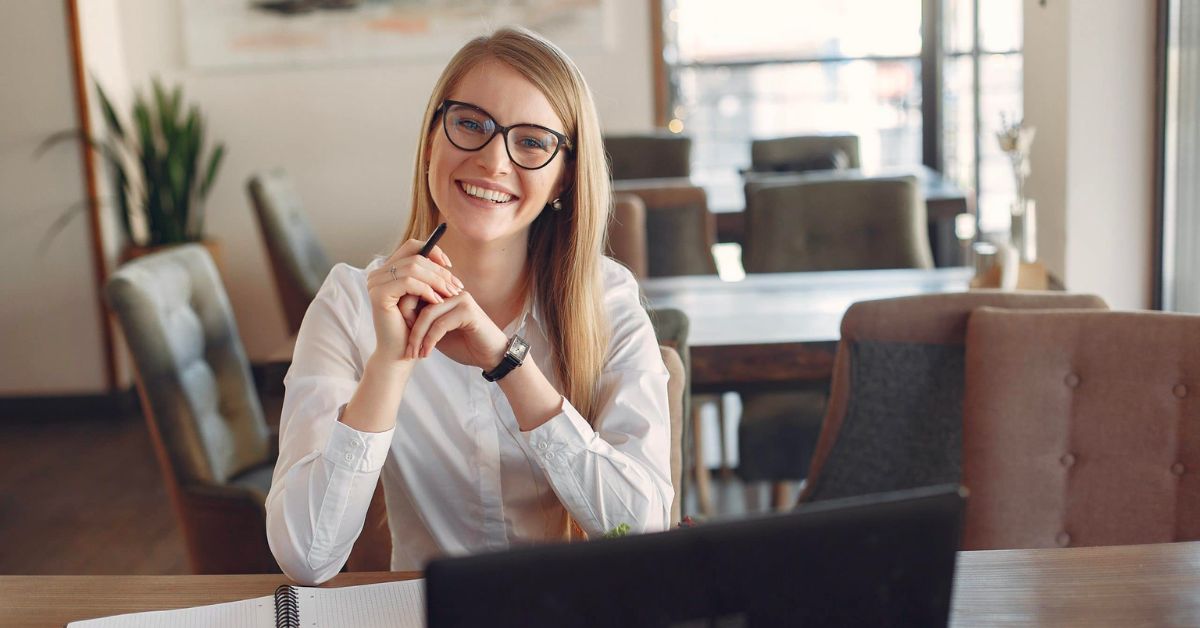 Let's get one thing straight: the SAT is intimidating, and for good reason. If you want to stand a chance and get a good score, it is vital that you invest in the best SAT prep course. These specialized classes are designed to give you the edge you need to make a lasting impression on your potential future college. Without them, you might not get accepted at all!
Why the SAT Matters
If you're unfamiliar with the term, you might be asking yourself, "What is the SAT?" Well, to put it plainly, the SAT is an exam that lets colleges know whether you are right for them. Those who score well on the SAT are more likely to do well in college and the years after.
There has been a lot of arguing in recent years about the validity of the SAT. Detractors claim that it's out of touch, irrelevant, and only beneficial to those who can afford to prepare for it.
To combat this, the SAT has been redesigned so that it falls in line with the current test-taking curriculum that high school students are presented with. Because of this, the playing field is now more level than it perhaps once was
Regardless of where you stand on the matter, the SAT is an invaluable tool that helps align you with college life and beyond. With so many applications submitted to colleges each year, the SAT helps these schools "weed out" those who might not be a good fit within their learning curricular.
It's for this reason that it's so important to try your hardest and do your best. You want your SAT score to be an asset to you, not a burden. When you take the time and put in the work, your endeavors are reflected in your score.
The other side of the SAT is scholarships. Better scores help in your applying for more of them. And let's face it, you want every advantage you can get to ensure you get accepted.
Another reason why the SAT is so important is that it can help you if your grades were lacking in your sophomore and junior years of high school. Oftentimes, what happens during your senior year won't affect the two previous years of bad grades.
That's why it's so vital that you look into taking a number of practice SAT tests. This will help you prepare for the SAT so that you have a better chance of succeeding.
And remember, the SAT holds the key to a lot of your future. It is vital that you put in the work to get the best outcome. If you fail, don't lose hope. Unlike other tests, you can retake the SAT.
There have been many successful people who failed the first time, only to study harder and pass it with flying colors the second time around. To help you with this, check out the SAT Khan Academy.
Khan Academy is a non-profit organization that offers a plethora of tools and resources to help you succeed in the SAT. You'll find practice tests, video lessons, class, exercises, and more. Best of all? It's a completely free SAT program.
The Khan Academy has proven to be so effective in its teachings that it is officially recognized by the makers of the SAT itself, the College Board. And you know College Board is no small feat. You can even get personalized help from Khan Academy to ensure that you do your very best.
It would also be beneficial to check out some of these SAT prep books. You'll find further resources that will give you the advantage you need to get the score you're looking for. No amount of studying is too much when it comes to the SAT.
Soak up as much knowledge as possible before taking the exam. You'll be sure to get the results you know you are capable of getting.
Best SAT Prep Courses and Classes Reviews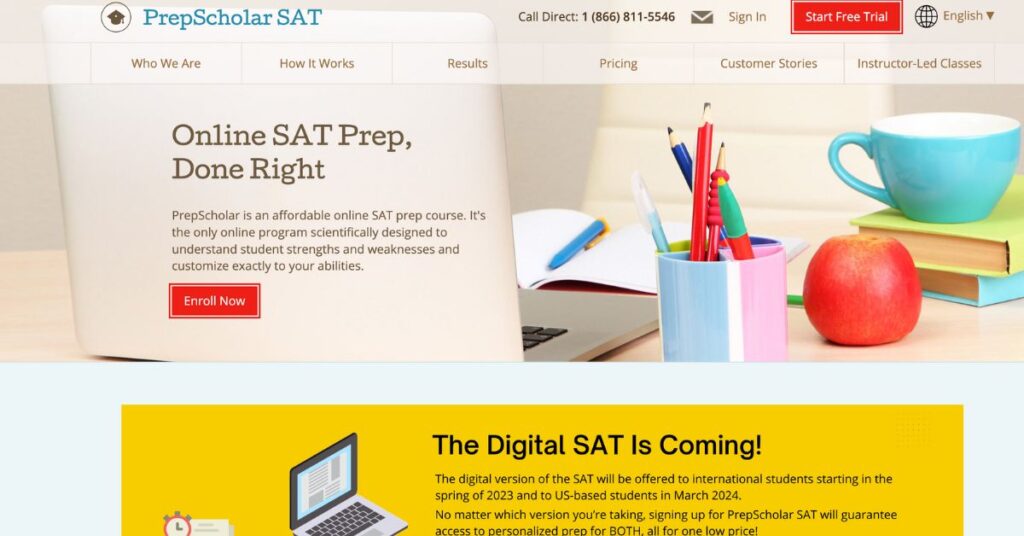 Features
Increased point guarantee that's worth the investment
College admissions Consulting to help you get into college
Taught be SAT masters for enhanced learning
Get lots of practice to ensure you're prepared
Free trial offered to see if it's a good fit
PrepScholar is a widely respected set of test prep courses that help students perform at their highest level. It is one of the best SAT courses which doesn't only focus on the SAT, PrepScholar can help with other programs, too.
The reason why PrepScholar ranks so highly are because it is run by some of the finest SAT victors in history. Those who ranked in the ever-elusive 99th percentile and up are the ones responsible for teaching you.
If that doesn't give you a boost of confidence to choose PrepScholar, I'm not sure what will. You're getting trained by the best of the best. Even better, every course offered is customizable to your preference.
This allows you to hone the areas that need improvement. Which, again, this is the main reasoning for taking PrepScholar SAT prep courses, to begin with. If you're lacking in your ability to pass certain portions of the SAT, PrepScholar is an excellent course options.
Anytime you can find a course that provides a personal approach to teaching (like PrepScholar SAT course), you're likely to get more out of it. While it's great to brush up on things you already know, there's nothing quite as advantageous as catering to your individual needs.
Want to get some private tutoring? PrepScholar has you covered there, too. Some prep courses offer more time than others, but you should take advantage of them while you have the opportunity.
Another reason we included PrepScholar was due to their vast amount of practice questions. There are well over a thousand for you to sink your teeth into. Not only that, you're looking at hours upon hours of learning video lessons, class or classes. It's the ultimate opportunity to get prepared to crush the SAT!
I'm a big fan of the fact that you get individual time with your teacher. The groups are small, which goes a long way for many people. If you prefer a smaller setting in which to learn the ropes of the SAT, this is the course for you.
As I mentioned earlier, many sat prep courses were included in our guide because of their score improvement guarantee. PrepScholar is so effective that if you don't see an increase of a minimum of 160 points, you'll get your money back! Also, you can experience a free trial if you want. And the free trial is another good thing about it.
Things We Liked
Things We Didn't Like
– Great practice for better sat scores
– Personalized
– Video-driven for students
– Tutored
– Expensive price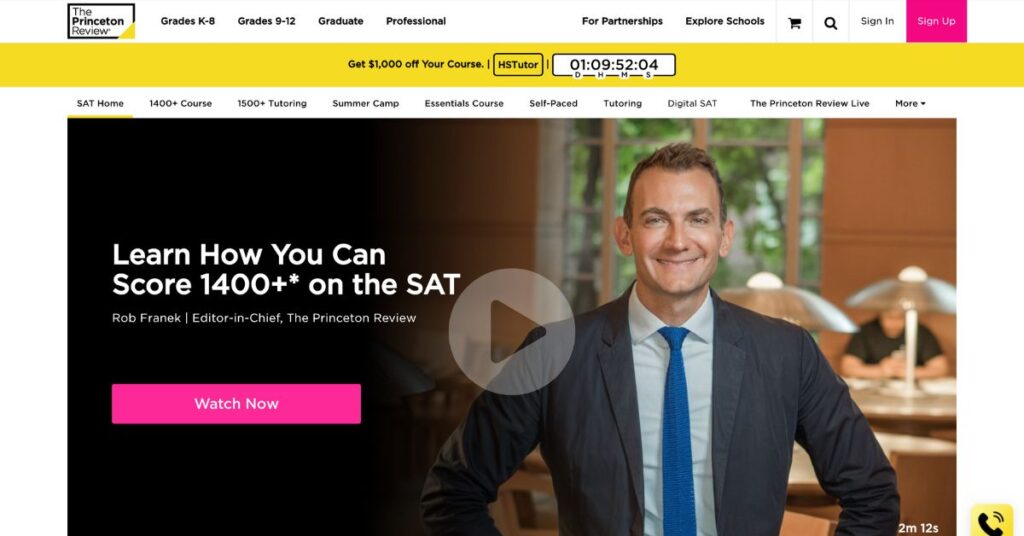 Features
Admissions services to help you get into the college of your choosing
Professional-led sat prep courses that ensure the best teaching
Plenty of plans available to fit your needs
Higher score improvement guarantee on your SAT score
Online resources and study materials for better learning
The Princeton Review is no newcomer in teaching students how to succeed. They've been around nearly 40 years, offering a veritable slew of resources to help you conquer the dreaded SAT. That is why Princeton Review SAT prep course is considered one of the top sat prep courses ever.
Princeton Review SAT prep courses are a tried-and-true service that has helped countless students get into the college of their dreams. If you're serious about scoring highly on the SAT, you would be wise to give them your consideration.
Princeton Review made our guide based on a number of factors. Their college admissions service is an invaluable resource, and their practice tests are lauded as being greatly beneficial. They provide useful SAT prep books that will give you the direction you need going into the SAT.
We also appreciate the tutoring programs of the princeton review. Those who need a more personalized approach to learning will love Princeton Review SAT prep courses and get to improve your sat scores. You also get year of access to a wealth of SAT online training classes and course materials.
Princeton Review offers an interactive chance to get involved in your learning. There are even self-paced options available that work on a level that you can understand. With sat prep courses like this, you'll stand a better chance of connecting with your teachings.
Do you prefer private tutoring that's better suited to your individual needs? Princeton Review can accommodate you there, too. You'll be trained by experts in the field so that you perform at your highest level on test day.
If you really want to get the most out of this illustrious SAT prep course, look into the Ultimate Classroom. This Princeton review includes 25 hours of direct teaching from an instructor, complete with practice tests.
Regardless of which option you decide to go with, you can look forward to video lessons, class or classes, direction from professionals, a higher score improvement guarantee, and a guarantee that promises to give you your money back if you aren't satisfied with your test score.
Things We Liked
Things We Didn't Like
– Three plan options
– Self-paced course
– Tutored online
– Trusted
– Higher-end sat courses are with high price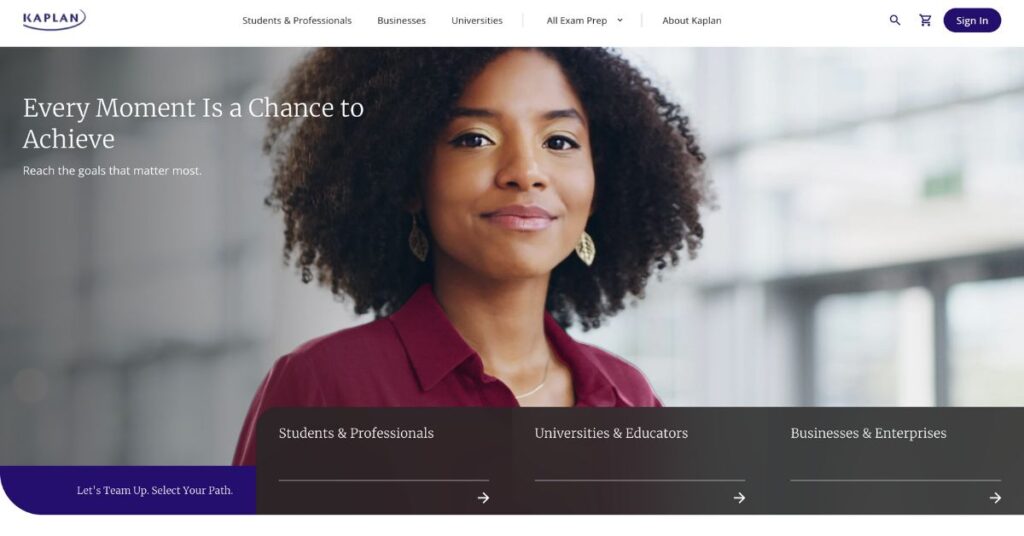 Features
Large selection of books to get you ready for the SAT
Expert-led sat course for increased learning
Wide range of plans to fit your budget
Highly-trusted name in learning
Self-paced for best results
When you choose Kaplan SAT prep courses, you're investing in a well-established service that offers leagues of resources and a number of study plan. Kaplan has a plethora of training centers that serve to improve your chances of getting a great SAT score.
Where Kaplan really shines is in their ability to prepare students for the SAT. They provide professional instructors that are experts in all things SAT related. Kaplan SAT prep course can be considered one of the best SAT prep courses when it comes to self-paced learning.
There are packages at the ready from Kaplan that work around your needs, allowing you to move at a pace that is easy for you to learn. When you're dealing with the SAT, this is a vital service that goes a long way in your success as a student.
Want an interactive option that includes over 40 hours of beneficial video lessons or class or classes? Kaplan is right up your alley. You'll find that and a whole lot more study plan.
There is a wealth of standardized test practice questions that help you get acclimated to the official SAT and reach higher scores with SAT practice exams.
Kaplan also provides one of my favorites in their coaching sessions. You can get 3 hours of personalized tutoring class to ensure that you're ready to come the day of the exam.
And if you choose the unlimited package of Kaplan, you can take advantage of their services as much as you like until the end of your senior year of high school. Now that's a great way to get prepared!
Things We Liked
Things We Didn't Like
– Plenty of plan options
– Highly-trusted course
– Effective course
– Tutored online
– Can get expensive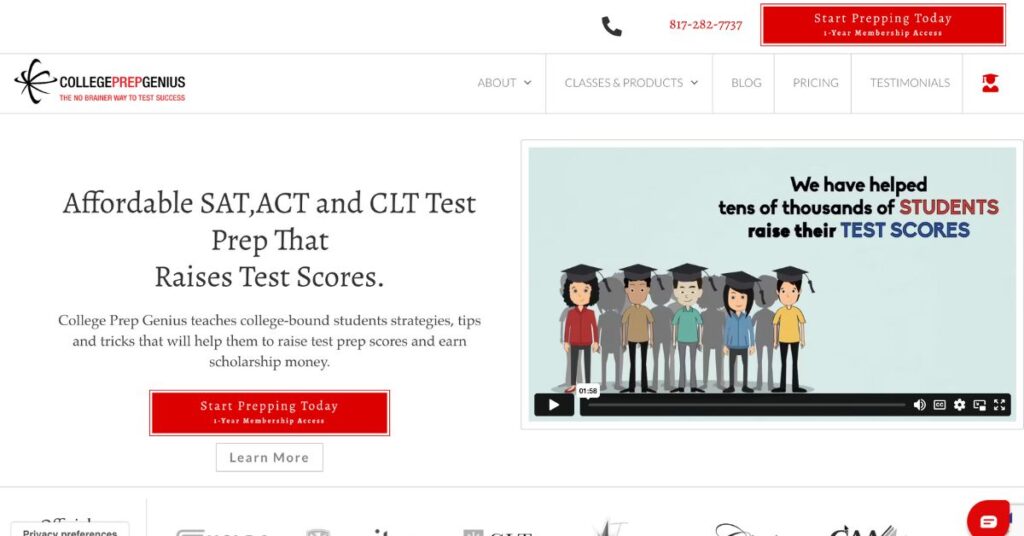 Features
Affordable course so every student stands a chance
Year-long membership for better learning with a good price
Course Includes books, outlines, guide and more
Online courses for greater convenience and test prep
Learn to answer questions correctly within the course
College Prep Genius is designed to give you the upper hand when you're ready to take the SAT exam. This price and cost-effective solution is a great option for those on a budget. Let's face it, not everyone can shell out the funds that some of the premium sat course require.
Thanks to College Prep Genius' affordable price programs, more students stand a chance of getting into the college of their choosing. And that is always a positive thing.
Throughout their history, College Prep Genius has been responsible for helping tens of thousands of students make it into college. Ranging from scholarships to full rides, students have greatly benefited from College Prep Genius' services.
One of the most advantageous strategies offered works to teach you the popular patterns found on the SAT. This course has proven to be a big help in students ranking highly among test scores.
Need to learn how to answer SAT questions quickly? College Prep Genius uses teaching that enables you to zip through the SAT without pondering on certain questions. Don't risk getting stumped and cutting your test time short!
If you score high enough, College Prep Genius will direct you in how to get scholarship money. You'll be able to get into the college or colleges you want, without compromise.
More students have overcome their fears and walked into the SAT classroom with the confidence they needed to succeed. If you're in need of an affordable option that delivers proven results, you'll want to give College Prep Genius a look.
Things We Liked
Things We Didn't Like
– Useful homework guide
– Tracks your progress
– Highly affordable price
– Effective tools
– Limited resources compared to premium online courses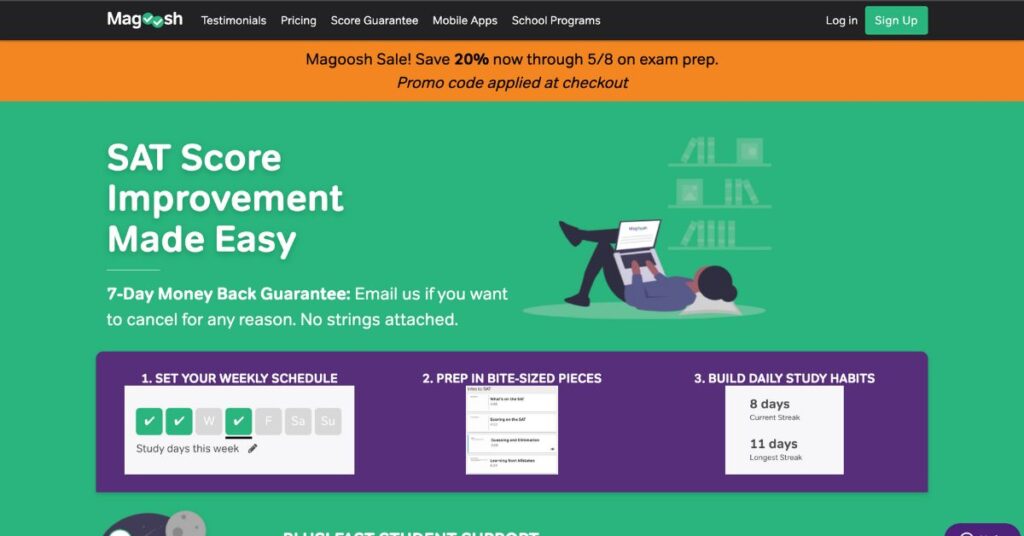 Features
Web and mobile services for learning live online
Thousands of practice questions and practice exams to ensure success
Support teams to keep you on track
Expert-led for the best teaching and prep course
A course with a global reach for all students
Magoosh offers Magoosh SAT prep course with a wealth of SAT prep test resources that are geared toward those who prefer an online prep course. This convenient approach of this course eliminates the need to travel so you can gain experience of online sat prep classes from the comfort and privacy of your home.
The courses from Magoosh are designed to give students the edge needed to succeed. By providing tons of video content, practice questions, helpful apps, you'll get year of access to some of the best course materials available in the course online.
This expert-led service ensures that you are getting the best online SAT prep and the most up-to-date information. There are plenty of courses tailored for your needs, so you can be assured that you're getting only teaching that works for you from the top test prep sat courses option.
You're also investing in an online prep program that gives you higher improvement guarantee on your SAT of at least 100 point. If not, Magoosh will get your money back to you. If you want your SAT prep online, Magoosh is just for you.
Things We Liked
Things We Didn't Like
– Lots of access flexibility options
– Video-driven option
– Affordable course for every person
– Free apps for prep option
– No live tutoring, only online prep help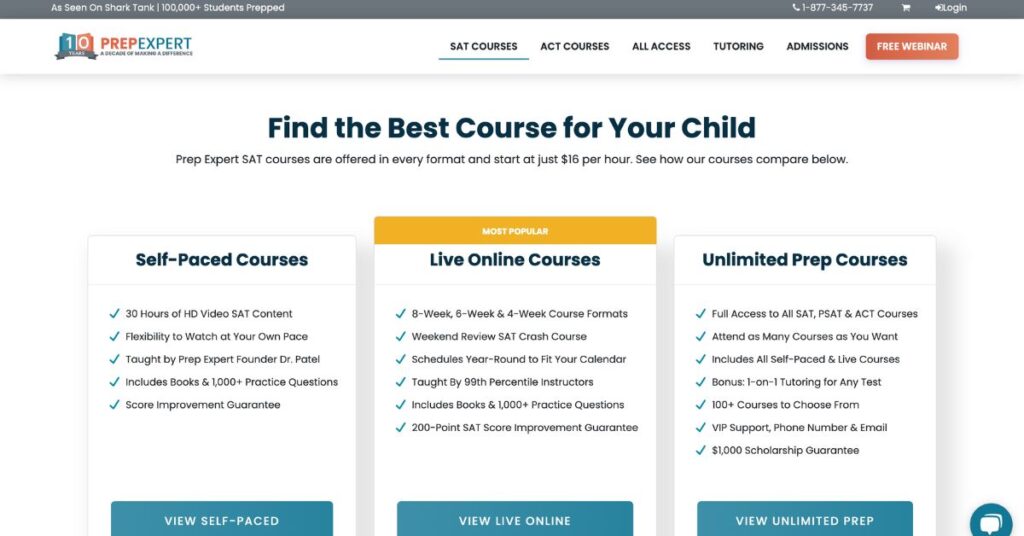 Features
Money-back guarantee if you don't see a 200-point increase in person
Prep Expert driven online course or courses that deliver the higher SAT teaching option
Quick program means less fatigue
All online for greater convenience with good price
Lots of resources available in courses
By now you already know that you have a lot course options for you when it comes to SAT prep. However, PrepExpert might be new to the game, but don't let that deter you from giving them a look. If you like your SAT prep course to be completely online, Prep person or persons is a great fit for your needs.
Their test prep course or courses runs in a brisk 6 weeks. During this time, you will take part in virtual teaching which means live online classes for twice a week. These live online classes are just 3 hours long, so if you have trouble sitting through a litany of top courses or course, Prep person or persons might be exactly what you've been looking for.
You will also get year of access to practice exams of courses to better prepare you for the day of the actual SAT. One of the things I like most about Prep person or persons is their hiring of people who scored in the 99th percentile.
You can rest assured that you're getting advice from the experts who know the SAT the best. With direction like this course, there's a higher chance of score improvement guarantee that you'll be happy with. And that means that you'll be prepared for higher scores.
Oh, and that's not all. You're also getting a score guarantee that you'll see a score improvement of at least 200 points. 200! That speaks volumes as to how well this course program works for students.
There's plenty of helpful homework to keep you brushed up on what you know while teaching you new ways to get higher scores.
Throughout their time helping students become successful with the SAT, Prep Expert has been responsible for improving more than 50,000 students' SAT scores. Not only that, they have helped students earn a combined $100 million+ in scholarships.
By offering one of the best point guarantees available, Prep Expert is a service you can rely on to get you where you need to be. Their instructors are proven to be great assets to students from all over.
The only potential downside is that their virtual classrooms tend to be crowded. It's not uncommon to see more than 40 students in one class. If you prefer a more intimate setting, you may want to look into a different course.
But to me, a crowded classroom shows how successful their top courses option really are. If that many are signing up for their services, Prep Expert must be doing something great for their customers.
Even billionaire Mark Cuban is quoted as saying that Prep Expert is the only way to go when it comes to taking top online SAT prep courses.
Things We Liked
Things We Didn't Like
– Guaranteed score increase within good price
– Highly-learned teachers for the price
– Plenty of practice comparing to other courses
– One base price
– Crowded classes
7. Manhattan Review
Features
Professional teaching from prep expert panel who want to see you succeed
Global reach to help students from all walks of life
Preparation for each section of the SAT
Person to person approach for better learning within a good price
Award-winning methods for success
Manhattan Review has been helping students excel on the SAT since 1999. They carry a proven record of success, and are responsible for thousands of students passing the SAT with flying colors.
If you like to have years of access to a lot of flexibility in your learning, Manhattan Review offers both online and direct teaching. They employ some of the brightest minds in the field, ensuring you do your very best on exam day.
They work to provide a more personalized approach to teaching students the ropes of the SAT. They help you to understand the ins and outs of the SAT. Having a better knowledge of how the test operates greatly improves your chances of success.
Not just settling on reaching students in the United States, Manhattan Review helps teach around the globe. They focus on each section of the SAT to ensure that you fully understand the SAT math, reading, writing, and essay.
For each person who enrolls, they also prepare you for test day so that you can walk in with confidence. They'll begin with the basics and work toward the day of testing itself. You'll have the direction you need to get a score you'll be pleased with.
Things We Liked
Things We Didn't Like
– Tutoring available live online
– Flexible online course
– Prep expert teaching online
– The effective price point for self-development
– Not as many resources as other online courses offered
How We Chose the Best SAT Test Prep Programs
SAT prep courses are everywhere. But it pays to thoroughly research each program to ensure that it's the right prep course for you.
In order for a course to make our guide, it has to provide value to you. Not only that, but we also looked at how personal each entry is for those investing in an SAT test prep.
You don't want to go through a course that doesn't connect with you. Do those that do improve your chances of learning and improving your learning style from them. We included the top SAT prep programs that were easy for students to access, as well.
Another criteria that's important to us is whether SAT practice tests are offered. The impact these have on future test takers cannot be overstated. Anytime you get your hands of a number of practice SAT questions, you're greatly increasing your odds of doing well come test day.
We also felt that prep courses that guarantee point increases are vital to your success. After all, the whole idea of taking SAT prep classes is to improve your SAT score. If a program can make that kind of claim, we think it's worthy of your time.
It's important to note that not everyone is going to benefit from classes in the same way. We're all wired differently. And what works best for me may not work best for you, and vice versa.
Also, you need to make sure that your SAT prep course is comfortable with your learning style, or else you can say goodbye to a higher score.
So, before we look at the SAT prep courses that made the grade, let's discuss how you can get the most of them. We want you to be prepared and do well. By applying the following information to your studies as students, the more likely it is that you will be a success.
How to Make the Most of Your SAT Prep Courses
Getting acceptable score or higher scores that will ensure you get into the college of your choice isn't always a cakewalk. Truth be told, the SAT can be one tough Momma. This is especially true if you aren't prepared for the difficulty it possesses.
Thankfully, there are ways to do just that: prepare. With a little (read: a lot) of practice and studying, you can gain the edge you need to beat that intimidating SAT test into the ground. And if you want a perfect score guarantee, you might need work a bit more.
Most of the SAT prep courses are 3-6 months long. Those months of preparation can bring you two results. Create a pathway for a better future or destroy the path.
It pays to be diligent in your studies as students. Failing to maintain the necessary knowledge to successfully pass the test will see you struggle every time. This is easily avoided by making a strong commitment to staying on top of your action plan to complete the course laid before you.
You'd be amazed at what some direction can do for you. I've seen a vast difference in scores that came down to getting serious about passing. Those who do so are the ones likely to pass. It's that simple.
So, what are some things you can do to ensure victory? Well, clearly, investing in the best study guide based on your needs is a big plus. There are also a lot of course options out there. But if you don't take the time to research each one, you run the risk of buying a guide that isn't tailored to your individual needs.
The best guides or the best SAT prep courses will help highlight the areas you need to improve. There's no use in glad-handing you on the things you're good at. You need to know where you're lacking. And the only way to do that is to get a guide that will make that clear.
One that offers plenty of practice questions and SAT practice tests will help you prepare better than one that doesn't. When it comes to the SAT, you want to get access to all the tips and pointers you can.
Are you a natural problem-solver? This, too, will go a long way in helping earn a passing or higher score. Don't worry if you're not, though. That's where a solid prep course comes in handy.
It's also important that you maintain a steady pace throughout the duration of your taking the test. It's a really good idea to allot yourself a set amount of time for each question presented.
You'd be surprised how well this can help you to finish the SAT in time, and without feeling rushed. Equally distributing your time during the 3-hour exam class will help to reduce anxiety and hurriedness. Remember, you can always come back to practice questions that give you trouble.
If you sit and focus too long on any one question, there's a chance you'll throw off your rhythm. It's always best to maintain a steady pace, as you're more likely to see the SAT through to the end.
Now with that being said, you do want to thoroughly read each question to ensure that you completely understand its meaning. Rushing through them will only serve to make you miss important verbiage that you may have comprehended if you had taken your time.
It's a good idea to read every question twice. Doing this before answering will increase your chances of getting the question right. Also, don't read too much into a question. The SAT isn't full of trick practice questions. By and large, the majority of those presented are going to be straight and to the point.
So, what else can you do? Let's look at some of the most crucial aspects of taking the SAT. These will help you see the results you are after.
Stay Focused and Committed
Whether taking a study course or in the actual exam, you have to stay focused and remain committed throughout. You want to get the most out of your investment. Study programs aren't cheap, and you'll only be throwing your money away by not putting forth your best effort.
This means attending every class and being on time. The more you make yourself available for learning, the better chance you'll have of doing well.
Ask Questions If You Don't Understand Something
There's no need to be bashful, shy, or embarrassed. If you don't get something, ask! The whole reason you're taking a class is to get better. Well, you can't get better if you don't completely understand it.
No matter what it is or what it has to do with, you need to be ready to ask as many questions as it takes until you're comfortable with it. When it comes right down to it, you're probably answering questions other people had but were too afraid to ask.
Remember, the teacher is there to teach. You're the one paying them through the course. Get your money's worth, no matter how long it takes.
Take Advantage of Extra (Online) Resources
This is the great thing about top-tier SAT test prep courses. The ones that are worth their salt typically offer a wealth of resources that are there for your taking. So, take advantage of them in person or online!
SAT Online classes are a great way to brush up on your testing skills which are offered by certain online test prep courses. You'll often find plenty of practice tests and also standardized tests to help ensure that you are familiar with the SAT test. This is one of the most valuable assets at your disposal.
Those who are comfortable with the layout of something stand a better chance of understanding it and doing well. You want to be as acclimated as possible when it comes to the SAT.
You should also see if you can work one-on-one with an online tutor. A tutor is especially helpful for students who are behind in foundational subject matter that appears in the SAT. For instance, if you struggle with math, you will benefit from online algebra 1 tutoring. Your SAT prep course will likely focus on more advanced algebra and precalculus skills, so working with a tutor to brush up on basic algebra can make a big difference.
Although these extras might be required, you should take full advantage of them while they are available.
Keep Practicing After the Course Ends
Just because the prep course is over doesn't mean your studies should be as students, too. This is the time to absorb everything you learned. Any practice tests, books, programs, and other study materials should be regularly brushed upon.
Many test prep courses include continuing online access to their vast resources, well after you've completed your studies. Take advantage of these; you'll be glad that you did.
Another beneficial tool is video lessons, class, or classes. You can watch these as many times as you like until it's time to take the SAT. It's a good idea to compare any practice tests with videos and other means of learning.
Remember, this goes back to being diligent. This commitment plays perhaps the biggest role in your doing well on the SAT.
Frequently Asked Questions
Question: Are SAT prep courses worth it?
Answer: Taking an SAT prep course is not essential for you. If you find money as a burden for yourself, you just need to gather the materials that you need to learn and get a proper guideline. However, you might face many situations where SAT test prep wouldn't be worth the money. That's because it takes your effort to learn too. They are totally free with it with a bit of your learning effort.
Question: Is Khan Academy a good SAT prep?
Answer: Khan academy might provide some materials for free, but it doesn't make it any less of quality than the others. Khan Academy's program for SAT is of high quality. They serve their resources to students who are unable to afford it. Those resources are very useful to train for the test.
Question: Which is better Kaplan or Princeton Review SAT?
Answer: Among Princeton Review and Kaplan, Princeton Review has a slightly better price— $1,599 before any discounts. On the other hand, Kaplan's Unlimited Prep with Coaching comes with a price of $1999 for entry. However, they both are pretty great in quality.
Question: When should you start preparing for the SAT?
Answer: We recommend that you start your SAT prep early. 3-6 months should be enough before you take your test. Those months should give you enough of a buffer to try a few study approaches and get comfortable with the test content.