20 Scholarships for Trade School Students in 2023
Attending a traditional four-year college or university is stressful and overwhelming for many students. Yet, they want to obtain a degree to aid them in their future a job. For students considering this option, there is the option of attending a trade or vocational school. Having a trade school education, or attending a vocational or technical school, can lead to particular job training or prepare students enrolled for the future ahead.
As for many trade school students, vocational school students, or those attending a technical school, there is always the added stress and worry of financial means. Luckily, as with any other four-year college, university, or community college, financial aid options, and scholarships are available for any student to apply to, whether high school seniors or first-year college students.
Read on for the 20 best scholarships available for those attending trade, vocational, or technical school in 2022.
The Best Scholarships for Trade Schools
Trade school or vocational students are welcome to all scholarships. Also, you can pair your scholarships with financial aid. There is no age limit on who can receive financial help, whether in the form of fellowships or support from the school.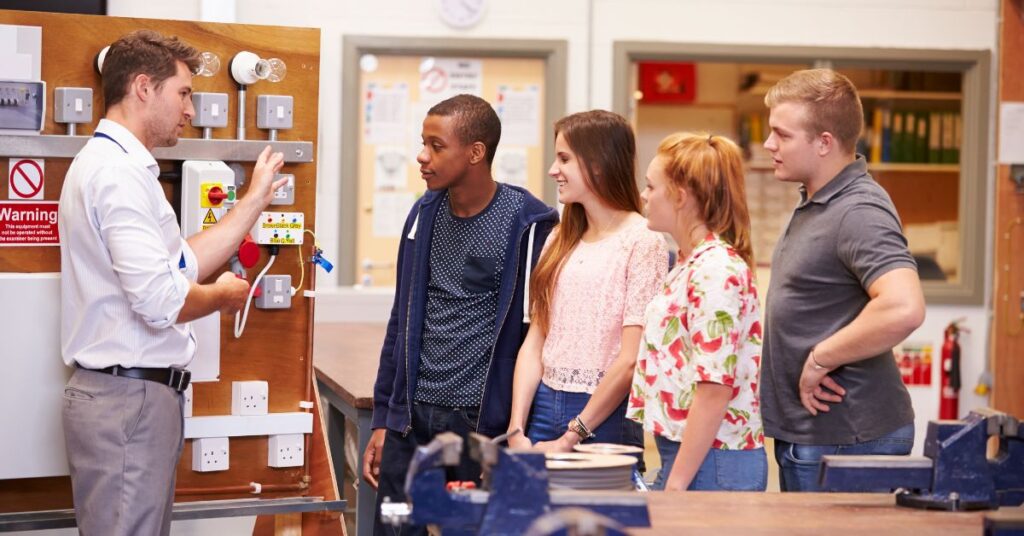 Remember that most schools need to be accredited to qualify for financial aid. Some trade schools are not eligible for financial assistance, so be sure to speak with the financial aid office or your school's guidance counselor to determine the different requirements.
This scholarship aims to support the legacy of Ron Dennis by supporting students pursuing careers in the trades. Apply by writing an essay, introducing yourself, and explaining why you want to follow the trades and how you think your trade career will change your life. Trade school students and vocational school students can win $1000 to help with educational expenses.
Award Amount: $1,000
Deadline: August 1, 2022
Winners Announcement Date: November 2, 2022
The scholarship seeks to help the next generation of welders pay for trade schooling or vocational school. This scholarship also considers applications wanting to pursue trades such as electricians, plumbers, and more. Awarded funds will take place on or after April 23, 2023.
Award Amount: $2,000
Deadline: March 13, 2023
Winners Announced: April 23, 2023
The world is shaped by the bold, the fighters, the risk-takers, the earnest overachievers who won't take no for an answer. This scholarship is a no-essay scholarship that awards the applicant with the boldest profile who is interested in using their college scholarships at their four-year university.
Award Amount: $25,145
Deadline: July 1, 2022
Winners Announced: November 30, 2022
This scholarship aims to help high school seniors in Ohio or Pennsylvania interested in attending trade school after graduation. Any high school senior who wants to go to a trade school or any student currently enrolled in a trade school needing federal aid may apply for this scholarship opportunity.
Award Amount: $1,500
Deadline: March 2, 2022
Winner announced: March 31, 2022
This scholarship is designed to support women in international trade who believe in facilitating efficient, secure trade and travel in the interest of mutual prosperity and industry diversity. Eligible applicants can receive more educational opportunities and apply by September 30th.
Award Amount: $8,000
Deadline: September 30th, 2021
Winner Announced: October 5, 2021
This scholarship seeks to support high school and undergraduate students who intend to spend their careers helping other people.
Award Amount: $1,000
Deadline: April 23, 2023
Winner Announced: May 16, 2023
All students currently pursuing a trade certificate in construction trades, remodeling, carpentry, painting, interior design, architecture, building materials science, plumbing, mechanical, electrical, green building, general contracting, sustainability, masonry, and welding, or those interested in pursuing one are eligible to apply.
Award Amount: $2,202
Deadline: December 8, 2021
Winners Announced: January 9, 2022
This scholarship seeks to support high school seniors and undergraduate students who intend to use their careers to help people.
Award Amount: $1,000
Deadline: April 16, 2023
Winners Announced: May 16, 2023
This scholarship seeks to honor the life of Jared Ethan Tueba b supporting students at Cibola High School who embody Jared's love for school, music, JROTC, sports, and community involvement.
Award Amount: $500
Deadline: April 1, 2023
Winners Announced: May 1, 2023
This scholarship supports high school seniors from Washington planning to pursue a degree in a technical school or a degree in environmental studies.
Award Amount: $2,000
Deadline: April 1, 2023
Winners Announced: May 1, 2023
This scholarship exists as an opportunity for women in STEM. This scholarship is an excellent opportunity if you are interested in math studies or teaching math.
Award Amount: $1,000
Deadline: August 1, 2022
Winners Announced: August 26, 2022
This scholarship is open to all motivated and driven undergraduate and community college students in any field of study.
Award Amount: $15,000
Deadline: August 23, 2022
Winners Announced: August 27, 2022
This is a no-essay scholarship that aims to support high school students in Maryland who are involved in their communities and are passionate about giving back.
Award Amount: $1,000
Deadline: March 30th, 2023
Winners Announced: April 30th, 2023
This scholarship seeks to alleviate the burden of student loan debt by helping current high school students, graduates, students attending college, attending two-year community college students, and those who dropped out to pay off their student debt.
Award Amount: $3,300
Deadline: July 8, 2022
Winners Announced: August 8, 2022
This scholarship will be awarded to one student with Neurofibromatosis (NF) and a learning disability of any variety. High school, undergraduate, and graduate school students are eligible to apply.
Award Amount: $1,000
Deadline: July 1, 2022
Winners Announced: July 31, 2022
This scholarship aims to support one student with Neurofibromatosis or a learning disability. To apply, submit a video or write an essay about your experience with NF or your learning disability. Make sure to write about your leadership skills and your motivation for pursuing higher education, and why you feel you are a good candidate for this scholarship.
Deadline: March 21, 2023
Award Amount: $1,000
Winners Announced: April 21, 2023
This no-essay scholarship seeks to support all international students going to school in the United States so they can overcome obstacles and fund their degrees.
Award Amount: $1,000
Deadline: November 1, 2022
Winners Announced: November 30th, 2022
This scholarship exists to help students broaden their world experience and other cultures. To apply, ensure your profile demonstrates an openness to learning about different cultures and sharing your own.
Award Amount: $2,000
Deadline: August 18, 2022
Winners Announced: August 22, 2022
This scholarship is in memory of Cardel Love and intends to support first-generation BIPOC students from New York so they can pursue higher education.
Award Amount: $500
Deadline: September 9, 2022
Winners Announced: October 9, 2022
This scholarship is for a hardworking, low-income student, either a high school senior or an undergraduate student. To apply, explain how education has influenced your leadership skills and shaped your view of the world.
Award Amount: $700
Deadline: July 1, 2022
Winners Announced: July 31, 2022
What Are Trade School Scholarships
Quite a few organizations assist vocational students. Some high schools also have classes you can take specific to the trade you are interested in. If you are a high school junior and want to get a leg up on scholarships, you still have some time to gain experience in a trade. It may be a good idea to take some of these classes before you head off to trade school. You could add the knowledge you gained to your application. You may even choose to go to a trade school in another state.
Trade school and vocational school scholarships are usually the same, and each school has a financial aid office that can offer more information about financial assistance. Community colleges may also sometimes provide trade school programs for college or trade school students.
Trade school programs are a great way to gain information about vocational scholarships for technical colleges or community colleges with trade or vocational classes.
About Trade School Scholarships
Many of these schools accept scholarships, and many organizations will help you sign up every step of the way. Once you get accepted, use the scholarship awarded to assist with move-in expenses.
Some scholarships require applicants to have excellent grades. It's essential to have at least a B average and some experience in the major you are aspiring to enter.
Getting a recommendation could give you the upper hand or the best chance of getting the scholarship of your dreams.
Vocational scholarships for trade school or technical college may also become available while students are still in high school. For students already enrolled in vocational school or trade or technical school, there are vocational scholarships to aid with financial assistance, educational tools, such as textbooks and items, and moving expenses.
What Qualifies Students for Trade School Scholarships
Many doors for unique scholarships are open for you. Scholarships cater to a variety of students, including school and vocational students. You can apply for merit-based, major-based, talent-based, and fellowships.
There is a boatload of scholarship opportunities at your fingertips. As long as you attend a vocational school, you are qualified to apply for scholarship opportunities. Eligible applicants may need to provide proof of attending their school or what degree they are pursuing. High school seniors applying to technical or vocational schools may need financial assistance. A high school graduate can use vocational and trade schools before applying for programs and trade school grants or apply upon acceptance to an accredited vocational-technical school.
Types of Trade School Scholarships
Different types of scholarships are available for students enrolled or applying to a technical school. Students to attend technical schools may have a financial need that only scholarship funds can help with.
Four types of financial assistance are available, including government loans, grants, scholarships, and private student loans.
Government Loans
Federal student aid loans are for college or career school and can include Direct Subsidized and Unsubsidized Loans, PLUS loans, and Direct Consolidation Loans. PLUS loans are for vocational school students with eligible family members who also attended post-secondary education at accredited schools.
Grants
The federal government provides grants for students going to college or career school. Most types of grants, unlike loans, are sources of grant money that generally do not have to be repaid. Grants are one of the most popular scholarship funds for those attending school and pursuing a college degree. The Pell Grant is the most common, but there are also minority grants in the form of scholarship awards for trade students.
Scholarships
You might be surprised to learn how many scholarships are available to trade students who plan to pursue careers more in the "vocational" areas. There are many scholarship platforms to check out for those who attend school with excellent academic merit or those who are high school graduates pursuing higher education through a college degree.
Private Student Loans
If you cannot take out a federal loan, you may be able to take out a private loan. Sallie Mae is the only lender that will provide loans to students at a foreign school. Vocational programs may also offer different loan opportunities for those pursuing higher education. Private student loans provide financial support to a post-secondary student at an educational institution or accredited college in need of financial assistance.
How to Find Trade School Scholarships
Finding scholarships is easy. You first want to search for the types of scholarships you would like to apply for. If you are a high school senior or an undergraduate, you want to look for scholarships that you are eligible for. Bold.org has a good range of scholarships that you can apply for.
A quick Google search is the best and most convenient way to find the scholarship of your dreams. An education scholarship can help with educational expenses, and federal student aid offices are a great place to begin your search. They often have financial aid resources that can lead to finding multiple trade school grants, scholarships, and more, including more information about grant money and the Pell Grant, as well as vocational programs and institutional scholarships.
Asking Your Community About Scholarship Opportunities
Another way to find scholarships is by asking around your school and speaking to the finance office or local guidance counselor. Sometimes, schools send out emails with scholarship opportunities if you qualify. A local church or religious institution may also have scholarship opportunities. This could be a great place to check. Churches will sometimes sponsor students and have also been known to give out scholarships yearly.
Tips on How to Win Trade School Scholarships
Good grades are the first tool you need to get that dream school scholarship. Not all scholarships require you to have good grades. Some want you to be motivated to be successful in your career of choice. Those scholarships will usually ask you to write an essay.
You do not need to be equipped with many tools to win a scholarship. But some scholarships do require some things from you. Let's say the scholarship you want requires you to have good grades. Do not feel bad if your grades aren't that great. Just keep in mind that scholarships may require you to have exemplary academic achievements to receive the award. They want to provide scholarships to hardworking students who care about their future careers. So having outstanding grades plus some trade experience could put you at the top of the list of applications.
For more information on scholarships check out bold.org!
Frequently Asked Questions About Scholarships,
After reading all the scholarships you qualify for, you must be filled with loads of questions. Well, the good thing is that people have some common questions when searching. Here are the most frequently asked questions about scholarships.
How many scholarships can you get?
There is technically no limit to how many you can receive. There may be specific ones to majors, academic level, or even pertaining to personal or cultural life. Financial aid is available for students who qualify for financial assistance and have a specific need while pursuing higher education.
Are scholarships taxable income?
They are not tax-deductible. They are meant for academic purposes, including room, board, food, supplies, and other things needed for classes. Using your scholarship for personal purposes makes it tax deductible, as it is not for academic reasons.
Am I able to take a semester off with my scholarships?
Yes, you can take a break. You don't have to pay any loans back until you finish school, and then you have six months after you finish your studies to prepare to pay your loans back, including with technical schools.
What different scholarships are there?
There are many different scholarship awards, including other grants and loans. Usually, students who graduated high school and are attending a vocational program, trade school, vocational school, or technical school have a financial need and require financial aid. Vocational scholarships are available for eligible students.