7 Best LSAT Prep Course Reviews in 2021 | A Major Step Towards a Successful Career In Law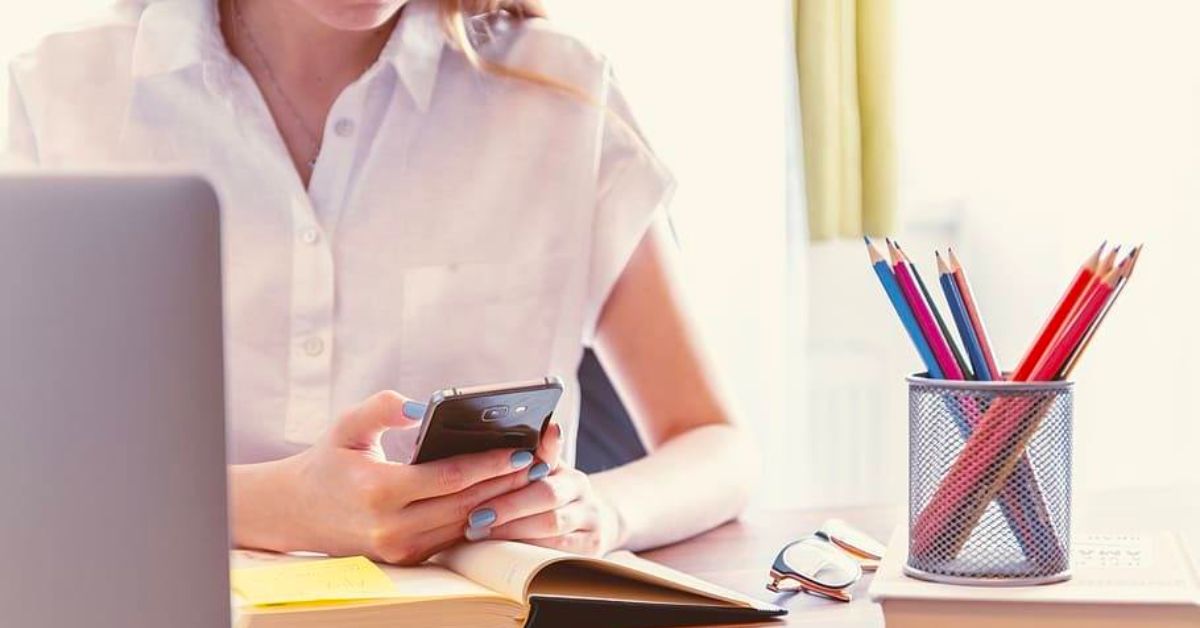 It's at that time. The LSAT is rolling around and you need to get brushed up for the exam. You can have the best LSAT prep courses in the world, but you have to be committed in order for it to be effective. In this guide, I'll walk you through the ins and outs of the LSAT and which courses are comfortable with your learning style.
What Is the LSAT and How to Pick the Right Prep Course?
The LSAT, or Law School Admission Test, is one that is taken prior to being chosen for law school admissions. Unlike the SAT, the students take the LSAT in college, and after you have completed a Bachelor's Degree program.
Within the LSAT, you will find three sections. These are reading comprehension, analytical reasoning, and logical reasoning. There are also a series of samples that are almost identical to real LSAT questions that have no bearing on your score. These practice tests are strictly used to shape future tests.
And within each section in every LSAT exam, you will be presented with 35 questions, all of which are multiple-choice. As you have probably already surmised, this isn't a test that's known for its simplicity. You're looking at some serious study-time if you want to have a prayer at making the grade on this one.
It goes without saying, but you're going to want to invest your time and energy (and oftentimes, money) into respectable LSAT prep. Starting from the reading comprehension to the Logical reasoning- preparing for the LSAT is no joke. Those who choose to go into the test cold, or without any solid preparation or study, are doomed to fail.
When trying to decide on the best LSAT prep course, it's a good idea to take an initial timed, full-length practice test. How is this important in your finding the best LSAT prep course? Because it highlights the areas on which you need to focus and study more to have the best LSAT prep.
By knowing where you shine and where you lack, you'll be able to pick a course that's best suited to your needs. Even if you find that you're smarter than the average bear, it's a good idea to prepare yourself as much as possible. It will only benefit you when it comes to the day of the test.
Research the LSAT prep courses to determine the best LSAT prep course for you. Many of them let you preview their services for this very reason. Try out a trial if it's offered so you can get a feel for it.
Most courses worth their salt is going to be pretty pricey. You don't want to waste your hard-earned money on an LSAT course that isn't going to benefit you. And whatever you do, don't just read other students' glowing reviews and think you've found the best LSAT prep course a.k.a the course of your dreams.
What works for a person might not work for other students. You have to engage with the content (like video lessons or live online videos) itself to really know if it will connect with you.
However, hours of video will do nothing for you if you do not set a dedicated time for self-study. Students take prep for 12 months or more which won't be necessary for your LSAT prep. Because your self-dedication will add a boost to the LSAT study.
Best LSAT Prep Courses Reviews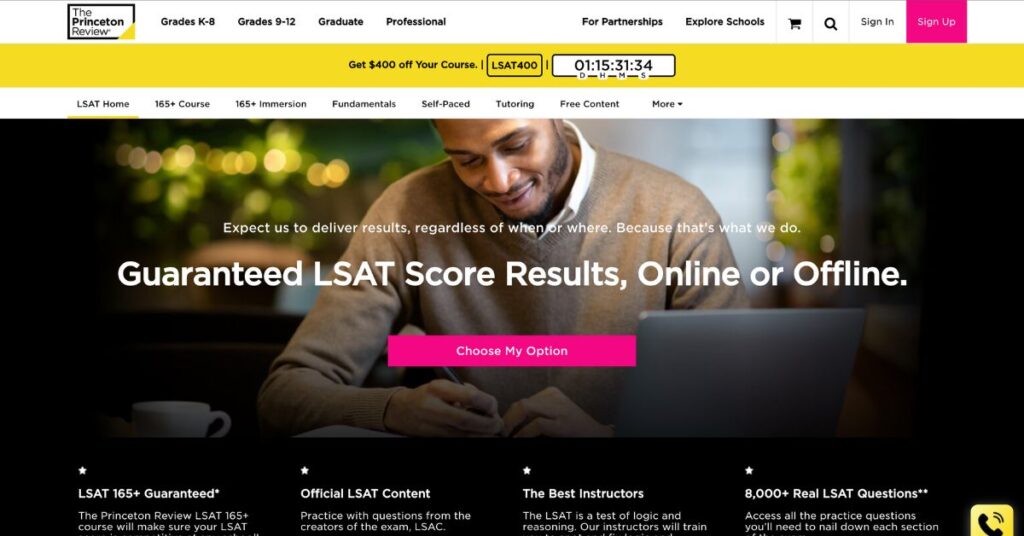 Features
Guaranteed top scoring to get access to the best law schools
Lots of official LSAT practice questions and full-length practice tests to better prepare you
Live instructors for a more personal approach
Flexible classes to better fit your schedule
Effective content with proven results
Princeton Review LSAT prep course is a flexible online service that offers live teaching. We're talking hundreds of hours of learning content. If you're serious about your studies, you need to give Princeton Review some serious consideration.
Known as the "LSAT 165+", this course features an incredible 150 hours of prep tests that will have you ready for the actual exam. You also get access to 84 hours of direct teaching from a knowledgeable instructor trained for LSAT prep courses.
If you're in need of a course that is easy to plan around, Princeton Review's courses take place at different times and on different days. So, there's a good chance you'll be able to work it into your schedule.
Do you want to ensure that you're ready for the LSAT? When you invest in the Princeton Review, you're gaining access to more than 8,000 official LSAT questions that the course includes. And all of them are designed to get you acclimated to the actual exam.
Looking for a guarantee? Princeton Review LSAT got you covered there, as well. The Princeton Review LSAT Prep offers a score guarantee of at least 165. That's nothing to sneeze at. With a minimum LSAT score of 165, you're likely to get admitted into one of the top law schools.
With a huge selection of content and expert teaching, Princeton Review LSAT Prep assures that you'll get your money's worth.
Things We Liked
Things We Didn't Like
– Vast amount of content
– Self-paced option
– Highly-respected
– Flexible
– Expensive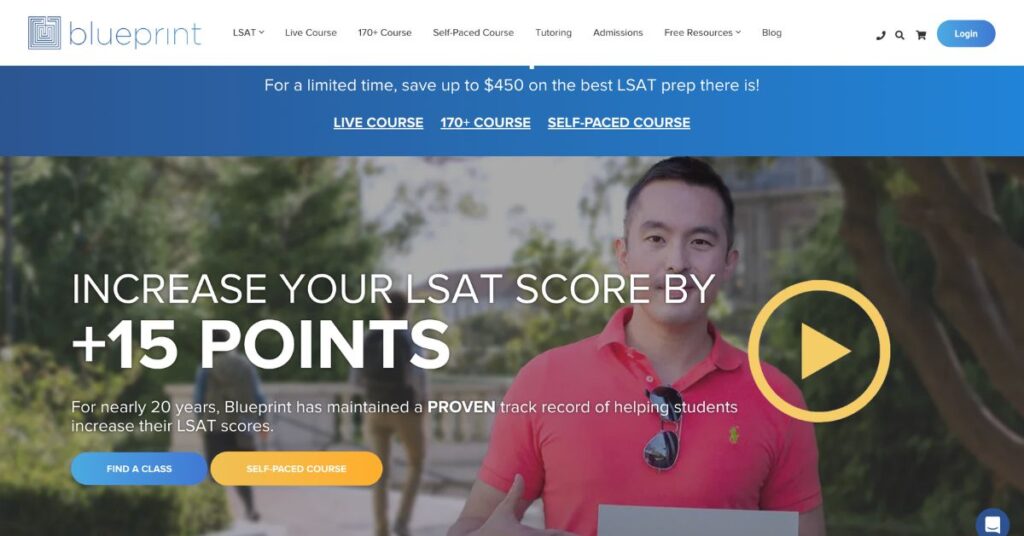 Features
Interactive contents from Blueprint help you find your strengths and weaknesses
With the Blueprint LSAT course, a score increase guarantee a better chance of success
Expert-led courses for the best teaching
Lots of practice with proven results
Different tiers for greater flexibility from Blueprint
Do you need your LSAT courses to be flexible? With Blueprint, the Online Anytime course is a mobile option that can be accessed from your favorite smart device or computer.
This Blueprint LSAT prep course is open six days a week, providing support from instructors who ranked within the 99th percentile of the LSAT. You're getting instruction from the very best LSAT instructors in Blueprint. And it's all in an accessible format that works as late as you do.
There is interactive content at your disposal at Blueprint, you can get little or as much involved as you like. It's also a great way to gauge where you stand. If there are areas that you need to improve on, the Blueprint LSAT prep course will help you do just that.
The Blueprint also offers more in-depth courses that I find to be very beneficial. It means that you get a score increase guarantee of your overall score on the LSAT with the help of the Blueprint LSAT prep course. You'll also receive books that serve to get you ready for the exam, as well as one-on-one help in areas that you're struggling with.
With nearly 9,000 official LSAT prep questions, you'll find that the Blueprint LSAT prep course offers exceptional LSAT test prep. Regardless of your needs, there's a plan option for you. Blueprint's courses range from three to 12 months.
With flexibility like that, you should have no trouble finding a class that fits your needs.
Things We Liked
Things We Didn't Like
– Personalized
– Vast content
– Self-paced course
– Flexible
– Higher-end courses are pricey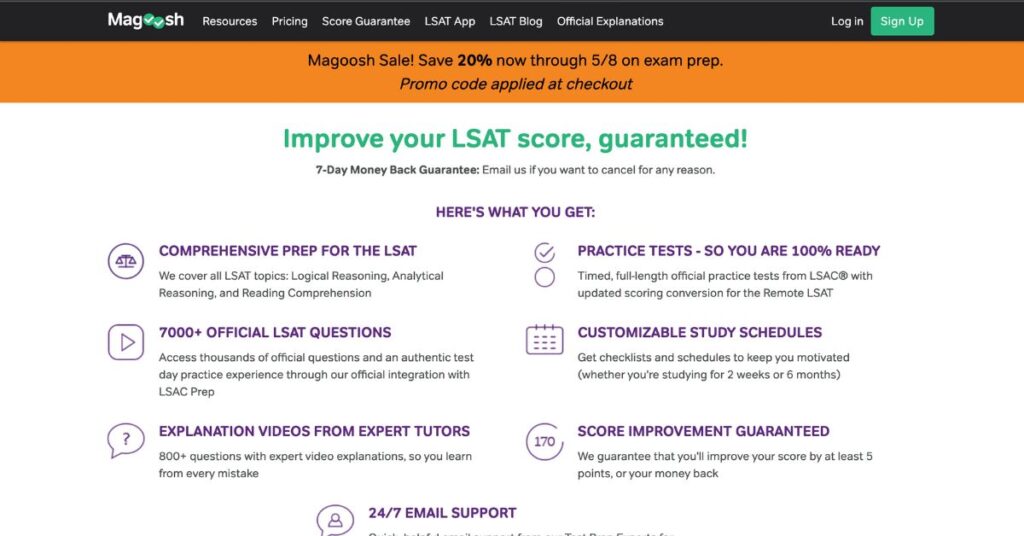 Features
Lots of practice questions and practice tests to get you ready for the exam
Money-back guarantee if you don't improve your score
12-month course for comprehensive study time
Affordable teaching for all students
Offers flexible online instruction
Are you on a tight budget that prevents you from investing in a costly prep course? Don't worry about getting left behind, for Magoosh has the perfect solution to your quandary.
The cost of the Magoosh LSAT course is a fraction of most major LSAT prep courses. But don't think you're getting substandard teaching. Quite the opposite. With Magoosh, you can look forward to having access to more than 7,000 official LSAT test questions.
You'll quickly become familiar with the LSAT, improving your chances of earning a high score if you're with Magoosh. Even better, this cost-effective course runs for 12 months! Imagine the ability to soak in all of the information that they offer.
Magoosh's prep course all online. So if you have other duties to attend to, chances are you will be able to fit classes into your schedule.
I'm very pleased with the approach Magoosh takes in teaching you the ropes of the LSAT. They focus on each section found within the actual exam, ensuring that you are adequately prepared for what lies ahead.
Want to try out a free trial? You got it, as Magoosh lets you test drive their services for seven days at absolutely free of cost for you. And that's not even the best part!
Perhaps what impressed me the most about this affordable course, Magoosh LSAT prep course guarantees that you'll see a minimum five-point increase on your LSAT. And if you don't? You get your money back. Simple as that.
Things We Liked
Things We Didn't Like
– Guaranteed improvement
– Highly-affordable
– Effective
– Lengthy
– No private tutoring offered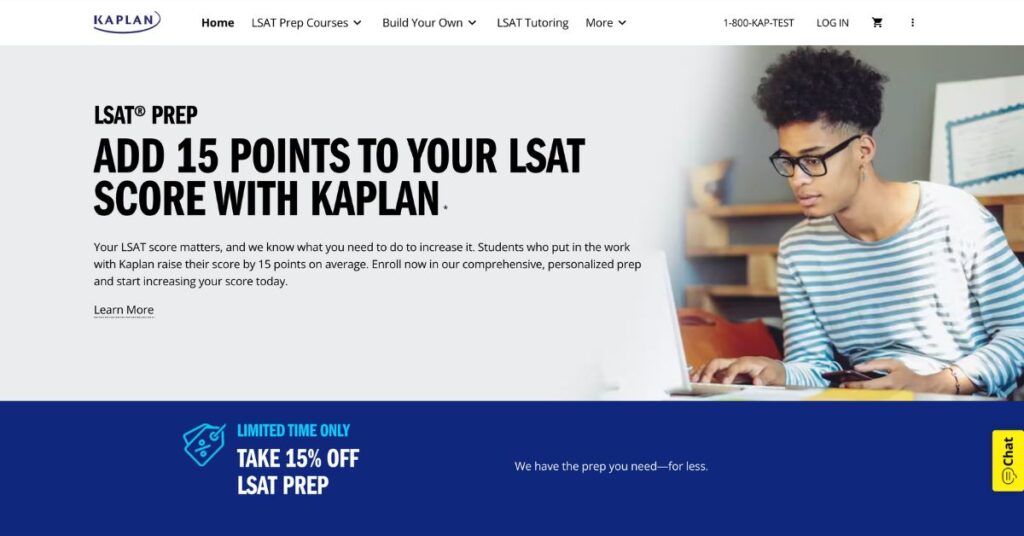 Features
An excellent option for those who are pressed for time
Classes offered right before the LSAT exam
An immersive, comprehensive learning
Expert teaching for better results
Flexible online courses
Find yourself on a time-crunch with little left for preparation? All is not lost, and you can thank the fine folks at Kaplan for that. Their online cram sessions take place over the course of three and four weeks.
But be warned, these classes are very intensive, and the cost is higher than standard LSAT prep courses. But if you don't have any other recourse, the Kaplan LSAT prep course is likely going to be your best option.
So, what do they offer? Well, the goal here is to ensure that you score highly in as little time as possible. That means getting in over 150 hours of teaching, complete with full-length practice tests and tutoring.
Perhaps most encouraging is the fact that you'll be getting instruction from some of the best minds in the LSAT field. A quality learning style like this is worth the investment, as you stand a far great chance of attaining your ultimate goal: getting into law school.
I'm a big fan of courses that focus on score improvement. With Kaplan LSAT prep, you know you're in good hands. They work hard to give you the confidence and knowledge necessary to conquer the LSAT.
If you have more time to study, and it can be accommodated by a less-expensive program, I'd suggest looking around. There's no need to spend the extra money if you're not pressed.
You can expect to spend two or three times as much with Kaplan than what you would with others. Kaplan LSAT prep course is here for those who need to learn hard and quickly.
Things We Liked
Things We Didn't Like
– Focus on high scoring
– Practice prep tests
– Effective
– Trusted
– Expensive and intensive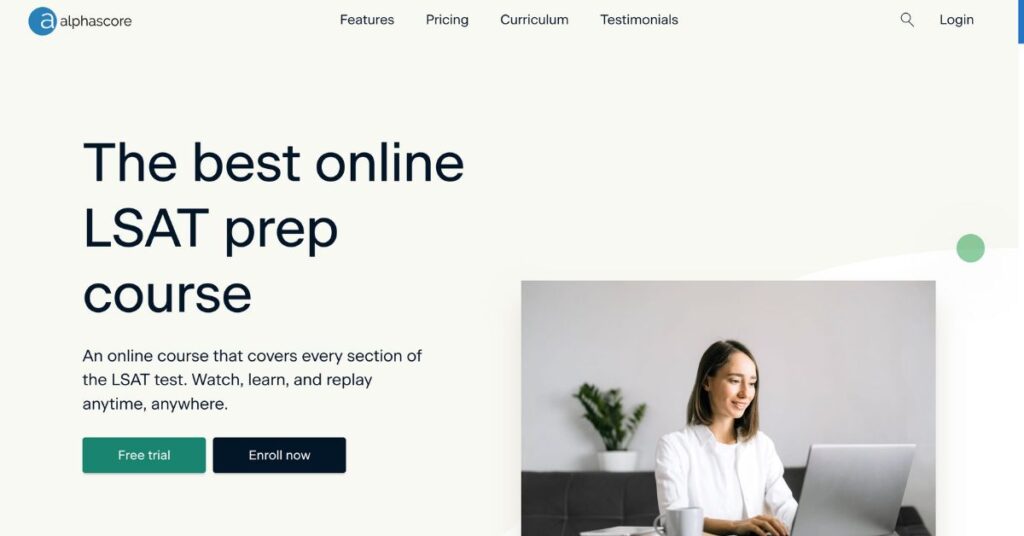 Features
Helps you answer all the LSAT questions quickly and accurately
An affordable option for those who need it
The course is immersive and enjoyable
Proven results for higher scoring
Self-paced for greater flexibility
Are you one who doesn't require in-depth courses? Perhaps you're taking the LSAT for your second time. You may have already been through prep courses and simply need a refresher. Then, this is one of the best LSAT prep courses that you need today.
Enter: Alpha Score. With their self-paced approach, you can self-study as much or as little as you want. Moreover, you can do so at your leisure. When you feel the need to brush up on certain areas, Alpha Score is there to work for you.
And thanks to personalized coaching, you get to target what's most important to you. There are literally thousands of official LSAT practice questions at your disposal, enabling you to gain the confidence you need to pass the LSAT.
Since it's a collection of online lectures, you won't find any live classes on Alpha Score. If you require that kind of teaching, you might want to look elsewhere. There is, however, personalized help available when you need it.
Another great benefit is the price. LSAT Prep course Alpha Score is by no means going to break the bank. It's an affordable option for those who wish to study at their own pace.
Things We Liked
Things We Didn't Like
– Study when you want
– Offers Great practice
– Affordable
– Free trial
– No live teaching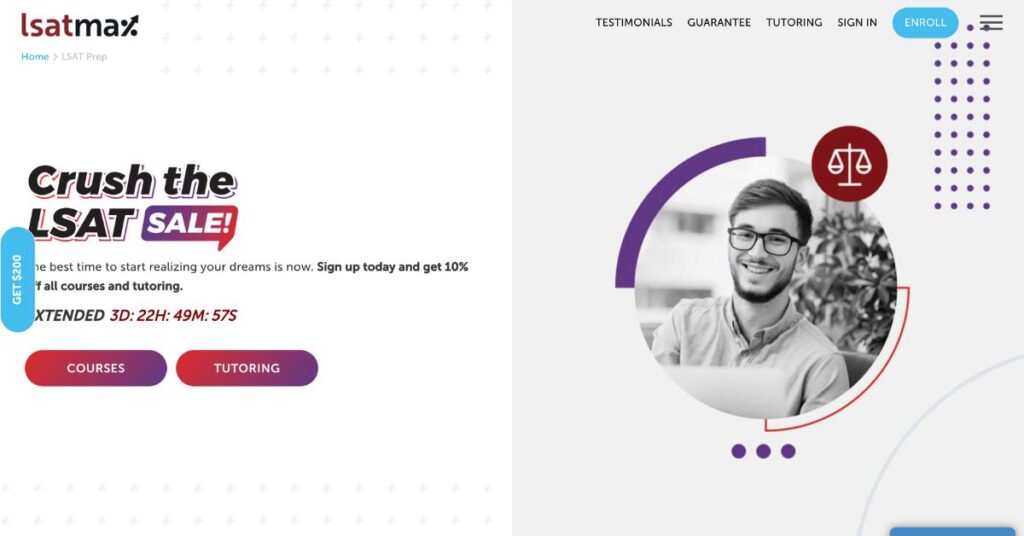 Features
A focus on improving your LSAT score for the best results
Target the area you need for better improvement
Free downloadable app with tons of content
This course includes lots of video lectures to improve learning
Flexible plan options for all walks of life
Do you find yourself preferring the cutting-edge approach to learning? With LSATMax, that's exactly what you get. Their method of teaching makes use of mobile apps that are jam-packed with content.
From video lectures to test practice, you'll find plenty to prepare you for the coming LSAT exam. More than 50 hours of video lessons for your LSAT test prep. And with so many plan options to fit your needs, finding the right course has never been easier.
There's even a monthly package that allows you to use LSATMax's service only when you need it. I like this kind of flexibility, as not everyone needs lifetime access (which they also offer).
You're also getting excellent feedback during your studies. This helps to target your areas that need more attention. From there, you can customize an action plan to improve those areas.
Even your practice questions can be adjusted to only display those which will be the most beneficial to you. That's incredibly progressive teaching, by my estimation. You're looking at some of the best schoolings you can get – and it's all based on your needs.
I know you'll also appreciate LSATMax's guarantee, too. Their program works to make sure you get a higher score on your LSAT exam. And that is always a clear indication that you're getting high-quality teaching.
There's a lot of homework involved when you sign up with LSATMax. You're going to get plenty of schooling and information pounded into your head, so be ready for a fairly intensive course.
Depending on where you stand with the LSAT, though, this might be a much-needed direction. And what's great is that you are afforded all the time you need to absorb everything that's taught to you.
With one monthly and two lifetime options, you're sure to get the learning experience you need. Each offers exceptional training without any compromises.
Things We Liked
Things We Didn't Like
– Lifetime access available
– Offers Money-back guarantee
– Lots of practice tests
– Affordable option
– No live courses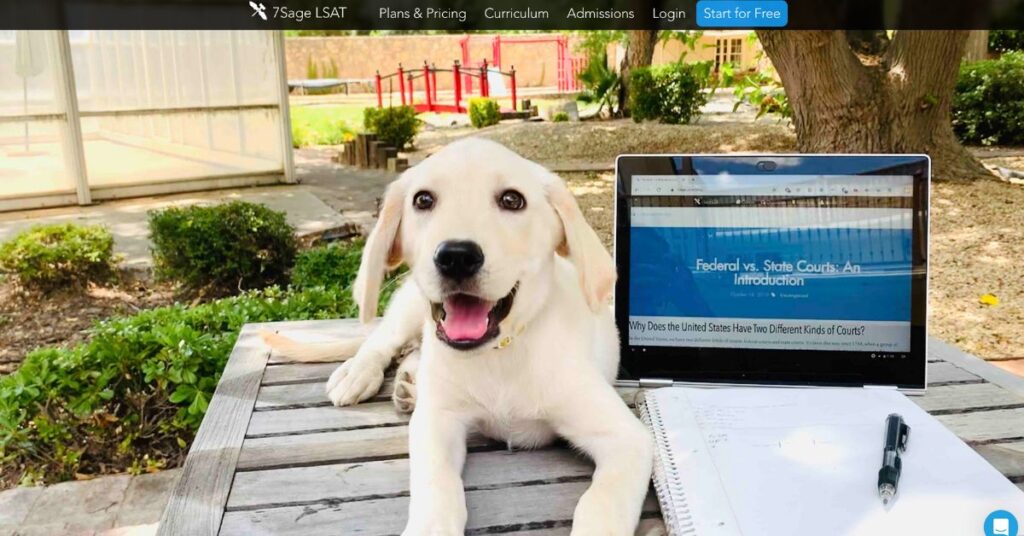 Features
Monthly and yearly options that accommodate a range of needs
A helpful online community keeps you motivated
Affordable courses for greater accessibility
Large video collection to enhance learning
Effective training that delivers results
Some students may not need a lengthy study course to prepare for the LSAT. Thankfully, there are services like 7Sage that allow you to choose an as-needed monthly option. And that's going to be our last pick for this LSAT prep review.
Developed by two graduates from Harvard Law, students who enroll in 7Sage's course typically see an average score increase of 11 points.
Their prices are affordable and they even offer a free trial. This lets you get a feel for their main curriculum, which includes more than 7,500 practice questions. And if testing is what you're after, I think you'll find their collection of nearly 100 to be satisfactory.
This is a great way to get you ready for the real LSAT exam. Combine that with their robust and personalized study plan, and you're looking at a solid entry that's feasible for all students who want a great start. Although it should be noted that an additional purchase of material is required to complete the 7Sage LSAT prep course.
If you need extended prep, there is a 12-month plan available, as well. I'm impressed by the amount of content that this course offers to students. You'll have access to thousands of high-quality videos that are designed to ensure your success. These also include the hours of live instruction.
7Sage might not be the biggest name in LSAT prep. But they have shown to consistently improve scores with their highly-accessible schooling.
Things We Liked
Things We Didn't Like
– Lots of practice questions and practice tests
– Plenty of testing
– Affordable
– Free trial
– Additional purchase required
Who Needs an LSAT Prep Course?
Quite frankly, anyone who needs a high score. So really, everyone.
Every LSAT prep student needs to take the LSAT seriously. Because the LSAT demands excellence, as it is the key to your admission into law school. Not only that, but it also helps determine how much funding you'll be granted.
Since both are a big deal, it is vital that you score well on the LSAT. And in order to score well, you need to find out any and all preparation content that you can get access to. Starting from LSAT prep books to any kind of prep content.
Looking to receive financial aid? Many programs base your acceptance on your LSAT score. The same goes for fellowships. Simply put, prep at all costs. Trust me, it'll pay off in the end.
Factors to Consider When Choosing the Right Course for You
There's a chance that the LSAT test prep courses might confuse your mind. But when you need the best LSAT prep for your exam, you need to focus more on your comfortability with the LSAT prep course.
There's a lot to think about when trying to decide on the right LSAT prep course. Are the classes offered being taught by highly-trained professionals? Do their teachings align with my needs? More importantly, have they successfully passed the LSAT?
You also want to take into account the amount of experience the course instructor has under their belt. You want your classes to run smoothly, after all. This is especially true if you're pressed for time and need to cram as much information as possible in a small window.
It's a good idea to find out what the typical class size is, as well. There are students who want smaller groups as some are better off that way, while others prefer larger settings. You want which is the most comfortable for you.
Do you need direct teaching or help from a live instructor, or will online classes do? Depending on your outside engagements, you may have to go with a live online course to accommodate your busy schedule.
Also, do you work better at your own pace, or do your needs require a more formal setting? This is why it's so important to face a practice test out of the way before looking into any prep courses. You will have a much better understanding of where you stand, and can then choose your classes accordingly.
Benefits of an Online LSAT Prep Courses
One of the greatest assets of taking an online class is the ability to get acclimated to taking the actual LSAT exam. You're going to be taking practice exams that closely simulate the real deal LSAT exams.
This is an advantage you'll have over other students, and it shouldn't be taken lightly. Those who are comfortable with the layout, feel, and groove of any exam will often do better than those who aren't.
But regardless of the methodology of your online course, you can expect to benefit from more points on your LSAT test prep. As long as you put in the effort, you'll improve your chances of earning a score that's satisfactory to you.
Most of the online You can even choose an online course with vast video lessons or video lectures that'll be a great asset for you. These hours of online help that you'll be granted are without a doubt the most premium personalized study plan ever.
Why an Online LSAT Prep Course May Be Your Best Option
Do you prefer a virtual setting? Some students simply don't like being in a classroom. Now, that's not to say your online class is going to be small. Some are quite crowded, in fact.
But you'll have the luxury of learning in the confines and privacy of your home (or gives you access wherever you have internet). This is a big plus for those who might have difficulty traveling.
The online LSAT course offers a vast amount of test-taking opportunities for students sitting in their homes. Some offer even free LSAT practice often. It also saves up a lot of time for the students to self- study for the LSAT course and often for free.
If you have a job or other commitments that might make getting to a class impractical, online courses are right up your alley. Also, you might often grab the best value from the courses.
So, make sure that you choose the best online course as your best option and increase the score guarantee for your LSAT exams.
Additional LSAT Prep Resources to Get You on the Right Track
Even if you've decided on the best LSAT prep course, it would be wise to explore additional resources. You'd be amazed at how much is available if you just take the time to look.
There is some truly compelling literature out there that has served many law students well. I highly recommend that you search out these LSAT prep books on your journey to taking the LSAT exams.
I also would advise that you don't just settle on one book. Use as many as you can, and use them often. They're relatively inexpensive, and you'll find a wealth of study material within their pages.
The Khan Academy is another invaluable asset because they provide the best value. Using their services and help might be a great way to see where you stand in terms of choosing the right prep course. They work in collaboration with the Law School Admission Council – the very creators of the LSAT test!
Now hold onto your seat, because that's not all. Aside from the Khan Academy working directly with the LSAC/LSAT and providing a treasure trove of goods and services, they are completely FREE! Yes, free LSAT practice and study for students.
With so much at your disposal, there's no reason why you shouldn't be able to zero in on the perfect prep course. To make things even easier, I've taken the time to sort through all of the top courses offered.
Above, you'll find the highest-ranking programs, numbered and detailed for your convenience. I've also included pros and cons so you'll know which ones meet your requirements. I hope you enjoyed it.
Frequently Asked Questions
Question: Which LSAT prep course is best?
Answer: It's really hard to state the best course directly. Because all of them have different features to serve you. However, if you rate a course by the editor's rating and other overall content, Princeton Review will provide you the best course for LSAT prep.
Question: Are LSAT prep courses worth it?
Answer: Yes, they are worth it only if you commit to the course and choose an option that won't break the bank. There's a misunderstanding among many students that you need at least $1000 to sign up for an LSAT course. However, companies offer well- structured and affordable course options for like Princeton Review and Magoosh. Khan Academy even offers it all free.
Question: What is the best LSAT prep book 2021?
Answer: It is impossible to state the best prep book. You see, there are many old books too that can be very useful for you. So, the best choice for you to have an overview of books and use the one that will match your learning style.
Question: How far in advance should you study for the LSAT?
Answer: 3-6 months study for LSAT is good enough for you. Mostly it depends on the study hours that you're investing for yourself. A total of 150-300 hours of studying can be enough.