7 Best GRE Prep Course Reviews of 2021 | Top Online Learning Solutions
Planning on getting into graduate school? If you've been doing your homework, you know it's not for the faint of heart. Obtaining your MBA is going to take dedication and commitment. If you want to make things easier on yourself, you're going to need the best GRE prep courses to help you get acclimated to the exam.
Not sure where to start? I've got you covered. Today, I'm going to share with you the top programs that are proven to give you the results you need. I'll also discuss some important information to better familiarize myself with what's to come.
What Is the GRE and How to Pick the Right GRE Prep Course?

The GRE, or Graduate Record Exam, is typically required before getting into a graduate program. It's a standardized, multiple-choice test that is often viewed as more difficult than the SAT or ACT.
This is because the verbiage found within the GRE test is more complex. Among all the sections of the GRE, this applies to the GRE math section as well. By all accounts, the GRE math is easier when compared to other exams; it's the wording that makes GRE math harder.
Students will also be tested on quantitative reasoning, analytical writing, and verbal reasoning. As such, it is strongly advised that you take test preparation by investing in a quality prep course when studying for the GRE.
So, there's no chance for you to take the GRE test prep as a joke. Prepare for the GRE with the best that you've got with the help of the best GRE prep courses.
When you're ready to start looking into different course options, there are a few things you should take into consideration. You want the classes to offer a curriculum or study plan that resonates with your learning style.
A GRE prep course that goes over your head is only going to serve to frustrate you. The more comfortable you are, the better you'll absorb the information being taught to you. With that being said, if comfortable classes tend to make you complacent and you don't learn anything, you'll have to get radical and enroll in one that pushes you to your limits.
It's a fine balance, to be sure. But you should know what you need. And if you don't, full-length practice tests will highlight your strengths and weaknesses. From there, you can choose from GRE prep classes that improve in the area or areas that you are lacking.
What is your expected outcome of taking a course? What kind of score do you plan on achieving due to the additional prep? These are goals you should be answering in your head.
Some courses come with a higher score guarantee or a score improvement guarantee. It would be wise to seek out those that will best accommodate your expectations.
Furthermore, do you prefer learning in a real classroom, or is a virtual setting better suited to your needs? By knowing what you want, you'll have a much easier time sorting through your options.
Best GRE Prep Course Reviews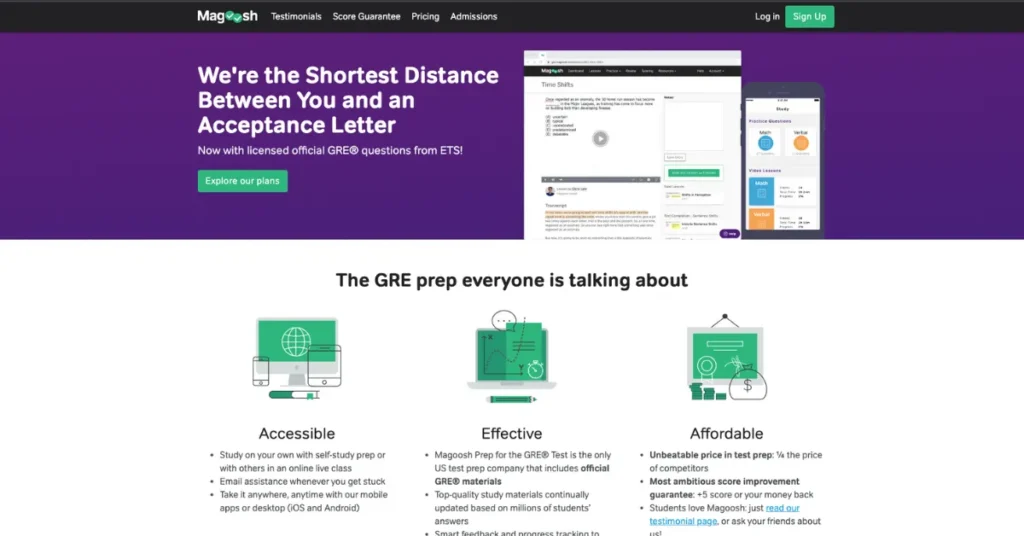 Features
Guaranteed point increase or your money back
Predicts test score and gives you a score guarantee for greater confidence
Magoosh GRE test content is highly-effective
Online classes and study plan to fit your schedule
Affordable classes for all students
Magoosh GRE Prep program is a highly-acclaimed course that is completely online. You'll find nearly 250 tutorials that serve to get you ready for the GRE. I love courses that provide you with plenty of practice questions and take practice exams.
With Magoosh, you're looking at over 1,200 of the practice questions to get you prepared for what to expect on the actual test. Preparing for the GRE test is easier as video answers are provided to help you retain what is taught.
Looking for test experience? Magoosh has you covered. You'll be taking the GRE practice test that closely mimics the real GRE. By knowing what's ahead, you're more likely to do well come test day with the assistance of Magoosh.
Magoosh is a trusted name in prep courses. And with that comes a score guarantee you can count on. If you don't see an improvement in your score of at least 5 points, Magoosh will give you back your invested money.
To access this incredible course of Magoosh, all one needs is a smart device or computer with an internet connection. The plans are some of the most affordable around, delivering quality teaching that won't break the bank.
Want even more? Magoosh provides score prediction to give you an idea of what you'll get on the GRE. Imagine the difference in your confidence when test day arrives. That in itself is worth the price of admission.
Things We Liked
Things We Don't Like
– Money-back guarantee with good GRE prep course practice tests
– Highly-flexible GRE test prep courses
– Affordable
– Free GRE prep trial
– Lacks a tutoring option for the test takers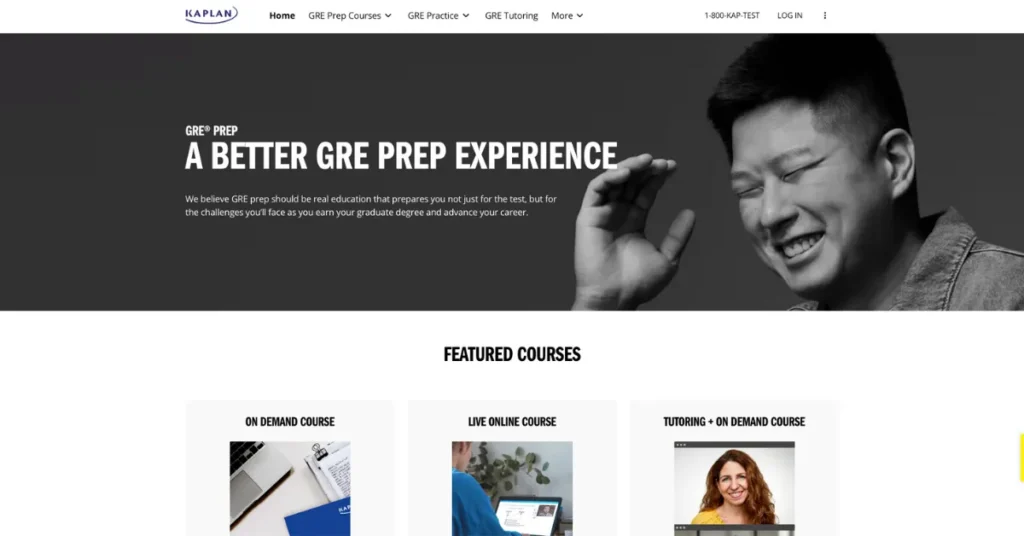 Features
Interactive content helps you study for GRE easier
Guaranteed score increase or your money back
Trusted GRE prep course practice tests with proven results
Test practice to ensure accuracy in target test prep GRE
Flexible online classes for all of the test takers
Self paced online prep practice exams for GRE with proper study plan
Kaplan GRE Prep course provides students with some of the best training around. This highly-respected service gives you access to a dizzying amount of content including video lessons. You can look forward to nearly 200 of instruction that includes practice questions and private tutoring.
Kaplan GRE prep is giving you a chance to look at more than 5,000 practice problems / questions to help you be your best on test day. There are tests you'll be taking, too. These emulate the GRE to help you become better acclimated to it.
Kaplan will supply you with the best GRE prep books to further your comprehension of what's to come. There's also plenty of online course content that you'll have access to. There's even interactive discussion that gives you a more personalized setting.
Need to brush up on certain areas? Kaplan allows you to fine-tune your learning style to ensure you're targeting the most important aspects.
Compared to many of the other classes included here, Kaplan runs a bit on the high side. However, you often get what you pay for, and Kaplan is one of the best you'll find. One of my favorite features they provide is the ability to take their course all over again if you don't improve your GRE score.
Conversely, you may get a full refund if you prefer. With a guarantee like that, you can rest assured that you're getting an education at its very best.
Things We Liked
Things We Don't Like
– Personalized teaching
– Tons of GRE practice problems to solve
– Self-paced online GRE study option
– Effective GRE test prep
– Expensive courses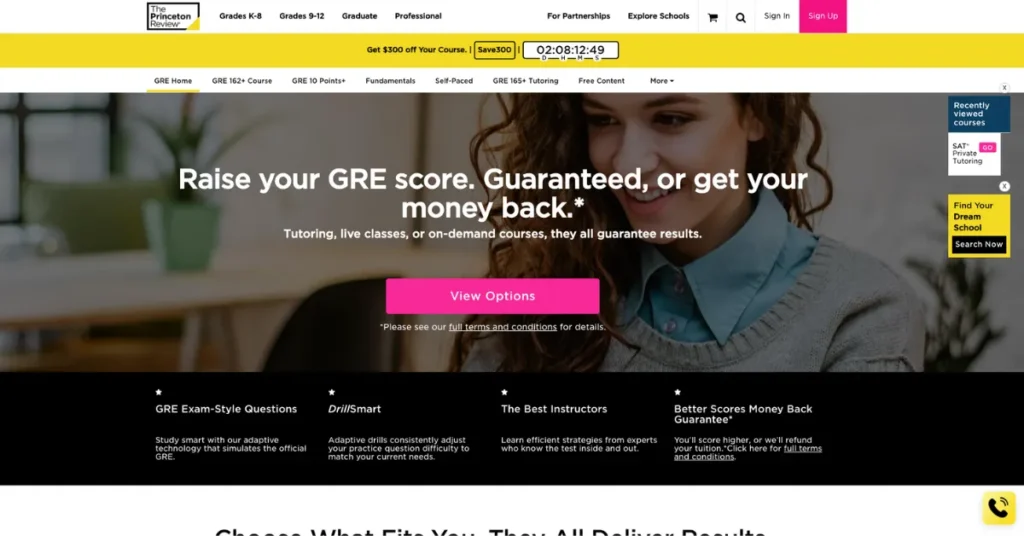 Features
Plenty of practice questions to acclimate you to the GRE
A minimum score guarantee of 162
Private tutoring available for personalized learning
Affordable self-paced online GRE prep course practice tests for greater flexibility
Lots of plans for a wide range of budgets
The Princeton Review is another effective prep course that is responsible for countless success stories. Their online training is some of the very best, providing students with a litany of resources.
The best thing that I like about Princeton Review GRE prep courses is that the curriculum gets more difficult along the way, constantly pushing students to strive to be their best. GRE classes that offer this kind of intensive schooling are great for those who naturally excel in their studies.
The Princeton Review GRE course is jam-packed with rich content. It is designed to be completed in just four months and the highest 6 months. It's a lot to cram in such a small window of time. But if you're up to the challenge, I believe you'll benefit greatly from what they have to offer.
Princeton Review offers over 2,500 practice questions that will free and sharpen your test-taking abilities. You get to take several GRE practice tests, too. By the time you're finished, you'll have the necessary skills to conquer the GRE.
Looking for a guarantee? No problem there. Princeton Review GRE prep courses ensure that you'll earn a minimum score of 162. If not, you get your money back. How's that for confidence in their teaching ability?
If you'd like to see where you stand in terms of what you need to learn, DrillSmart is a test designed to illuminate your strengths and weaknesses. From there, you'll get a study regimen that's tailored to your needs.
The Princeton Review is pretty pricey compared to many other courses. But you're also getting some of the most in-depth schooling available. If you're serious about doing your very best on the GRE, this may be the course you need.
Things We Liked
Things We Don't Like
– Guaranteed point improvement
– Effective learning and study plans
– Optional tutoring in target test prep gre
– Effective GRE prep course practice tests
– Excellent GRE practice tests with online self-paced adoption
– Most courses are pricey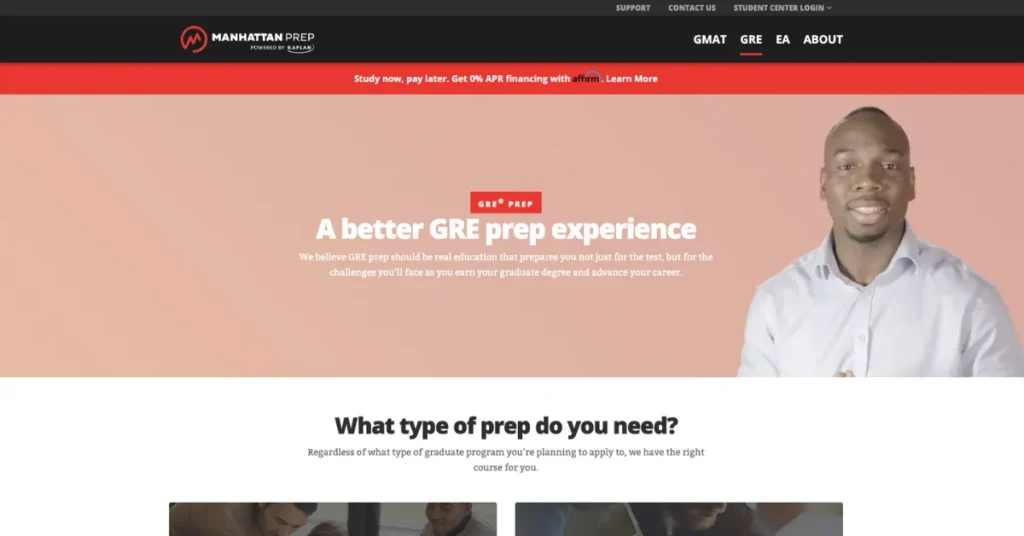 Features
Flexible courses to fit your study schedule
Expert-led courses for better learning
Testing to acclimate you to the GRE
Lots of content to ensure retention
Manhattan Prep GRE courses are a self-paced online alternative for those who need a little more flexibility in their study plan. You're getting exceptional teaching by instructors who excelled in the GRE.
Manhattan Prep GRE courses will give you access to over 75 video lessons that serve to improve your testing skills. There is a load of practice questions offered to help you prepare for the actual GRE test. You'll even take full-length practice tests to ensure you're ready for what lies ahead.
The biggest benefit here is the ability to login and access Manhattan Prepx content anytime you like. If you have other commitments that tend to get in the way of your learning, you'll find this feature to be quite useful.
If this sounds like something you'd like to try, Manhattan Prep offers a free trial. You'll get to take their services for test spin for a whole week. This should give you enough time to determine whether it's a good fit for your needs.
I like that there is a good selection of plans available. If you don't feel like you need several months of schooling, Manhattan GRE test offers a one-month course. From there, it goes up to three, and then 6 months.
The cost is kind of high considering the short amount of time you receive from the Manhattan Prep GRE courses. But you're really paying for convenience here. The teaching is solid and worthy of your attention.
It should be noted that there isn't a point guarantee like you get from other courses. If that's a deal-breaker for you, it's probably best to look elsewhere.
Things We Liked
Things We Don't Like
– Online self-paced learning
– Practice testing
– Free GRE trial
– Effective
– Expensive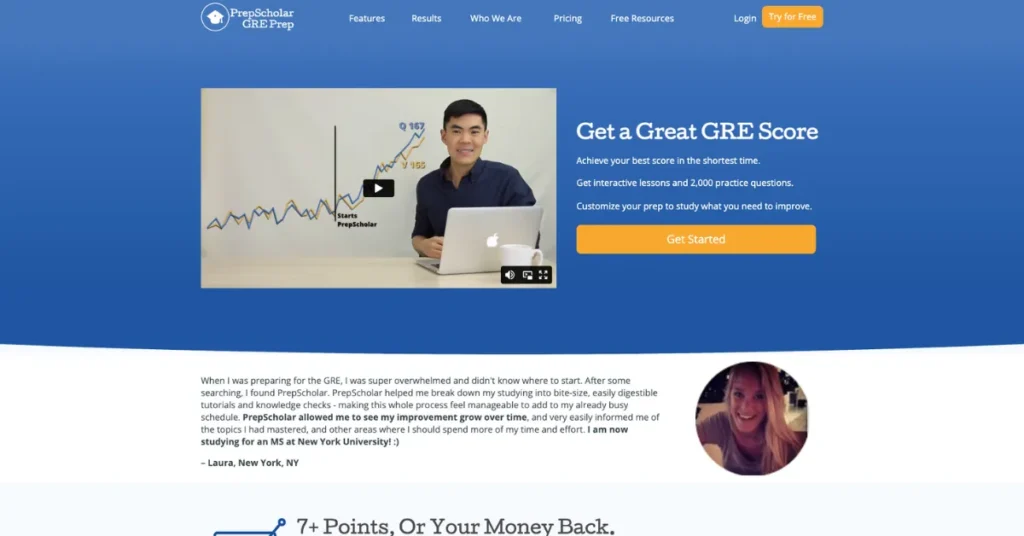 Features
Hundreds of hours of GRE prep course practice tests with proven results
Over 2,300 practice questions for better testing
Teaching that guarantees a 7-point increase
Affordable 1-time fee for unlimited access
Live online GRE course for greater flexibility
PrepScholar GRE prep courses are quickly becoming some of the best in the industry. If you're on a budget that doesn't allow you to invest in a costly plan, PrepScholar has your back.
I really like what they're doing for students. By offering an affordable course, more can enroll in the program. It is a great way to ensure everyone gets a fair shake at bettering their lives.
On top of greater accessibility, PrepScholar has a guarantee that is sure to peak your interest. If you don't see a minimum score increase of at least seven points, you'll be refunded.
If you find that your life makes it hard to get the training you need, PrepScholar's 24-hour access is just what you need. You can study whenever it's convenient for you.
Even better, the curriculum you receive is based on your personal learning needs. Each week, you're presented with a detailed plan that's tailor-made, just for you. With schooling like this, you're sure to do your best on the GRE.
Things We Liked
Things We Don't Like
– Study on your time
– Unlimited access to online self paced study
– Affordable GRE prep course practice tests
– Effective prep courses
– Limited exams
Features:
Group plan that saves students money on enrollment
In-depth teaching that covers all areas of the GRE
Expert-led courses that ensure the best training
Personalized prep courses approach for better learning
Flexible online GRE course
Testmasters is an excellent prep course for those who like shorter sessions. It's perfect for building your knowledge and skillset, too. You have access to 36 hours of schooling that includes practice questions, as well as testing.
The Testmasters team is composed of folks who know how the GRE functions. They share this insight with you to ensure you're getting the training you need to succeed. This includes expert analysis from instructors who have more than 20 years of experience.
They have helped thousands excel on the GRE. And what's interesting about Testmasters is that they have experts on each section found within the GRE. This ensures that you're getting in-depth coaching on all parts of the exam.
Testmasters' GRE classes provide you with the materials you need for GRE preparation. Each one is personalized for a better learning experience. Your manual is designed from top to bottom with test procedures, answers, analytics, and more.
Are you looking for one-on-one training? Testmasters has you covered there, too. Their online course delivers a custom series that gives you the best chance at success.
There are even group discounts available to help give you a break. If you want to get a bunch of friends together, you can end up saving quite a chunk of change on your schooling.
The course on its own is a bit pricier than some other, more popular courses we reviewed. But their dedication to providing you with stellar learning material makes them worthy of your consideration.
Things We Liked
Things We Don't Like
– Unique schooling concept with online self paced feature
– Lots of practice questions
– Affordable group option in the prep courses
– Hours of live schooling
– A bit pricey prep courses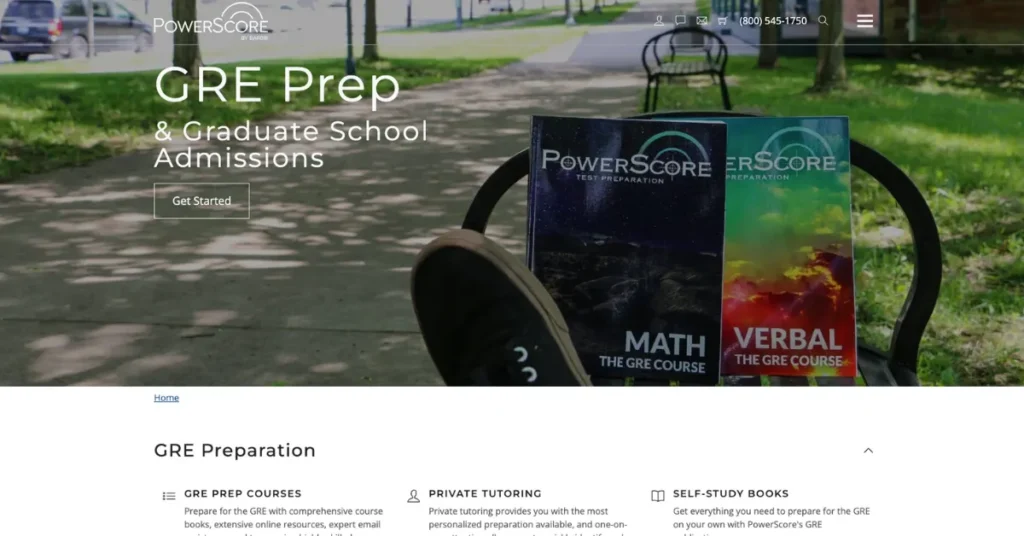 Features
Various methods of teaching and study plan to fit your schedule
Versatile tutoring that works to meet your needs
Admissions team to place you in the right school
A helpful community that keeps you connected
Expert teaching that ensures results
PowerScore is available in 21 states for those who prefer on-site schooling. If a course isn't near you, there are live online GRE services, as well. Each class/study schedule includes three hours of live teaching from an expert instructor, stretched across 10 sessions.
This takes place over the course of five weeks. If you prefer a shorter option, there is a half-length class that's online-only. All courses include coaching for each section of the GRE exam.
And if you want a more personalized approach, PowerScore prep provides one-on-one tutoring. This is available both online and in person. Alternatively, you can opt to be tutored over the phone.
I'm impressed by how much tutoring is actually available. You can choose packages that range from five to 30 hours! That's a great deal of coaching. And the fact that it is offered in various formats is a huge plus.
There's plenty of online support that works to help you with admissions. If you need assistance getting into the right school, PowerScore is there to guide you every step of the way.
You're getting a well-rounded team of experts to assist you with all aspects of the GRE and beyond. If you want to get a feel for what's offered, PowerScore provides free webinars that go over their services. You can even opt to do this in person for a more personable setting.
Things We Liked
Things We Don't Like
– Excellent admissions assistance
– Exceptional tutoring program
– Lots of free help
– Plenty of GRE prep books
– Limited content available
Who Needs a GRE Prep Course?
Anyone who wishes to get their MBA, especially considering that most grad schools require that you've taken the GRE. It is tantamount to your future that you do your very best on the test.
Schools are going to look at your GRE exam score to determine your admission. But that's not all. You're also putting your chances of receiving scholarships into the fate of your test results.
That's a big chunk of your motivation right there. Financial aid is often awarded to those who excel in their testing. Doesn't it, therefore, make sense to invest in a quality GRE study course?
Factors to Consider When Choosing the Right Course for You
You have to know what you need to focus on before you choose a course. Improving what you lack is going to be one of the most important things you do for yourself. Good GRE test prep is available that will help magnify this need.
Do you have trouble studying? Believe me, you're not alone. Being disciplined to where you can study on your own does not come overnight. If you require help with this, you want to seek out a course that can accommodate this need.
Do you study better alone, or with the involvement of a group? There is GRE prep available for both ends of the spectrum. You're the one paying for these courses. Get your money's worth by choosing one that works for you.
You should also look into the instructors teaching the courses. Do they have plenty of GRE experience? Did they score well on the exam themselves? You want a knowledgeable leader who helps you perform at your very best.
Finally, what is your budget? Each GRE prep course varies wildly in its cost. Determine how much you are willing to spend beforehand. Knowing what your limits are (if you have any) will make it a lot easier to choose the course that's right for you.
Benefits of an Online GRE Prep Course
When you enroll in an online GRE prep, you're getting access to a wealth of beneficial information and resources. These online GRE courses give you a huge advantage over others. You'll get to take full-length practice exams that simulate the real thing.
Having a general understanding of the GRE online will allow you to take the test without feeling rushed. You'll be able to answer questions more confidently, and you're less likely to face barriers along the way.
Teaching you the ropes of the GRE will be a GRE tutor or instructor who should have commendable experience in the field of study. Having these kinds of course options is highly advantageous.
GRE online prep tutors are also offered by many courses. Once you have identified any weaknesses, a GRE tutor will help you improve on those GRE practice problems.
Some online courses not only provide you with a score improvement guarantee but also a higher score guarantee. That should give you the assurance that you're getting some of the best schooling available.
When you combine all of these benefits, you're looking at a sure-fire road to success on your GRE test. Just remember, you have to put in the work and be committed to the class you ultimately invest in.
Why an Online GRE Prep Course May Be Your Best Option
With online communication currently at its zenith, there's no better time to choose a virtual classroom. Many offer the same benefits and teaching found in a live online setting. More importantly, there's no travel involved.
If you have trouble getting to the course you want, doing a course online is a great alternative. If you have children or a job that makes it difficult to go outdoors, the course might be best online.
As long as you have an internet connection, you can access the same material from the comfort of your home or favorite coffee shop, live online. With the need for travel eliminated, it's a great way to free up more time for yourself.
You'll typically find greater flexibility with online GRE courses, as well. Not just in time, but in your budget. Online courses are often less expensive than traditional ones. If you're trying to conserve out-of-pocket expenses, an online course might be your best option.
Additional GRE Prep Resources to Get You on the Right Track
When it comes to decisive exams like the GRE, there's no such thing as "too much studying." You're going to be taking some of the most rigorous testings you're likely to ever come across.
You might have found the best GRE prep course known to civilization. But it's a good idea to take advantage of extra study materials to improve your chances of success.
There is a veritable ton of information awaiting your discovery. Many of which consist of reading material. You would do well to look into some – if not all – of these best GRE prep books to tip the odds in your favor.
If you want free help with the GRE, Khan Academy has some excellent resources. It is often hailed as some of the best instructional video lessons online.
Search the internet for other literature, as well. And try to get your hands on as much content as you possibly can. You can't be too prepared, and your test score will reflect the hard work you put in.
Before you set off to find the perfect program, I've got a little present for you. Directly below, you will find a list of some of the finest GRE prep courses. I've summarized each one's qualities and why it might be a good fit for your needs.
I want you to do your best on the exam. My hope is that this guide will make things easier on you so that you can spend more time on GRE preparation, and less on research on the best GRE prep courses.
Frequently Asked Questions
What are the best GRE prep courses?
Answer: Magoosh GRE Prep, Kaplan GRE Prep Course, Princeton Review GRE prep, Manhattan Prep GRE Course, PrepScholar GRE Prep, Testmasters GRE Prep Courses, and PowerScore GRE Prep Course. These are without a doubt the best courses that you can right now in the market.
Are GRE prep courses worth it?
Answer: GRE prep courses can be totally worth it even at $1,200 and 40 hours of your study hour. However, the major issue is your comfortability with the course rather than the payment. If you pay for a pricy course which is not comfortable for you won't be much benefitted.
What is the best GRE prep book 2021?
Answer: A prep book alone can't make the whole preparation process easier for you if you don't practice the books. Official GRE test Super Power Pack, Second Edition might be the book that you're looking for in 2021. It has received 4.5 out of 5 in the editor's choice.
How far in advance should you study for the GRE?
Answer: The answer for you is 3-6 months at least. It's going to be the least recommended month for you to prepare yourself by having a great amount of time in your hand.