5 Best PSAT Prep Book in 2021 | Our Recommendations WILL Boost Your Score
Finding the best PSAT prep book is the first step to getting ready to study for the PSAT exam. Taking a full length practice exam for the PSAT in a prep book before the actual exam can be an effective strategy in testing your knowledge and skills.
Why is it important to take the PSAT/NMSQT exam?
The PSAT/NMSQT exam is an abbreviation for "Preliminary SAT / National Merit Scholarship Qualifying Test". The PSAT is a national scholarship test that is administered by the College Board and cosponsored by the National Merit Scholarship Corporation in the United States.
Why does the PSAT exam matter?
Millions of high school students from across the country will take the PSAT exam each year. It is one of the best indicators for gauging how well a student will do on the official SAT exam for which we reviewed these awesome SAT prep books to accompany the proven SAT prep courses. Doing well on the exam can also help students land a National Merit Scholarship, which is a substantial amount of money for tuition at certain universities.
PSAT Exam Prep Book Buying Guide
The best PSAT Prep books contain a combination of full length practice tests, key concepts, common questions, and review materials. In addition to PSAT practice tests, students can prepare for the exam by reviewing answers and explanations from the practice exams.
PSAT Essential Info
Make sure to to read the directions and instructions of each section of the test. The exam is split up into three main sections in the test structure:
1) Reading – 60 minutes, 47 questions
2) Writing and Language – 35 minutes, 44 questions
3) Math – Part 1: 25 minutes, 17 questions (No Calclulator);
Math – Part2: 45 minutes, 31 questions (Calculator Allowed)
5 Best PSAT Prep Book Reviews
As an experienced standardized test-taker and college admissions advisor, I find these books below as extremely helpful as a PSAT review book and test preparation for students. All of the books listed below help give great tips, pointers, and other information to help give valuable advice as an effective study guide.
The best way to ace the exam is to study and prepare! I hope these reviews will help students prepare for the test and encourage them to use practice questions in each book as a way to prepare.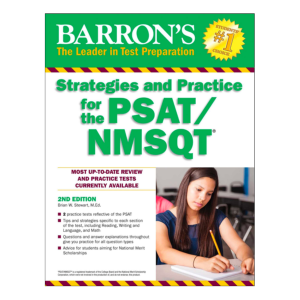 Another excellent PSAT prep book for best preparing students in effective test-taking strategies and review with practice questions is "Strategies and Practice for the PSAT/NMSQT (Barron's Test Prep)".
As a frequent personal reader and instructor of their books, I am happy to recommend Barron's to prospective students looking to achieve a top score on the new PSAT format. This best-selling PSAT prep manual introduces high school students to the newly redesigned PSAT/NMSQT and prepares them to get the best score.
Reviewing a good PSAT test prep book and study guide consistently can help push a student's score from good to great in a short amount of time. In the study guide, there are tailored tips and strategies that are specific to each section: Critical Reading, Writing and Language Skills, and Math.
The study material from most study guides by Barron's offer high-quality content and relevant information such as the format, test-taking procedures, and other tips. Since most high school students take the PSAT exam as the preliminary version of the SAT college entrance exam and also as the qualifying exam for the National Merit Scholarship competition, it is extremely important for students to deeply understand the new PSAT/NMSQT exam and how to prepare for the exam accordingly.
Luckily, "Strategies and Practice for the PSAT/NMSQT (Barron's Test Prep)", provides one of the best PSAT prep books that offer both advice for students aiming for National Merit Scholarships as well as proven tips and pointers to help answer questions on the exam correctly.
Things We Liked
Things We Didn't Like
– Specific strategies for each section
– Important tips highlighted
– Comprehensive
– Easy-to-follow instructions
– Trusted
– A little shorter in page length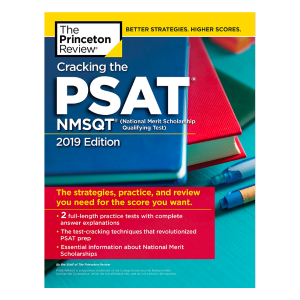 With 2 full-length practice exams and a proven track-record of test-taking strategies, "Cracking the PSAT/NMSQT with 2 Practice Tests" by the Princeton Review is an excellent PSAT prep book choice as both a study guide and resource
The Princeton Review Edge entails 4 major parts that separate its content from other books:
Top-Quality Content: The Princeton Review focuses on just the exam content review you absolutely need to know. Simple and straight-forward.
Practice Tools That Work: Each Princeton Review test preparation book, including both SAT prep and PSAT prep, include two full practice exams. Students love the realistic drills, practice tests, and step-by-step examples that help give tips in achieving a high score and increase their likelihood of gaining acceptance to top universities.
Engaging & Effective: Written by real teachers and instructors at the Princeton Review, each study guide gives valuable information and insight into the test format and content. The unique humor and personality of the content writers provide students with an engaging and easy test guide to follow and work through real example questions.
Proven Strategies: With over 35 years of experience in prepping students from around the world, the Princeton Review has a proven test-taking methodology that gives students the necessary methods and techniques proven to increasing scoring success.
As an experience college test prep advisor and consultant, I am highly impressed at the PSAT test preparation quality and caliber of this book. The best way for students to effectively use this PSAT prep book is to go through all of the practice questions and mark down any difficult questions that students might need time to review again.
Things We Liked
Things We Didn't Like
– Complete answer explanations
– Essential information about National Merit Scholarships
– Well organized
– Expert-reviewed content
– Access to online materials
– Some small typo errors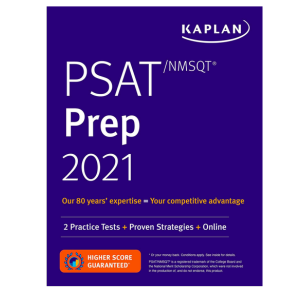 Another one of the best PSAT prep books for PSAT test prep is Kaplan's "PSAT/NMSQT Prep 2021". Kaplan Test Prep is one of the leaders in standard college prep materials, so their reputation of giving excellent information on test-taking methods for each section of the exam is trustworthy.
As an instructor who emphasizes the importance of time management when taking an exam, I highly encourage students to work with expert tactics, clear explanations, and realistic practice that have been proven to work time and time again.
Students can feel confident that the study material and other relevant information provided by "Kaplan PSAT/NMSQT Prep 2021" is one of top-notch quality. With proven study methods and hundreds of new practice questions, this books provides a guide for students unsure of how to get a better score on the exam.
One way to get a higher exam scores is to consistently work on practice questions. This book provides a great study guide of how to help schedule your planned study no matter how much time you have before the big testing day.
As an instructor that works with different levels o students, I am highly impressed at Kaplan's books to provide thorough explanations of different review questions and provide a study guide that helps students improve on their weaknesses.
Things We Liked
Things We Didn't Like
– New quizzes
– New layout
– 1,000 realistic practice questions
– Detailed explanations
– Mixed practice questions
– Cannot score results on scale from answer keys
There is a plethora of different PSAT prep books out there in the market. What makes a book and study guide an outstanding one? For one, the study guide must address the new PSAT/NMSQT format. Secondly, the study guide must provide excellent and easy-to-follow directions that students need to follow to get a high score on the PSA.
"PSAT 8/9 Prep 2020 and 2021" is one of the true gems of PSAT test prep books that fulfills all of the checkboxes.
What is unique and special about this book is its commitment to students. This study guide provides both excellent review content but also an outstanding comprehensive study guide that includes the following sections:
Quick Overview: Find out what's inside this guide!
Test-Taking Strategies: Learn the best tips to help overcome your exam!
Introduction: Get a thorough breakdown of what the test is and what's on it!
Reading Test: Command of Evidence, Words in Context, and Rhetoric and Synthesis.
Writing & Language: Expression of Ideas and Standard English Conventions.
Math: Heart of Algebra, Problem-Solving and Data Analysis, and Passport to Advanced Math.
Practice Questions: Practice makes perfect!
Detailed Answer Explanations: Figure out where you went wrong and how to improve!
Test Prep Books also provide other great features and benefits that other publishers often do not have. A feature that sets them apart is their customer service. Test-takers are both students, customers, and college-bound hopefuls. That's why the folks at Test Prep Books keeps the human "touch" by connecting you with a real human being when you email your comments or concerns.
As an educator and college prep advisor, I can wholeheartedly recommend this study guide as one of the top PSAT prep books out there for students.
Things We Liked
Things We Didn't Like
– Nicely formated and organized
– Easy to follow
– Customer service
– Breakdown of sample questions
– Clear layout
– Small errors in some sample questions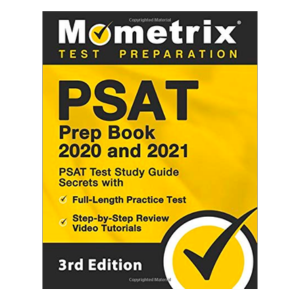 As a professional college prep instructor and college admissions consultant, I get to review and read many different exam prep books that students might encounter. Many PSAT prep books are often poorly written, but once in a blue moon, there is a prep book or guide that shines brightly. "PSAT Prep Book 2020 and 2021 – PSAT Test Study Guide Secrets with Full-Length Practice Test, Step-by-Step Review Video Tutorials: [3rd Edition]" is one of those books.
I love this guide published by Mometrix because it is filled with the critical information that you need to get a high score. I am impressed that the guide provides a step-by-step plan of what you need to do and understand in order to get a high score. The guide even breaks down what to expect in each section of the exam:
The Reading section covers:
Information and Ideas
Rhetoric
Synthesis
Reading Passages
Final Warnings
The Writing and Language section covers:
Expression of Ideas
Standard English Conventions
Conventions of Punctuation
Conventions of Usage
The Math section covers:
How to Approach Math Questions
Foundational Math Concepts
Heart of Algebra
Problem Solving and Data Analysis
Passport to Advanced Math
Additional Topics in Math
Student-Produced Response
Another effective way of PSAT prep is to watch the step-by-step review video tutorials included in the book. Momentix prides itself as a leader in helping students find the best way to taking and preparing for tests. This book is no exception. It provides some of the best methods for implementing effective test-taking methods that emphasize effective study time on the information that is most likely to help answer questions quickly and correctly.
If you can answer the easy questions more quickly and move on to the rest of the exam, then Momentix believes that saves more time that you need to answer the more difficult questions.
Things We Liked
Things We Didn't Like
– Online review video tutorials
– Updated content
– Specific and detailed information
– Good answer explanations
– Step-by-step examples
– Layout of text is hard to read
Which PSAT prep book is the best?
When deciding which preparation books to buy, there are many factors to consider. There is no single "best" PSAT prep book or review book. I will recommend a few different books that I find has a good format and structure in test preparation or the exam.
When should I start preparing for the PSAT?
You should start preparing for the exam ideally the summer before your sophomore year of high school. The summer break can help high school students take the necessary course of action for test preparation for the PSAT with the extra free time compared to the regular school year.
Should you study for the PSAT?
Yes, you should study! Achieving a high score on the exam can help students land a National Merit Scholarship to a highly desirable university. Always take a practice test first and see how well you do. Then continue to study using the best PSAT prep books to prepare for the official test day.
Getting one of the prestigious National Merit Scholarships can be attainable goal if you practice and use the right review books. I believe each student can prepare for the test with the right combination of time management and study resources.
Does Khan Academy have PSAT prep?
The Khan Academy does have a section on PSAT prep. You can take a practice test and see how well you do on it. If you are interested in learning more, you can also continue onto the official SAT practice section on Khan Academy after completing the PSAT practice.