One of the nation's favorite British dramas, Downton Abbey has left many Americans obsessed with the Crawley household and their sensational lives.
The show's characters have made their way into daily conversation and though the show ended in 2015, our love for the cast didn't end then. With the latest release of the second feature film, Scholarship Institute wanted to know which of these beloved characters were loved most by each state. Find out your state's favorite character below!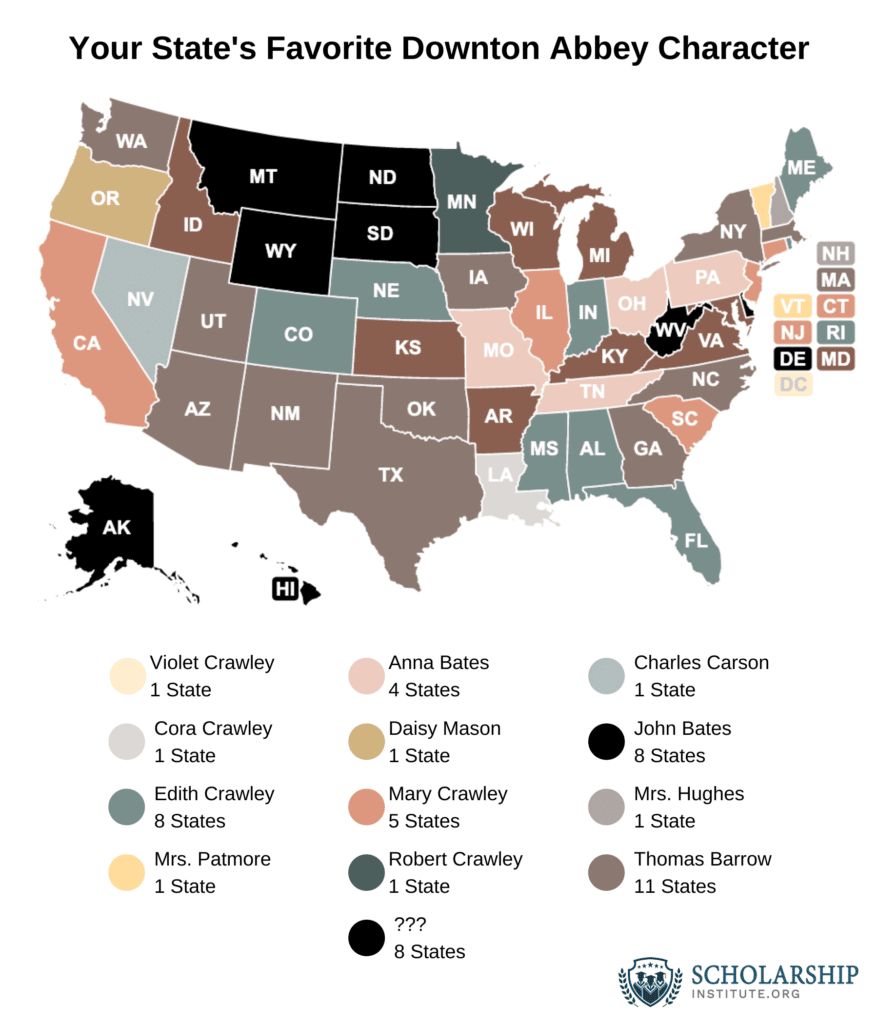 Facts & Findings
Thomas Barrow is the most popular in the nation, winning the hearts of 11 states
Many of the costumes are original clothing items from the 1910s and 1920s
Eight states don't have a favorite at all!
It costs more than one million Euros to create an episode of the show
Edith Crawley and John Bates tied as the second most popular characters in the nation with eight states each
Downton Abbey has won 58 awards and had 229 total award nominations
Methodology
We looked at Google search trends over the last year for Downton Abbey characters that appeared in at least 50 episodes, according to IMDB. For any states that had a tie between two or more characters, we took the character with the highest search volume, according to Ahrefs.
| | |
| --- | --- |
| State | Favorite Character |
| Alabama | Lady Edith Crawley |
| Alaska | ??? |
| Arizona | Thomas Barrow |
| Arkansas | John Bates |
| California | Lady Mary Crawley |
| Colorado | Lady Edith Crawley |
| Connecticut | Lady Mary Crawley |
| Delaware | ??? |
| District of Columbia | Violet Crawley |
| Florida | Lady Edith Crawley |
| Georgia | Thomas Barrow |
| Hawaii | ??? |
| Idaho | John Bates |
| Illinois | Lady Mary Crawley |
| Indiana | Lady Edith Crawley |
| Iowa | Thomas Barrow |
| Kansas | John Bates |
| Kentucky | John Bates |
| Louisiana | Cora Crawley |
| Maine | Lady Edith Crawley |
| Maryland | John Bates |
| Massachusetts | Thomas Barrow |
| Michigan | John Bates |
| Minnesota | Robert Crawley |
| Mississippi | Lady Edith Crawley |
| Missouri | Anna Bates |
| Montana | ??? |
| Nebraska | Lady Edith Crawley |
| Nevada | Charles Carson |
| New Hampshire | Mrs. Hughes |
| New Jersey | Lady Mary Crawley |
| New Mexico | Thomas Barrow |
| New York | Thomas Barrow |
| North Carolina | Thomas Barrow |
| North Dakota | ??? |
| Ohio | Anna Bates |
| Oklahoma | Thomas Barrow |
| Oregon | Daisy Mason |
| Pennsylvania | Anna Bates |
| Rhode Island | Lady Edith Crawley |
| South Carolina | Lady Mary Crawley |
| South Dakota | ??? |
| Tennessee | Anna Bates |
| Texas | Thomas Barrow |
| Utah | Thomas Barrow |
| Vermont | Mrs. Patmore |
| Virginia | John Bates |
| Washington | Thomas Barrow |
| West Virginia | ??? |
| Wisconsin | John Bates |
| Wyoming | ??? |