The 20 Best Scholarships for Artists to Apply For in 2023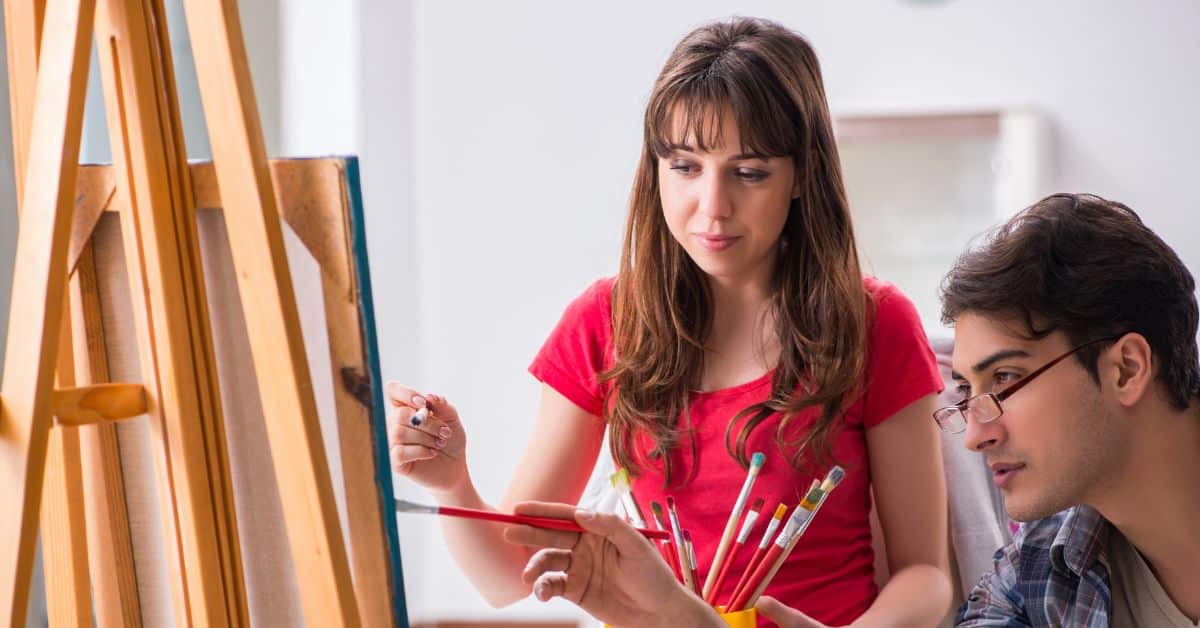 Many scholarships are available for eligible students, including college students and graduating high school seniors.
Scholarships are essential because they offer students financial support. There are scholarships available for any students, including those who may be right- or left-handed, the first to attend college in their family, an athlete, chess player, or even pursuing a fine arts major in college, such as performing arts, creative writing, art school or even following a college degree at an accredited college or community college.
For those pursuing an art education, there are art scholarships that high school seniors or college students can apply for. Applicants must be pursuing an art education, such as focusing on visual arts, fine arts, their artistic talent, performing arts, and much more that fall under the "fine arts" category.
Whether you are about to finish high school or begin college, there are art scholarships for new or old college students every step of the way. Many art scholarships exist for high school students, undergraduate students, and graduate students pursuing a fine arts degree.
Below are the 20 best art scholarships to help art students — and college students achieve higher education.
This scholarship seeks to support first-generation Black, Indigenous, People of Color (BIPOC) students who intend to pursue a career in the visual arts, like music or theater.
Award Amount: $2,525
Deadline: June 25, 2002
Winners Announcement Date: July 25, 2022
This scholarship aims to support students who appreciate visual arts to ease higher education costs. Any student impacted by art may apply even if they do not do any art.
Award Amount: $500
Deadline: May 12, 2022
Winners Announced: June 12, 2002
The world is shaped by the bold, the fighters, the risk-takers, the earnest overachievers who won't take no for an answer. This scholarship is a no-essay scholarship that awards the applicant with the boldest profile.
Award Amount: $25,145
Deadline: July 1, 2022
Winners Announced: November 30, 2022
This scholarship aims to honor the life of Matt Preziose and supports students attending the State University of New York at New Paltz. To apply, submit your favorite work and briefly tell us why freedom of creative expression is essential to you.
Award Amount: $1,050
Deadline: September 5, 2022
Winner announced: October 5, 2022
This scholarship supports art students interested in pursuing art and using visual arts to make a difference in the world. Any high school seniors, undergraduates, or graduate students pursuing art with a creative art portfolio and non-profit volunteering experience may apply for this scholarship award.
Award Amount: $1,000
Deadline: July 1, 2022
Winner Announced: July 31, 2022
The Moriah Janae Dance Grant is a performing arts grant that helps dancers follow their passion for dance. The ideal winner will be a disciplined, passionate, aspiring dancer who displayed good behavior in high school while maintaining a B-average or higher.
Award Amount: $1,780
Deadline: July 27, 2022
Winner Announced: August 27, 2022
This scholarship supports high school seniors and undergraduate students from Illinois who plan to continue their artistic education in the future. Those interested in majors in the arts, like visual arts, music, theater, and dance, are eligible to apply.
Award Amount: $3,000
Deadline: June 1, 2022
Winners Announced: July 1, 2022
This scholarship seeks to encourage students from Michigan who are passionate about the arts and want to pursue higher education in the Arts. Any BIPOC high school seniors or undergraduate students in Michigan looking to pursue art or design may apply for the scholarship. You will need to submit a poem or short story, a dance or visual composition, or a piece of art.
Award Amount: $1,000
Deadline: May 19, 2022
Winners Announced: June 20, 2022
This scholarship seeks to support art students who attend Lakeville North High School in Minnesota and are looking to continue a path in art education through college. Any high school student at Lakeville High School can apply for this scholarship. Please submit one or two photos that you've taken that represent you.
Award Amount: $500
Deadline: June 15, 2022
Winners Announced: July 15, 2022
Paul Zeniewicz and Jordan Jones created this scholarship to provide financial assistance to the upcoming art generation as they begin their journeys navigating through college. Any high school senior in Florida interested in studying art may apply; underrepresented minorities and applicants in central Florida are preferred.
Upload or link your creative art portfolio and express how your location has influenced your artistic style and how you are working on addressing a social issue with your art.
Award Amount: $2,625
Deadline: June 15, 2022
Winners Announced: July 15, 2022
Low-income students can apply for this scholarship in their junior and senior years of high school or undergraduate school. If you are planning to attend an art school or currently attending, please write about a favorite piece of art you've created and what inspired its creation. Make sure to attach the image of the art you have created.
Award Amount: $12,000
Deadline: April 14, 2022
Winners Announced: May 10, 2022
This scholarship seeks to support passionate theater students who face obstacles to higher education due to their demonstrated needs. Any first-generation, low-income high school seniors, undergraduates, or graduate students with a theater background and a theater arts major may apply for the scholarship. Please submit a 5-10 minute written or video sample of your playwriting, acting, or directing work, along with an explanation of your interest in this scholarship.
Award Amount: $5,000
Deadline: April 20, 2022
Winners Announced: May 20, 2022
This scholarship supports one female artist pursuing fine arts education at any four-year college or university. To apply, please share what drives your passion for art and how this scholarship will help you follow that passion.
Award Amount: $1,483
Deadline: April 10, 2022
Winners Announced: May 10, 2022
This scholarship seeks to support high school seniors and undergraduates pursuing art in college. To apply, please submit your art portfolio and an essay describing your favorite piece and its inspiration. Applicants should be NJ residents.
Award Amount: $2,100
Deadline: April 21, 2022
Winners Announced: May 15, 2022
This scholarship aims to honor the memory of Henry D. Teuteberg by supporting high school seniors interested in pursuing music. To apply, tell us what your love of music has taught you and how it has impacted your goals.
Award Amount: $1,000
Deadline: July 4, 2022
Winners Announced: August 4, 2022
This scholarship encourages high school students to pursue music to achieve their creative goals. Any high school senior who is an aspiring musician can apply. Please submit a short video explaining your adversity and how you overcame it. Also, express your relationship with music and what it means to you.
Award Amount: $500
Deadline: February 21, 2023
Winners Announced: March 21, 2023
This scholarship exists to help students broaden their world experience and other cultures. To apply, ensure your profile demonstrates an openness to learning about different cultures and sharing your own.
Award Amount: $2,000
Deadline: August 18, 2022
Winners Announced: August 22, 2022
This scholarship is in memory of Cardel Love and intends to support first-generation BIPOC students from New York so they can pursue higher education.
Award Amount: $500
Deadline: September 9, 2022
Winners Announced: October 9, 2022
This scholarship is for a hardworking, low-income student, either a high school senior or an undergraduate student. To apply, explain how education has shaped your view of the world.
Award Amount: $700
Deadline: July 1, 2022
Winners Announced: July 31, 2022
This scholarship opportunity is for Asian-American college students whose cultural identity has dramatically impacted their personality and influenced their perspective.
Award Amount: $1000
Deadline: April 1, 2022
Winners Announced: May 8, 2022
What Are Art Scholarships?
Usually, art scholarships will have details about the art industry written in the description. The scholarship details typically inform you of what type of artwork you need to qualify for the scholarship. The organization will sometimes ask you to write a poem or send in a video of you dancing. These are just examples but read the details thoroughly because you may have to follow specific steps to qualify for the scholarship.
How to Find Art Scholarships
Most art scholarships ask you for a portfolio and want to see your beautiful artwork. Also, something to note is that art scholarships can be very competitive. Do not feel discouraged. Make sure you submit your best work in a neat portfolio with your application. Paying attention to the deadline is crucial because you don't want to miss a fantastic opportunity to receive financial support for your major.
Tips on How to Win Art Scholarships
Good grades are the first step in getting as many scholarship awards as possible. You must have excellent academic achievement to receive the best scholarships. They want serious students who care about their future careers in the art industry.
A neat, creative portfolio displaying your work is also a good idea. You can have a physical portfolio or a digital one. A lot of artists in the entertainment industry impress directors with Press Kits.
Make sure when creating your portfolio you use a diverse range of your work so they can see how talented you are and the types of art that interest you. Staying on good terms with your teachers can benefit high school students because they may write you a letter of recommendation, which gives a perfect touch to an application.
What's The Best Way To Apply for Art Scholarships?
Nowadays, it's reasonably simple to apply for a scholarship award. Twenty years ago, students had to fill out long scholarships and paper applications, and the submissions were usually made through your school or the mail. Now it is pretty easy to log online, search for the scholarship of your dreams, and apply to the scholarship of your choice.
Finding a scholarship is relatively easy, and you can find some that don't require much from you as far as qualifications are concerned. Whether you are looking for performing arts scholarships, a visual art scholarship, scholarships specifically for a graduate student, undergraduate student, or current college student, there are opportunities for everyone.
What Qualifies Artists for Scholarships?
 When you are looking for scholarships specific to the major you are interested in, things can be competitive. Quite a few organizations and people giving out scholarships require students to have reached some academic achievement and to have at least a B average and experience in the major they are aspiring to enter. Top high school seniors get a recommendation letter from a community leader, teacher, or counselor. Doing this appeals to their application because the teacher is endorsing their skill sets. Getting a recommendation could give you the upper hand or the best chances of getting the scholarship of your dreams.
10 Tips To Help You On Your Scholarship Journey
After deciding to focus on a fine arts degree during your college education, finding scholarships, and making sure you meet all the qualifications to win the scholarship award, you may be worried about the best way to apply.
Here are ten tips to help you win an art scholarship or even attend art schools as a college student.
Commit a specific period during your day to finding art scholarship opportunities or a scholarship program.
Ask your university or scholarship program for help making sure you meet all requirements needed
Check the local newspaper or creative writing magazines
Speak to the administration department at your top college choices and see if they have any opportunities for scholarships
Get a second opinion before you submit the essays for the scholarships; having someone look over your report can be helpful
Look on the internet and search for scholarship opportunities
Apply for different scholarship opportunities, not just an art scholarship. A college student may be in a club or organization that offers various options, or specific art schools may have extracurricular activities for students to join that can lead to scholarship awards.
Reach out to your church and local community centers. They often have scholarships available
Arrange your portfolio based on the application requirements. If the application asks for you to submit baroque painting pieces, put those first in your portfolio
Work on presenting your portfolio. Make sure your portfolio is top-notch, and you have a strong understanding of each piece in your portfolio.
Frequently Asked Questions About Art Scholarships
You may still have some questions regarding artistic scholarships for creative students, what different scholarships there are for graduating seniors to apply for, along with first-year students in college, how many art scholarships you can obtain, and many more.
Below are frequently asked questions about different scholarships for an art degree.
Are art scholarships legit?
Yes! While finding scholarships online may lead to different sites, some of which may be illegitimate, scholarships to showcase talented artists, those pursuing an art major either through a college or university or trade school, to those seeking a career in graphic arts or art history, there are scholarships for everyone.
How can I improve my chances of winning art scholarships?
By meeting all the requirements made known by the details for the specific scholarship, students can showcase their artistic skills and ability by applying for design or writing scholarships.
Make sure you meet all scholarship requirements before applying.
How many scholarships can you get?
There is no limit to the number of scholarships you can accept. If you have a financial need that a scholarship can help with, such as pursuing an art history major but need help with items for your classes, you can accept as many as you want.
Are artists' scholarships taxable income?
Scholarships usually go to students with financial needs and are typically not tax deductible. Scholarships should only be used on school supplies, not personal needs. They are tax deductible if they are used for individual conditions or gain.
What's the best way to apply for art scholarships?
For art majors that are full-time students who study art, applying for a scholarship and meeting all the eligibility requirements are essential. However, discovering the best way to use it can be tricky.
Besides searching online, one of the best things to do is talk to your high school, college, or university you are attending or wish to attend. Sometimes, a guidance counselor can have information regarding scholarships for the applied arts, including music composition, or scholarships that focus solely on studio art, community service, or art school in general.