7 Best MCAT Prep Books Reviews 2021 | Top Study & Practice Guides to Ace the Test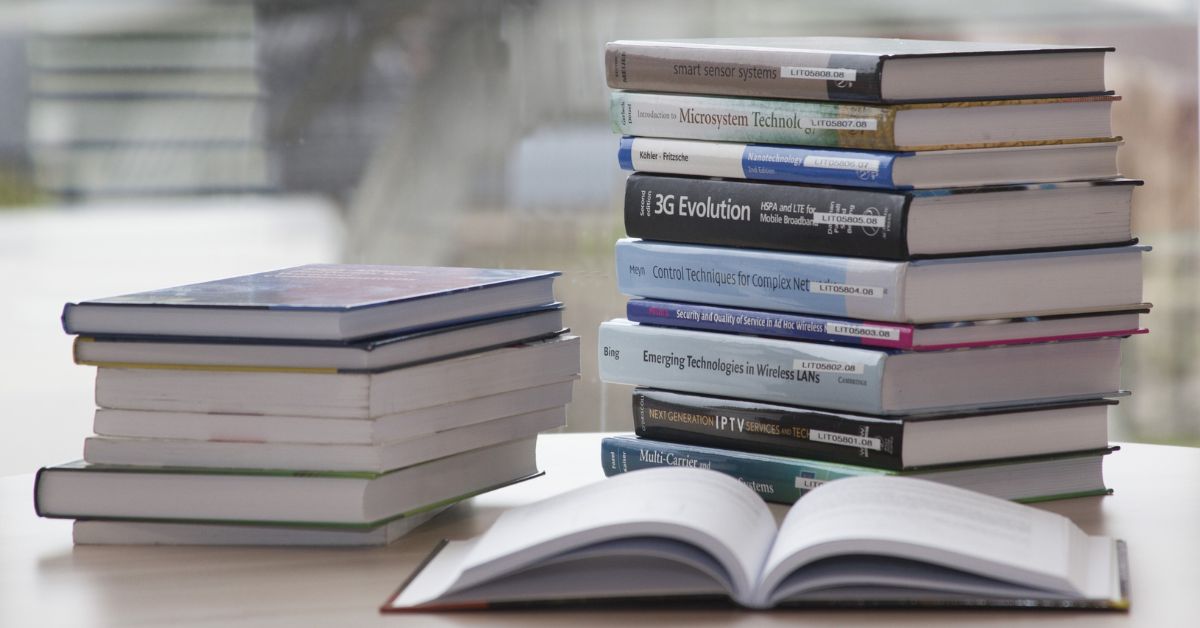 Getting a good score on the Medical College Admission Test or MCAT is likely the first challenge that you need to overcome if your heart is set on getting into med school. While it is agreed upon by many experts and former test-takers that this standardized test tough, it's perfectly possible to ace it with enough practice and prep materials.
I put together this list because I want you to succeed as bad as you do… well, that might not be true but I definitely want you to do well and I am completely confident that you'll do well if you get at least one of these (though multiple are commended for more complete studying) based off of my own experience of prepping for the exam as well as tutoring others.
Preparing for the MCAT: Books vs Courses
Books are a great DIY option for those on a budget. As an MCAT tutor, I have found that those who use a prep book as well as the best MCAT prep course tend to score much higher than those who use just one. If you're serious about doing well then be sure to consider taking a prep course as well.
BEST MCAT PREP BOOK REVIEWS (2020)
To further help you in your search for the best MCAT prep book, here is our list of the top eight great titles that you should check out. All of them are highly recommended by experts and test-takers so they might just be the perfect choices for you to get into medical school. Buying these is a great start, but make sure you also invest the necessary time to take advantage of these resources.
MCAT PREP BOOK REVIEWS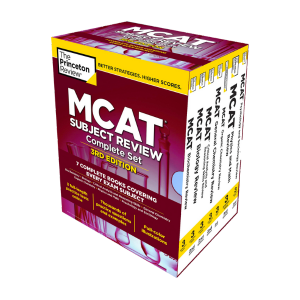 The Princeton Review 7 MCAT PREP Books Box Set, 3rd Edition is another 7-piece review set that every MCAT prepper should check out. The Princeton Review is a prominent brand in the test prep space and also in the tutoring/education so it's no surprise they have created one of the best MCAT prep books, complemented by awesome test strategy tips.
It's a comprehensive and in-depth review guide set that will let you focus on all of the subjects tested in the MCAT. So if you feel like you need to go in-depth in your prep efforts, these books might be what you need to help you get into the medical school of your choice.
Due to its format, it's also often compared to the Kaplan MCAT Complete 7-book Subject Review. They are pretty similar in many regards. Aside from the 7-books they contain, they also have full-color illustrations, full-length practice tests, and end-of-chapter quizzes.
However, Princeton Review's set is said to edge out the Kaplan vs. Princeton review MCAT debate because of its seriously in-depth discussion of everything. The way it discusses each point will help you master everything that you need to know by exam day.
The Princeton Review set also contains extensive glossaries so you can easily pore through the different concepts when you just need a refresher before the test day for specific things. This makes it easier to navigate these massive prep books.
What makes the TPR MCAT study guide stand out is its good presentation of information. It will closely guide you into going over all of the things that you need to learn and remember to crush the MCAT. Each of the 7 books in this Princeton Review set is focused on each subject tested in the said test so you can be guaranteed that you'll cover all your bases when getting ready for this test.
Despite its information-packed content, however, this resource from The Princeton Review can still be very useful for those who need to quickly go over all of the concepts and topics that will come out in the test. With its extensive glossaries, you can use them as lists of the concepts that you need to recall before the test day as content review.
Unfortunately, some folks don't find the Princeton Review practice questions to be as plentiful as Kaplan's. This means that you will most likely need to get the Sterling Test Prep question book to get a lot of practice test experience. It's also a bit more expensive than Kaplan's, so you might also want to take its price into consideration – medical school prep and tuition definitely isn't cheap.
Pros
Cons
– In-depth discussion of concepts and topics
– End-of-chapter quizzes will help you check what you've learned and reviewed periodically
– High-quality visual presentation of information
– Doesn't have as many practice questions as the Kaplan set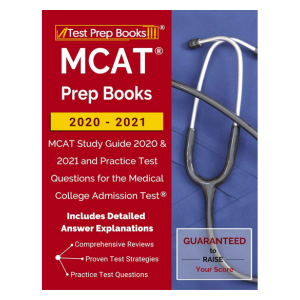 Want a quick and painless way to kickoff your test prep efforts? Test Prep Books' MCAT Prep 2018-2019: Test Prep & Practice Test Questions for the Medical College Admission Test is our 2nd ranked best mcat prep book to get started.
Most folks describe this title as a brief and concise study guide because it only contains 304 pages and already covers every section of the test. This also makes it a great place to start if you have no clue how to begin preparing for the big day. Just read this study guide from cover to cover and you'll already get a good idea on which topics you should include in your study plan as you monitor results from the practice problems.
Others, however, use this as a handy review book if they're more confident about their knowledge and chances of getting into medical school. Those who are strapped for time or are just not bent on going over the test content in depth already find this prep book sufficient to their needs. If you're still very familiar with the things that will most likely come out in the MCAT, then this title will work as a refresher.
What exactly can you expect from this study guide? You can find chapters on the sections of the MCAT, for one. They will contain the concepts and will help with subject reviews that are likely to be asked about in the test. There are also several sample test questions to help you get better acquainted with the MCAT's format and 2 full-length practice exams. Finally, you'll also find several test-taking strategies that should help you conquer the test without a hitch.
Coupled with a very friendly price tag, this book is arguably the best-priced title in the market today. If you're on a budget or you just want to get various prep books to boost your prep efforts, this can be a solid addition to your collection since it has some of the best MCAT practice exams.
Pros
Cons
– Brief and concise presentation of information
– Covers nearly everything you need to know about the test
– Detailed explanation of practice tests question answers
– Very affordable
– Typo errors occasionally found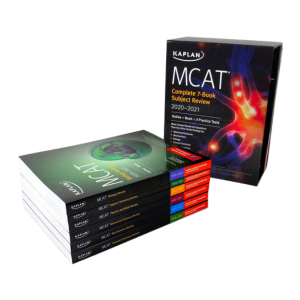 The KAPLAN MCAT Complete 7-Book Subject Review 2019-2020 would be one of the first titles to come out if you search for the best MCAT study guide online and it deserves the #1 spot on our list and is a great bang for your buck. Why not when it's the most highly recommended book set out there?
It's said to be one of the most comprehensive and information-packed study books in the market today, so it can certainly be what you need to get into medical school.
What makes these Kaplan MCAT books special? The content is seriously packed with content not just about studying, but with test strategy and practice sections. This book set is composed of 7 subject-specific books with practice problems for the following: Behavior Sciences, Biochemistry, Biology, General Chemistry, Organic Chemistry, Physics and Math, Critical Analysis, and Reasoning Skills section.
These pretty much cover all 7 subjects in the MCAT and is really good with psychology / physiology. They're also guaranteed to provide an in-depth discussion of the subjects and concepts that will most likely appear in the test, consistent with all Kaplan test prep resources.
How can you be sure of this? Aside from the fact that this set is made by the most established test prep companiy on the planet, the content is also guaranteed to be AAMC aligned. This means that you can expect accurate information if you use this as a reference for your test prep efforts. The company is also very credible and reliable, so you can certainly count on them to help you get ready for the big day.
A lot of experts and test-takers say that these test prep books is erroneously named. It has the word 'review' in its title which they think is inaccurate. Its discussions of concepts and subjects are said to be not similar to other reviewers because they're more in depth. This set isn't just for browsing through concepts. Its expertly-written presentation of data and information will offer more than what most folks expect from a review book.
Lots of people also loved this set for its visual presentation of information. Concepts are very nicely represented in graphs and diagrams so you won't get too overwhelmed looking at walls of text all the time.
Aside from the per-subject study guides, you'll also get 3 online practice tests and a 24-page Quicksheet booklet for on-the-go studying. The only drawback it has is that it might not be the greatest pick for those who are rushing to take in as much information as they can before the exam since it's so thorough.
The online resources it comes with are also constantly updated.
The Kaplan MCAT Complete 7-book Subject Review is the most comprehensive resource and is a must have for students who want to take the mcat exam and get into their #1 medical school. It is one of the best mcat prep books not just on our list, but almost everyone else's as well.

Pairs well with the need to know subject of Psychology & Social Sciences.
I also wrote a longer review here.
Pros
Cons
– In-depth discussion of concepts and subject reviews prep material
– Great format makes it easy to follow
– Comprehensive and covers nearly everything you can expect on the test
– Accurate practice exams
– A bit pricey, but it comes with 7 prep books
Despite its goofy name, the 9th Edition Examkrackers MCAT Complete Study Package deserve its place on the list of top-rated study guides on the market for mcat prep practice exams. Some even go as far as calling this set as the best mcat prep for medical school there is. It's great, but we didn't think so.
Why, you might be wondering? For starters, people say that it covers more ground than any other set in this list. This alone makes it worth checking out if you want a reference book that can guarantee to help you go over everything you need to work on.
Don't let its information-dense reputation scare you, though. The Exam cracker MCAT books present information in a very friendly manner so you can be guaranteed that you can go through them without too much fuss. There are graphics, illustrations, and even a mascot that makes the content seem friendlier.
What makes it even better is that it's designed to efficiently help you retain the information you've just read about. There are about 3-4 quizzes interspersed in each chapter to check what you've learned. There are also mini-tests at the end of every quiz to thoroughly gauge what you understood. These mini Examkrackers MCAT practice tests are deemed to be harder than the actual MCAT so you can be guaranteed that they'll prove to be very useful for your test preparation.
Pros
Cons
– Packed with the things you need to learn for the MCAT
– Contains hard mini practice tests
– Designed to be easy to read and understand
– Multiple test prep books
– Quite pricey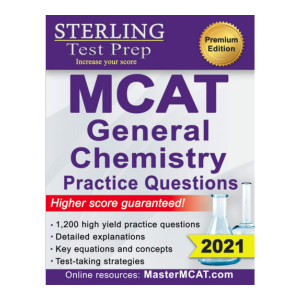 The Sterling Test Prep MCAT General Chemistry Practice Questions: High Yield MCAT Questions is more of a practice test workbook than a prep book in general but it's still a great addition to your MCAT prepper arsenal. It can certainly compliment any of the review sets mentioned above as it will help you gauge your General Chemistry knowledge and will help with your MCAT organic chemistry review.
Packed with 1200 practice questions, discussions on General Chemistry concepts and topics, test-taking strategies, practice passages, as well as in-depth answer explanations, this workbook can really come in handy if you want to boost your chemistry score.
It will help you with formulas, calculations, equations, and biochemistry which more than adequately helps you prepare for both the exam and medical school.
Like other Sterling Test Prep titles, the contents of this book is also updated regularly, so if you got the newest edition, you can be further guaranteed to get great results with more up to date practice tests as the best MCAT prep for Chemistry.
This is not a complete book and requires other study materials such as Sterling's MCAT Psychology & Sociology and other prep materials.
Pros
Cons
– Informational and regularly updated content
– Will help you focus on General Chemistry
– Great for practice
– Contains diagnostic tests
– Some items do not have answer explanations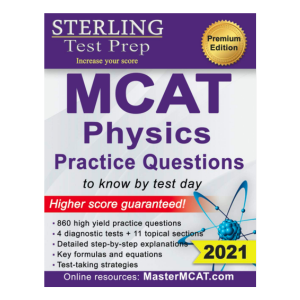 For a good deal of almost authentic MCAT test experience in Physics, you should check out the Sterling Test Prep MCAT Physics Practice Questions: High Yield MCAT Physics Practice Questions with Detailed Explanations. This title contains 860 practice questions in the aforementioned subject, so if you need help in that area, this might be what you need.
Like the other Sterling Test Prep workbooks listed here, this book is also regularly updated as well as contains in-depth answer explanations and test-taking strategies. You can get and use it on its own or create your own set with the different study materials for a more complete topic coverage. It's easily the best mcat prep for physics.
Pros
Cons
– Comes with diagnostic tests
– Designed to make understanding the subject easier
– Listing contains all of the topics included
– Can help you master solving physics practice problems
– Contains stand-alone questions which won't necessarily help you train for the passages that will be used in the actual exam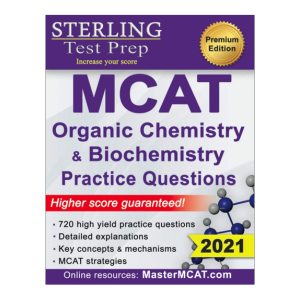 If you need more help in the Biochem and Orgo, the Sterling Test Prep MCAT Organic Chemistry & Biochemistry Practice Questions: High Yield MCAT Practice Questions with Detailed Explanations is a solid choice for you and one of several subject specific prep books by Sterling. This practice questions workbook contains almost everything you need to get ready for the Biochem and Orgo parts of the test, making it high on this list of the best MCAT prep books for Chemistry and Biochemistry.
Like the other Sterling Test Prep items listed above, this book provides a lot of information about the subjects mentioned, which are required for medical school. It discusses the concepts and topics of the said subjects in-depth so you can effectively get ready for the MCAT. Unfortunately, some find its elaborations to be too complicated, so it might not be everyone's cup of tea.
Pros
Cons
– Great for practice
– Very informational product listing
– Effective concept and answer explanations
– Some find the content to be too difficult
MCAT PREP BOOKS FAQ
What is the best way to prepare for MCAT?
The best way to prepare for the MCAT is to use multiple prep books, enroll in a course, get a tutor, and have a study buddy to keep you accountable.

Here are some tips to prepare for the MCAT (expect at least 300 hours of studying):
Get an MCAT prep book
Go over it twice, taking notes and understanding the questions
Take the practice tests
Use khan academy and other online programs
Practice tests
Get another mcat prep book and go over it twice
Practice tests
Create flashcards
MORE practice tests
How long is the MCAT exam?
The MCAT takes about 6 to 7.5 hours to complete. If you are just beginning to practice it may take up to an hour longer as you get used to the questions and the test format.
How is the MCAT scored?
The MCAT is scored based on 4 sections, which you can get anywhere from 118-132, with 132 perfect for that section. When you add up the points from all the sections you can get a 472-528. Because there are many variations of the test where some are harder than others, your score is normalized based on the scores of that test so that everything is more fair.
How many times can you take the MCAT?
You can take the MCAT 3 times in a single year, 4 times over a 2-year span, or 7 times over a lifetime. You can't register for more than one at a time and have to wait about 24 hours after you take the official exam before registering again.

How early should you start studying for the MCAT?
You should start studying for the MCAT about 2 to 6 months ahead of time – the more time you have the better. Most students in medical programs study about 300 hours a week, which you can hit in about 2 months by studying 8 hours a day, five days a week.
How much is MCAT prep?
MCAT prep can be just a few hundred dollars if you do it yourself or several thousand if you use a help/tutoring service. You just need to be able to decide for yourself what you think will motivate you to study effectively and get a better score. More study materials can definitely be helpful if you put in the time, but also cost more money.
Can you study for the MCAT in 2 months?
You can study for the MCAT in 2 months. Keep in mind most people study over 3 months so you'll need to really put in extra work to get to the same level. It's not just about hours, but studying over time has a lot of benefits because by cementing the prep material into your brain so that you have better recollection.
Conclusion and Our #1 Recommendation
Like we mentioned before, our top recommendation is the KAPLAN MCAT Complete 7-Book Subject Review + Online Materials. It's very complete and even though it's the most expensive, it's very thorough and comes with 7 books which will provide comprehensive MCAT prep. If you only want one resource and no other study material then this is the one to have to confidently take the MCAT.