Scholarship for Aspiring Teachers: The Future Female Educators Scholarship Review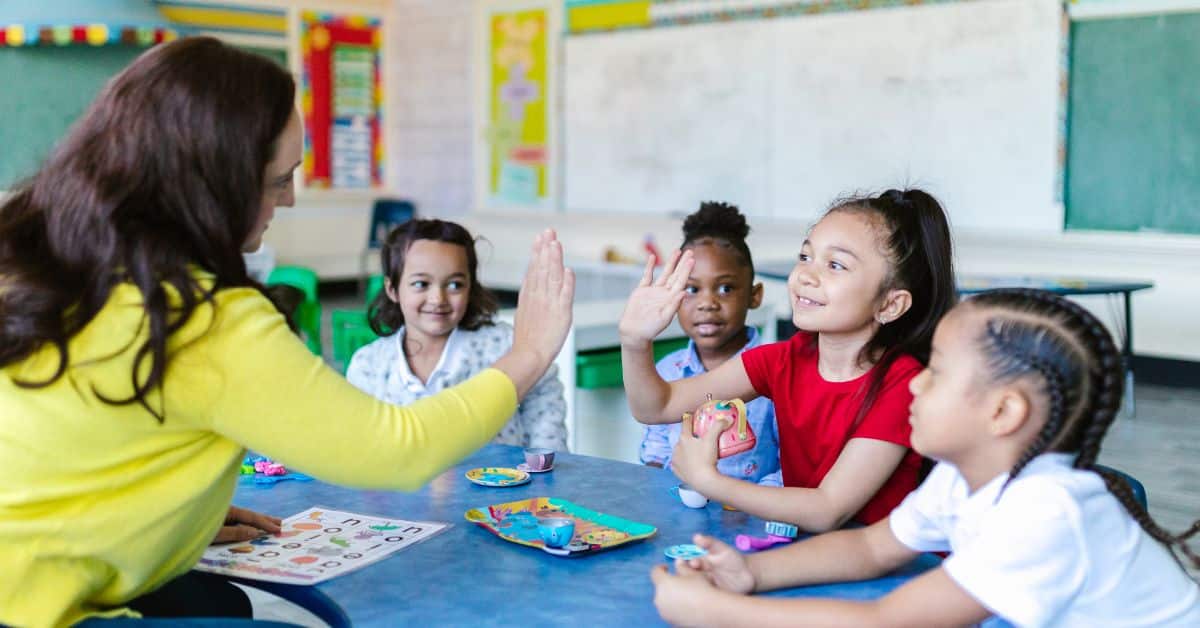 The Future Female Educators Scholarship is offered by PrivateTutoringAtHome.com and provides $1,000 to the winner. It's open to all female-identifying undergraduate and graduate students who are pursuing a degree in education.
What Is PrivateTutoringAtHome.com?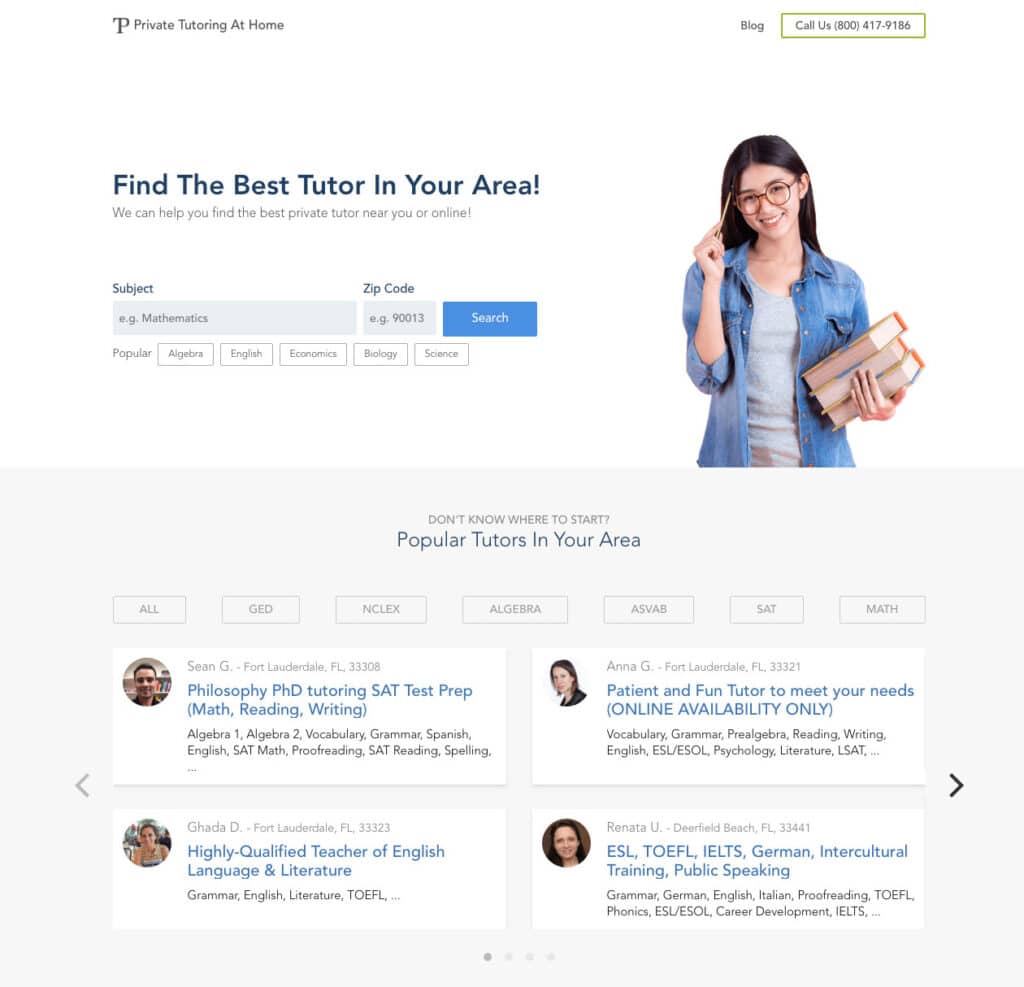 The Future Female Educators Scholarship is offered by PrivateTutoringAtHome.com, which is a leading private tutoring online marketplace. This site makes it easy for students at any level to find a qualified tutor to support their education.
Through PrivateTutoringAtHome.com, you can find a tutor for everything from geometry to SAT math prep. All you have to do is search by subject and ZIP code, and you can review and compare several different educators to find the right one.
What Is the Future Female Educators Scholarship?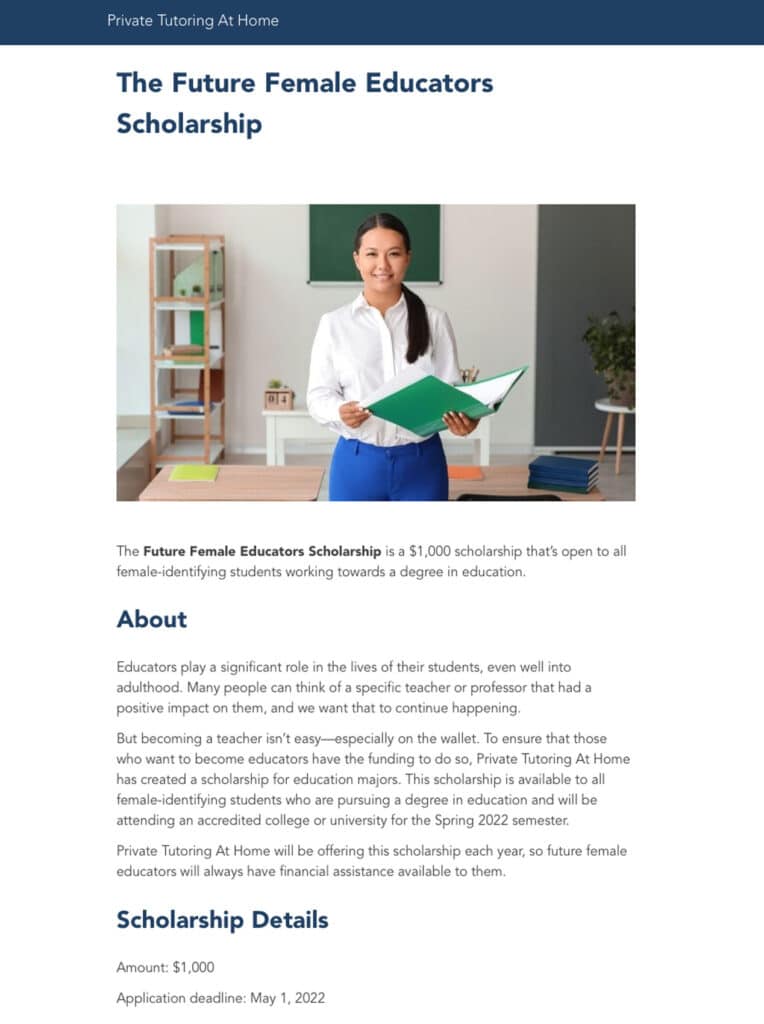 The Future Female Educators Scholarship offers $1,000 financial assistance toward the cost of post-secondary education for a female-identifying student. It's open to future teachers, both undergraduate and graduate students, as well as graduating high school seniors who intend to become education majors. By combining federal student aid with merit scholarships, you can minimize the student loans you need to fund your education.
How Much Is the Future Female Educators Scholarship?
The award amount for the Future Female Educators Scholarship is $1,000. In most cases, the money is sent directly to the financial aid office at the winner's school. If the teacher education program doesn't have a financial aid office, the award is sent directly to the winning student.
Who Is Eligible To Apply?
This teaching scholarship is open to female students who are education majors. Specifically, eligible candidates are high school, undergraduate, or graduate students who identify as female and are studying education. Applicants must be U.S. citizens or permanent legal residents.
What Is the Evaluation Criteria?
The winner of the Future Female Educators Scholarship will be chosen based on the merit of their application. There are two parts to the application: personal profile and essay. The scholarship is hosted on the Bold.org website, so the first step is to create a compelling profile for yourself. Your profile will be attached to your application for any scholarship on Bold.org.
You also have to submit a short essay (300 to 500 words) about your reasons for studying education and your career plans. The scholarship program committee will choose the winner based on the strength of their essay and profile.
Scholarship Institute's Take
PrivateTutoringAtHome.com is a trustworthy company that supports education for people of all ages. Its mission is to simplify the process of pairing qualified tutors with the right students. This scholarship is designed to make it easier for female students to pursue their education credentials. The application process is simple and clear, so it's time-efficient for eligible candidates.
How Hard Is the Application?
The first part of the application, creating a Bold.org student profile, is fairly easy. All you have to do is provide information about yourself: education, work, volunteering, extracurriculars, and other experiences that have shaped your life. You'll need to upload a high-quality photo, but once you create your profile, you can use it to apply for any other Bold.org scholarship program.
The essay may be more challenging, especially for those who aren't confident writers. However, it's a fairly short piece (no more than 500 words). The subject is your passion for education, so you don't need to spend time researching and writing about some obscure topic. Just be honest about why you want to study education and what you hope to do with your degree.
How Competitive Is This Scholarship?
The eligibility requirements for this award mean that it's not open to any and all education students, so you won't be competing against as many applicants as you might be for other teaching scholarships. However, the winner is chosen based on the strength of their application, so you do need to ensure that your essay and profile stand out and present a strong case for you to win.
Should You Apply?
If you are a female-identifying college student pursuing an education degree or an upcoming high school graduate planning to study in this field, you should apply for this scholarship. It's also open to graduate school students. The application process shouldn't take too long, and creating your Bold.org profile gives you the chance to apply for many other scholarships. Apply Now!
Our Tips for Applying for the Future Female Educators Scholarship
A bachelor's degree or master's degree in education for teachers is expensive, but this $1,000 scholarship program can help. Use these tips to create an exceptional application that stands a great chance of winning the Future Female Educators Scholarship.
Capture Attention With Your Profile
The scholarship committee for the Future Female Educators Scholarships uses each applicant's profile to learn about them and determine their eligibility for this award. Your profile is your chance to present yourself well for this award and all others on the Bold.org platform. Take the time to complete each field with accurate information that showcases your best qualities and leadership skills.
Write a Thoughtful Scholarship Essay
Your essay is a significant component of your application for the Future Female Educators Scholarship. It's a short piece, so you need to make every word count. Before you start writing, think through the prompts to nail down exactly what you want to say. Write honestly – you should display your true self, not just write what you think are the "right" answers to the prompt questions.
Showcase Your Skills
Your Bold.org profile isn't just about your name and school. You can also include your life experiences and things that have shaped who you are. Use your profile to highlight some of the skills and experiences that will make you an excellent teacher. Maybe you decided to pursue early childhood education after teaching younger children as a volunteer or working as a part-time tutor. Make sure to include things like this in your profile.
Double-Check Your Writing
The last thing you want to do is turn in an essay with typos or misused words. Make sure you proofread your essay, and ask a parent or friend to read it through as well. It should be grammatically perfect and also clear and easy to read. Verify that you have gotten your point across clearly to your test readers.
Apply Early!
The application deadline for this scholarship is the end of April, but there's no reason to wait. By applying early, you can cross it off your list and then spend some time finding and applying for other scholarships to reduce the cost of higher education.
How Do I Apply?
The Future Female Educators Scholarship is funded by PrivateTutoringAtHome.com, but it's hosted on the Bold.org website, which is where you'll apply for it. Once you create your account, all you need to do is craft your essay and complete the application process.
Develop your personal profile: Start by creating your Bold.org student profile. This is what scholarship providers will use to learn about you and decide whether you are the best candidate, so take the time to craft a thorough and compelling profile.
Apply on the scholarship page: The Future Female Educators Scholarship page has all the details and eligibility requirements. You can apply with a single click on the Apply Now button.
Manage your applications: Use the dashboard feature to track the status of all the awards you've applied for.
Aside from writing the short essay, the application process for the Future Female Educators Scholarship should only take a few minutes.
When Is the Deadline To Apply?
The Future Female Educators Scholarship is given to one winner each year. The deadline for the next award is April 30, 2022.
FAQs About the Future Female Educators Scholarship
Still not sure whether you should apply for this merit scholarship? Get answers to the most common questions.
How to write a scholarship essay?
In many cases, the topic of a scholarship essay is related to the details of the scholarship itself. This is true for the Future Female Educators Scholarship – your essay must discuss your reason for studying education, why it's important to you, and how you hope you use your education degree. Before you start writing, take a little time to really think about these questions so you can make sure your essay is an honest and accurate picture of your passion for education.
Can you get a scholarship for teaching?
There are several ways to get financial aid for a teaching degree. The federal government offers the Teacher Education Assistance for College and Higher Education Grant. This TEACH Grant provides money for each year of a teaching program at an accredited college, but it's not entirely free. College graduates who accept a TEACH Grant must agree to teach in a high-need field for a certain length of time. There are many other merit scholarships for teachers as well, many of which don't have a service obligation.
What are other scholarships for women?
You can find numerous other scholarships for women that offer money toward the cost of higher education. Some are for certain subjects or degrees, some are targeted to minority students, some have minimum GPA requirements, and some require essays.